Leading MotoGP riders believe it would be a "shame" and a "disappointment" to lose the Sachsenring from the 2019 calendar, with the German Grand Prix in danger of being replaced.
German motorsport federation ADAC has a contract with Dorna to host the German Grand Prix until the end of 2021, but ADAC broke its agreement with the Sachsenring following record losses following the 2017 race.
Talks over a new deal have stalled and the ADAC announced last week that it is "intensifying discussions" with other possible venues for 2019, with the Nurburgring thought to be the most likely alternative.
The German motorcycle grand prix was held at the Nurburgring 17 times in the past between 1955 and 1997, but the event has been held at the Sachsenring every year since 1998.
Marc Marquez - who has been unbeaten at the Sachsenring since 2010 in 125cc (now Moto3), Moto2 and MotoGP - hopes the track remains on the calendar.
"I am very disappointed of course [at talk that Sachsenring could be replaced]," he said. "I think we need one race in Germany for the championship because we have many fans here.
"Also for the manufacturers it's important, it's one of the most important countries in Europe.
"We'll see, it's not clear, but I hope to continue here [at the Sachsenring], honestly speaking."
Valentino Rossi echoed Marquez's sentiments, stressing that Sachsenring is a unique circuit in MotoGP.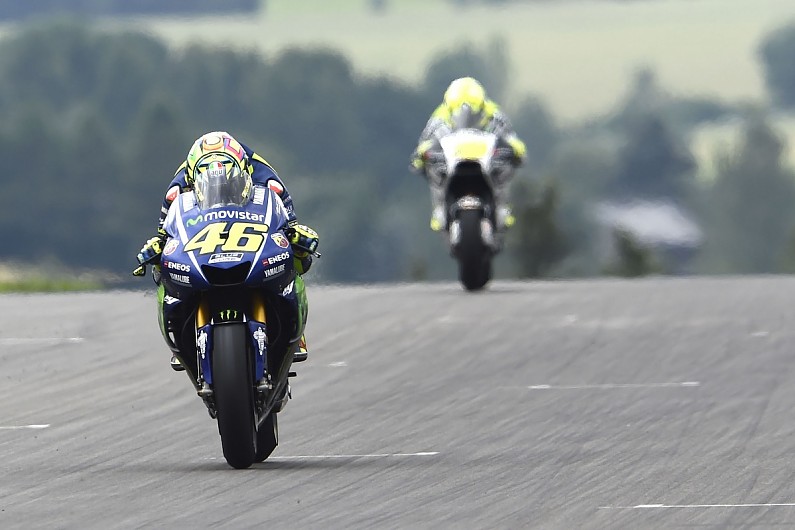 "It's a shame because, for me, the Sachsenring is a very particular track," he said. "Sometimes it's not easy, but it's different than all the rest, especially for the downhill and uphill [sections of the track]."
Cal Crutchlow said that while the track is "horrible", it tends to produce good racing.
"It's a strange feeling," he said. "When you ride it, it's horrible, it's a go-kart track for us. But normally you see a good race and actually quite enjoy it.
"But the track is horrible. We've a lot of fans coming here, which is very important, and we always look forward to coming here. Strange."
As well as the Nurburgring, Formula 1's current German Grand Prix venue Hockenheim has also been mooted as a possible replacement for the Sachsenring.
While Rossi described Hockenheim as being "a car track", Pramac Ducati's Jack Miller feels the track could offer a viable option for future German MotoGP races.
"It would be nice to come back there, I like Hockenheim," said Miller. "Nice long straights, it would be good for the Ducati.
"It is a cool track and has plenty of space for spectators and stuff like that, a little bit like Assen with the seating, it would be cool.
"I think for the spectators, it is a better spectator track than here [the Sachsenring], here you can only really see one section at a time."