Johann Zarco admits impatience in trying to pass Jorge Lorenzo for the lead of his home MotoGP race was what caused him to crash at Le Mans.
Tech3 Yamaha rider Zarco beat Marc Marquez to score pole position for the French race with a new lap record around the Le Mans Bugatti Circuit.
He slipped to second at the start of the race behind a fast-starting Lorenzo and was still running in that position when he lost the front end and crashed at Garage Vert on the eighth lap of 27.
Zarco admitted he pushed too hard to clear Lorenzo early on, as proven when the Lorenzo's pace dropped dramatically in the latter part of the race as he finished sixth.
"I think I could have [had] the pace, I don't know about victory but for the podium, and second place was possible," said Zarco.
"Normally with the bike getting more light and with less fuel after half-race [distance] I could have an advantage.
"But the problem in all these laps at the beginning of the race [was that] overtaking Lorenzo has been too difficult.
"I tried to do it but I was losing a lot in acceleration and then when you have to catch him back, [you] then think about how to overtake him, I think this took all my energy.
"I was [pushing] more than 100 percent to do it and that is what it pushed me to the mistake in that corner. I did not expect to crash.
"I should have maybe waited to have less fuel and feel more comfortable and maybe Jorge can go a little bit slower to overtake him.
"But the way I was pushing at the moment didn't give me the possibility to act in this way.
"If I maybe tried to wait even more, I [could have] lost more positions."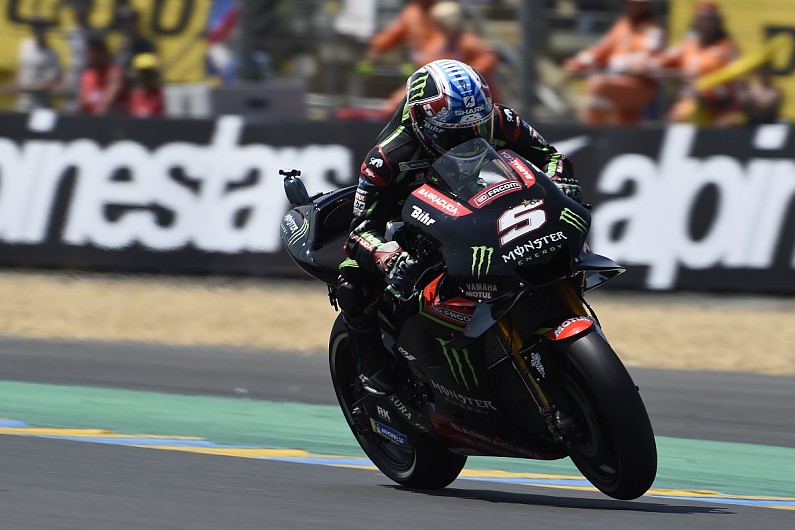 Zarco denied that the pressure of a home win in front of a passionate crowd was a factor in the incident, but admitted the experience would help him "grow up".
"I don't think it is extra pressure; that crash is just the [result of me] giving my best to dream about victory, that's all," he said. "I will keep that in mind because it makes me grow up.
"I think now with the experience, we can say I have some pressure [with] all the people screaming my name. But I am happy to have this situation.
"I try to take it as positive, so yesterday I enjoyed it. It was a great emotion to be at the starting grid and see all the people, even now just before the start to hear [the French national anthem] La Marseillaise.
"I was smiling and tried to relax so I was ready in my mind. When we started the race, it was necessary to accept I have a machine to fight for victory."