Valentino Rossi "exaggerated" in his critique of Marc Marquez in Argentina and was wrong to suggest the Honda rider hit him deliberately, says grand prix motorcycling legend Giacomo Agostini.
Yamaha man Rossi pulled no punches when addressing the media after reigning MotoGP champion Marquez made contact with him in the latter stages at Termas de Rio Hondo and caused him to crash.
It reopened the bitter feud between the pair sparked at Sepang in 2015, with Rossi accusing Marquez of intentionally aiming for his leg with his bike and "destroying our sport" with his aggressive riding.
Marquez denied Rossi's allegations and insisted his attempt to pass the Italian after was "nothing crazy" and the contact was a result of an honest mistake.
Speaking to Italy's Radio 24, 15-time world champion Agostini said Marquez doesn't deserve any further punishment for the incident and that Rossi was guilty of similar moves in his career.
"Marquez has made a mistake and has said sorry, we hope he won't do it again, but he shouldn't be disqualified," Agostini said.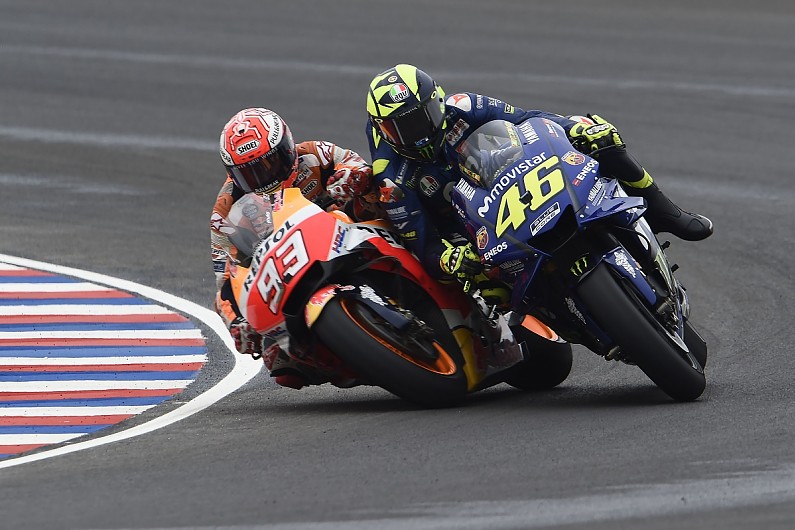 "He was already punished in the race. If we disqualify people every time, then we won't race [each other] anymore.
"This is true for everyone: I think it was [Andrea] Iannone who hit [Andrea] Dovizioso two years ago, then he was [given a three-place grid penalty], but this way no-one races anymore.
"What happened between Marquez and Rossi has happened to everyone - it happened to me, it happened to Rossi, it happened even this race to [Johann] Zarco, who made [Dani] Pedrosa crash.
"It's not true, as Rossi says, that Marquez aims for riders' legs. [Immediately after the race] they are all a bit nervous and they are exaggerating."
Asked about Marquez's attempt to apologise immediately after the race - which Rossi dismissed as a "joke" - Agostini said the reigning champion should have waited longer to make his move.
"These are difficult moments, just after finishing the race when adrenaline is still at 100%," he said.
"Maybe it was better to wait 20 minutes more, when the waters were calmer.
"But even if he didn't go [to Rossi's pitbox], everyone would have criticised him anyway."