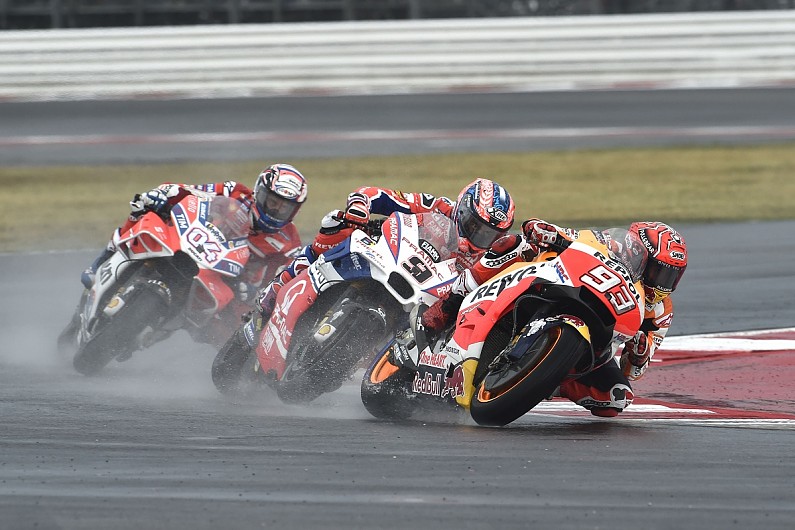 Danilo Petrucci says he considered giving up a place to fellow Ducati rider Andrea Dovizioso on the final lap of the Misano MotoGP race - but felt that would be a "bad image" for the series.
Petrucci, who rides a factory-spec Ducati GP17 bike for Pramac, led most of the Misano event in wet conditions, but was overtaken by Honda's Marc Marquez on the final lap.
He eventually finished second, between Marquez and Ducati works rider Andrea Dovizioso, who is battling the Honda man for the 2017 MotoGP title.
Having said on Thursday that he "would be happy" to help Dovizioso's title chances if a request came in, Petrucci was asked post-race why he hadn't allowed Dovizioso past for second place after losing out to Marquez.
"I have to be sincere, I thought about it," Petrucci admitted. "I hoped Andrea was close.
"But I think Andrea could fight for the championship even without my help this time. Maybe I will be more happy to be more important for him in the next races."
By the time Marquez had got past Petrucci, Dovizioso was already coasting to third place - finishing almost 10 seconds adrift.
Petrucci admitted he was still harbouring hopes of re-passing Marquez on the final lap, but also suggested slowing down so much to allow Dovizioso through would have been a bad look.
"I was thinking about it, but I try until the third sector of the track to pass Marc," he said.
"I was watching him, he was taking a lot of risk, and I said 'okay, maybe he go wide in some corner, in one corner and I will try to go in'. But he didn't make any mistake.
"I don't think [this would've been] a good image for the championship, to give position on the last lap. We are all fighting for something here.
"I said until Thursday this weekend that I want to help Dovi for the championship. But if I let him pass in the last corner, I don't know if it was a good image for the championship, I don't know."
For his part, Dovizioso, who is leaving Misano level on points with Marquez, saw no issue with Petrucci finishing ahead.
"I think he did the right decision," Dovizioso said. "He did an incredible race and it's good to see him on the podium and second."
Petrucci felt he might have used up his tyres too much in pushing to the front at the start of the race, and added that he tried on a number of occasions to break away from Marquez, but was unsuccessful each time.
"I was hoping really, really strong that maybe he's watching the championship, he will not attack me, and many times I tried to push," he added.
"I was watching the megascreen and the tab [pit board] and was always maximum six or seven tenths. So even if I push, he was able to close the gap."
The Italian admitted he was disappointed to lose out on a maiden win, but said he had "no regret" about his approach - and that he felt Marquez was the deserving winner.
"I thought to let [Marquez] pass, make the rhythm, but in the warm-up he was stronger. I was scared to lose him, so I tried to stay in front all the race.
"He did an incredible last lap. I am a little bit sad about this second place, but I have no regret because I try all the race and he did an incredible last lap, and so he deserve this win today."