After the initial shock of Valentino Rossi's injury, it's time to evaluate the possible consequences of such a seismic moment to this year's MotoGP championship fight.
This will depend on the number of grands prix that Rossi will miss. We already know he is definitely missing Misano, and with a recovery time of 30-40 days for his broken leg, it seems probable he will also sit out Aragon and aim for a comeback at Motegi in mid-October.
Should Rossi miss that deadline and skip the Japanese race, Yamaha is obliged to replace him, as the rules state that the team must replace a rider if he misses more than two races in succession.
This inevitably has created a public debate about who could be the most appropriate replacement for 'The Doctor', and the first name that springs to mind is Johann Zarco.
The Frenchman has impressed everyone in his first MotoGP season - despite ironically also having a number of high-profile clashes with Rossi, who even said that Zarco doesn't know how to overtake because he still uses Moto2 references in terms of distances.
Seeing Zarco on a factory Yamaha would be interesting, and would give us a clear idea as to whether last year's bike is superior to the current one. It would also allow Yamaha to compare Zarco with Vinales.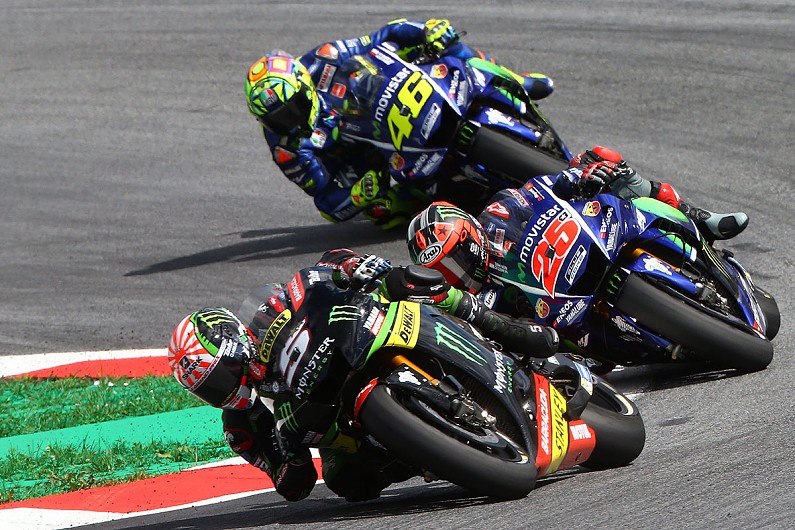 But, as fascinating as it would be, such a scenario is nearly impossible. If Yamaha is forced to field a replacement for Rossi, it will probably be test rider Katsuyuki Nakasuga.
From that moment, the strategy that Yamaha should follow is crucial: it must be clear that, due to circumstances beyond its control, it now only has a single bullet to fight for the title: Vinales.
Barring another surprise, this year's crown will be disputed between Andrea Dovizioso, Marc Marquez and Vinales, with Dani Pedrosa an outside bet. Yamaha has to do everything to make life easier for its rider, as Ducati and Honda will.
Vinales was the most talked-about rider during pre-season and the early races, but after the first two rounds, he started to feel the pressure of being considered as the favourite for the title.
On top of that, he had to begin trying out different parts for the M1, while managing the pressure of sharing a garage with one of the most influential riders in MotoGP history.
As a consequence of all those factors, Vinales realised that becoming champion was going to be much more difficult than he initially thought.
But, armed with a third different type of chassis at Silverstone, the Spaniard seemed to recover a version of himself similar to the one we saw in Qatar and Argentina at the start of the season.
Yamaha wants to see this form continue, and logic suggests the Iwata firm will now focus all its efforts on Vinales, its only remaining choice for the title.
The team would also be wise not getting too distracted trying to find the best substitute for Rossi - firstly, because he is irreplaceable, and secondly, because it cannot afford to destabilise Vinales.
Rossi's injury has presented Vinales with a golden chance - and one that may not come again soon - to become the focal point of Yamaha's efforts. Now it's time for the pre-season favourite to show what he is truly made of.