Cal Crutchlow says Honda's MotoGP bike is struggling "from start to finish" around the Termas de Rio Hondo circuit hosting this weekend's Argentinian Grand Prix.
Marc Marquez won in South America last year on his way to a third MotoGP championship, and finished second in Friday practice to Maverick Vinales, three tenths off the Yamaha rider's pace.
Crutchlow was the next Honda rider in the order in seventh, and said adapting to 2017's revamped engine in the RC213V and the low-grip surface was a challenge.
"It was not fantastic and I think the Hondas struggled today to find the settings with the new configuration of the engine," he said.
"From start to finish, [all] 14 corners. We are just fighting with the bike, we are locking the front, the rear, battling with the grip.
"When the grip is low the Honda is - apparently, to everybody else - normally strong.
"But the reality is it's not, the riders slide the bike a lot and they are able to turn the bike, so I think we are struggling more because we don't have any grip."
While Crutchlow still feels he "can be competitive this weekend", he said the issues during Friday practice did not come as a surprise.
"I expected this, sure," he said. "I've been riding the bike in three tests and the first race.
"Generally in the moment there is nothing we can change so much, we have a lot of work to do with the setting of the bike because we didn't really touch it so much today.
"I feel I'm riding really well, I felt on the pace immediately this morning and I felt quite on the pace this afternoon but we don't have the grip of the other guys."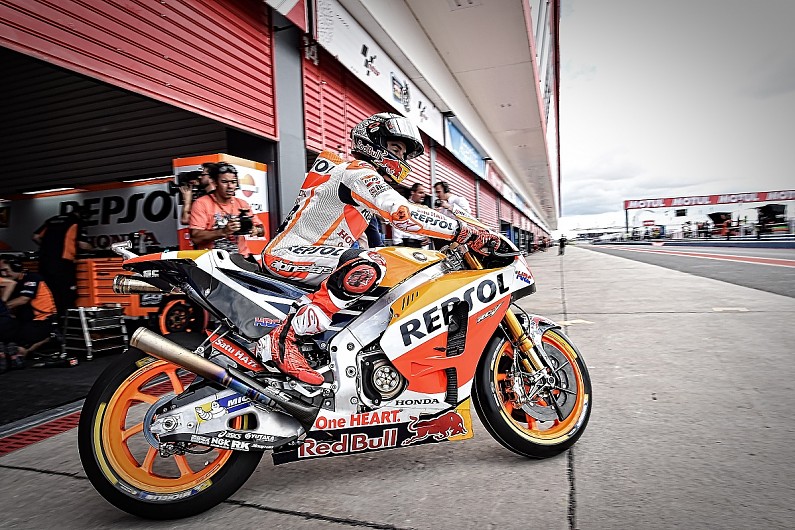 MARQUEZ: WE NEED TO 'IMPROVE A LOT'
Despite finishing the day as Vinales' closest challenger, Marquez concedes that he started it further away than he anticipated, having been 11th with a crash in first practice.
"I went on the dirty place and lost the front," he said of his Turn 2 fall.
"But apart of this [in practice one], we started a little bit far from the best set-up.
"Especially for FP2, the team did a great job and then we improved a lot the electronics.
"With the electronics base, we were really out in FP1 and then we improved a little bit in FP2, but we hope that tomorrow we will have dry sessions because we must improve a lot.
"For some reason, we started far [away], we didn't expect this, but the most-important part is that the team is working in a good way."
Marquez's team-mate Dani Pedrosa was one of the high-profile riders to finish down the order, ending the day in 14th place, having crashed in second practice.