Jorge Lorenzo has apologised for making a 'thumbs down' gesture at Valentino Rossi on the Sepang MotoGP podium after his Yamaha team-mate's clash with Marc Marquez.
Following the Malaysian Grand Prix, Lorenzo declared that the three penalty points given to his title rival - which earned Rossi a back of the grid start for the Valencia title decider - was an inadequate punishment.

He also tried to become involved in the Court of Arbitration for Sport's hearing into Rossi's appeal against the penalty, though he was limited to submitting a written statement.
In a press conference at Valencia on Thursday, Lorenzo said the only element of the controversy he was willing to discuss was the thrumbs down he made at Rossi as the Italian received his third-place trophy on the Sepang podium.
"About the past, I just want to say the gesture I made on the podium was a mistake," said Lorenzo.
"I regret that. It's not a sporting example, especially for young people watching MotoGP around the world.
"Apart from this, I don't have anything more to say. I only want to speak about what will happen in the future on the racetrack."
Lorenzo said he "respected" the CAS decision to maintain Rossi's penalty, and that where his team-mate started would make no difference to how he approached a weekend in which he must overturn a seven-point deficit in the championship.
"The decision that they made today doesn't matter," he said.
"They said the penalty is the same, but if they'd changed the sanction, I would still race completely the same on Sunday.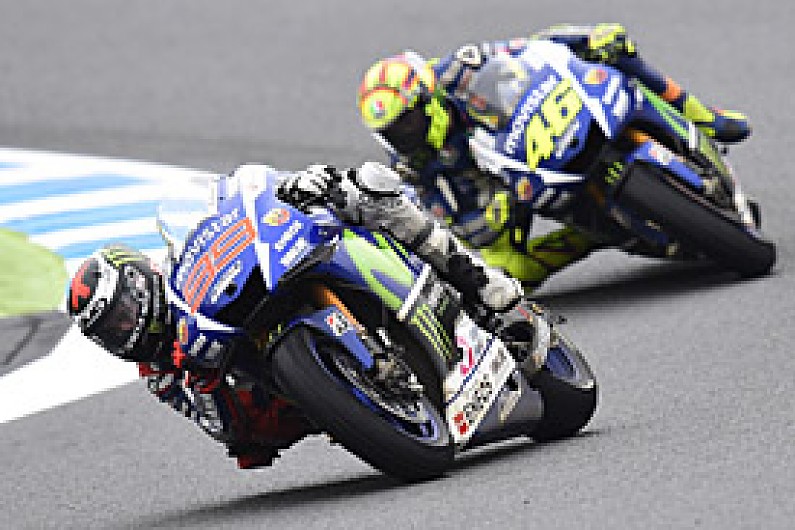 "I'll always try to get the maximum out of me and the bike and this is what I'll do on Sunday - try to make the best race of my career."
Despite suggestions that the Rossi/Lorenzo pairing at Yamaha would now become untenable following the friction events at Sepang had created, Lorenzo said his desire to stay at the team for his entire career had not diminished.
"My intention is to continue at Yamaha forever," said Lorenzo, who has been with Yamaha since moving up to MotoGP in 2008.
"I always said I want to stay with Yamaha not only until I retire, but also later. This is staying in my mind.
"Naturally all marriages have some moments of disagreement, and these things can happen.
"Our relationship in the future will be the same.
"Valentino and myself form one of the best teams in the world."