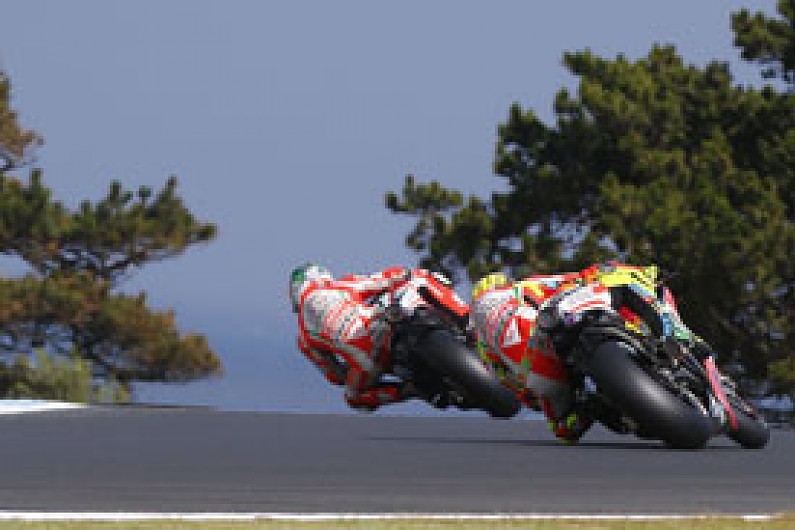 Ducati is struggling to find the right direction and still has to refine its raceday set-up according to riders Valentino Rossi and Nicky Hayden.
Both riders finished more than two seconds down on Honda's Casey Stoner in qualifying, with Hayden also slipping behind the lead CRT bike of Randy de Puniet.
The American in particular played up Ducati's struggles, saying that he was struggling for traction and would likely make big changes overnight.
"Unfortunately, things haven't gone much better today, as we're still having trouble finding the right direction," he explained.
"I'm breaking traction on the edge of the tyre, and that causes a lot of movement, especially in the fast corners. Also, the bumps are making it difficult to stay online.
"I made a mistake in T1 on my last good lap. Then I had a better lap going at the end when the rain came, at which point it was too much to risk.
"Tomorrow is when it counts, and we'll probably make a big change to the bike. Starting tenth is difficult, but I really hope I can be competitive."
Rossi was more positive, labelling his session 'decent' given his old-tyre pace. He did however say Ducati still had several areas it needed to refine.
"Qualifying went OK, as my pace is more or less at the level of Bradl and Bautista, with the two Yamahas of Dovizioso and Crutchlow a little faster, but only by some tenths," Rossi said.
"I'm pretty consistent. I did a 1m31.7s, a decent time, with a tyre that had about eighteen laps on it, so that's not bad as we approach the race.
"We have a little too much vibration and understeer with the soft tyre, so I wasn't able to improve much with it, although fortunately, it was just enough to make the third row.
"Tomorrow morning we'll try to refine the final details and then we'll see. It will be a long race, so we'll have to see what conditions we find and what pace we're able to do."