For a sport that loves a thick book of regulations, most motorsport championships are extremely relaxed when it comes to contracts between competitors and the teams fielding their machinery.
Some series will have stricter-than-usual registration rules or limits on driver/rider changes, but none have anything like the salary transparency of the United States' main sports leagues, or the limits on intra-team moves akin to their most famous example - European association football's transfer window.
It is the latter that at least two MotoGP riders - KTM outcast Bradley Smith and Suzuki outcast Andrea Iannone - have publicly clamoured for this year, as they felt the general laissez-faire motorsport approach to transfer markets has malfunctioned badly in their category.
They're certainly not alone in feeling this way. The 2019 rider market started right away this year, and, by race seven of 19, eight teams had already announced their line-ups for next season - with all but one works outfit firming up their roster through to '20.
Not only was this an obvious source of frustration for those left out, but it has also made some of the decisions look very suspect. Decisions like the split between Jorge Lorenzo and Ducati on the eve of his breakthrough win - or the still-struggling Maverick Vinales' speedy renewal with Yamaha in January.
By race seven of 19, eight teams had already announced their line-ups for next year
But what if riders and teams were not allowed to formally commit to these decisions this early? What if somebody stepped in and imposed restrictions? And what if - and that's a big if - teams and riders respected those restrictions, realising they have become their own worst enemies in the rushed current transfer market?
How different would the class of 2019 have looked if all of this had come to fruition? Here's how we'd do it, and what might've happened:

THE RULES
In a joint initiative between promoter Dorna and the FIM, a MotoGP contracts board is set up at the end of the 2017 season. Teams agree to hold off on making any signings for '19 and beyond.

A rider transfer window is written into the series calendar. It starts on August 13, the Monday after round 11, the Austrian Grand Prix at the Red Bull Ring, and ends at 23:59 of August 31.

Starting from August 13, teams are allowed to sign riders to one- or two-year deals, for 2019 or '19-20. Options and other market-specific clauses are prohibited.

Existing options, like the one Ducati had with Danilo Petrucci or Honda had with Joan Mir, are voided.

Teams are allowed to negotiate throughout the season with any riders, including those under contract by rivals - but only verbal agreements can be made.

The contracts board has to approve every deal. Fines and points penalties are introduced for irregular contracts.

Should teams fail to sign their 2019 riders by August 29, they must wait until after the end of the season on November 18.
August 13: The day after Ducati and Lorenzo's triumph in the Austrian Grand Prix, two of the most widely expected renewals are announced - neither involving the Italian manufacturer.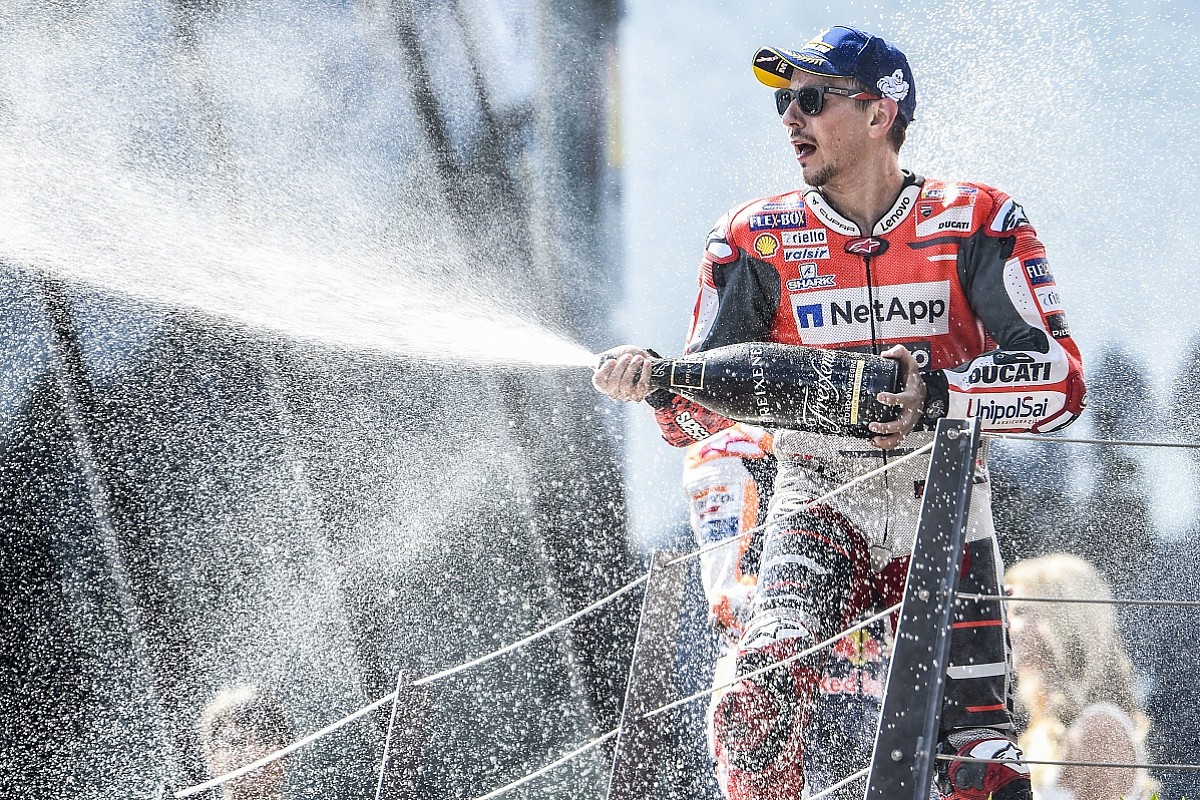 Despite the rumour mill persistently orchestrating his move out of Honda, runaway championship leader Marc Marquez re-signs for two more years, boosted by the RC213V bike's considerable progress.
The same cannot be said for Yamaha's YZR-M1, but Valentino Rossi re-commits through to 2020 anyway. His team-mate Vinales, however, is on shakier ground, with renewal talks cooled by a torrid patch of form and acrimony with crew chief Ramon Forcada - although an overview of the market suggests he remains Yamaha's best option.
In reality: Vinales kicks off the rider market by announcing a new Yamaha deal (January 24); Honda re-signs Marquez (February 26); Rossi completes Yamaha's 2019-20 line-up (March 15).
What they said: "My dream was to ride with the best manufacturer and I'm living that dream. I'm not looking for extra motivation" - Marquez on not leaving Honda.
August 14: Aleix Espargaro and Aprilia have endured a rotten season, the Spaniard often frustrated with the RS-GP's reliability but also making his fair share of mistakes.
Yet having shuffled its line-up excessively since its arrival in MotoGP, Aprilia is clamouring for consistency, while Espargaro has no obvious works alternatives. A two-year deal is reached.
In reality: Espargaro extends his Aprilia deal to 2020 (May 17)
What they said: "For the first time in my career, I am able to have stability and this is important to improve and grow together. I have a sole objective, an obsession and that is to take the RS-GP to the podium" - Espargaro
August 15: Boosted by changes to the GP18 bike, Lorenzo has hit a rich vein of form for Ducati and has scored more points than anyone, Marquez included, since the start of June. This doesn't exactly pay for his bumper initial deal, and it doesn't erase "the problem of a year and a half", as Andrea Dovizioso helpfully puts it, but it does change things.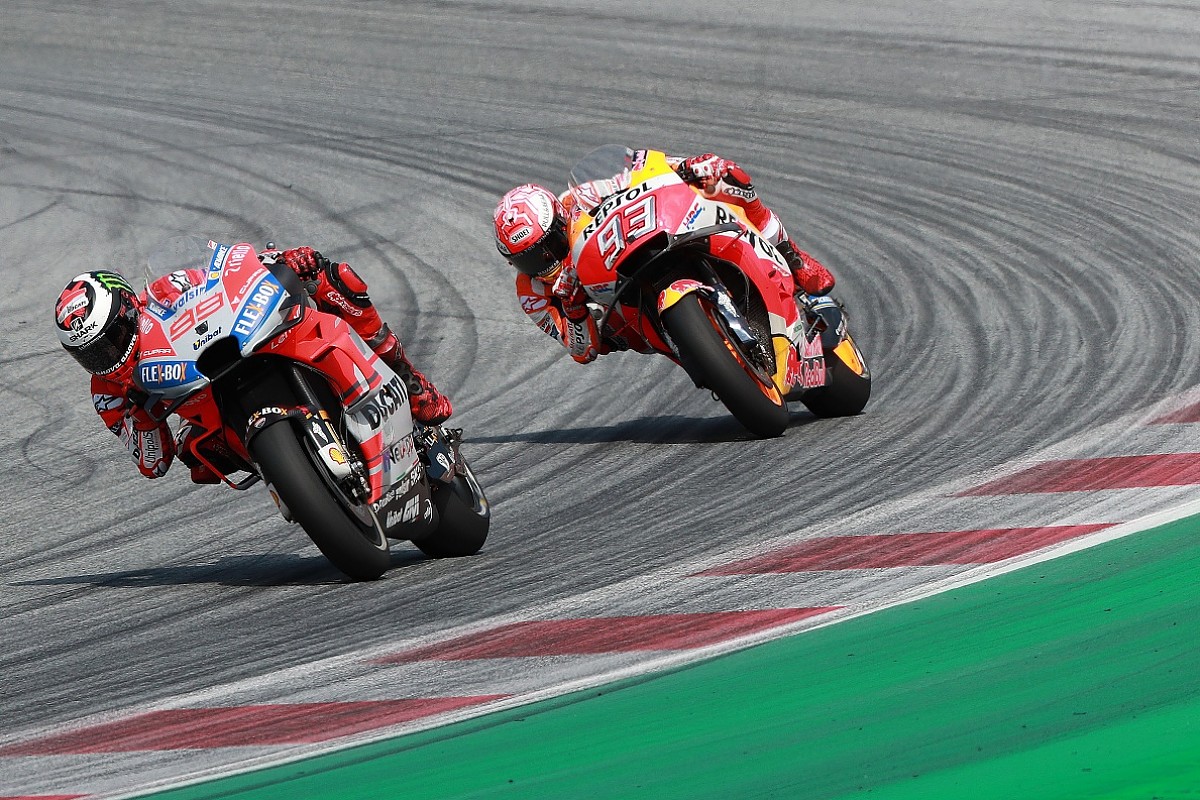 Keeping Lorenzo now would require mending his troubled relationship with CEO Claudio Domenicali, but Ducati would be negligent to let go of its marquee signing now that he's finally performing.
In turn, this complicates Dovizioso's renewal too, both in terms of budget and the fact he and Lorenzo seemingly can't stand each other. But this should be manageable.
Lorenzo is still open to a significant pay cut, Dovizioso's stock isn't quite as high as it was in 2017. The company needs them both, realising that this line-up is both Ducati's and MotoGP's best chance of a challenge to Marquez.
As such, both of them are confirmed through to 2020.
In reality: Dovizioso stays put (May 18); Lorenzo swaps Ducati for Honda (June 5)
What they said: "I kept telling people inside the team to believe in me, to bring me what I asked for. They have done it, but too late" - Lorenzo after winning at Mugello
Early contract signings have also made some of the decisions look very suspect
August 16: Danilo Petrucci made it clear at the start of the year that 2018 would be his last season at Pramac, and that he would be seeking a factory contract.
His route to the Ducati works team is blocked off, but another works option remains readily available. Petrucci partners Espargaro at Aprilia on a two-year deal.
Ducati, for its part, ties down Moto2 star Pecco Bagnaia on a two-year factory contract, placing him at Pramac.
In reality: Bagnaia is confirmed as a Pramac 2019-20 rider before the 2018 Moto2 season even starts (Feb 21); Petrucci is handed his Ducati shot after all, but ends up the only factory team rider on a one-year deal (June 6)
What they said: "The goal of Ducati is to keep our current official riders. We've made an investment with Andrea and Jorge and we have to try to renew with both of them. Danilo should be smart and go and find an [alternative] factory team" - Ducati sporting director Paolo Ciabatti, February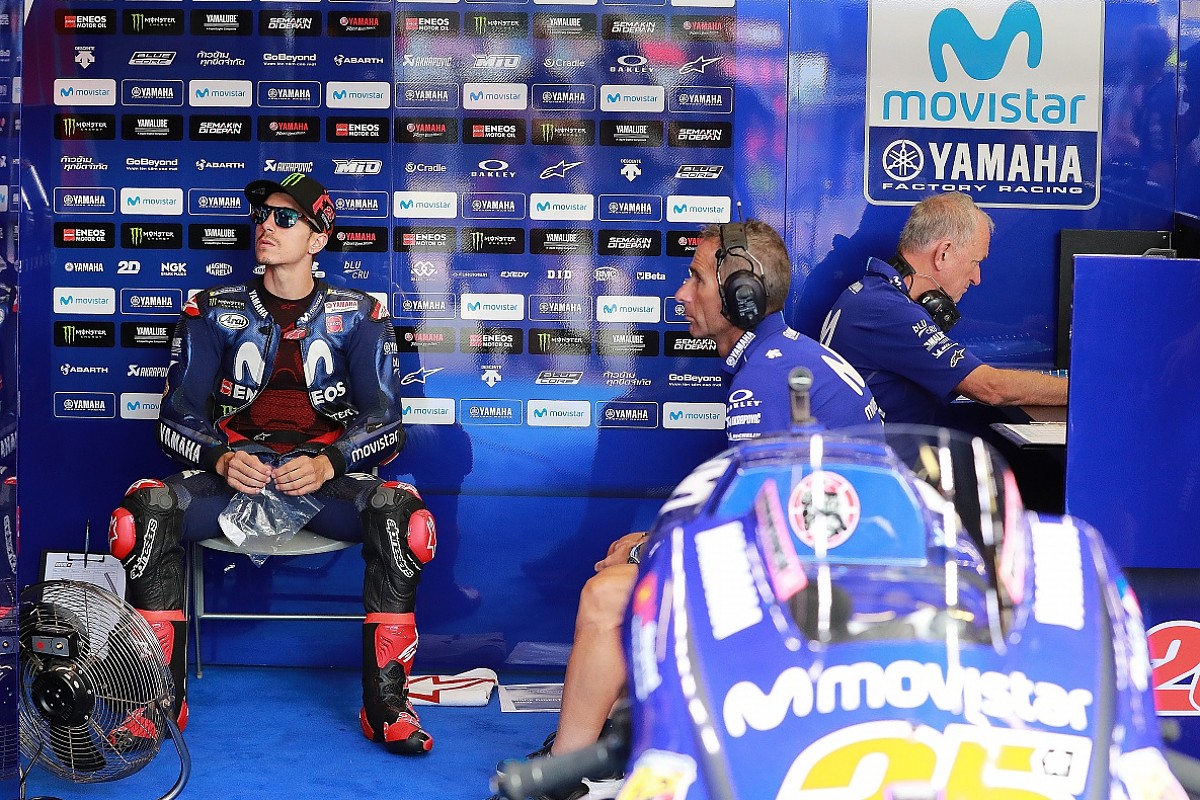 August 17: Four days into the transfer window, Vinales shows his hand. His year and a half at Yamaha has been draining, with endlessly see-sawing form, a conflict with his crew chief, the towering presence of team-mate Rossi, and the lows ultimately starting to considerably outnumber the highs.
So what are his options? Ducati is booked up, and while Honda looks to have a ride available, it would only mean swapping a team shaped around Rossi for one shaped around Marquez - not to mention Vinales' complicated history with main sponsor Repsol.
Instead, Vinales returns to Suzuki two years on from a seemingly peaceful split - which left team boss Davide Brivio lamenting that the marque ran out of time to convince Vinales to stay because of, what else, a "strange" early rider market.
It's an emotional decision rather than a pragmatic one, but Vinales has previous for that. This is, after all, the rider who, when still on Repsol's books, walked out on his FTR Honda Moto3 team during a race weekend.
Suzuki confirms Vinales alongside Alex Rins, who'd signed at the very start of the window. Iannone is left out.
In reality: Undeterred by an injury-ravaged debut season and a crash-y start to 2018, Suzuki commits to Rins for two more years (May 17)
What they said: "At the end, if I chose one team or another, if I demonstrate I can be the best, I can have again the choice of both" - Vinales on picking between Yamaha and Suzuki for 2017
August 18: Despite having sounded out a number of potential replacements, Yamaha is somewhat caught out by Vinales' decision. The YZR-M1 isn't the golden ticket it once was, and its options have narrowed significantly since the start of the window.
Among those still on the list is Johann Zarco, but despite his obvious successes at Tech3 the enthusiasm from both Zarco and Yamaha for a deal is low. Dani Pedrosa is seen as a likelier candidate, a rider who it was long believed would've suited this bike - although his indifferent recent form is a serious point against him.
Joan Mir is in the Yamaha frame but would be a major punt, especially as he has not kicked on since a lively start in Moto2. A more viable fallback option is Franco Morbidelli, long approached by Yamaha's new satellite team SIC - which has already quietly secured Hafizh Syahrin - but available in case there's a need to fill a spot in the factory team.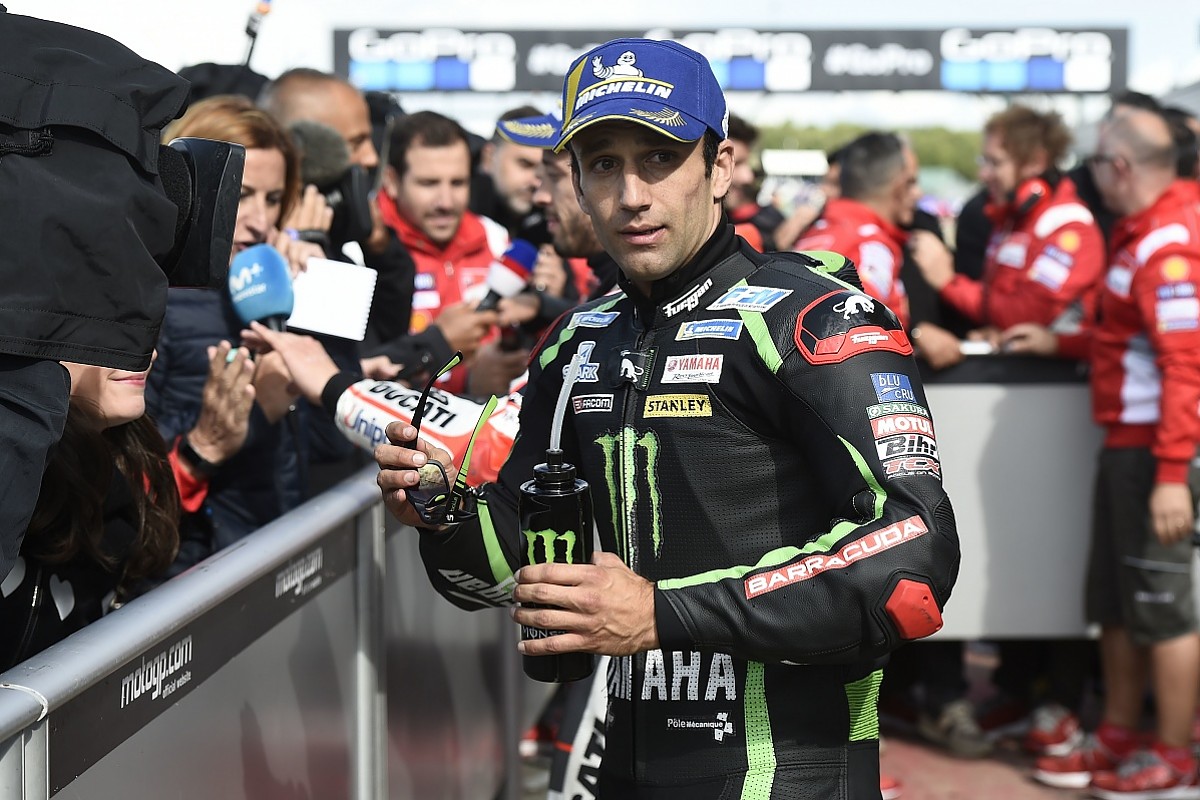 August 19: Zarco looked all but guaranteed to be MotoGP's newest winner at the start of the year - but by August the win hasn't come, and it doesn't look all that close either.
He's KTM's main target and the manufacturer remains as keen as ever. Unfortunately, KTM's progress looks to have stagnated somewhat since the start of the year, and while the prototype 2019-spec RC16 is touted as a big improvement, test rider Mika Kallio is injured and cannot properly put it through its paces on a race weekend.
At Honda, Alberto Puig has identified Zarco as his number one pick to replace Pedrosa. Ultimately, the offer of a ready-made top level bike is too tempting. Despite the unenviable prospect of going up against Marquez, Zarco accepts a two-year deal.
In reality: Zarco, MotoGP's in-form man at that point, is announced by KTM for 2019/20 (May 3)
What they said: "Why be afraid? To be Marquez's team-mate could be a nice thing. It's kind of a dream team, this Repsol Honda team" - Zarco on a potential Honda switch in March
August 20: His chances of landing a works ride vanish with Suzuki's and Honda's announcements, but Mir remains on the wishlist of most premier-class factories.
But with Yamaha looking unlikely to offer him a bike in 2019 and Ducati unable to fit him in at Pramac, where it expects to field Pecco Bagnaia and Jack Miller, it is Honda that holds the aces.
Mir is accordingly signed to a two-year factory contract and placed at LCR alongside Cal Crutchlow, who is already on an ongoing 2018-19 contract.
Takaaki Nakagami is therefore the odd man out, but is expected to be restored to the LCR line-up in 2020 - while Honda and Dorna continue to explore opportunities to keep the Japanese rider on the grid in the meantime.
In reality: Mir slots in at Suzuki (June 11); Crutchlow extends Honda deal (August 23), Nakagami expected to stay at LCR alongside him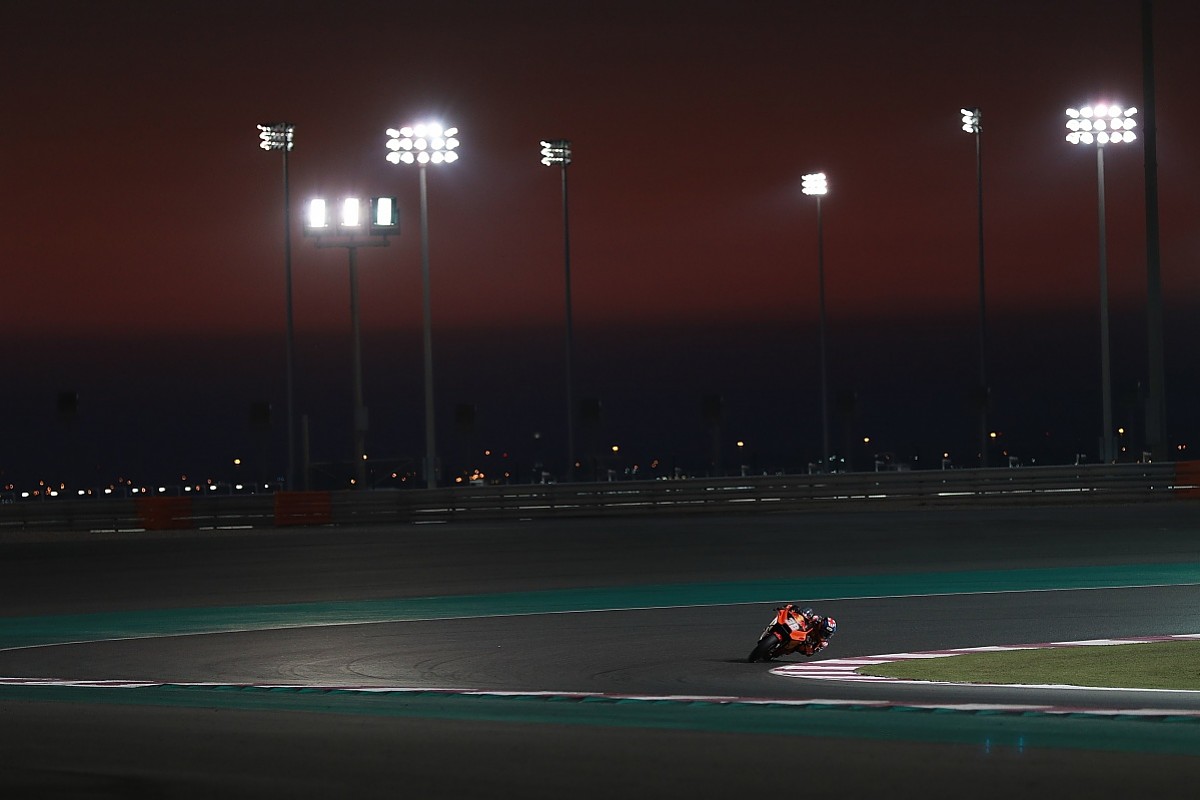 August 21: Having lost out on Zarco, KTM turns its attention to the two names below him on its list.
Pedrosa is available, and his former crew chief Mike Leitner, who is now team manager at KTM, is keen on a reunion. But at 32, and with retirement a serious consideration, the diminutive Spanish rider is put off by the scope of the task ahead.
The same is not true for 23-year-old Jack Miller, whose option with Ducati is now void and whose form with Pramac has tailed off substantially after a superb start.
Miller can have an up-to-spec works Ducati for 2019 at Pramac, but forcing himself into the factory team will be a different matter - especially given the impending arrival of Bagnaia.
And so, once a KTM works rider in Moto3 - in a partnership that yielded runner-up spot in the 2014 season - he becomes the Austrian manufacturer's marquee MotoGP signing on a two-year deal.
In reality: Miller confirms he will ride a GP19 bike for Pramac next year (June 14)
What they said: "My manager is Aki Ajo, who is the manager of KTM Moto2 and Moto3 teams, and of course I have a good relationship with them. But to be honest nothing has been said there, and as they know I have an option here [at Pramac Ducati] and we expect the team probably will use that option" - Miller on his a potential KTM move
August 22: Miller's confirmation allows the dominoes to fall in place at KTM's new partner team Tech3. Portuguese rider Miguel Oliveira, having been a standby option for the factory team due to his superbly impressive Moto2 campaign, is immediately signed up as a Tech3 rider for 2019.
The situation with the second seat is more complicated. KTM, yet to pick between Pol Espargaro and Smith for the ride alongside Miller, would see the Briton at Tech3, but Herve Poncharal is less enthusiastic.
Instead, it is down to Brad Binder and Fabio Quartararo. While the former is, by his own admission, not quite ready, he is no less ready than the Frenchman. But with Dorna keen on two French riders on the grid, and Quartararo reliably getting the better of Danny Kent in the SpeedUp Moto2 team, he gets the nod.
In reality: KTM announces a Tech3 ride for Oliveira (May 5), Syahrin remains at the team to complete the line-up (June 6)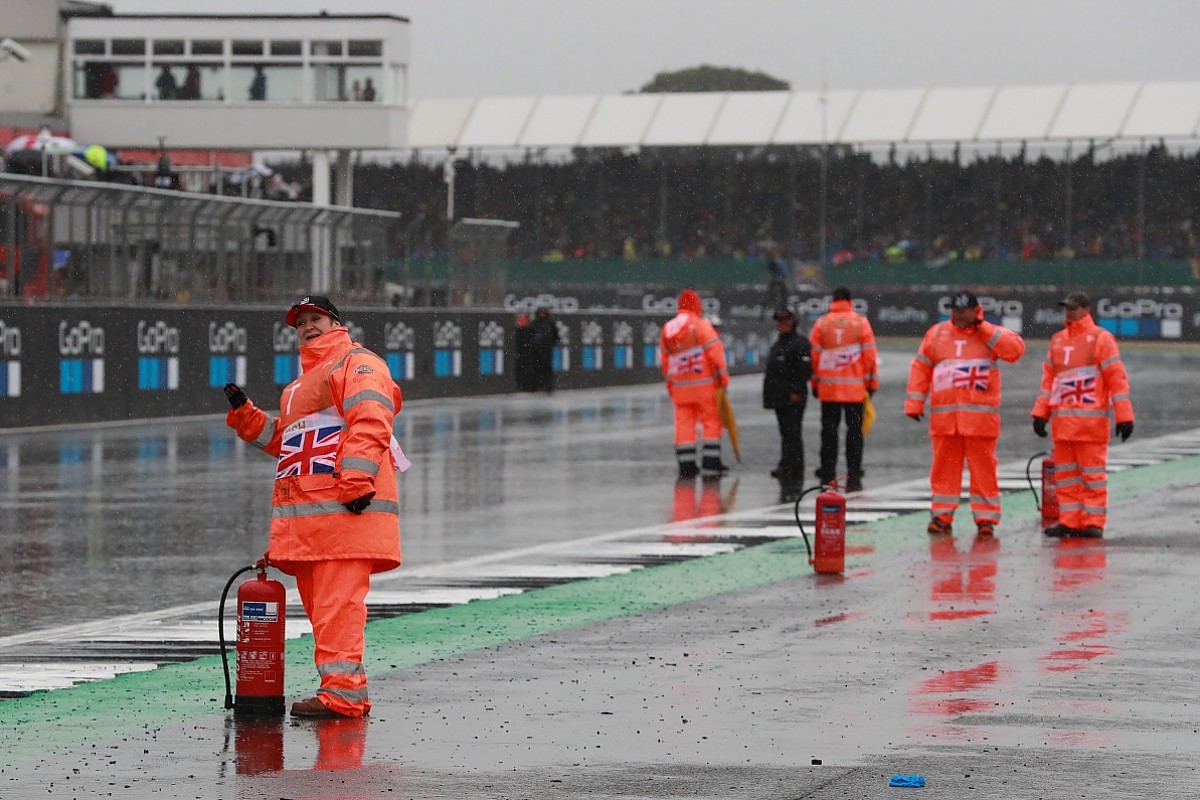 August 23-26: The British Grand Prix weekend takes place at Silverstone, but the race itself is rained out. SIC Yamaha officially unveils Morbidelli and Syahrin as its riders for 2019, suggesting that Yamaha has agreed terms with Pedrosa.
August 27: Unable to preserve his place at Suzuki and with no other factory options forthcoming, Iannone is ready to leave MotoGP.
But Miller's exit has left a spare Desmosedici on the grid, and Ducati sees Iannone, successful in the past with the works team but also Pramac, as both the most qualified rider for the job and a good benchmark for Bagnaia.
Iannone accepts a one-year deal, taking over from Petrucci as the lead rider at Pramac.
In reality: Dropped by Suzuki, Iannone swiftly replaces Redding at Aprilia (June 8)
What they said: "A rule should be put in place that only allows for a market window of two months after the summer break, and that is enough" - Iannone
August 28: With Marc VDS Honda set to disappear from the grid next year and vacate two places on the entry list, Honda announces a standalone HRC entry for Nakagami in 2019, taking the championship to 23 full-time bikes.
August 29: Despite the upturn in Smith's recent form and KTM motorsport boss Pit Beirer's unhappiness with Espargaro's crashes and latest performances, the Spaniard gets the nod to partner Zarco for 2019 and 2020.
In reality: Espargaro is retained by KTM (May 2); Smith seals an Aprilia test role (September 7)
What they said: "I really see that he is absolutely not using his full potential" - Beirer on Espargaro
August 30: Avintia announces a one-year extension for the recovering Tito Rabat, who has rescued his MotoGP career with a strong 2018 after two brutally difficult years at Marc VDS Honda.
There are multiple candidates for the second ride, but the team is unwilling to wait until the end of the season in case all the MotoGP-level riders with sufficient backing are poached away by other championships.
Ultimately, an agreement is reached with Karel Abraham to replace Xavier Simeon.
In reality: Avintia has confirmed Karel Abraham (September 5), while an extension for Rabat looks very likely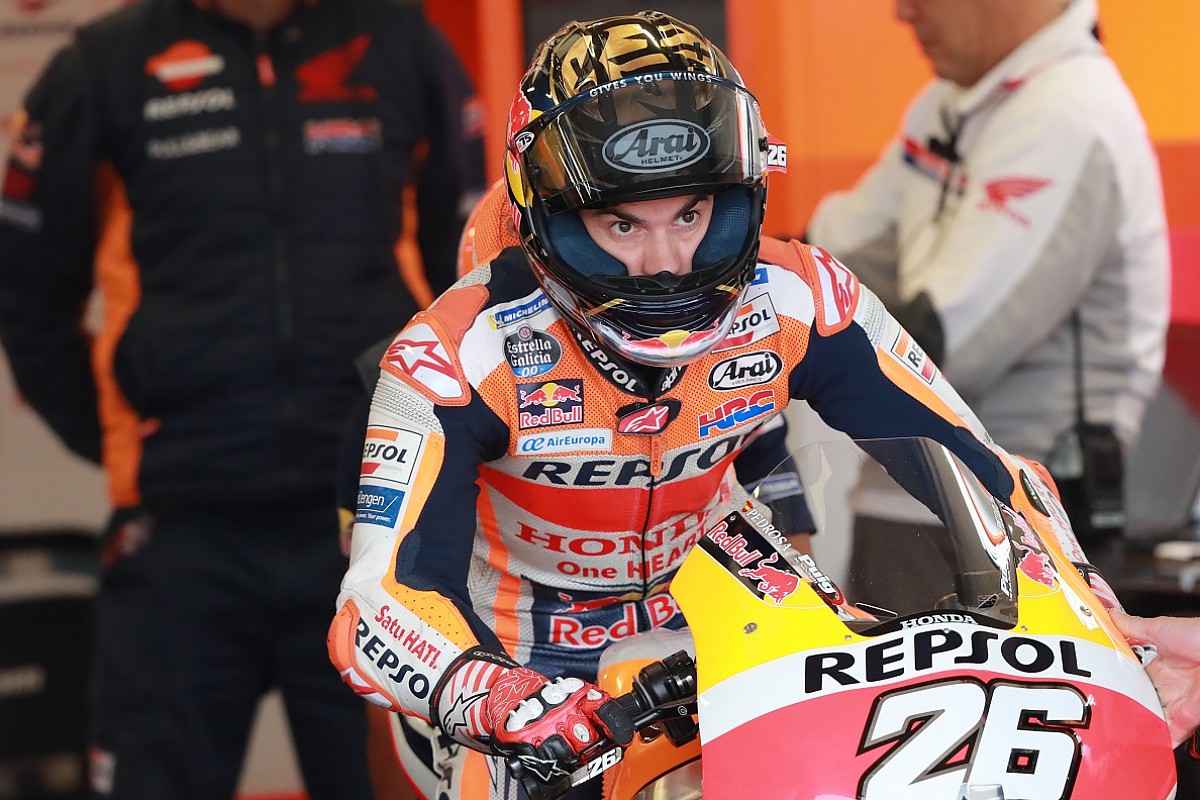 August 31: Yamaha announces Pedrosa will be joining the team on a one-year deal.
The Spaniard, demotivated and leaning towards retirement since it became clear Honda was hell bent on finding a replacement for 2019, finds the offer to test himself on a works Yamaha too tempting to pass up.
And Yamaha, having considered Pedrosa as the main alternative to Vinales back in 2016, is aware he will not be a disruptive presence in the team and can help the YZR-M1's development.
But Pedrosa's uncertainty over his longer-term MotoGP future and the lack of results in 2018 mean the deal is only signed for next year initially - with Morbidelli lined up as a replacement should it not work out.
In reality: Replaced by Lorenzo in the Repsol Honda team, Pedrosa decides against joining SIC Yamaha and announces his retirement (July 12); SIC Yamaha names Morbidelli and Quartararo as its riders (August 24)
What they said: "I've always been personally very curious to see how Dani would go on a Yamaha, and we've had some discussions in previous years as well. It's always been a kind of a curiosity in my mind" - Yamaha MotoGP boss Lin Jarvis, speaking in June
Mock 2019 grid:
Honda: Marquez, Zarco
Yamaha: Rossi, Pedrosa
Ducati: Lorenzo, Dovizioso
Suzuki: Vinales, Rins
Aprilia: Petrucci, A Espargaro
KTM: Miller, P Espargaro
Tech3 KTM: Oliveira, Quartararo
Pramac Ducati: Iannone, Bagnaia
LCR Honda: Crutchlow, Mir
HRC: Takaaki Nakagami
Avintia Ducati: Rabat, Abraham
SIC Yamaha: Morbidelli, Syahrin