Experience in motorsport is supposed to increase your chances. You learn from those early 'I'm immortal!' crashes and, once you've stopped shunting, you keep it on the straight and narrow, learning from all those set-up tweaks that you've mastered over nearly a dozen years of racing to take you to the top.
Then you work hard and you win a championship, just like Jorge Lorenzo has done, or Kenny Roberts Jr, or Nicky Hayden in that epic 2006 MotoGP season when everything was stacked against him.
Dani Pedrosa thought he'd be all right at all that. He won his first 250cc race, his fourth MotoGP race and then went on to win 24 MotoGP races. Twenty four... And all in the high temple of the Honda Racing Corporation, creator of winning bikes time and time again.
Granted, HRC does very occasionally make a bad bike, such as the initial 800cc contender, but it throws more money at it than anyone else and soon engineers the problems away.
Or... it gets another rider on the Honda to make it go faster.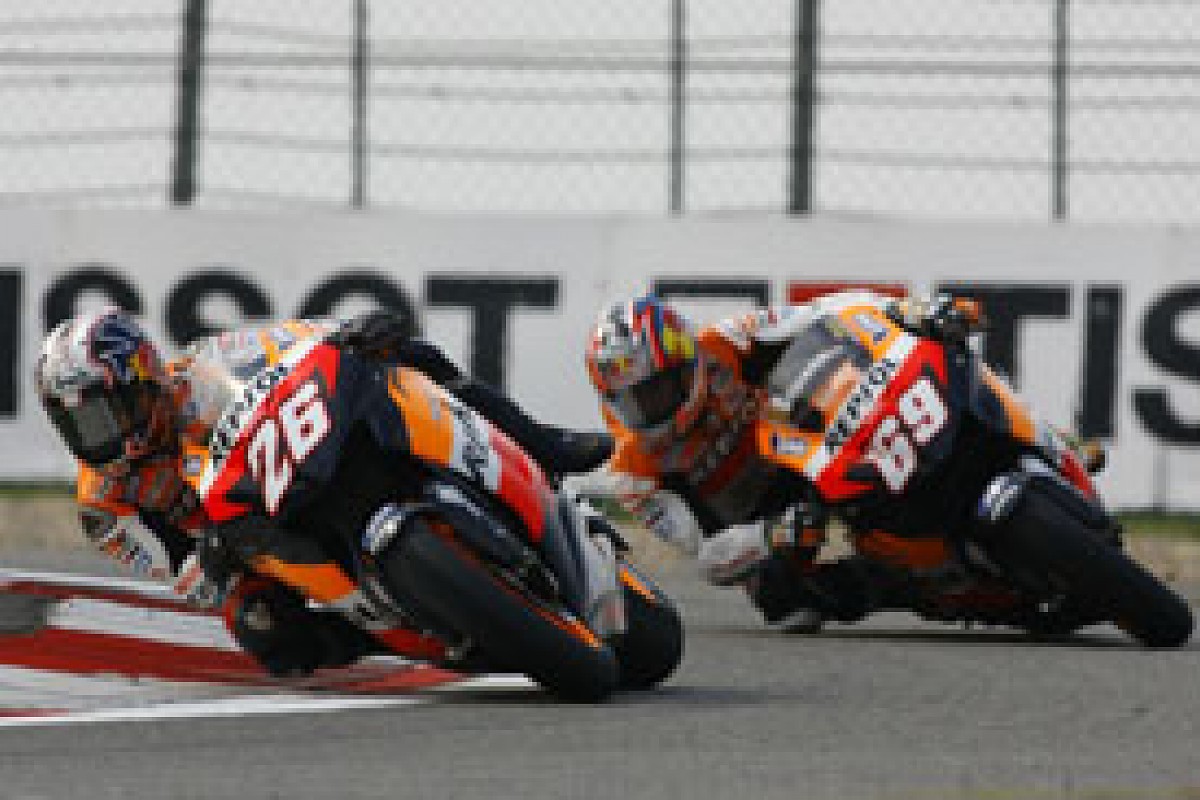 Shanghai 2006: Pedrosa scores his breakthrough premier class win
'Bike always good enough, faster rider necessary' has always been a perceived management technique at Big Red, but it always seems to have rung true, except when Valentino Rossi slapped Honda in the mouth by leaving for Yamaha and winning immediately.
So how is Pedrosa feeling now in his eighth year at HRC and on his third incarnation of the MotoGP bike, yet still without a title?
He stuck around with Honda through thick and thin, indeed he's never ridden a motorcycle other than a Honda since he arrived in grand prix racing at the start of 2001.
He won the 2003 125cc world championship and then the '04/'05 250cc titles, so HRC was quite right to put him among the big boys.
Many don't believe in bad luck or fate or such hocus pocus, but personally I do. Some people are just jammy gits while some others are just plain unlucky and that's where I think of Pedrosa - in the unlucky camp.
It goes back 10 years to Friday-morning free practice at Phillip Island in 2003.
It was just five days after he had wrapped up the 125cc championship and on his sixth flying lap of his two-race swansong when the little Movistar Honda snapped left after Lukey Heights and crashed hard into the pretty solid tyre wall.
Pedrosa was airlifted to Melbourne hospital with serious ankle injuries. His parents, who weren't in Malaysia to see their son win a world championship, had just landed from Europe and were en route to the track when the accident happened; they had to turn the car around and return to Melbourne to see their lad as a world champion for the first time and in rather a mess.
That was bad luck.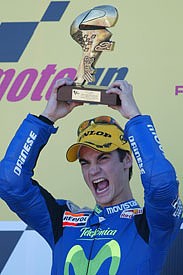 Not even Rossi could match Pedrosa's record in the junior classes
The next race he started was his first in 250cc the year after. He qualified fourth and won. I will never forget his crew chief, Mike Lietner, smiling, but shaking his head afterwards, as he said: "I did not believe this would happen."
It was Lietner's first race as a crew chief, having previously been a suspension guy for Ohlins. He probably thought life was pretty darn good at that point, and it was! The title came and the next year they did it again to prove it wasn't a fluke.
Not even Rossi won the 250cc title in both his years in the class. That wasn't even good luck for Pedrosa; no, it was hard work and a demonstration of sheer speed.
Going head to head against Rossi in the big class was never something that would shake Dani, even if people struggled to get used to his flat-line attitude off the bike. It was a shock to see someone winning and hardly smiling, especially after the antics of Rossi and his merry men.
But Honda believed that Dani was the golden bullet who would topple Rossi off his perch after the Italian declared that he - not Honda - was the key to success when on a V5 at HRC in 2002/'03.
In May 2006, I wrote a strong article about Dani's side of the garage, but mainly about his mentor Alberto Puig. I disagreed with the way they went about skinning the MotoGP cat. It annoyed Honda so much that they said I "might not be welcome in their hospitality".
"I'm sure I'll survive," I replied. The PR was following orders but she later told me she agreed with what I had written; yet they had to believe this man was the key to smashing the Rossi bandwagon.
And to a certain degree he was the key as it was only Pedrosa who could win races on the works Honda as Yamaha stacked up titles in the years after the apparent freak crown for the 2007 Casey Stoner/Ducati package. At that time the belief was that Honda's bike wasn't necessarily the best.
But HRC still believed it was good enough so got Stoner in to ride it. Boom! He won his first race on it and won that year's title straight off the bat.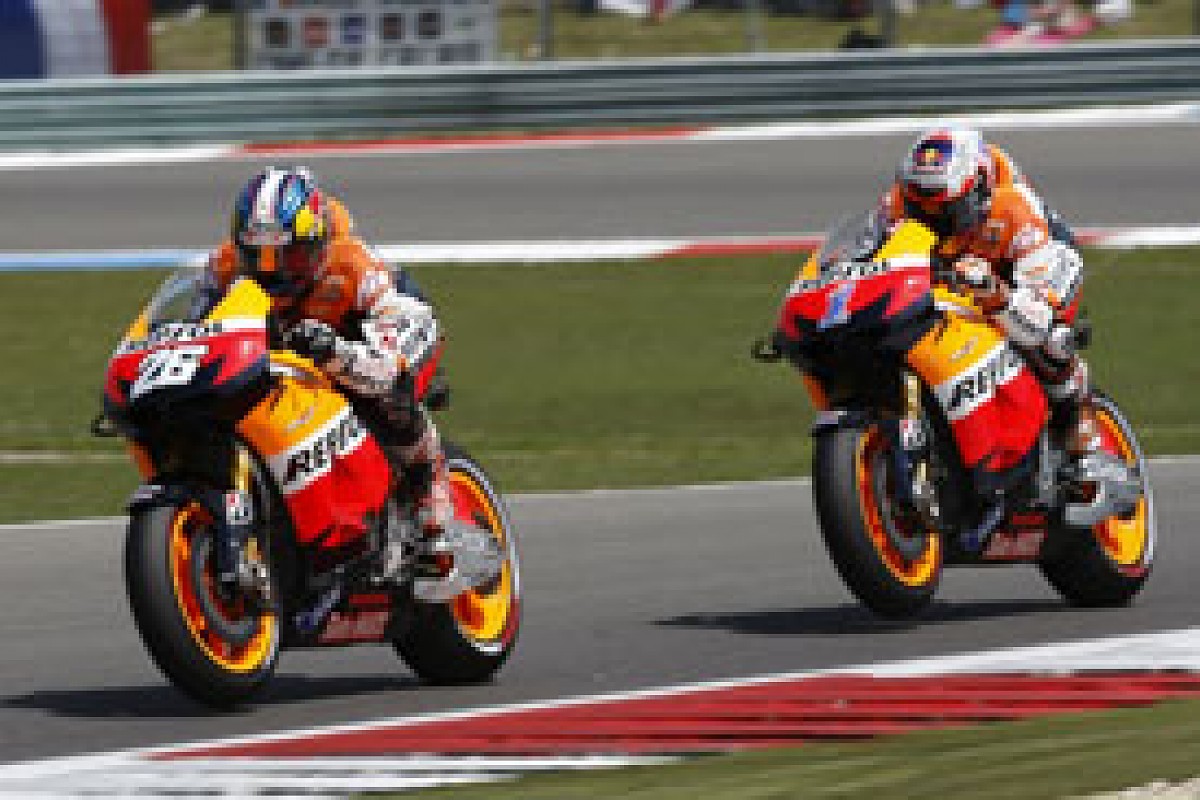 Pedrosa bested Stoner and was the man to beat over the second half of 2012
Dani must've thought it was Christmas when Stoner said he was leaving after a couple of years. He stepped up to the plate to prove he was the man to beat in the latter part of 2012 until that thing called bad luck got in the way at Misano, a locked front brake necessitating a back of the grid start and the associated mid-pack accident.
Pedrosa was deserving last season, but again it was not to be.
Then it happened again with Honda 'plugging in another one' in the shape of Marc Marquez - a stellar talent the likes of which the championship has not seen since its inception in 1949.
Having someone like Marquez rock up on the other side of the garage just as you've gained supremacy in the team really does seem like bad luck.
But still, when your team-mate dislocates his collarbone three hours before the British Grand Prix and still beats you soundly and nearly wins, it must make you a tad miffed.
Will there be a twist in the tale in these final five races of 2013? He has the experience to put together a title campaign, and he's a little out of the limelight amid the Marquez/Lorenzo show. He can just chip away quietly and if Marquez finally gets caught out just as all the others did in their first years, or decides to play the points game and takes it a little too easy, Dani will be right there.
The flaw in that plan is the sheer size of Marquez's lead. Second place to Lorenzo or Pedrosa in all the remaining races will still make him champion.
There's no threat to Pedrosa's short-term future. He has an HRC deal for 2014, taking it to nine full seasons.
But this is the time, as hard as it may be against Marquez, when he has to use that experience or end up as the bridesmaid yet again. Has 2013 sealed Pedrosa's destiny?
Bad luck, good luck - maybe there's no such thing. Maybe luck is all about being ready for anything.