Cal Crutchlow's move to Ducati has gone down badly with some of his fans in the UK, and that's understandable after the team's terrible performances of late. The last Ducati win was way back in October 2010 with Casey Stoner...
Will they eventually fight themselves out of this ravine of a dip of bad form with the new German hierarchy from Audi? They have to. They have no option. We know what Audi has done for Bentley, SEAT, Lamborghini and Bugatti in the past decade while Bernhard Gobmeier headed recent BMW M5 and M3 M Power projects. The new bosses bring a tremendous amount of corporate knowledge and business accumen between them.
Cal has taken the coin, and why not indeed? It must be very difficult to say to yourself at night during negotiations, 'Safe ride/less money versus risky ride/pots of cash to set me and my fiancee up for years'.
The money bit is something only the rider can understand. Some of the best results in sport have come from people on a basic wage and a big bonus, just like car salesmen. They want the pole, the fastest lap and the win. I'll never forget Mick Doohan one Saturday afternoon in 1996 saying, "Pole and another 10 grand."
What Cal brings to Ducati is a character and a fighting persona that the team needs at the moment. I've always said that many people want to go to work in particular teams for more than simple renumeration. People want to work at Red Bull to be part of a brand and an exciting lifestyle; people at Ferrari in the 2000s wanted to work alongside Michael Schumacher; people in the '90s wanted to work with Doohan at HRC.
Ducati had that with Foggy, Bayliss, Capirossi and to a certain degree Gibernau, who was quicker than people give him credit for. Stoner was lauded but soon the edge of his tongue rubbed a couple of people up the wrong way, even though it wasn't admitted at the time.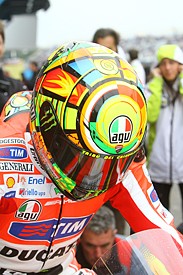 Rossi arrived at Ducati amid huge expectations © SMARTFotos
Valentino Rossi arrived in a whirlwind of great expectations, but soon it was clear that it just wasn't working, causing him to quit and for Filippo Preziosi to go too as the Audi brush swept through the place.
In recent times look how Stoner energised HRC when he arrived there in 2011. He won the first race, just as Rossi had done at Yamaha. You see it in Formula 1, where Lewis Hamilton arrived at Mercedes and lifted the morale and fighting spirit.
Cal will be the halfway house between a Marco Melandri and a Valentino Rossi in terms of expectations. The Ducati guys' feet will stay on the ground and they will not expect the moon straight off.
What they will get with Crutchlow is commitment every race and every session. He doesn't do losing and he doesn't do rolling over without a fight. He has a burning desire to win and that will bleed over to the guys in the factory or the guys in the garage who might otherwise bail out a couple of hours early and go back to the hotel before the bar shuts.
But it's funny, isn't it, how it's an Anglo-Saxon who's been recruited at Ducati. Fogarty, Bayliss and Stoner all left legacies embedded upon fans' minds; here's hoping it'll now be Crutchlow who'll take Ducati back to winning ways.
We need Ducati right up there, and that's where Cal deserves to be too.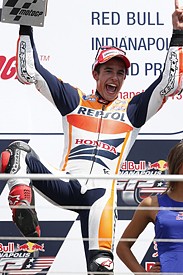 Marquez is running away with the championship lead
ONLY AN INJURY COULD STOP MARQUEZ NOW
Just over the halfway point of the season and the phenom that is Marc Marquez is leading the championship from two injured older hands and a multiple world champion wise-guy whose bike still isn't quite right.
At both Laguna Seca and Indianapolis, Marquez immediately topped the timesheets on both morning and afternoon on the Friday. At Indy he had experience in the smaller classes, but he'd never seen Laguna before and yet won the race on Sunday with apparent ease.
"There are tracks that are difficult to learn, and then there is Laguna..." Neil Hodgson said as we discussed the middle win of Marquez's recent hat-trick. Three races, 75 points and a deficit of 23 points turned to an advantage of 21.
Jorge Lorenzo looked a man beaten in more ways than one when he got off the bike at Indy, and when he's down, he's down. Dani Pedrosa looked despondent, but then who wouldn't after being beaten by Marquez? Again.
Rossi had a great fightback from a lowly start, which shows he still has it, although Crutchlow might not agree after their final-corner dust-up.
This is turning out to be a particularly tough year for tough men in MotoGP.
So where does this leave us for the main course and the dessert of 2013? Ten in, eight to go, this gives us a tremendous showdown, does it not?
We now know that Marquez really is that good, but there still seems to be an elephant in the room. If he has an accident, will he get up and walk away from it? Or could he face a similar blow to Lorenzo and Pedrosa? If he stays fit then he will win the title due to his huge confidence and the Honda-friendly nature of the remaining racetracks.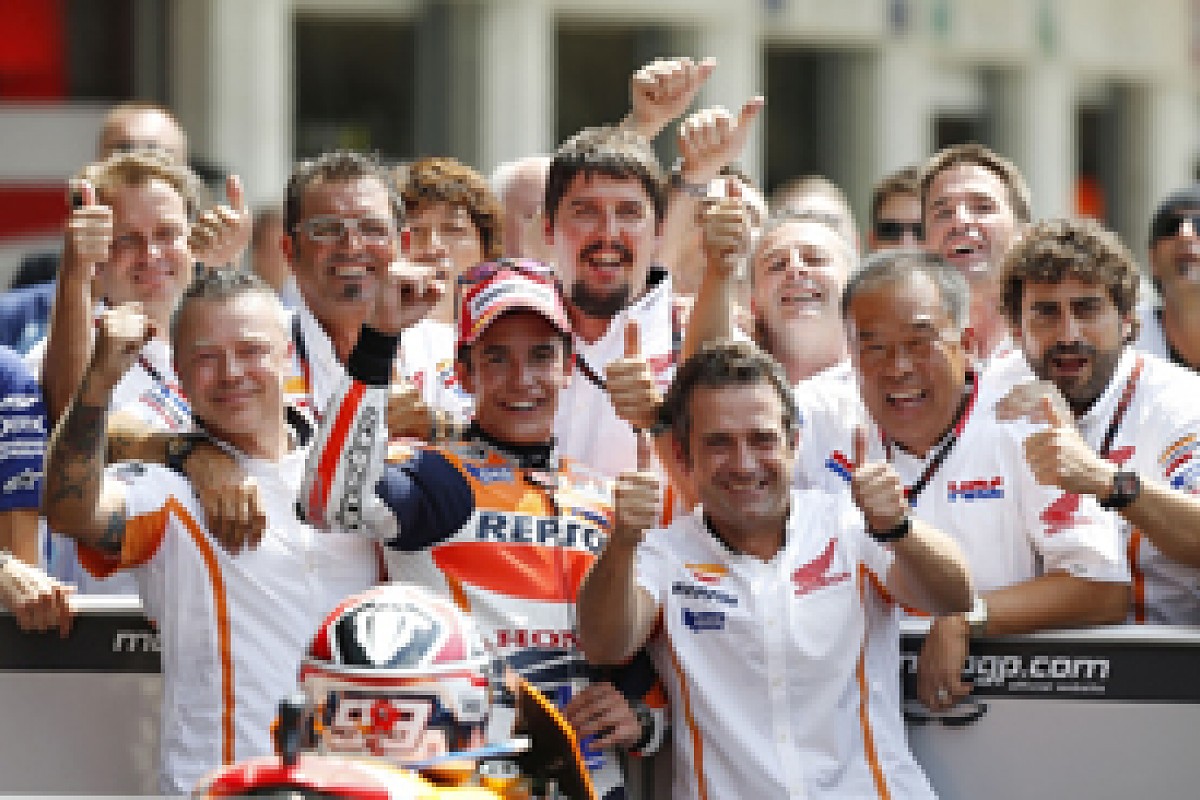 The rookie has become Honda's main man
It's a sobering thought that the 20-year-old may well blitz this championship in his first year. That would put him up there with Kenny Roberts Sr, even if KR didn't know as many of the tracks as Marquez does today. What this also highlights is how good Marquez was in Moto2 and that accusations of cheating there were quite desperate.
Get yourself along to a race this year and see what this 20-year-old lad can do on a MotoGP bike. Irrespective of whether he wins the championship, this is a 'must-see' experience, as it was with KR, Spencer, Doohan and Rossi. Personally, I wish I'd seen Roberts win, but I was just a couple of years too young to appreciate it.
CASEY WHO?
Another thing Marquez has done is to make Stoner feel like a long-lost part of racing's past.
Is the Australian realising that he got the words 'sabbatical' and 'retirement' mixed up when he told the world he was retiring to spend more time at home away from a championship he wasn't in love with anymore?
He's now done the first of four private tests in Japan for HRC aboard the GP prototype bike. Stoner certainly didn't get bothered with autograph hunters at Motegi, nor those pesky journalists. It's a savvy move from HRC because he is the fastest test rider in the world, ever, and their current test rider has a broken hip.