It's an upside-down season for predictions.
The rider who was fast as hell and a bit of a hooligan was predicted to have got to the halfway point of the season with a monster crash and some major injuries to boot that might have hindered his Sunday afternoons.
What has actually happened is that the riders who've had the whack-through, big offs in 2013 have been the experienced guys with 13 years of MotoGP racing under their belts: Jorge Lorenzo and Dani Pedrosa.
Lorenzo had big accidents in his debut season but he sorted that and, in his third season, won his first title by finishing every race on the podium (apart from two when he was fourth).
Marc Marquez was the man many expected to 'do a Lorenzo' and have some monumental offs in his rookie season. He did have that massive 209-mph off at Mugello but he had some of that 'Rossi luck' and got away with it. I mean, who gets away with a 209-mph crash?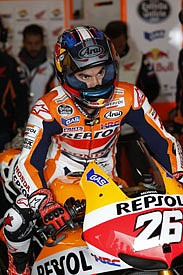 Pedrosa's horrible highside led to him withdrawing from the race
Pedrosa, carrying on his stellar 2012 season-ending form, hadn't put a foot wrong all season and rocked up at the Sachsenring as the championship leader. But on a cold Saturday morning his first flying lap was not to be good to him.
The soft, right-hand side of the tyre was not warm enough, the back of the bike came around on the very first corner and Dani was launched sky-high - he fell as if he'd been dropped off the roof of the HRC truck.
Holding his collarbone in the exact same fashion as he did when he tumbled off at Le Mans in 2011, and things were not looking good. It wasn't just a fractured collarbone that hurt though: his head was ringing and he had oddly low blood pressure.
The doctors thought he was fit enough to ride the warm-up, and maybe the race. His last lap had been on Friday afternoon so, with his next flying lap potentially being lap 1 of the race, he was fortunately stopped. And there we were, with the odds-on favourite for the race, and the championship leader, out for Sunday at a track where he'd won four times in the last five years.
Second-placed man in the championship, Lorenzo, didn't start after his own highside - the result of impatience and over-confidence on Friday afternoon.
I've worked with titanium and it isn't easy to bend, but Lorenzo did exactly that such was the force with which his injured shoulder hit the asphalt. Having got away with it 'lightly' at Assen, doing the same a second time was too much even for Lorenzo, the best doctors in the world and a limitless budget to cope with.
While Lorenzo's off was through haste in re-establishing himself at the top of the screens when he was not 100 per cent fit, his risk-taking is one of the reasons Yamaha have faith in him and why he has had some stellar results.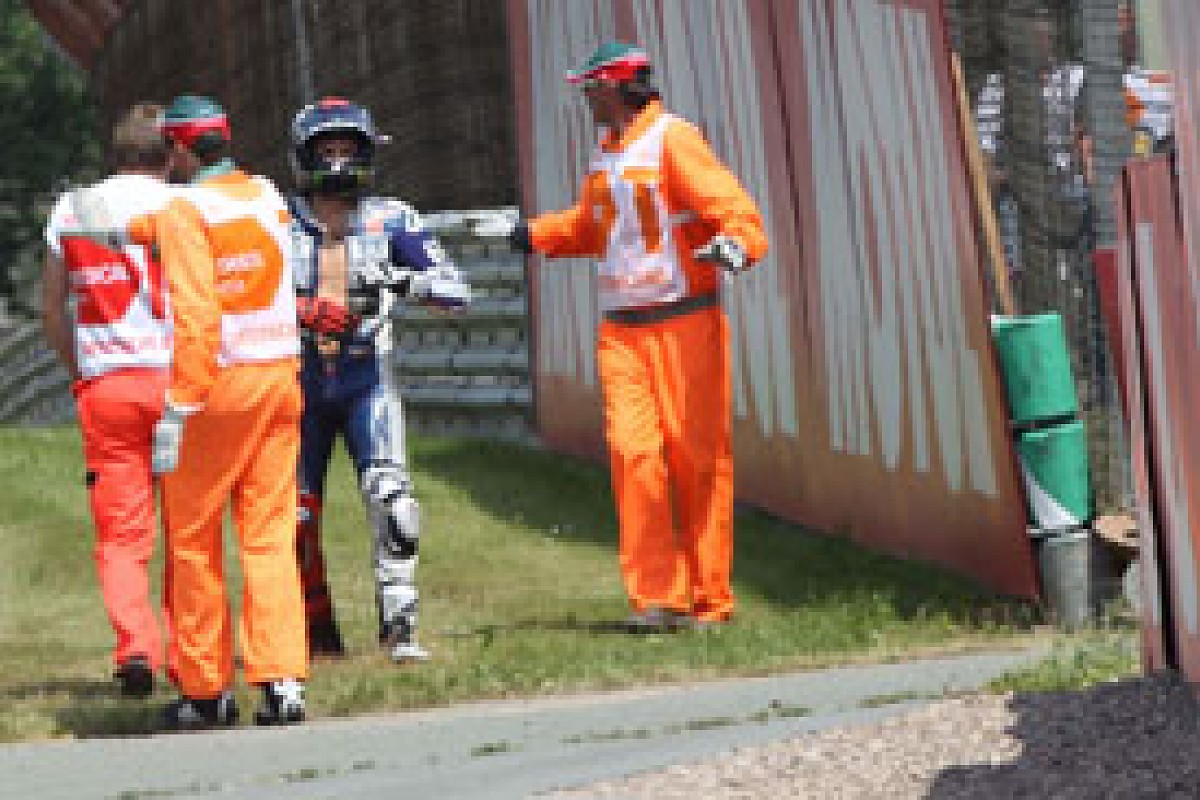 Lorenzo meanwhile bent the titanium plate on his collarbone in a Friday crash © SMART
We only see the risks that go wrong rather than the ones he gets away with by taking a pole or a win. But it was Jorge's second big off in two grands prix during the first day of the meeting.
And while all of this was going on, Marc Marquez was learning the Sachsenring on a big bike for the very first time, taming the 260 angry horses around the Omega and 'Waterfall' downhill right-hander and not falling off at any point over the weekend. He blitzed pole, and even had enough time to have a NSFW laugh with Crutchlow in parc ferme on Saturday.
He might have felt a little pressure being the only Honda's only rider who could've realistically won the race, especially as the Japanese marque needed to rediscover its mojo having not won for over two months since Pedrosa's Le Mans triumph. Did you see the relief on Nakamoto's face after the race?
Sure, Marquez threw away 20 points at Mugello but he should've banked that race after the three crashes he had in practice that weekend. Hell, if he had finished Mugello in third he'd be 18 points ahead of everyone right now - but that's all talk to do with balls, aunties and uncles...
What we don't know is how Marquez will get on at Laguna Seca. This is a track where the others have experience and he hasn't, unlike Texas where all the Hondas and the works Yamahas had a test. At least we won't have to wait long to find out.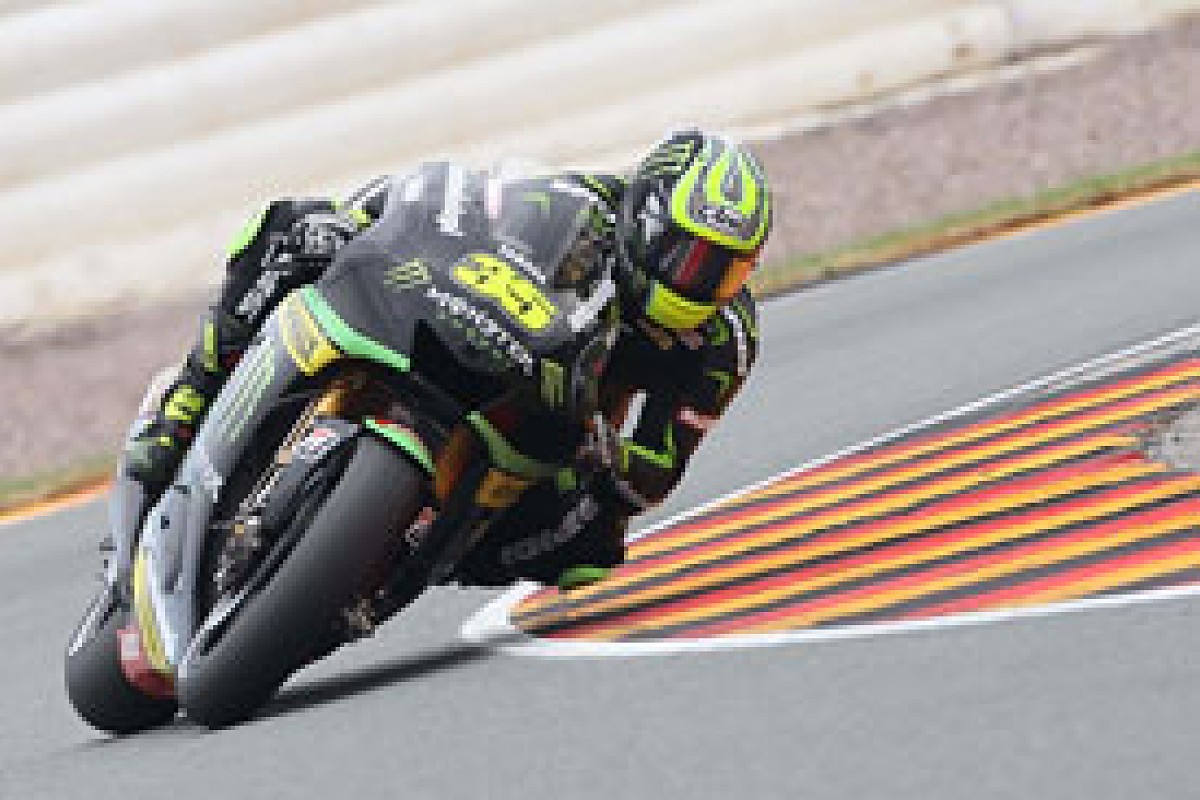 Crutchlow is yet to confirm a deal for 2014 despite a stellar season © SMART
Sunday night at Laguna will be the halfway point of the season and will trigger many clauses in riders' contracts to determine whether they are in or out of a team for 2014.
Teams will know what bikes they're going to have too, so that may well settle some minds when the helmets come off. Marquez knows that, like Pedrosa and Lorenzo, he has a deal for next year. The difference is that HRC's Emilio Alzamora also knows that he could keep Marc until the end of, say, 2018 if he wanted...
Would you sign that piece of paper? Marquez might be tempted. Do others have that stability? No.
The summer break of three weekends is all well and good for people to switch off, recover from injuries or go to the beach, but the payment of not seeing a bike for nearly a month is that the remaining nine races take place over 14 weekends, including two sets of triple headers (both involving long-haul flights).
Putting it simply, teams are only going to get four weekends at home in four months.
Coping with such strains adds another complexity to a season already bursting with surprise and intrigue. After all, no one thought Pedrosa and Lorenzo were going to make mistakes of such magnitude. And few thought Marquez would avoid the typical pitfalls that await a rapid MotoGP rookie.
Predictions, hey? It's great being wrong.