It was almost too good a start to a career.
Marc Marquez broke record after record, including winning his second ever MotoGP race at just over 20 years old.
Podiums and pole positions were beginning to be a norm for him until he fell at Mugello just two laps from home.
He'd lost the front earlier in the race, but this time he lost the front and rear and it was never coming back.
His head was in his hands before he'd even stopped sliding through the gravel. A fourth crash in three days and 20 points thrown away. From a championship lead two rounds ago, to a trailing third.
Through the spring this bright-eyed, ever-smiling kid had just turned up and piled on as normal as if he was still in Moto2 and he had been riding the Honda MotoGP bike for years.
Remember this was the guy who started at the back of the grid for his Moto2 finale at Valencia in 2012 and won the race.
His first test on a MotoGP bike caused my colleague Neil Spalding to ask if he had already secretly been on the bike before. Marquez really was that good as a MotoGP virgin. What problem was MotoGP going to be for him?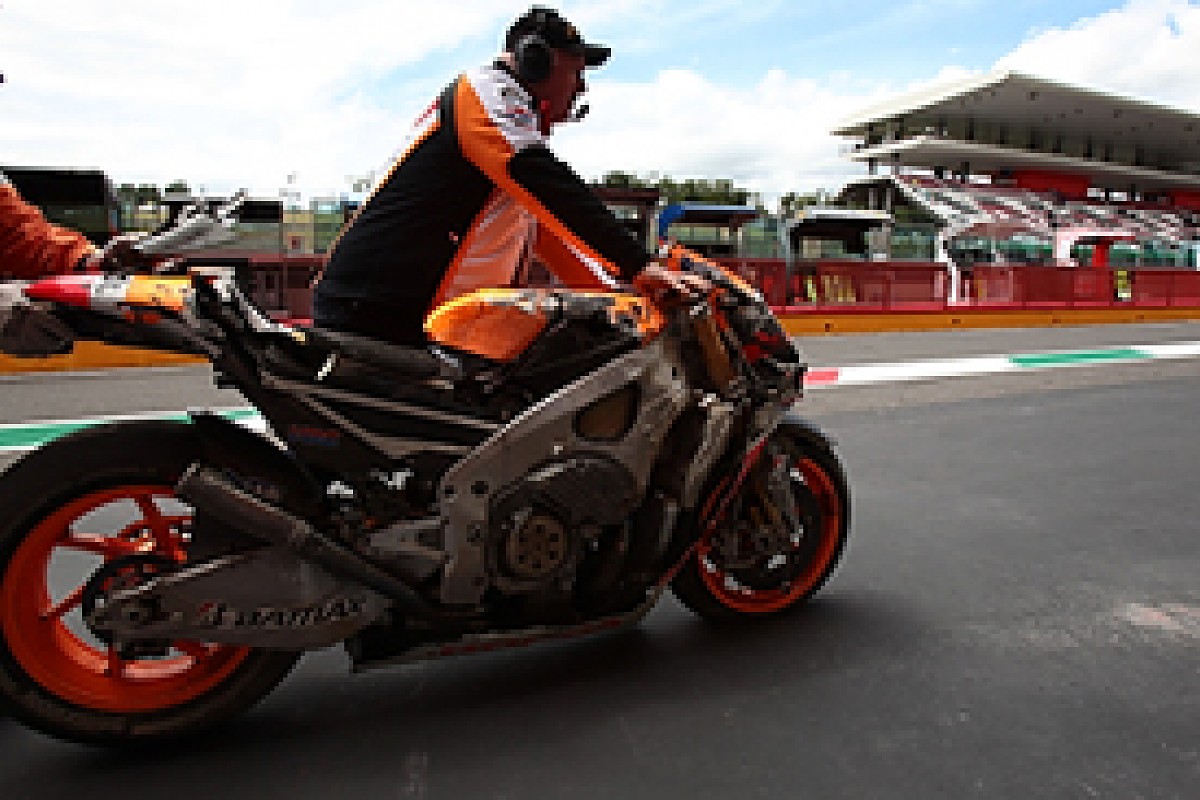 Marc Marquez's damaged Honda, Mugello MotoGP 2013 © Smartfotos
The really fast guys all have a history of arriving into MotoGP and having it bite them in the backside, but as he sailed serenely on we began to wonder if Marquez would defy that norm..
In the end it did all catch up with him at Mugello. He crashed in the first three free practices, the second incident coming when he locked the front at 209mph as he crested the hump into the first corner. The front had lifted about six inches over that slight rise and maybe he grabbed the brake a little too early - who knows? The track was still green with it having rained stair rods on Thursday, washing the surface completely back to base. Friday was the first time Marquez had ridden a dry lap at the track on a bike that is going 35mph faster than his Moto2 Suter from 12 months ago, so all these little things added up against him.
However, there is one factor often ignored when newcomers start winning and get that fine line of confidence where they are so sure of themselves that they can blitz the others, and that is their youth. Many of us thought we could do anything at 20 and we probably tried to, but it's only with experience that an element of caution kicks in. We think it doesn't, but in many cases it does!
Things have moved on since other great riders' debuts too. The speeds we are given on screen are very different to the actual data off the bikes - which said they were doing 223mph down the home straight! The official speed trap has been set at the same point for years and it's now within the braking area, so when the speeds are taken the riders are already on the brakes because they are going that much faster than 10 years ago. Dani Pedrosa's best speed of 216.9 mph in 2009 was done with a following wind and on a bike that was 10kgs lighter so he braked later from a slower maximum, but had a shorter braking distance than the current 160kg bikes.
Just as a reminder, the fastest MotoGP bike in the first year of the formula did 201mph, while the two strokes were at 195mph. There are big differences now for Marquez, even if electronics have aided the process massively. (Remember what a beast the Aprilia triple was in 2002?)
At whatever speed, the fundamentals of riders having 'biggies' will always remain.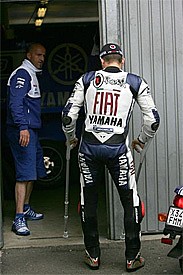 Lorenzo too learned the hard way in 2008 © LAT
The greats with natural ability and sheer speed all had their moments in the ambulances. Valentino Rossi had many a crash but he got away with it and never missed a race for 231 grands prix. Casey Stoner crashed and had some biggies in 250cc and in his first year on a MotoGP bike but he got away with them without ever appearing perturbed.
In 2008 it was Jorge Lorenzo who raised the 'inner confidence' bar with pole in his first three races and a win in his third before that enormous high-side at Shanghai, his fourth MotoGP appearance. He was wheeled around the paddock in a wheelchair the next day and still qualified and finished fourth. He was then knocked out in practice for round seven at Barcelona, then had another stratospheric high-side on the first lap at Laguna Seca, round 11. I'll never forget the hollow look on his face after that Laguna crash. It was his transition from believing himself to be immortal to recognising reality. Lorenzo didn't win another race that year, but was champion by 2010.
It is a testament to these guys' self-belief. They must be so high in confidence as they blaze to new records, then feel so utterly meek when it goes wrong and they're left tumbling helplessly through the gravel. Yet they bounce back and in no time they are winning again. Marquez crashed at 209 mph but was then doing 223mph less than 20 hours later. He has the mental strength to not make the same mistakes again as he did at Mugello. He's in the gravel, but not out.
Scott Redding is a prime example of the effect of confidence at present, having won in the treacherously slippery conditions of Le Mans and then the hot, maximum speed set-up of Mugello. He has a 43-point lead in the Moto2 championship, something that may well be some sort of record after just five races. He's done his apprenticeship in life and in the paddock so he is now reaping the rewards.
Amid Britain's focus on Redding, we mustn't forget Danny Kent, who is struggling with the Tech 3 Mistral. He has the talent and he has the ability, but he really needs to be on a better bit of kit to even be in the hunt. He's a Moto3 race-winner and yet he can't even score a point on the thing he's landed on in Moto2. One needs to be careful as a tradesman when blaming your tools, but...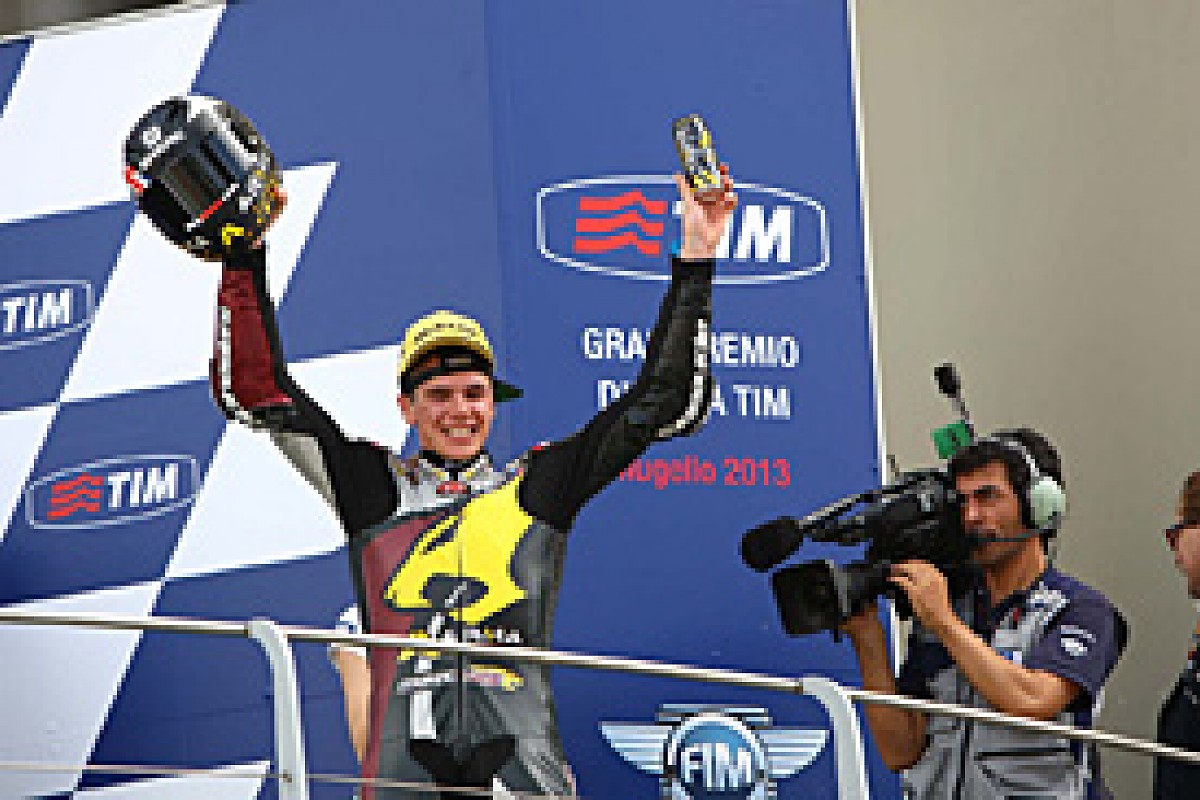 Redding backed up his Le Mans win with victory at Mugello © Smartfotos
Cal Crutchlow is another Brit who is brim full of confidence and wisdom too. Once he saw he was on the podium at Mugello he settled for third rather than risk it for second ahead of Pedrosa. His day on the top step will come. Chit chat about Pol Espargaro taking his seat next year needs to be forgotten now. Cal made that point off the bike on Thursday, but more importantly on it on Sunday.
However, the bravery award for Mugello goes to Bradley Smith after a fingermangling high side on Friday when his little finger got ground away under the bike as he slid into the gravel trap. You may well have seen the shocking picture he tweeted after the race (warning: explicit image) but how he even got his glove on let alone rode a bike for a lap is truly breathtaking. It took steely determination that will be rewarded in later years.
These are good days to bring along a Union flag to MotoGP races.