In a year when Valentino Rossi announced his return to Yamaha, and Jorge Lorenzo narrowly beat Dani Pedrosa to the championship, it was Casey Stoner's decision to retire at just 27 that really, really shook MotoGP, as Toby Moody analysed in this May 2012 column...
Casey Stoner will quit MotoGP having just turned 27 years of age when the final race of the 2012 season takes place at Valencia on November 10. And it was that announcement that Le Mans 2012 will be remembered for.
After 13 years on the road - he left his family home in Australia to come to a cold and wintry England to ride in the British Superbike-supporting Aprilia Cup - he has grown up into a grand prix winner, a world traveller, husband and father. Oh, and he's won 35 MotoGP races - which could become 40 before he retires - and two, possibly three, MotoGP world championships.
That's an awful lot to cram into such a young life, but he's decided it's enough. He's admitted there were many different reasons: the hassle, the travel, the press, the TV cameras, the autograph hunters in the paddock, getting recognised at airports, the boos on stage at Silverstone.
It's all been enough for a lad born and bred in the country, and he now wants that part of his life to end and the next part to begin. He's happily married and wants to enjoy life on a quiet farm or neighbourhood rather than in a tax haven, a motorhome at a track or on an aeroplane.
Remember that the majority of the paddock lives in Europe and two thirds of the season is only a hop away from home for them. Not so for the Stoners, who live a day-and-a-half away on the other side of the planet...
Obviously, Stoner's been remunerated handsomely for his endeavours on a MotoGP bike, so he has enough money for the future. HRC offered him the moon to stay on for 2013 but he claims he's not motivated by money and has chosen to walk. It seems a lot of little things built up until MotoGP stopped resembling, as Stoner put it, "the championship I fell in love with."
Stoner's family is supporting his decision © XPB
I once walked out of a nice job because lots of little things had built up to make me unhappy, too. Marching out of said job on a Wednesday lunchtime was one of the best days of my life, so I can sympathise with Stoner for jacking it all in. As someone I knew once said, 'money cannot make you happy, but at least it enables you to be miserable in comfort'. It's his life and only he knows his own mind.
What he has shown the world over the past seven MotoGP seasons is grit, spirit and sheer bloody-mindedness as he hustles a grand prix motorcycle around a race track in a style that we've never seen before. It has been an unparalleled joy to watch.
The wonders of HD super-slo-mo TV have shown us stuff we cannot see with the naked eye. There are those who don't appreciate what he can do on a MotoGP bike, but they are the people who have no comprehension of what's needed to even qualify on the back row of the grid, let alone claim poles and victories at this level. What people don't like about him is that he's not a Valentino Rossi or a Marco Simoncelli or a Jorge Lorenzo in character. But he's not paid to imitate them; he's paid to beat them.
People blur their heroes, those they want to emulate, with riders who are actually good at riding a bike and beating everyone. There is a difference, folks.
One gets the impression that if Stoner could arrive in an invisible cloak to the track, appear like magic in the garage with his helmet on 10 minutes before the race, wring the neck of a 154kg 260bhp bike faster than anyone else in the world over the following 45 minutes, celebrate whatever result with his team, not have to speak with the press and go home by time machine, he'd be a happy man and would stay on in MotoGP. Alas, that isn't on the job description.
Rhetoric in front of the TV cameras hasn't been one of his strong points, highlighted only minutes after his retirement announcement by his criticism of the media for not always supporting MotoGP - before he then gave the sport a pasting over its current rules and future direction.
That left many of the freelance journalists, who pay their own way to attend every race, a little perplexed. That's not what will be remembered about Casey Stoner by the worldwide audience though, because once the helmet goes on, he's top of the tree.
It's worth reminding yourself of his MotoGP highlights: pole at the second race he ever rode on a MotoGP bike in 2006 on a satellite Honda with second-string Michelin tyres and all after spending the night caught in an airport en route to the Qatar track. Oh, and he had a streaming cold, too.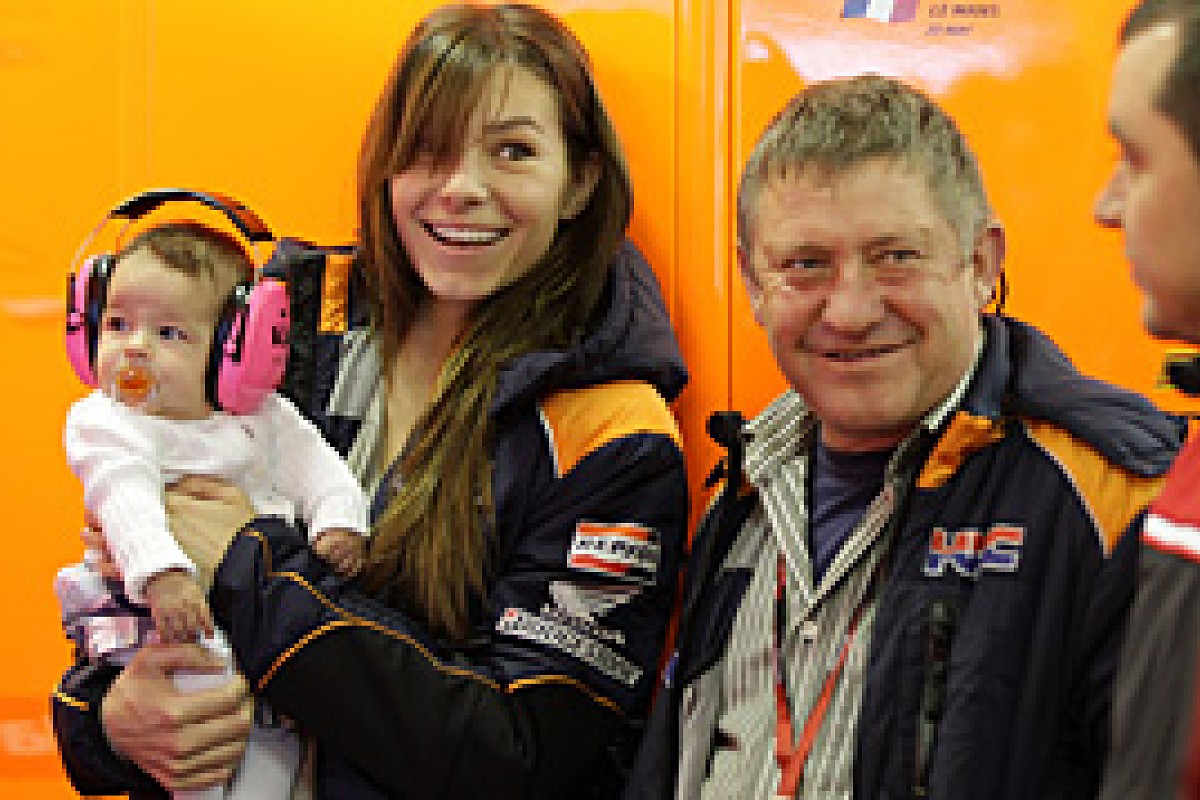 Stoner's news came as a surprise to the MotoGP paddock © XPB
At the very next race he nearly won, pipped by just 0.2 seconds by a works Honda. He had arrived in just three races. After being the fourth choice (behind Sete Gibernau, Marco Melandri and Nicky Hayden) to ride the all new 800cc Ducati in 2007, Stoner won his first race on the bike and nine other races from the 18 grands prix. He beat the second-placed man in the championship, Dani Pedrosa, by 125 points; five clear wins worth of points.
The 2008 season produced some ugly crashes but he still won six times. Oh how Ducati yearn for those victories now.
On Ducati's 2009 carbon fibre chassis Stoner won four times, even though he didn't even go to Brno, Indy and Misano due to a lactose-intolerance illness. Following that three-race hiatus, he finished second at Estoril, won in Australia and Malaysia and then crashed on the warm-up lap at Valencia, where he had qualified on pole.
Then the dark times started at Ducati, when even Stoner struggled in a team that had taken him to the top of the world. A change of handlebar position at Aragon opened the door to victories as the 2010 season ebbed away, but by now the deal with Honda had been done for 2011 and 2012. Only a crashing Valentino Rossi at Jerez last year prevented the Australian from finishing on the podium in every race he contested in 2011. His 10 victories left the others scrabbling around for crumbs.
It remains to be seen what will happen this year, but three more wins would lift him above Mike Hailwood and into fourth in the all-time winners' list.
What he will do in retirement has nothing whatsoever to do with the outside world beyond his family. It has happened at top-level sport before and it will happen again. Swiss skier Pirmin Zurbriggen won the Kitzbuhel downhill at 21, the World Cup four times, and Olympic gold, but retired at 27. Kiwi F1 driver Mike Thackwell was a genius behind the wheel, but packed it all in and went home at 27 and never came back. I'm sure there are other sports stars around the world who you could add to a list as long as your arm.
The difficult thing for these guys is walk away and never come back. Adrenaline is a powerful drug and, by definition, these guys get addicted to it racing bikes at over 200mph. And especially when someone is paying you over €500,000 a weekend to do it!
Some stay in the sport with team management, TV commentary or an organisational role, while others head off to the family business to build up a multi-million-dollar empire that keeps their mind busy with the resulting spoils. One gets the impression that Stoner might do some V8 Supercar driving in Australia but former 500cc world champions Mick Doohan and Wayne Gardner have already muttered that Stoner may come back one day - and they speak from a position of experience.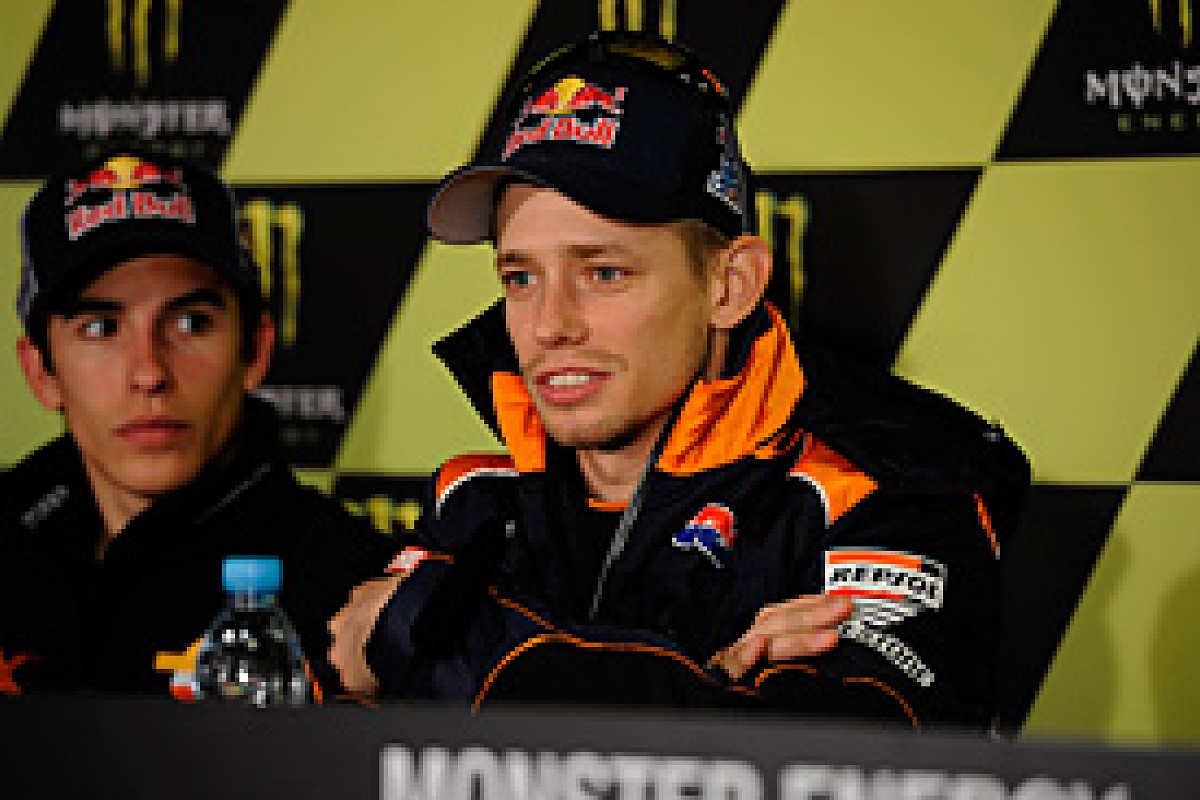 Will Stoner return to the sport in the future? © XPB
New sports stars come to light after people retire, with the crowds finding new champions and new darlings to adore. It's happened before and it will happen again. In the meantime, however, whatever your opinion of Stoner, just appreciate these remaining 14 races. After all, he can ride a bike like we've never witnessed before.
So what of HRC's steamroller dream team that was arguably formed around Casey Stoner from the start of 2010 when they lured Livio Suppo away from Ducati? The news that Stoner is leaving has been a bombshell to them more than anyone else in the paddock because they now have to start talking to people they didn't expect to be talking to for 2013.
Perhaps they'd be happy to see the return of Valentino Rossi, who last rode for them in 2003? According to the management, Lorenzo, Rossi and Cal Crutchlow were not in the picture until a few days ago. HRC is going to have to entertain all parties now. Dani Pedrosa could be heaving a sign of relief, too, as he's now in a position of continuation with the squad.
I watched Rossi's reaction during Casey Stoner's announcement at Le Mans; he just stared into the floor turning over in his mind what this now means for the MotoGP rider market. When Rossi left HRC in a huff at the end of '03, the man in charge at the time was stubborn and bolshy enough to say that Honda would beat the Italian the year after by making a bike faster than before.
They got that spectacularly wrong as Rossi rubbed their noses in it for the next two years on a previously unsuccessful Yamaha. Honda management has changed, as it does, with Koji Nakajima now long gone. That was nine years ago and time is a great healer. Pride must not get in the way of any decision by HRC as it looks more and more likely that Pedrosa will struggle to win the MotoGP title. He's in his seventh season with the works Honda squad now.
Rossi said after Stoner's retirement statement that he intends to win a race in the next two seasons, so he's available. He loves the paddock, has a crowd of close buddies always around and laughs his head off with the mechanics behind closed doors no matter how bad this season may be going.
The question is whether he wants to go back to Honda or stick with turning around Ducati, and fulfilling the fairytale of an Italian rider winning on an Italian bike. In order for that to happen, someone may need to steal a leaf out of the F1 management book by recruiting Masao Furasawa, who guided Rossi through the seven golden years at Yamaha. Rather like Adrian Newey and Ross Brawn with their Midas touch in F1.
What about Jorge Lorenzo? He seems quite happy at Yamaha. Sources at key sponsor Repsol have also said they won't have two Spanish riders in the works HRC team.
But what if a weight has been lifted from Casey Stoner's shoulders following his announcement last weekend? What if he decides to stay on, even with another team? Anything is possible at the moment in MotoGP, as one of the most intriguing games of musical chairs unfolds.