In the summer of 2009 a very important Italian gentleman, heavily involved with the Ducati MotoGP team, told me that Valentino Rossi would 'never, ever' ride a Ducati.
Looking back on that conversation, it was either a plan to force down Rossi's asking price, or it was a genuine "You're riding here over my dead body" comment.
In August 2010, that vow was proven wrong though, when Ducati president Gabriele del Torchio announced Valentino Rossi would indeed be dressed in red leather for what amounted to a dream scenario for Italian motorsport.
As I wrote at the time, in sporting terms it was like the Pope winning in a Ferrari at Monza.
I also questioned whether this was a move too far for Valentino Rossi...
"What may be difficult for Rossi to get used to, is a much smaller factory with very different working practises from a Japanese factory with whom he has been working for. Indeed, by the time he sorts the Ducati to his liking, might [Jorge] Lorenzo be faster because the Spaniard has been on the same bike for three solid years?
"Will Honda finally get their act together with [Dani] Pedrosa and the incoming [Casey] Stoner? Will the ultra-clean cut corporate way of Marlboro cramp Valentino's to-the-core bohemian way? These are all questions that people are asking."
Rossi has been on the podium just twice with Ducati © XPB
Now we are two years down the line. We now know that Ducati did react very well, providing new chassis and throwing swing-arms at them like they were going out of fashion throughout 2011. Lorenzo has been faster on a bike he has ridden non-stop since he came into MotoGP and Honda did get its act together, making it very difficult for anyone other than Stoner to win a race last season.
What none of us expected was for Rossi not to win a single race. His Jerry Burgess-led crew have tried and tried, but at the end of the day they've been unable to weave the same magic they created in his early years at Honda, and then took to Yamaha in 2004.
However, commercially it has been a boom for Ducati. Sales are up. And the two Italian icons came together just at the right time for the Bonomi family, who sold Ducati to Audi this summer... and at a very healthy profit thank you very much.
When the deal was announced, all the usual questions were asked.
"Ducati, did you consider the risk that if Rossi wins it's him, and if you lose it'll be your fault." Del Torchio answered: "If we win we win together, if we lose we lose together, but I believe the second option is not contemplated at the moment." There was quite a bit of laughter after that last comment.
Two years on and there has been quite a bit of contemplation since then.
So what does Ducati do now? Its reputation, in the short term at least, is damaged. So maybe this is a good time for VW to force some hands and provoke a rethink. Reorder some priorities. VW has always been very aggressive in its thinking when it comes to motorsport, and it doesn't take well to running mid-pack - be that in touring cars, the Le Mans 24 Hours or even rallying - Dakar or otherwise.
It's not just Ducati's reputation that needs repairing either, but for Rossi at least, moving back to Yamaha offers him an easier opportunity to resurrect his standing. All he has to do is win a race on an already proven current race-winner. Ducati has a more fundamental problem on its hands because the bike is a bit of a beast to handle. Remember, the last time a Ducati MotoGP rider other than Stoner won in the dry was Troy Bayliss in November 2006. That's nearly six years ago!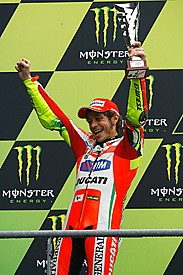 Lorenzo will be a stronger man when Rossi rejoins him next year © XPB
Make no mistake, this is a big blow. But I think it will fire Ducati up even more to fight back and prove it can beat the Japanese without Valentino Rossi. Maybe, just maybe, we have another war on our hands between the factories.
And what of Rossi now? Why has he gone to Yamaha? Can he really still beat Jorge?
Knowing him, he wants to win another race and prove to himself that he still has it. This is quite obviously the most important thing for him. He'll be envisioning a return to the glory days of 2001-2009 when he was in his pomp. But has he still got the winning motivation in him? It's a question we will all be asking and I bet even Valentino doesn't know the answer. But he's human, and as such he surely believes he can still find his va-va-voom. Look at Michael Schumacher.
He has to continue because if he doesn't we'll never know what might've been.
I believe that he will win another race. And when he does everything that has gone on over that past two years at Ducati will be nigh on forgotten. Rossi will continue to race on in MotoGP because he now has unfinished business.
Why did it go wrong? Maybe there was too much complacency after Stoner rocketed to the title in 2007? Maybe there was too much complacency knowing that Rossi was going to be the cure-all with Burgess?
Perhaps the biggest question is whether Burgess and his gang will follow Rossi back over to Yamaha.
Even though Rossi is returning to the set-up that worked so brilliantly for seven seasons, there is no guarantee that it will be an instant ticket to success. Lorenzo is older, wiser and faster - on his own bike remember, not a hand-me-down from next door - and that in itself is something that the Majorcan thrives off. He is on the top of his game and is a man with the team around him. Rossi had better get used to that.
So if Rossi can beat Lorenzo then he is back winning races, simple. Yes, but it's one hell of an ask.