So...Casey Stoner is off back to Australia having fallen out of love with MotoGP. Jorge Lorenzo is staying with Yamaha for 2013 and '14, and Dani Pedrosa has signed an HRC contract as quickly as possible before anyone else takes his seat at Repsol Honda for his eighth season at 'Big Red'.
Furthermore, Cal Crutchlow is toying between staying with Yamaha - either with Tech 3 or the factory team - or going to Ducati. That could also be written; a bike that wins regularly or a bike that hasn't won for nearly two full seasons but may be an enticing option because of its 'financial incentives'. Decisions, decisions...

All of the above, however, ignores the elephant in the room. A skinny, shaven-headed, seven-time world MotoGP championship-winning elephant in the shape of Valentino Rossi that is. His deal's up at the end of this season too. The resumption of that will either bring to a close the oddest of 18 months for the 33-year-old, or continue in the hope of generating a more fruitful period for the Italian 'dream team' in the future.
Ducati, of course, has been bought by the Volkswagen Group, and that, you would think, bodes well for the small Bologna-based motorcycle manufacturer, on the race track as well as in the showroom.
Ducati's roadbike division has enjoyed good times recently, with record sales in 2011 generating €480 million in revenue, and it is up 20 per cent so far this year too. Those are impressive stats when you consider the over-500cc global bike market has shrunk by 4 per cent, never mind the economic turmoil restricting the wallet hinges of potential customers.
So where exactly does all this leave Rossi for next year?
Well, although the Ducati he currently rides is not the same as the one that Stoner flew to the 2007 championship on, and several race successes thereafter, one has to look beyond that, and to how VW has turned around other recent acquisitions. Bentley, for example, went from producing overpriced bookmakers cars to becoming an icon of success for footballers. Bentley subsequently announced record sales in 2007.

Lamborghini went from selling oddball supercars that fell apart to well, ones that didn't fall apart - and increased its sales tenfold. <i>Tenfold</i>. SEAT was turned around from something with a lame Porsche badge on it in Ibiza to something that's basically a Golf without the badge. And they can't make enough of them now.
Rossi has not had the most successful campaigns with Ducati, and has often found himself fighting mid-pack © XPB
Ducati's key strength here is that unlike some of VW's other purchases, it already has an iconic brand with a successful roadgoing portfolio. And it appeals to everyone. A Bentley or a Lambo will set you back £120,000, while you can spend a mere £15,000 for a Panigale - one of the most lusted after bikes in a long - whether you're a superbike rider or a Hollywood film star.
Yes, that's more money than you'd pay for a Japanese rocket, but only a bit more in the greater scheme of things.
VW's purchase of Ducati therefore could mean quite a bit to Rossi, a man who now manages himself and knows a thing or two about sitting in rooms the world over negotiating a very healthy wage. After all, by the time his deals with Ducati, Monster, Dainese, AGV, Bridgestone and bonuses all come in, he is rumoured to earn something along the lines of €1 million per race. Good luck to him. He's a sporting icon that has captured the hearts of many and is savvy enough to utilise his pull with class.
Audi AG CEO Rupert Stadler and Head of Marketing for the VW brands Luca de Meo were at the Sachsenring and met Rossi for the first time.
It was notable that Ducati president Gabriele Del Torchio was there too, a man who doesn't often come to MotoGP races, particularly when they are a week before Mugello...
While some car people have struggled (not all, but many) to get on in the world of MotoGP, the 'management who never fail' attitude of those from Ingolstadt may be just who Rossi needs to speak to. And also, hear words of commitment from. The current technical set-up, let's face it, is quite obviously not working for him.
They've made umpteen different chassis and still it doesn't turn into a corner as he wishes, all the while the engine stays of a similar layout. Surely there's something in the tea leaves there... Fingers are beginning to be pointed in the direction of Filippo Preziosi, the chief designer, to try and get Ducati out of this hole. A hole that is now two years 'wide'. The buck stops with in the design office.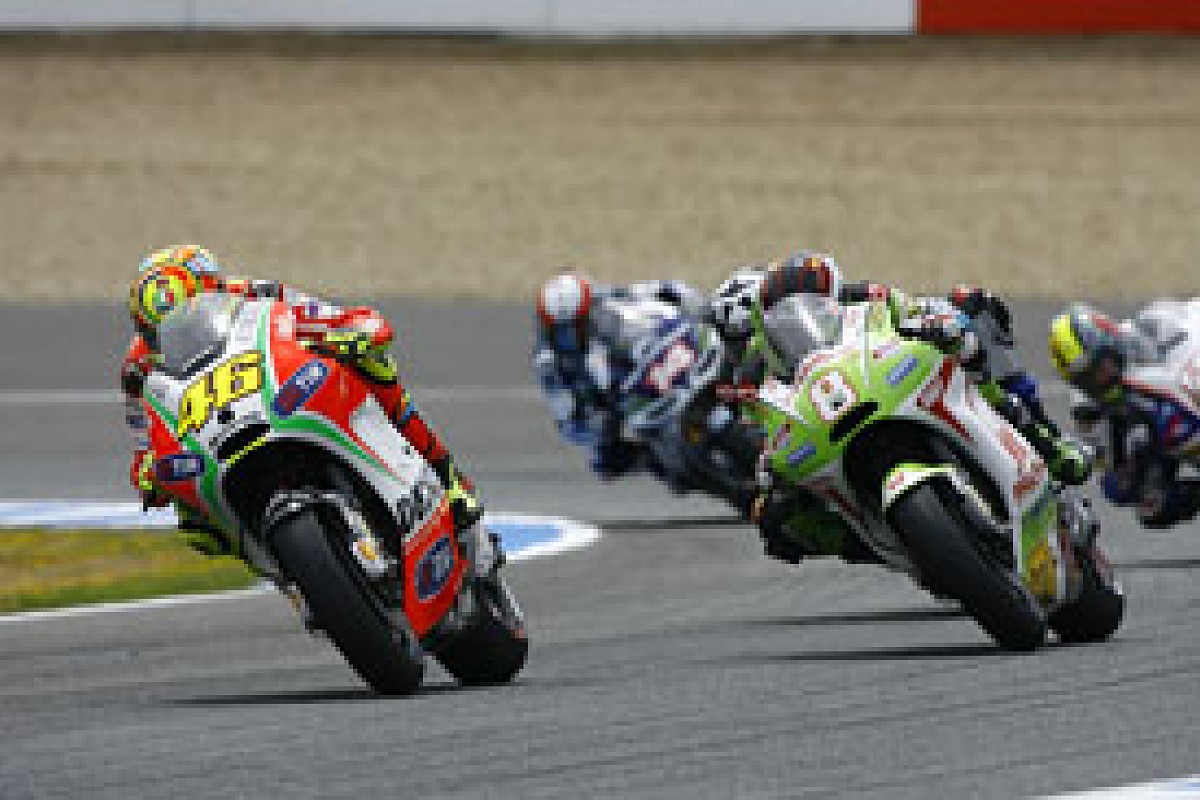 Will Valentino Rossi sign again for 2013? © XPB
Have Ducati got too many riders to play with though? Rossi, Nicky Hayden and now Crutchlow vying for just two seats? Not necessarily. It can easily take Pramac Ducati's slot with a de facto satellite squad. Pramac it seems may struggle to be on the grid next year if reports are to be believed.
So this sets up a scenario whereby VR46, possibly with his own team under the Bologna umbrella, with maybe a touch of Philip Morris sponsorship and a bit of yellow VR whatever-he-has-up-his sleeve to make it individual, <i>and</i> tie in with what Ducati said at the beginning of the relationship in making some special edition Rossi bikes.
That would all fit into VW Audi's vision very well indeed because it wants to sell bikes. And <i>lots</i> of them.
So as we approach the halfway point of the season in Italy this weekend, Rossi is still the highest-placed Ducati rider in the championship, has possibly got over not-winning in the short term and instead is taking the longer term back-to-winning view with Ducati, rather than dumping it, suffering a major PR disaster and going back to Yamaha where there is no guarantee of winning. Nor of the wages. And then he's got to beat Jorge on a bike that is now Jorge's...
Decisions... but here's betting Valentino and his Italian crew will be creative and stick around for two more years in MotoGP to get those elusive Rossi/Ducati wins.
Like all the good-natured sportsmen in the world, there aren't many good natured sports fans who would begrudge him that. So we shall await the news whatever it may be.