So Yamaha led the riders' and constructors' championships going into Barcelona, and now its lead is even bigger coming out of the Spanish event. You would have got good odds on that going into the season-opening race in Qatar.
So what has changed for the sport, and why is last year's dominant bike/rider combination now headed by a package that's seemingly not the strongest?
Well, we need to remind ourselves of just how Jorge Lorenzo arrived in MotoGP, with three consecutive pole positions and a win in his third race on a big bike back in 2008. He was pure dynamite - a sight I will never forget as he leant on the qualifiers to get pole by 0.6 seconds at Jerez. Confidence is everything for Jorge and once he had it back for his championship year in 2010 after some big offs he flew. Here in 2012, much like the shark in Jaws, he can smell blood. Honda may just have to get a bigger boat.
Yamaha's MotoGP boss Lin Jarvis backed up what his rider is going through on Sunday night.
"He's the same as 2010 at the moment - in the zone. We might have had the best chassis then but not the engine. He is very impressive."
Yamaha's MotoGP boss Lin Jarvis reckons Lorenzo is matching his 2010 title-winning form © XPB
Those engine issues hung over into 2011, a situation accentuated by Honda turning it up to 11 to win an 800cc championship at all costs. Lorenzo was left taking just three victories and had that look at times when the helmet faced downwards and the arms were all limp as he walked to the back of the garage after a session.
Lorenzo is another year older and much wiser in paddock politics too after the faux-pas of saying (with many other Japanese-employed riders) he'd not go to Motegi, and that has made him stronger as a package.
As I say so often, just riding a bike is not good enough nowadays and, like it or not, you've got to be able to put up with the never-ending pushing of the engineers and the boss to get you more power and more new parts, never mind enjoying the spoils of associated victory which Jorge did at his house on Sunday night.
Five races, three wins and two second places so far this year for Lorenzo. Stunning stats indeed. But it is increasingly looking like the Yamaha really is the better bike out there this season. It has won at Qatar with a booming big straight, in the wet at a tight twisty Le Mans and now at Catalunya, while Jorge was also second to Stoner at Jerez and Estoril. Of the remaining 14 race tracks to go in 2012, Lorenzo has won at 10 of them - all except the Sachsenring (which should suit the Yamaha), Aragon, Phillip Island and Sepang.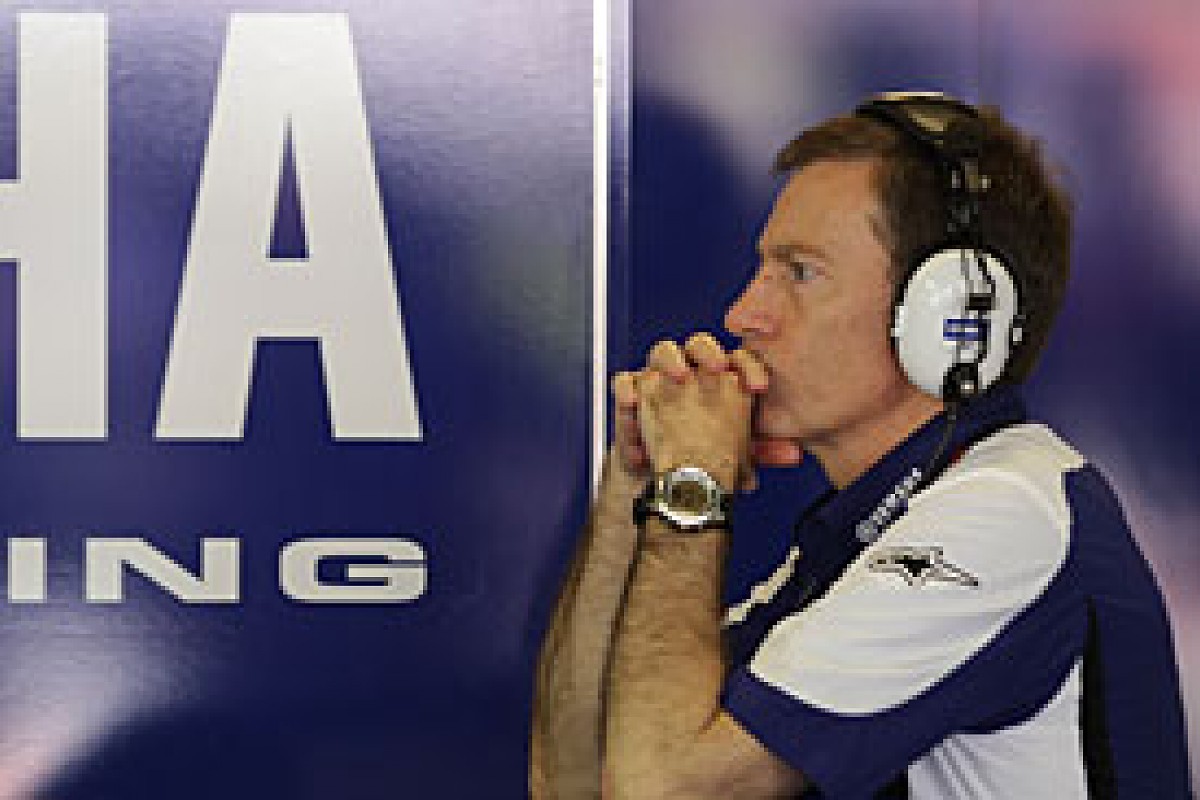 Lorenzo's Catalunya win was also his 49th premier class podium © XPB
Another stat that jumps out at you is his podium hit rate in MotoGP at 68 per cent, only a tad behind Doohan (69.3 per cent) and Rossi (68.9 per cent), therefore ahead of Roberts Snr, Lawson, Stoner, Pedrosa, Gardner and Spencer. Mightly impressive reading for the guy who still many don't appreciate.
In Yamaha's, or perhaps Lorenzo's, favour is the fact Ben Spies isn't getting the results expected in his third year of MotoGP. The pace is there, he's a race winner in the class, he was possibly a sure podium man last Sunday in Barcelona, but he's still 11th in the championship and so far in '12 has not once finished ahead of Lorenzo.
That crucially means at the moment Lorenzo is not having any points taken away from him by his team-mate, as has happened in the past with Rossi and Spies himself last year.
The same cannot be said of Honda's riders, who have and will take points away from each other as the season continues. I know that last sentence sounds very F1 but at this level and particularly this year it is going to be that tight between Yamaha and Honda.
Looking to the future, Yamaha could not have had a race with more emotions as they watched Spies spring from the second row and fight, then take the lead only to tumble and then drop to last as Pedrosa stomped away into the lead.
When the president of Yamaha Motor Company is in the garage thinking about how he can pay for next year's racing, Lin Jarvis was probably thinking the chance was over for the win, but therein came the confident Lorenzo we have seen return this year, hammering away the laps to win in front of the boss.
2012 just gets better and better for Yamaha.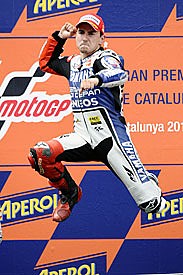 * * *
And so we move to Silverstone and the British MotoGP round on June 17th. The season's longest track and the chance for British fans to see and hear the sheer violence of these MotoGP bikes up close.
I've been lucky enough to have a go on the back of the Yamaha YZR500 and the Ducati two-seater but the other day while at Silverstone there was a slot available to go on the back of Cal Crutchlow and a Yamaha R1.
My trips aboard the GP bikes were in 2001 and 2005 but both at relatively tight tracks, Valencia and Donington. This was going to be a quick one, something that hit home when Cal said to Martin Brundle, who got off the bike minutes before me: "142 through Woodcote." Blimey... This was going to be quick.
Tech 3 Yamaha's Cal Crutchlow claimed fifth at Barcelona... © XPB
I can try and describe some of the emotions and feelings but I will say that I do like a bit of adrenaline in life; I like to be a bit scared as it brings out things in you you didn't know you had. I like to call it 'backed in a corner' and this certainly was.
Riding a quick plastic rocket is something many of us have done on track days or in places where no one was looking, but when you are perched on a tea tray with your ankles in a ridiculous position trying not to collapse your weight onto the rider under braking, it's just a tad harder.
I had a hand on the tank for the duration and a hand around Cal's midriff to stop me looping off the back as we wheelied out of Chapel onto the Hangar Straight.
"It just does that. It's got so much power." he said. "Did you hear me get my knee down and then the pegs too, Tobe?"
Errr, no. I was a bit occupied at the time holding on and wondering if it did go wrong how long we'd be rolling for...
What this experience did was once more cement what these guys do day in, day out. It is another world, but what in heaven's name must it be like with 260bhp, 154kgs and carbon discs rather than nearly 100bhp less, another 50kgs just in the bike and another 71kgs of me sitting on the back of it? In fact, that can be measured per lap... 30 seconds is the difference on our quickest flying lap at 2m32 secs against Stoner's 2m02s pole of 2011...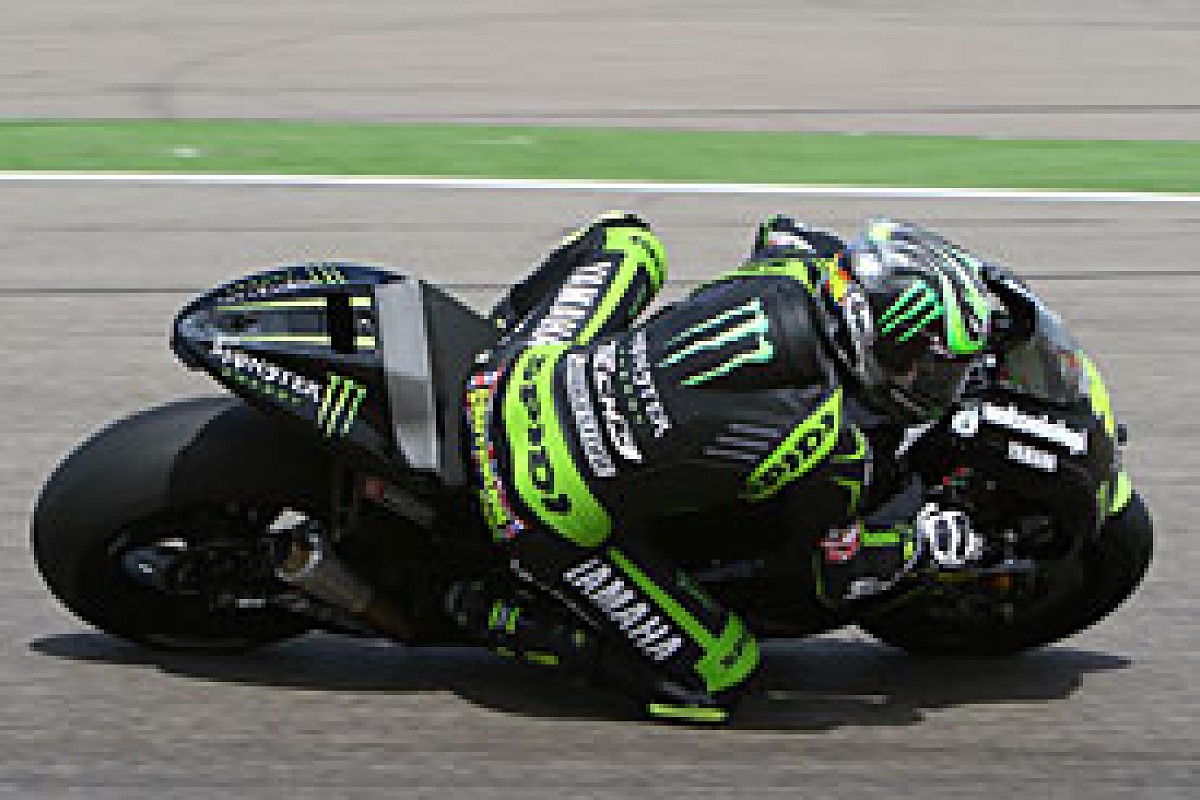 ...before offering Toby Moody a pillion ride on a Yamaha R1 at Silverstone © XPB
"The brakes on a MotoGP bike are as if a pillion lets all his weight collapse onto my back under braking on this R1, but it's relative as to how much the rider weighs in the first place," says Crutchlow.
I just stood there trying to imagine what it must be like with four big stops at Sepang while sitting on an AGA cooker while in a sauna. Incredible.
So, if you are in the UK I urge you to come along to Silverstone on June 17th, especially as advance tickets are less than £25 a day, and enjoy watching the best in the world.
Even the slowest guys at the back of the field will thrill.