I caught up with Carmelo Ezpeleta, the boss of the rights holders to the MotoGP World Championship at Estoril recently.
He's a man used to handling big deals, having run the Jarama circuit, then overseen the creation of the Barcelona circuit - and all the while being involved with Carlos Sainz's early rallying career.
Twenty years ago, he took over the commercial rights to grand prix motorcycle racing through his Dorna operation.

Carmelo Ezpeleta is steering MotoGP's course © XPB
It's a thankless task. When things are going well in a motorsport series everyone rides the crest of the wave and enjoys the moment, but when things turn bad, that's when the focus turns to the corridors of power - and everyone has an opinion about what should happen.
Claiming Rule Teams (CRT) bikes have joined the grid in MotoGP during this year of chance as 1000cc engines start a new era, but after just three races of this new dawn there is already focus on the next regulations... whenever they may appear. Additionally, rather like Formula 1 moving more towards big-cash-paying circuits and away from its European heartland, MotoGP is looking to dip its toe in the water with fly away races.
While the Moto3 bikes were out practising, we spoke.
Where do things stand with the Texas GP next year after the change of management at Austin? F1 is there this year, but we're all OK for MotoGP?
"We have 10-year agreement with Kevin Schwantz to organise the race but of course to make a race they need a circuit. Apparently there are discussions going on between Schwantz's company and the owners of the circuit. What was different in the beginning was the managing director of the circuit was Tavo Hellmund, but he is no longer part of this. We are waiting. I don't know exactly when but during the month of May we will know more."
Are you thinking about a rev limit for MotoGP?
The number of manufacturer bikes at the front has dwindled © XPB
"Yes, but not before 2015. The existing manufacturers make their engines under the current regulations without a rev limit. The last agreement was for 2012, 2013 and 2014 so they can use them with some limitations in place. But for the future we will maybe have a one-bike rule, less mechanics, or five engines not six, or whatever. But this is not enough to attract new manufacturers.
"From 2015 there will be completely different things. We are discussing things through 2012 and before the end of this year we will propose how these regulations will be. And of course there will be talk of a rev limit."
Is it easier to have these discussions with less Motorcycle Sports Manufacturers Association (MSMA) involvement?
"We are discussing things with them and with other potential entrants because at the moment there are only three MSMA members. What is clear is that with the existing regulations and with their cost-reduction proposals, it is still not enough to convince anyone to participate. This is a fact. They [MSMA] need to convince me and I need to convince them [about cost-saving measures]. If we arrive at an agreement, good; if not, we will say what we will do."
There has been much talk about the rookie rule concerning Marc Marquez and his entrance into MotoGP in 2013 on a Repsol Honda. Will this rule be relaxed?
"No! No! We did that once [made the rule] and then in the second year Suzuki said it was very important to have [Alvaro] Bautista so please stop the rookie rule because if not they said there was a risk Suzuki could leave. We relaxed the rule for them, and still Suzuki left. We will not change anything. The rookie rule is in place and will stay in place. It was for independent teams and they need help more than ever before, so no."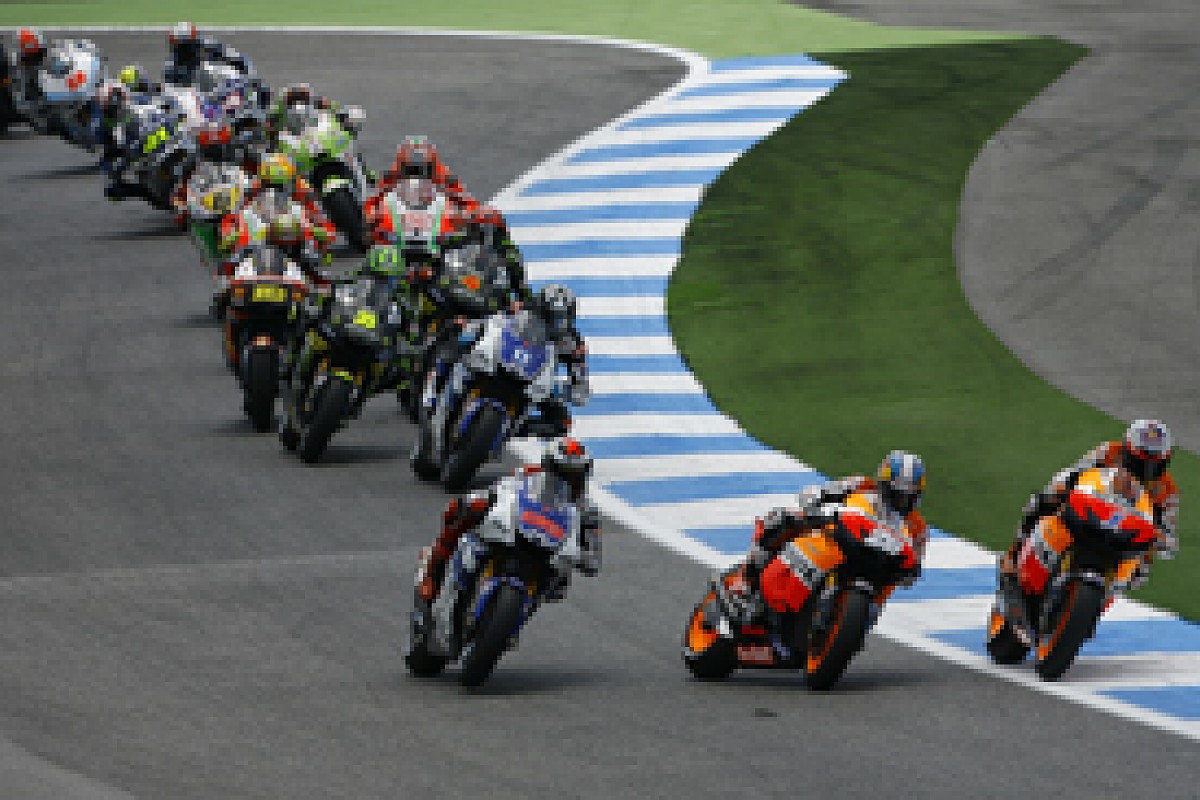 The controversial CRT bikes now make up nearly half the grid © XPB
Are you happy with CRT so far?
"Yes. They are not far away, they have not broken any engines and you have seen that the bikes are, in places, faster than the prototypes [around the corners]. Sure, the prototypes are faster on the straights, with speed and acceleration, but this is not a special thing. One thing is very important: we will never say, 'You need to use production engines'.
"We will permit teams who want to use production engines to not be far away from the original engines. We will not say that, from 2015, people must use engines that have a production base. No. Never will I say that. We will say the engine must be like this or like that and you can do it completely from scratch [like a prototype] with some limit on electronics and things. Then the cost will be clear [for the future]."
Will there be a common ECU?
"Yes. If they say no, I need to know what that means because even new manufacturers are not completely happy to have a common ECU for everyone. There are discussions going on but we think the best solution is the same ECU for everyone."
Valentino Rossi is struggling at the moment. He's been a figurehead for over decade, but are you worried about MotoGP when he leaves?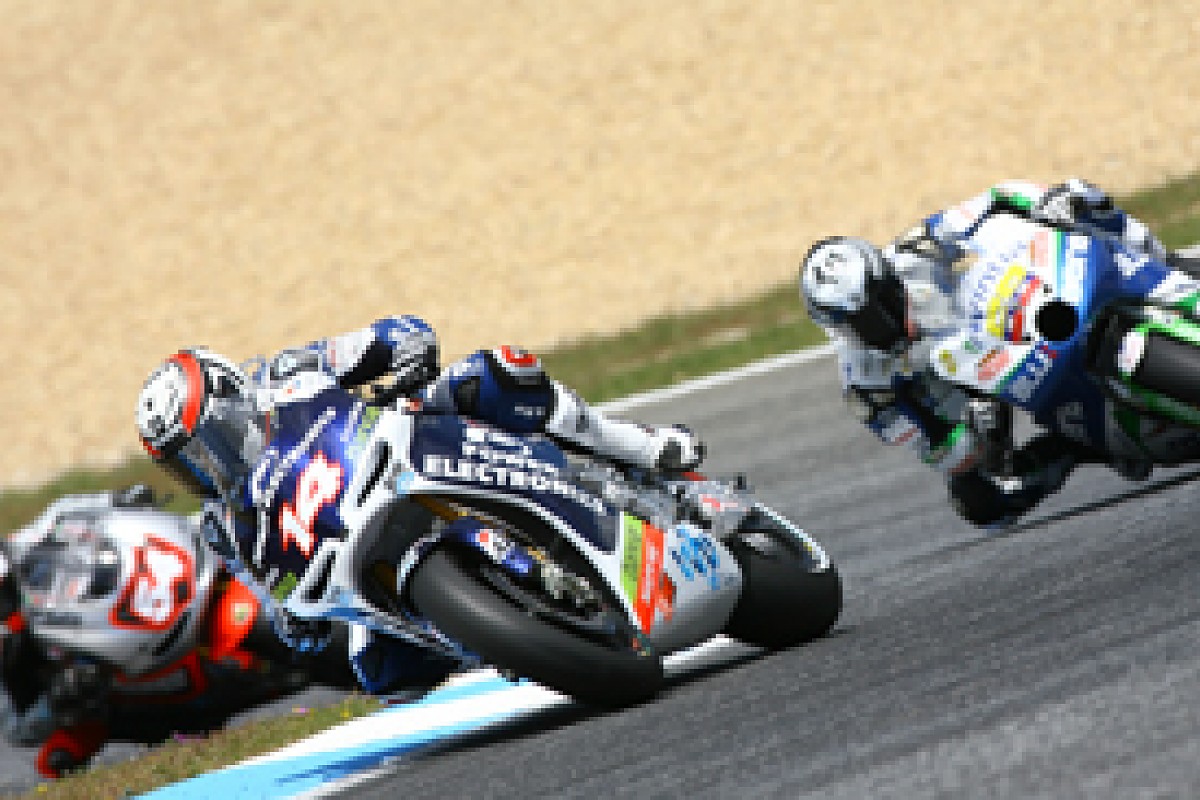 Rossi continues to struggle © XPB
"I hope they [Ducati] can solve the problems, but I can only say to him at the moment what I say to everybody and that is: 'thank you for participating and I wish you success'. It's almost been two years for him [on the Ducati] but he took the decision to go there...
Will the 2012 race be the last at Estoril?
"I don't know. What I do know is that in Spain and Portugal there will be three races and two of them are already confirmed [Aragon and Jerez], so we need to choose one between Estoril and Valencia. The Jerez deal is until 2016. It is an agreement between Dorna and the Government of Andalucia. It is not signed but it is an agreement."
What about a race in India?
"There are a lot of possibilities. We are talking with them and, in principle, we think we can do this. And in Argentina, too."
Is there a problem between Dorna, the promoter of MotoGP, and Flammini, the promoter of World Superbike, over some production-based engines here in MotoGP? [In regard to the WCM R1-based engine that was entered in 2003.]
"We are talking a lot with them now that we have the same shareholders [Bridgepoint] under this umbrella. It is important to stop WSBK from growing and even reducing its performance. We have some ideas. We are talking a lot.
"The FIM has been in a very good agreement with us since 1992 and we share everything. More so now with [FIM president] Vito Ippolito, who really knows racing so it is very easy to talk about the regulations or whatever. He shares completely what I am doing, of course. Any movement is under the approval and help of the FIM. We think exactly the same."