That was a big win for Jorge Lorenzo. His Yamaha team was thrashed last year by Honda. Just as Yamaha looked like taking a brilliant Valencia victory at the end of the season with Ben Spies, Honda nicked it at the last minute.
Shoulders were down at the Yamaha factory going into the winter; they knew another Casey Stoner onslaught would be difficult to countenance, but also hard to halt.

We shouldn't pay too much attention to pre-season test form, but we can't help ourselves. And all the indications were that Honda was still at the top of the pile as we regrouped in Qatar last weekend. And yet Yamaha's men kept cool heads. They worked on their race pace and didn't panic. They only give points out for the positions on one lap...
After the race, Lorenzo said it was one of his best wins: "All weekend we were very confident, but during the warm-up they improved the bike a lot and the race was more difficult than practice."
Lorenzo also said that towards the end of the race his head was getting buffeted around, such was the physical battering he was receiving. But when he's on fire, such as we saw at Mugello and Misano last year, he is unstoppable.
Stoner was caught out by arm-pump. Over 22 laps, the nature of the slightly heavier bikes this year and the slightly longer braking distances caught up with him. Stoner didn't complete a full race distance over the winter break. He maintains that he sees no need to do long runs so long as the bike is quick and 'chuckable'.
This particular affliction last occured for him back in 2010, and he cured it on his own without the doctors' help. He's confident it'll go away again before the next race, just as it did three years ago, but the bottom line is that were it not for the arm-pump the world champion would have run away with Qatar.
Honda is still very quick, but not as quick as it was last year. The 1000cc iteration of the Yamaha is much, much closer.
Honda's pace has also been pegged back by off-track machinations in the safety-commission meeting rooms.
The day after the race, it was announced by Bridgestone that the Japanese tyre manufacturer plans to introduce a totally new front tyre that 'features a revised construction that further enhances rider feel and warm-up performance'...
Crucially, Stoner and Dani Pedrosa are not fans of this tyre, but the remaining 90 per cent of the grid do like it.
After these discussions, you can imagine the riders who do want the tyre walking out of those safety-commission meetings muttering, 'Welcome to where we've been with the older Bridgestone front for the past three years.' Reminds you of the old adage, 'What goes around...'
It's two fourth positions on the trot for Cal Crutchlow now, and you can see he's revelling in a bike he can muscle rather than be a metronome on.
On the front row with minutes to spare on Saturday, Crutchlow still had another soft tyre left in the garage but didn't go out as 'I knew I'd put it in the wall.' That's confidence.
Cal endeared himself to many non-English journos in the front row of the press conference when asked if he had any problems with the pumping effect of the Yamaha off the corners. "I don't have any problems with my pumping." The place fell about.
With his spirits up and his belief back, this is now the real Cal Crutchlow we're going to see.
At the other end of things, Valentino Rossi is in dire straits. It must have been haunting to be at Qatar nine years after imperially predicting Sete Gibernau's collapse. The great Italian said his rival would 'never win another race'. It was a brave statement to make about someone who was drinking the winner's champagne at the time.
Now his own world is collapsing.
I said among friends that Rossi might not win a race in 2011, but I couldn't believe it would happen again this year. But now there seems no chance at all of him winning. Even if he finds a miracle cure and gets back up with the three 'alien' riders, he's still got to beat them.
After Saturday there was a feeling around the paddock that Rossi's 12th on the grid was a freak one-off having gone the wrong way on set-up. His Ducati team-mate Nicky Hayden was fifth fastest and going like a train, as well as helping Rossi with set-up.
"There's no way Valentino will be last at the end of the race," said Nicky. Little did any of us know that it would be Ben Spies who was the last prototype rider, but that's another story.
Rossi's race time was slower than in any of his previous five finishes (800cc) at Qatar:
2007: 43m05s
2008: 42m49s
2009: 43m01s
2010: 42m50s
2011: 42m55s
2012: 43m17s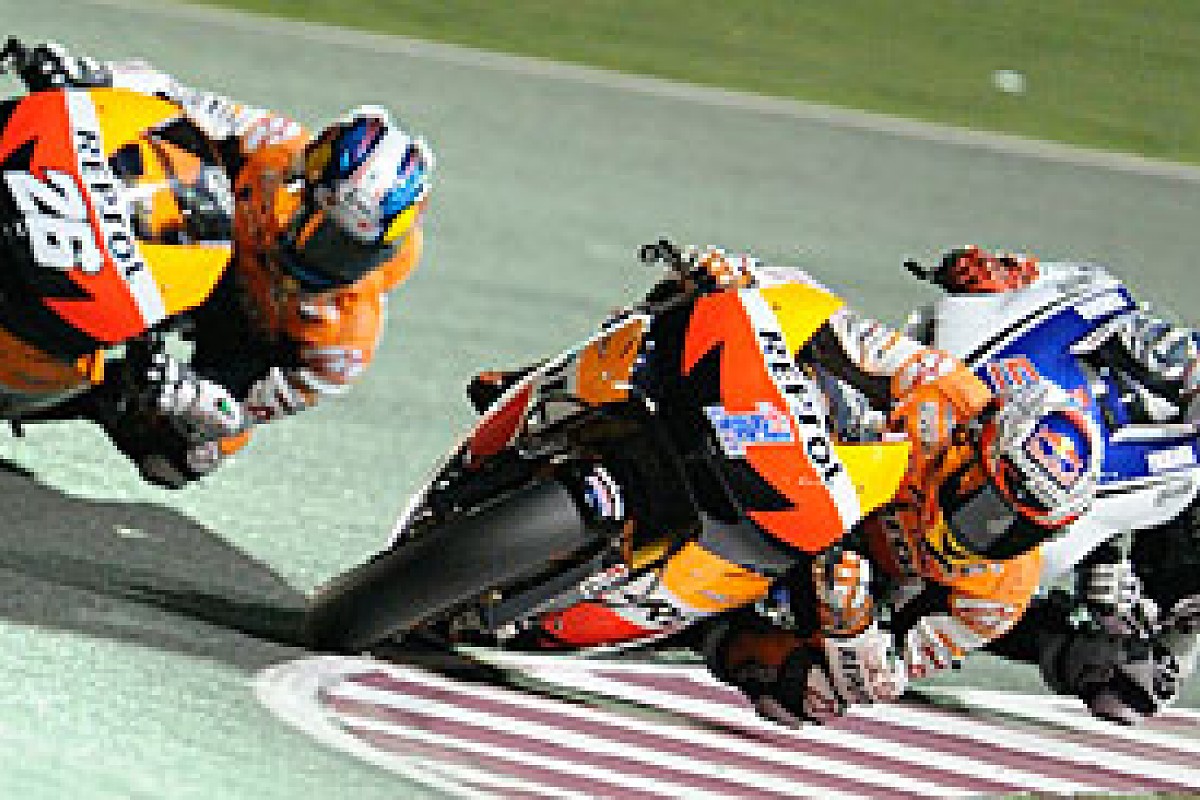 Valentino Rossi faces a tough season unless he can find a miracle cure for the Ducati © XPB
It must be worrying for the engineers at Ducati that Hayden was 28 seconds back from the race winner, in an event that was the third fastest at Qatar since the track's introduction in 2004 - back in the 990cc era. All the while the Italian bike maker's marketeers have got a baying public, a press corps and a worldwide fan base at their door asking questions.
Should Ducati now just respond by saying it's done the best it can, having made six different chassis in under a year? Whatever the ins and outs, it's painful to watch and soon tempers will fray.
Could the newer Bridgestone front help? A chance, but unlikely.
The great Kenny Roberts Sr once said: "You only have about 10 years at full mental capacity in this game." This is Valentino's 13th season in the top flight. These are difficult things to analyse, difficult things to write about and, certainly, difficult things to watch.