Valentino Rossi and Ducati was supposed to be a dream marriage, but 2011 was like nothing the Italian has ever known. Unable to tame the wild Desmosedici, and with precious little sign of progress, Rossi suffered his first winless season in 15 years. The GP11 was the bike 'The Doctor' couldn't fix.
What's more, Rossi found himself coming under the shadow of a certain Casey Stoner - not just through the Australian's 2011 supremacy, but also his previous tally of 23 victories and one world championship with the Italian squad. If Rossi is the greatest of all time, how is it he was unable to conquer a bike that Stoner could bully to title glory?
For his part Stoner, no longer haunted by the wild Ducati handling, was a revelation on the Honda, his talent set free. Ten wins, 12 pole positions and 16 podiums are a testament to his mastery, but perhaps more significant is the fact he joined a select group of just four other riders to have won the sport's most valued crown with two different manufacturers.
It's perhaps ironic that it's only in the light of Rossi's nightmare at Ducati that Stoner's gifts have been fully appreciated. Because of that, and as a result of spats both on and off track, it's all too tempting to compare the two riders. How significant is it, for example, that Stoner has proved as mercurial as Rossi once did on the Honda, while Rossi has struggled at a team Stoner hauled to a world championship, albeit back in 2007?
In reality, the situation is far too complex to be processed into one sweeping question. When Honda tweeted a statistical comparison between Stoner and Rossi over the past six seasons, which came down in favour of the Australian, it sparked a furious reaction from fans and even Rossi himself, protesting that such comparisons were not only facile but failed to take into account the far wider issues at stake.
The point is that Rossi's situation at Ducati is far too complex to be simply read at face value; that numbers only tell you so much. Many predicted at least one victory in 2011 when he first moved to the team, and even after a slow start there were few who doubted his and Jeremy Burgess's ability to turn the situation around. In the process of that residual belief turning into realisation, there is a tendency to read too much into the failure to make the GP11 a racewinner - and to ascribe some of the blame for that disappointment at Rossi's door.
Though the full extent of Ducati's woes warrants a full feature in itself, at the most basic level the problem for Rossi and his Ducati team-mate Nicky Hayden was a lack of front-end feel. The vagueness, and consequent lack of feedback, destroyed confidence. The underlying cause was the Bridgestone compounds, which needed to be loaded all the way through corners in order to work in their optimum range. With no front-end feel, neither Rossi nor Hayden was able to do that and were consequently uncompetitive.
So, can Rossi win again? Or, perhaps more provocatively, if Stoner could get the bike to work, surely the blame must lie with Rossi?
For a start, it should be noted that Rossi is by no means the only rider to struggle with the Ducati. Randy de Puniet went from a regular top-six rider with LCR Honda to one who struggled to make the top 10 on the Pramac Ducati. Loris Capirossi went nowhere when he switched from Suzuki, while Marco Melandri fared similarly badly when he jumped off a Honda and onto a Ducati in 2008. Crucially, Hayden has also fared poorly on the Italian machine.
There are, admittedly, question marks over Rossi's fitness, and specifically his recovery from the shoulder damage he suffered in early 2010, but it's way too early to suggest a man who was winning as recently as mid-October 2010 has suddenly regressed.
And so we come to the bike...
The GP11 had the same basic concept Ducati first brought to grands prix in 2003, and therefore is not a wild deviation from the bike Stoner rode. It does, however, differ from the approach both Honda and Yamaha take. While the Japanese manufacturers look to generate flex, critical at the lean angles at which the suspension stops being ample to act as a damper, Ducati first went with the trellis design and more recently switched to the carbon-fibre concept with a stressed airbox.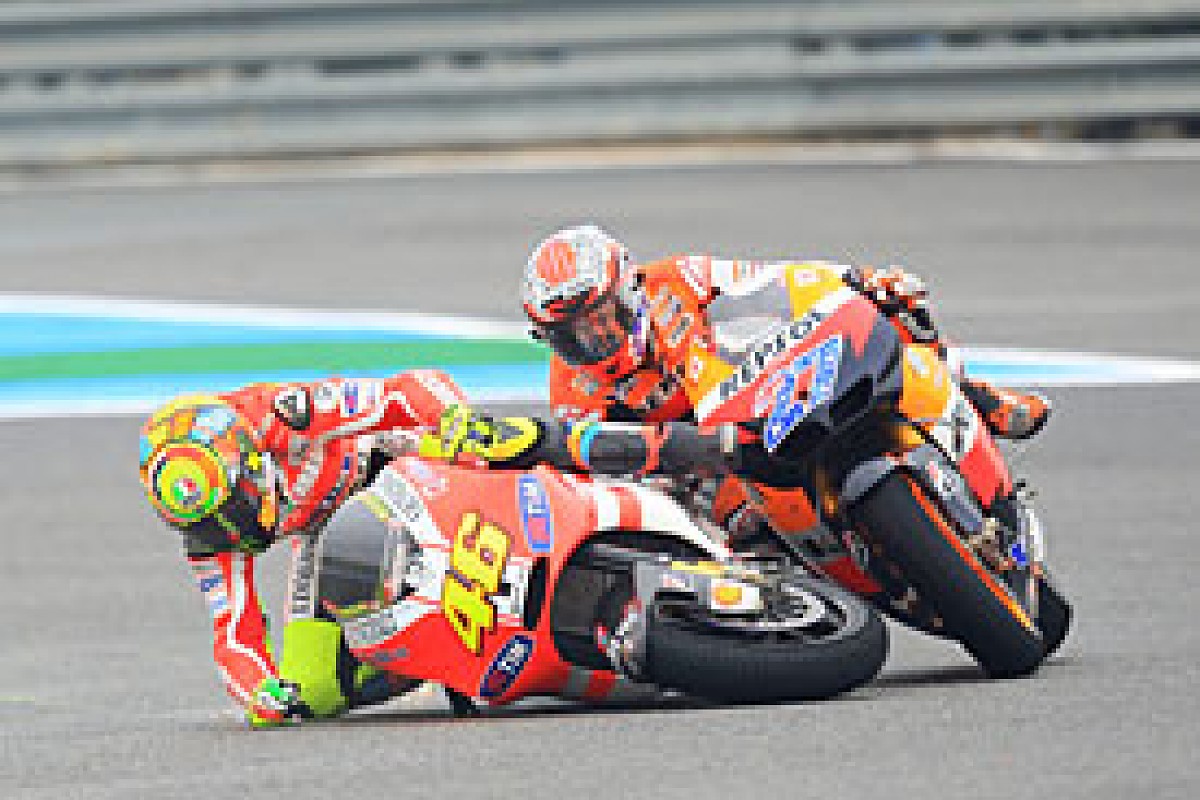 Rossi and Stoner have clashed on and off the track © XPB
While ingenious and elegant in equal measure, the bike has a fundamental weakness: carbon fibre does not behave as aluminium does. As a consequence, the feel of the front end is changed dramatically, and the feedback is far harder to understand - tying in with the previously mentioned issues of front-end confidence. Add in the fact the Desmosedici has always had a low centre of gravity and long wheelbase - the opposite of Rossi's predilection for a high centre of gravity to help the bike flick from left to right and generate grip - and the problems begin to mount.
The issues of weight transfer would return again and again in 2011. In a world where changes are usually measured in increments of a millimetre, Rossi's gamble to raise the centre of gravity by 20mm at Mugello was an indication of just how much he was struggling. There are suggestions too that the engine layout itself - the iconic V twin - could be the major issue, the sheer size and shape of the design leading to too many compromises that hurt the overall performance of the bike.
The good news for Rossi is that the dawn of the 1000s should automatically help assuage some of Ducati's problems. For a start, the bikes will spend far less time leaned right over in each corner, which is the de facto weak spot. Ducati has also experimented with aluminium and twin-beam frames in order to try to provide Rossi with that elusive front-end feel that he needs before he can be truly competitive. Bridgestone's 2012 casings could also be riding to his aid, with the tyres being designed to be less durable but to switch on more easily - a trade off that should again help alleviate Ducati's front-end and cornering issues.

So can Rossi return Ducati to the front? Can he avoid a second straight winless season? Perhaps fittingly, given the turbulence of 2011, an encouraging pre-season has not been entirely free of hangover from last year - or as Rossi puts it, things initially looked promising until "someone had some marvellous ideas that turned out to be s**t".
"I'm a realist, and I know well that our times are still a long way off and that there are still some things to fix," he said on the eve of the season-opening Qatar weekend. "We worked hard over the winter, and although we went in the wrong direction at one point, we once again managed to find the good feeling with the GP12 that we'd had in the first test.
"With those settings, which we'll start with in Qatar, I was able to get good feedback from the bike."
Taken in isolation, there are reasons to be optimistic for Ducati. Certainly there has been no shortage of effort, and even if wins seem out of reach early on, the radical rethink over the winter should allow progress to be made, just as the rigidity of the 2011 bike hampered all attempts to fix it.
But Rossi and Ducati are not being measured in isolation. There will need to be more than just green shoots of progress to bridge the gap to the factory Hondas and Yamahas. What's more, just as the new tyres and engines could suit Rossi, they should also help Stoner.
The Australian's ability to make a virtue of a degrading rear slick - his innate style of using wheelspin to skew the bike mid-corner, before wrenching open the throttle and launching it out - seems an almost perfect fit with the 1000s, which could favour the old-school method of running deep and cutting back across the corner.
Should Rossi fail again, the temptation will be there to further question his standing; to ask whether, if the Italian is the greatest, Stoner has now surpassed him. The thought process is wrong. Sport is more than just one season, and the past should not be forgotten just because the present seems more compelling.
So it is we enter a new era of MotoGP, one that should provide better races and greater entertainment by virtue of an extra 200cc of swept volume and the resultant increase in horsepower and torque. Whether Ducati can find the formula for success under the new regulations remains to be seen, but MotoGP needs a quick Rossi and Ducati.
We can only hope that as the curtain falls on the 800 era, it doesn't simultaneously mark what would be an ignoble end to the career of the man popularly considered the greatest of all time.