This weekend MotoGP fans will get what they've been waiting five months for: the start of a brand-new season. And with it comes the third set of regulations in 11 years for the rip-snorting prototype bikes, as we move from 990cc through 800cc and now to 1000cc capacity.
Never mind the intricacies of current grid numbers, the four-stroke regulations - introduced in 2002 - were possibly the best revolution of regulations in any motorsport series. And that's something all fans should be thankful for.
The finale of the 2011 MotoGP season was upsetting, emotional and quite frankly a relief to see the end of. The loss of Marco Simoncelli took an enormous amount out of so many the world over. He may not have been a MotoGP winner, but he was soon going to be. The fans lost a favourite, but another star will appear - they just do, just as Simoncelli did.
Time is a great healer and the welcome demise of the never-really-popular 800cc formula over the winter has put a spring in the step for many who are devoted to finding that last hundredth of a second that makes the difference between winning and losing.
Reigning champion Casey Stoner won 10 races for Honda last year and was uncatchable. But will this year see the same? Despite hating testing, he's blitzed the winter running. Racing, however, is different - as we saw in the season-opening Qatar GP two years ago when he fell off while leading.
He's still on a bike that flies and is still in a team that gives him little to do in the way of sponsors' meet-and-greets. He's massively irritated by things that don't make his bike go faster over a weekend. The similarities to fellow Aussie champion Mick Doohan are spooky.
Casey and wife Adriana had their first child in February, but the old wives' tales of children making you half a second slower must be wishfully going through his rivals' minds. In reality, they all know it won't make a jot of difference to his aggression and skill on a bike.
And for those who need a comment from someone who knows him inside out, Honda communications guru Livio Suppo still calls him 'The Animal'.
Lorenzo returns to racing this weekend after his injury © XPB
Dani Pedrosa remains with Honda for the seventh successive year, helping HRC's bank balance thanks to his ties with Repsol, but he's still quick and still an incredibly brave young man to ride a 154kg MotoGP bike that quickly despite his small physical stature. He'd beat many in an arm wrestle, never mind a bike race. Stuck-record phrase number one of 2012 is that he must remain injury-free to have a chance.
However, there is a free-data crossover at HRC with set-up changes being freely shared between the two Repsol Honda squads this year. There are no password-protected files on the servers. HRC means business like it did in the 500cc days - making sure all had a chance.
Has Honda had enough resources to build the final 800cc RC212V while also developing a new 1000cc bike throughout last year? Sure, it'll win but will the gap be a bit closer for the others? I fancy so.
Repsol Honda has distilled its team from three to two now that Andrea Dovizioso has been shown the door after his management held HRC to the letter over Dovi's one-year deal for 2011. He turned down a two-year deal with Gresini Honda and a works bike so now he's on a second-string Yamaha with Tech 3.
The works Yamahas have been finally released with the development for which Jorge Lorenzo was so desperate last year. You got the impression in 2011 that Yamaha was saving up for this new YZR M1 and there's a sneaking suspicion the momentum it lost last year is heading once more towards the Rossi/Lorenzo proportions of the late naughties.
We haven't seen Lorenzo race since he crossed the line in Japan last year, the fourth-to-last race of 2011. After severing the tip of his finger in the warm-up for the Australian GP, he didn't do the last three races and yet still finished second in the points to Stoner. He won three stunning races last year at Jerez, Mugello and Misano. He's a racer and will always duke it out.
Ben Spies looks unflappably cool (as always) in flip flops, still barely raising an eyebrow. Last year's Assen GP winner really needs to win a couple races in this, his third year of MotoGP.
The Yamaha will suit Spies, as it will Brit Cal Crutchlow. Hard men and hard racers, they always want more power and more torque. Will the 1000s give them that?
"These bikes at not easy to hold onto," says Spies. "They are bloody quick and very physical, but from a racing point of view there is more opportunity to pass people on the brakes. With 800s you had to brake all at the same place and then it was about who could be the first on the gas to get out of the corner.
"With these 1000s you are actually carrying nearly the same speed through the apex as before. but the braking area is bigger. Plus, if you make a mistake and go a bit wide on the exit you can still use the torque to pull it back."
"I was about 6 or 7km/h down on apex speed last year but now I'm only a couple down to Jorge."
Tech 3 has got a specification of bike that's already a tad behind the works bikes of Spies and Lorenzo. The works bikes expect to get the Jerez test engine for Qatar, but it's touch and go.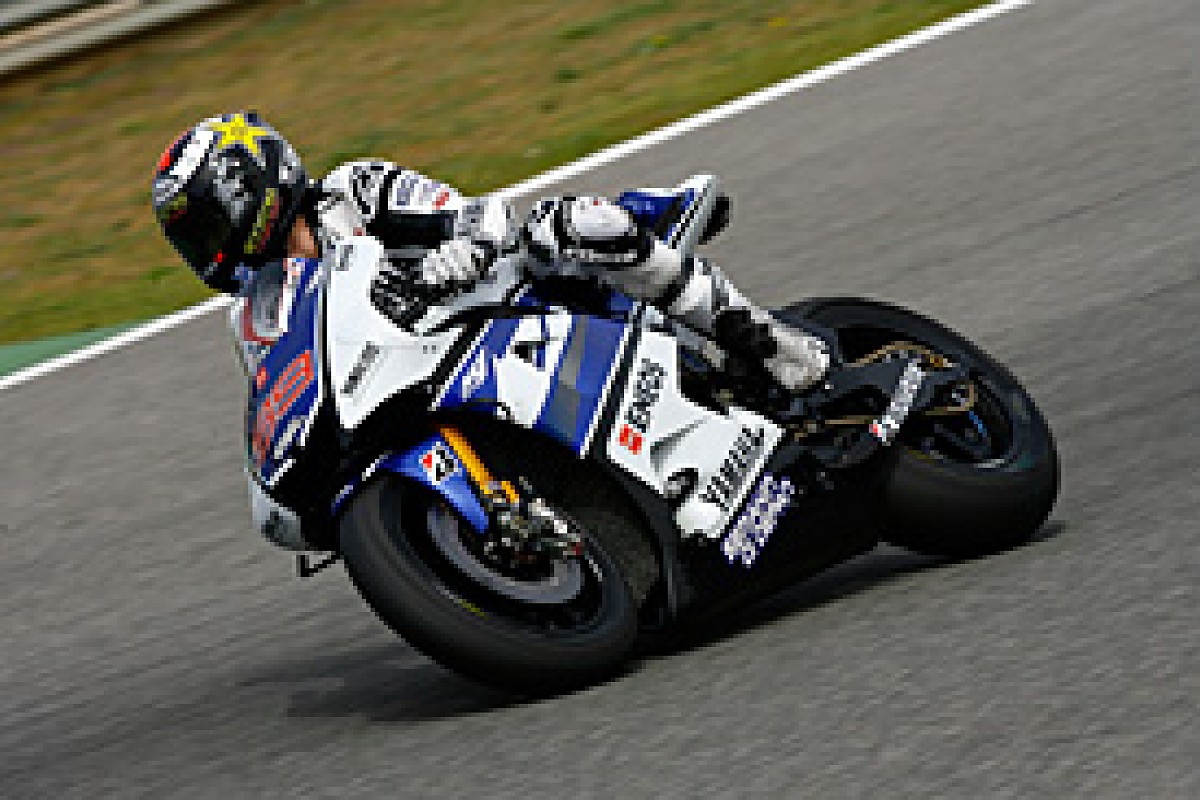 Rossi reckons Ducati is still not up there with the best © XPB
But the biggest question on the lips of so many fans is can Valentino Rossi and Ducati turn around their annus horribilis maximus of 2011. Remember: the nine-time world champion only took one podium finish - and that was inherited.
Ducati has worked its nuts off to bring the 2012 bike on early in July, then build another metallic frame for Aragon, then another for the Valencia test, then another for the winter tests. It worked every day God sent - minus three days over Christmas - and it means business. But will it work? Rossi says they made a mistake with the second test, at Sepang, but word in Qatar is Ducati is already making another chassis.
The price of metal in Bologna must've gone up...
There is still the possibility of Ducati not winning a race this year. The gap to the front guys is still big, and then even if the red machines are in the ball park, they've got to beat the guys in the 'Premier League'. The Stoners, Pedrosas and Lorenzos have played second fiddle to VR ever since they entered MotoGP and they're not going to wait for him. This is racing and they don't care who's behind them.
There is a pair of privateer Ducatis for Hector Barbera, who goes to the now one-bike Pramac Team, while Karel Abraham, one of the most intelligent specimens in the paddock, remains on his 'Duke'.
Stefan Bradl comes up as Moto2 champion to the Lucio Cecchinello's LCR squad, where he should do well. Smart, cool and a real thinker, an element of Teutonic measure will be nothing but a good thing while others around may lose their heads.
Suzuki messed around and eventually said 'no more' just three days after the last race last year, leaving some good guys scurrying around for jobs. The efforts of Paul Denning with the Japanese came to nothing, but it wasn't for a lack of trying. Suzuki is already developing a bike for 2014 - let's hope the world's bike markets pick up before then to encourage it back in.
The big chance though is CRT (Claiming Rule Teams). Railroaded though in order to fill up a grid that was at times emaciated, it's basically a chance for 'garagistes' to build a bike and have a go, rather like Williams and Tyrrell did in Formula 1. Alas there is no off-the-shelf Cosworth DFV anyone can just slot in, but the carrot for these guys is they can use any engine they wish so long as it has been deemed a CRT engine by the GP Commission. That means teams can use heavily modified production engines full of very trick bits. Team are also free to use any frame, shockers, aero and electrics.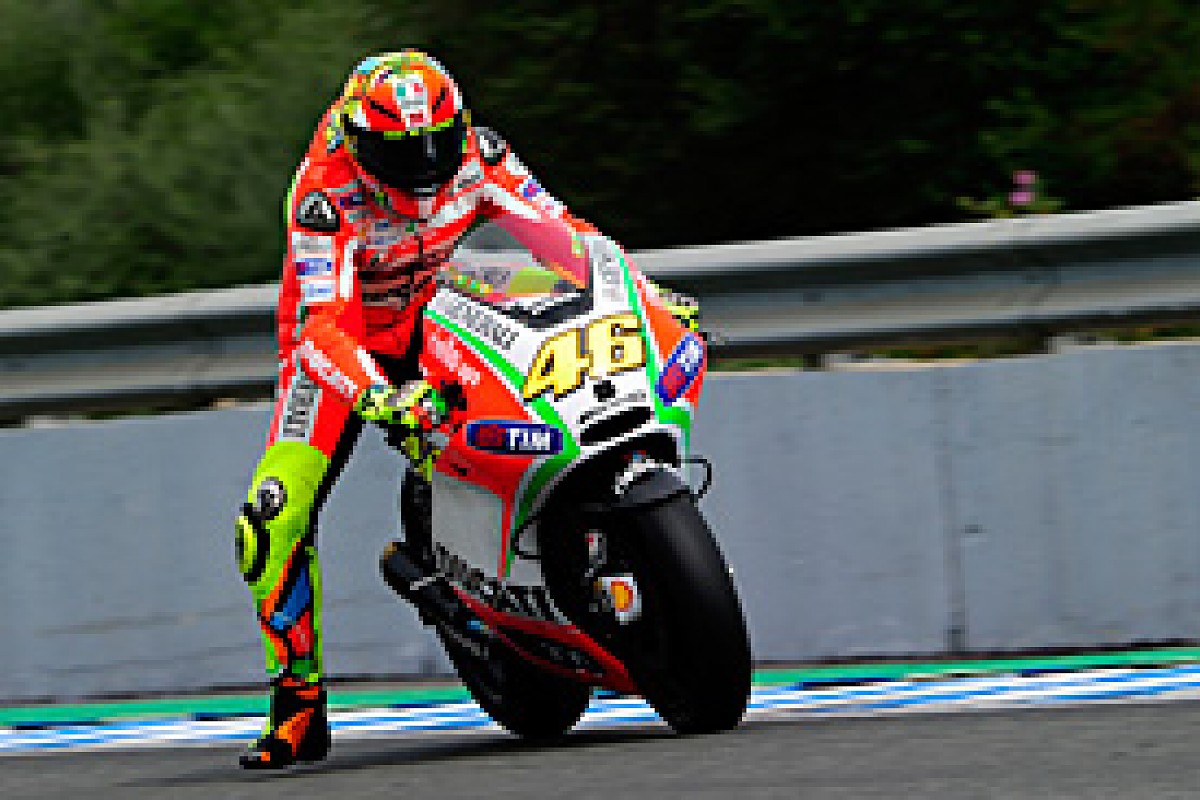 CRT bikes are making their debut this year © XPB
The bigger carrot is 12 engines per season, rather than just the six for factory teams. They also get 24 litres of fuel as opposed to factory limit of 21. However, to prevent a manufacturer coming into MotoGP through the back door, any other team can 'claim' a CRT bike's engine for €20,000 - literally while it's still warm in parc ferme.
Will that stop a Kawasaki or a BMW from pumping loads of engineering know-how into an engine. Yes, but it hasn't stopped Aprilia. The Italian firm has turned it's road-going RSV4 into a MotoGP bike without much tweaking. It won't win a race (although I hope I'm wrong) but it will have the very-brave Randy de Puniet aboard. Another reason to watch, if only for the giant killing.
"Pffff. I forget last year." says the Frenchman. "What I wait for is Jerez and for Sachsenring - I might have a chance. The main thing is to beat a prototype."
De Puniet did a 1m40.2s at Jerez in February, which compares favourably with the race record of 1m39.7s. It also suggests Aprilia is flicking two fingers to the spirit of CRT. De Puniet bites back very quickly.
"They say I have a prototype bike but it is simple: we swap bikes and they ride mine, then we see who's quickest. Ha ha! I am 30bhp down. I am saying to the Aprilia guys I want more power but they won't give it to me."
Aprilia does have a missile-engine already built for its World Superbike team. In fact, Eugene Laverty did 210mph down the back straight at Aragon recently, something that will be on the shelf as 'Monza spec', but if RdP gets a missile-engine for Mugello it'll be good for 400kms, not the normal 1000/1250kms.
"If we get to round 15 and I have used up all the engines, then I start at the back of the grid with a full power engine."
Proper racer.
Colin Edwards is rejuvenated and has literally got all guns blazing (see his Twitter feed when he's at home in Texas). As we saw at Silverstone last year, experience will shine through with the Forward Racing squad and its BMW CRT engines.