Honda wins at Motegi for the first time since 2004 and for the first time with a proper works bike. It took a while, but it did it last weekend in Japan in front of all the big bosses who were all there. The president of the Honda Motor Company no less.
Yamaha got second with Jorge Lorenzo after two of the four works Hondas jumped the start before leader Casey Stoner had a tank slapper that sent him into the gravel, though he fought back to eventually to claim third. What a bizarre first five laps it was.
Ducati's glimmer of hope after recent tests, and particularly qualifying, lasted until the third corner before Valentino Rossi was squeezed between Ben Spies and Lorenzo, all three of them wanting the same piece of asphalt. Rossi's brake lever clipped the back of Spies, locking his front wheel. The hard working guys in Bologna didn't deserve that, never mind Rossi, after his upward turn of phrase after qualifying.

Motegi was good for both Dani Pedrosa and Casey Stoner
Dani Pedrosa stopped Lorenzo winning and gaining nine points on Stoner rather than the four that the Aussie actually lost.
It all tees up the next race at Australia so very well doesn't it - hometown hero rides to victory and the world championship on his birthday. However to do that, Stoner first needs to win it and secondly needs Lorenzo off the podium, something after the Motegi race should never be taken for granted.
Honda is on the brink of its first title of any kind in five seasons, far too long a wait as as most very important board level executives are concerned. Nicky Hayden was the last one to win, but for some hardcore HRC purists it was a last-gasp effort at the end of an angst-ridden season for the #69. What Stoner is doing is far more like the domination days of Rossi in the championship years with both Honda and Yamaha, Stoner with Ducati in 2007 and Lorenzo with Yamaha last year. It's all back to normal for HRC, so reminiscent of the Mick Doohan years when they won five years on the trot.
Why has it taken so long for Honda to be on the brink of this supremacy? Maybe it should have put both arms around Sete Gibernau when Rossi left HRC at the end of 2003 rather than bringing Alex Barros and then Max Biaggi into the works team.
Sete Gibernau emerged as Honda's main contender when Valentino Rossi first left for Yamaha
Might that have made a difference? We'll never know as Gibernau stayed in the HRC-blessed Gresini team, but stuck with that niggling thought of not knowing what bits were whirring around in the engine beneath and how 'works' they actually were. Gibernau needed loving in the garage, something arguably Gresini gave him more of, but in return he gave Rossi a hell of a run for his money. A rich kid from Barcelona who worked on Kenny Roberts' dirt track ranch was beating the best ever but went home without even a world title of any sorts. Bit unfair that.
Honda has made no mistake this year: hiring the right rider for the bike and making the right bike for the riders in the team.
Ducati has got the right rider in its team, but like Honda over the past four years, it is having to work out how to beat Stoner and Yamaha. As Honda is about to prove, you have to keep at it.
Marc Marquez's rise continues
Still the Moto2 races continue to keep the crowd on the edge of their seats and the television figures high.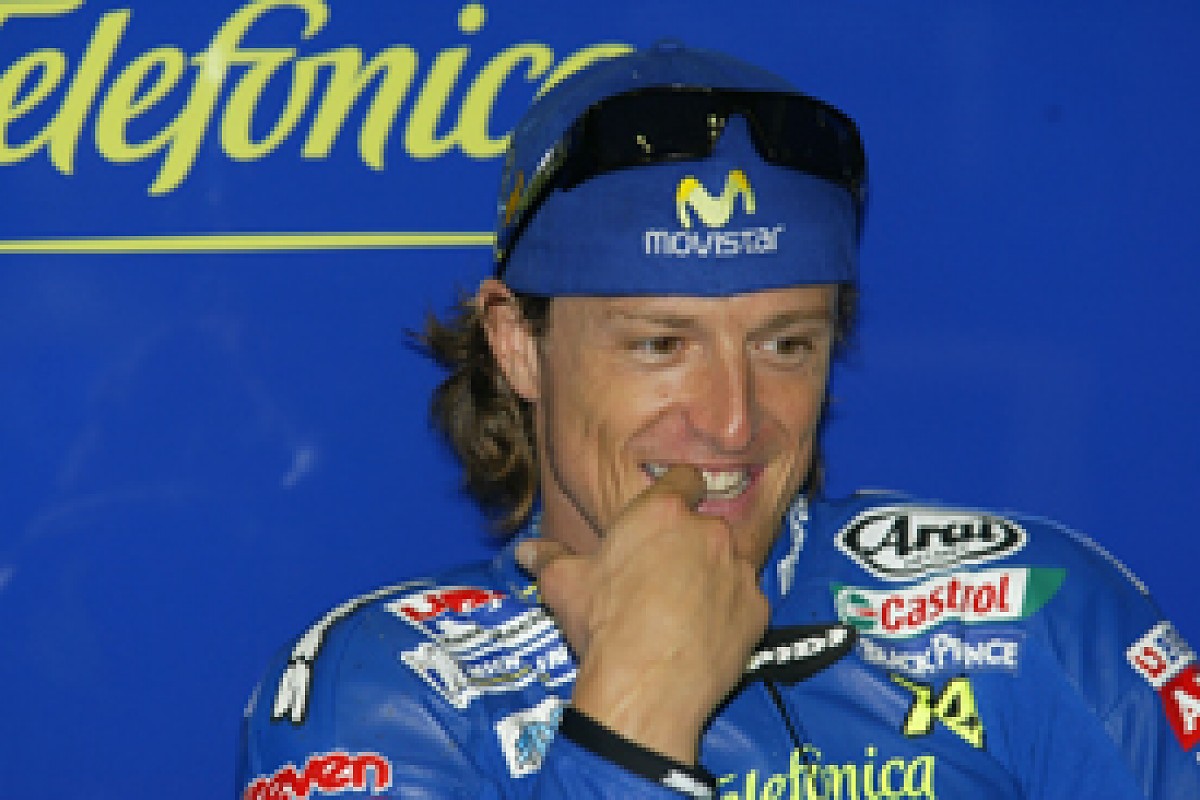 Marc Marquez is now the Moto2 leader © sutton-images.com
Following Marc Marquez's second place in Japan to Stefan Bradl's fourth, the German has now lost his championship lead for the very first time since taking it with the win at the season opener in Qatar. With three races remaining, there is just one point between Marquez and Bradl with 75 still to fight over at Phillip Island, Sepang and Valencia.
Marquez has been confirmed as riding a MotoGP bike after the last race at Valencia in a month's time, but his decision other whether to go to the big class must: a) not be a worry for him at the moment; and b) only be a small glimmer of a choice if he wins the title.
It's down to Emilio Alzamora, his mentor, and is a big decision at that. Rossi had two years in the middle class, Pedrosa had two years in the middle class, but might it be the right thing to spring Marquez up so soon? Devil you do and devil you don't one that, isn't it...?
Ultimately HRC may not decide to supply a bike but if there can be a deal done between Yamaha, Monster and Tech 3, then why not steal him Mr Jarvis and Poncheral?
A new British champion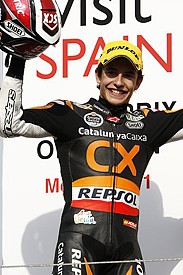 Davies wrapped up the WSS title in France
A quick shout for Chaz Davies, the new Supersport world champion. When he appeared in 125cc GP racing in 2002, the points were few and far between through some horrendous times with Matteoni and lack of funding. Into the 250cc years he had good times with Dieter Stappert but the results books didn't reflect his effort. Two seasons in America scalped the biggest race stateside, the Daytona 200 before going to Supersport 600 on the world stage last year.
Race wins first then then runaway victories meant the championship was his for the taking at Imola last weekend only for the engine to blow up when he had a 10-second lead. When would he shake the bad luck off?
Upon hearing that he had taken the title last weekend I welled up momentarily - for here is a genuine lad from Herefordshire who has plugged away through thick and a lot of thin to get to where he is.
As a friend said after meeting him at his home in spring this year, "I thought that a world championship motorbike racer would be... well, just not like Chaz. He was there changing the wheels on his enduro bike chatting away normally. What a great guy."
And so too says this writer. Congratulations to a British world champion.