Ramon Forcada has been in the grand prix paddock for nearly 20 years as a crew chief and is now an essential part of the reigning world champion team along with Jorge Lorenzo at Yamaha.
Toby Moody caught up with Forcada to find out about the pressures involved in that 2010 title-winning season, how Lorenzo pushes the team to be the best, beating Valentino Rossi on the other side of the garage, and, interestingly enough, what it was like in the first year of MotoGP four stroke era (2002) when, as Alex Barros' crew chief, the Pons team got a Honda V5 and won first time out at Motegi.

Forcada also gives an insight into Yamaha's racing philosophy and how it differs from Honda's and why Honda has taken five years to lead the fight for the MotoGP championship in the 800cc era.
Q. You've worked with a lot of people over the years. You've had some good people around you, and you've had some good people winning for you. Is Jorge Lorenzo the best one, do you think?
Ramon Forcada: Yes. He is the one who won the world championship with me in MotoGP. Jorge is a very special rider. He is always demanding more. He is the rider I see pushing himself - by that I mean pushing on the people around, because it's impossible to relax if you are around him.
He's always looking for something else to improve. He knows what he needs to be fast on the bike. This is very good. Then it is our job to try to find its limit. For this he is the most clear rider.
Q. There was an instance on the grid once when the pair of you had a bit of an argument. Was he trying to tell you what to do?
RF: I think you mean in Donington '09 when we discussed which tyre to use. But this was a different situation. It's difficult [on those occasions], because... okay, from my experience I remember it was clear that he made a sighting lap, he saw the track was really slippery and there were some wet parts. He said, 'the slick is impossible, we have to use the wet tyre'. And then I said 'no, no way, because if we use the wets it's going to dry' because we checked the forecast - it was not raining at that moment.
We said: 'If you start on the rain tyre, you will destroy it in five laps, and then we have to stop to change the tyre, because at that moment it is not wet race, so no way'. But you have to be careful when you say this to a rider, because for the technician it is very easy to say! When the green lights go on, all I have to do is hop over to the garage and sit down! So you have to try to convince him. So I said, 'Okay, this is special. We have to see what all the riders do, and then, everybody went to slicks, except Ducati.
Ducati's choice was a gamble. Sometimes it pays off, like what Eddie Lawson did in Hungary in '92 - and he won. But in the case of [Ducati] it was not correct.
Jorge Lorenzo constantly amazes Forcada © LAT
Q. When you look at the data, is Jorge... brave?
RF: Yes. A lot, a lot. It's unbelievable. You can see it in the lap times too. When he sets the times he often says: 'I'm going to repeat it'. But also his riding style... he always uses the same line, and he is always very, very smooth on the bike. That means normally he doesn't even shake the bike around, then it is easier to keep the same line.
If the bike is moving around, then it moves on a different line. But for Jorge, it doesn't slide so much, it breaks [away] at the same point, it's unbelievable when you check the data.
And also, one good thing is that Jorge is able to adapt his riding style to the tyre conditions. Jorge is one of the more constant riders during the race, so he is able to start on the good tyre, to make the laptime, and then when the tyre drops off he can change his riding style to maintain his speed.
The first time we did a race simulation, in Jerez, in the winter of 2008, we made him do a long run just to see what happened. We were using the Michelin tyre back then. The tyre would do 10 laps and then begin to drop off. He did 27 laps - a race distance - and he was completely consistent. Even Michelin was surprised - they thought 'this tyre, is unbelievable, it's completely constant'. Then we looked at the data and we talked with other riders and they all said: 'No, no, no - the tyre has been dropping continuously'.
Q. That's pretty clever.
RF: Unbelievable. He's still doing the same thing.
Q. Bridgestone says he's the best at tyre conservation. They get the tyre back and can tell immediately that it's Jorge's because it is so smooth...
RF: Only once in Jerez, this year, [was that not the case]. That was not the best tyre, because he pushed harder than the other riders, and the condition it was in was terrible.
Q. He still won the race by 19s or so.
RF: Yeah, but it was dry with the wet tyre, and the tyre was really bad, but he pushed harder than other riders, so...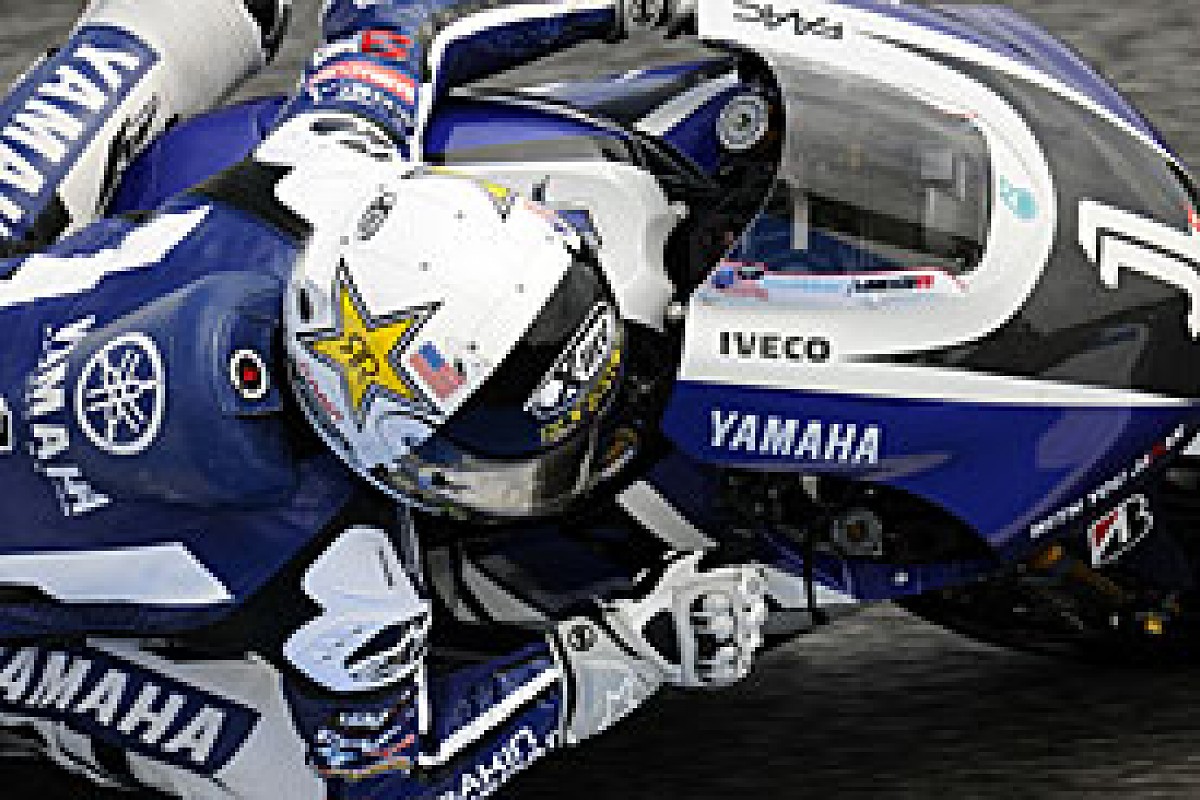 Jorge Lorenzo is always pushing for more, says Forcada © LAT
Q. Lorenzo's won the world championship in the 250cc class, and now he's won the world championship with you in MotoGP in only his third year. Has he changed in any way?
RF: No. The pressure just make him want more, more, more. So it's... For me, this winter has been training more than in the past, just to get the championship again. So this, now, is his target. Now we know Honda have made a step forward, and we are fighting with them and now we are leading the championship, but we are struggling more than last year. This is clear.
Q. The engine blow-up that Yamaha suffered at the Sachsenring in 2010 was obviously a big shock, a big surprise. Do we understand that Yamaha maybe turned it down a little, or did it keep it at the same level?
RF: No, no, because this can happen in street cars. It was just an accident. Okay the first moment or two everybody's worried about what happened. But after looking at the engine it was just sure it was only this engine.
The engine was not quite on the limit but it was getting old. So at first it was clear what happened on the engine, so we don't need to turn off any of the others. Also, because it was quite an old engine we didn't lose much mileage on the next ones. We finished the season winning the last two races without any extra engines. The power we kept exactly the same.
Q. What level are the engines at compared with the Valencia engine #6 last year? Are they a little bit more powerful? I get the impression that Lorenzo wants more power.
RF: The rider always wants more power, particularly on the straight. Because for the rider, the worst thing is when you are doing a very good job and somebody passes you on the straight.
You are fighting on the corner, you are fighting on the brakes, but the easiest way to pass is just to have more power, to overtake on the straight. And for the rider this is push time; they say 'what can I do?' But there is nothing to do they cannot defend against this one.
But now the engine is not only more powerful, but we are working on that power - power delivery, on the electronics, and it's slightly different... Yamaha always wants to keep the same philosophy on the engine, it's always four cylinders in-line with the firing order always the same, to save the tyres. They are concerning a lot it was Masao Furusawa's philosophy.
Yamaha decided to sacrifice a bit of power to get the tyre life and to get also the power delivery to avoid shaking the bike, to avoid accidents. It has worked hard to make the smooth engine. The philosophy's the same but then always when you get more power, the engine becomes more aggressive. If you want to keep the same philosophy, with more power, you need to work more on the power reverberations.
Q. When you were Casey Stoner's LCR crew chief in 2006, and he was riding the 990cc Honda V5, he was a rough diamond wasn't he?
RF: Completely.
Q. He had some big accidents; he was lucky to get away with it. There are many similarities with Jorge in 2008 though, surely?
RF: At that time we were using Michelin tyres. And it was mainly the front tyre that you needed to be careful with. And this is not Casey's style. He liked to push. So the story was he nearly signed with Sito Pons.
Q. For 2006?
RF: For 2006. But then there was the Camel (sponsorship) problem, because Honda had removed Max [Biagi], then we tried to get Max again at Pons in 2006. The team was for Max and Casey, it was a really good deal with Camel. But then Honda denied the bike for Max and Camel pulled out. But we made the first test at Sepang with Casey. And then when Camel pulled out we went to [Lucio] Cecchinello.
Q. Now Casey and Jorge are arguably on the same level. So you've actually seen both of them...
RF: Funny story that I was there for the MotoGP debut of Casey, Dani Pedrosa, Andrea Dovizioso, for Jorge Lorenzo, for a lot of riders.
Q. Can you use any of that information? Do you try and understand what the others are doing? You've seen a little bit of their talent.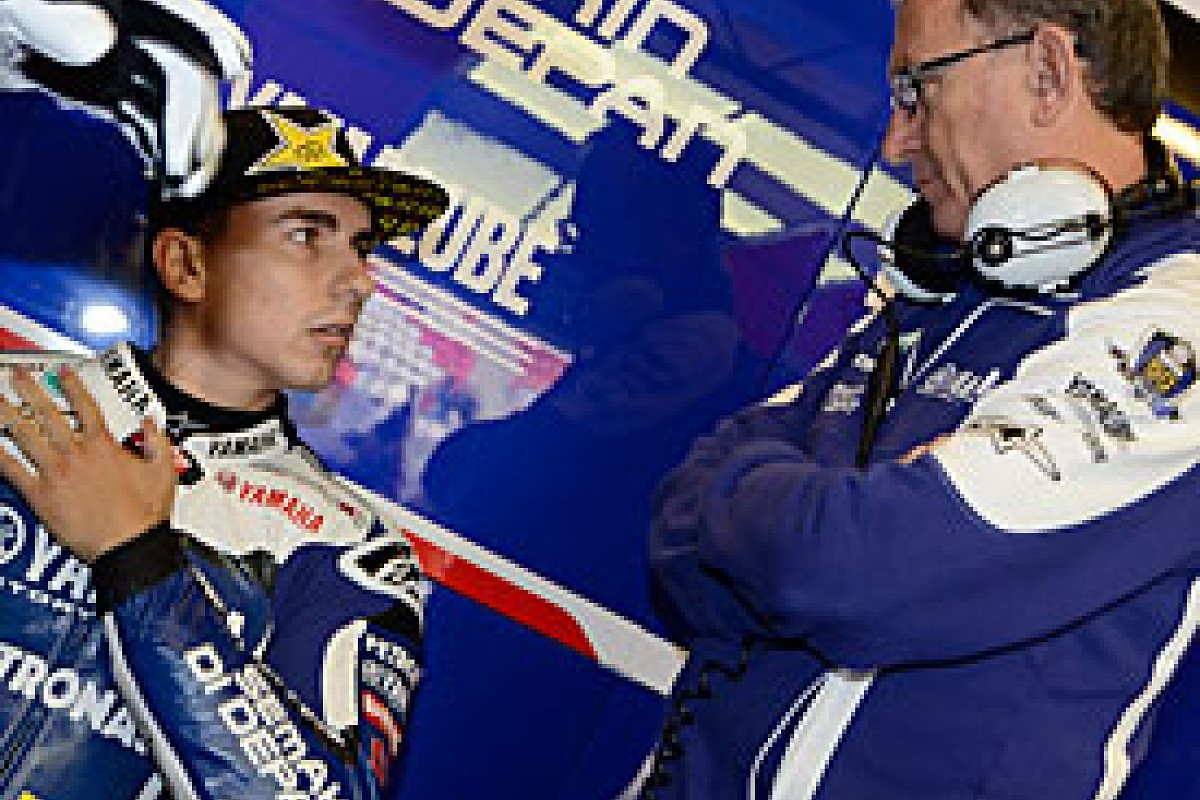 Casey Stoner was fast but wild in 2006 © LAT
RF: Yeah. They are very fast riders, but the character is very different. Casey's more natural. He's fast. He's fast because he's an animal. And Jorge needs to work more, with the training...
Here's an example. When we arrive at the circuit, Casey's always the fastest rider on the first lap. Faster than Dani, faster than Valentino, faster than Jorge. It's natural to him. For other riders, they need to get the feeling. This is the biggest difference. Casey's a rider that has now truly changed and he's able to adapt - but the Michelin front tyre was impossible. He tried to push his way, and the problem was he never got any messages from the tyre. He pushed, and suddenly, he's gone.
And the problem is that this is his style, he is very strong [in the head], and he will repeat the error. For the championship, this is a disaster. But that shows that he is a rider who wants to push his character; he is never conservative saying 'this is too much, okay, we'll stay back'. No, no...
Jorge is getting to the same point, but he is working more. He needs to have everything under control - while Casey's more natural.
Q. Were you engineering Alex Barros when he won on the West Honda V5 in the 2002 races in Japan and Valencia?
RF: Yes. Japan and Valencia, and second in Malaysia, Phillip Island... He was ready to win there are well, but the bike had a clutch problem, it was the first prototype.
He ran on at the hairpin, but he returned to the track and finished second. He was leading on the last lap, and I think he would have been able to keep the position.
Q. What was your best day?
RF: Probably Jorge winning the title. For the decoration, but also for working in the factory. Because I work in the factory really. I was in the factory all the time in 2004 with Barros but it was a strange situation at HRC because it was the first year since Valentino had left to go to Yamaha.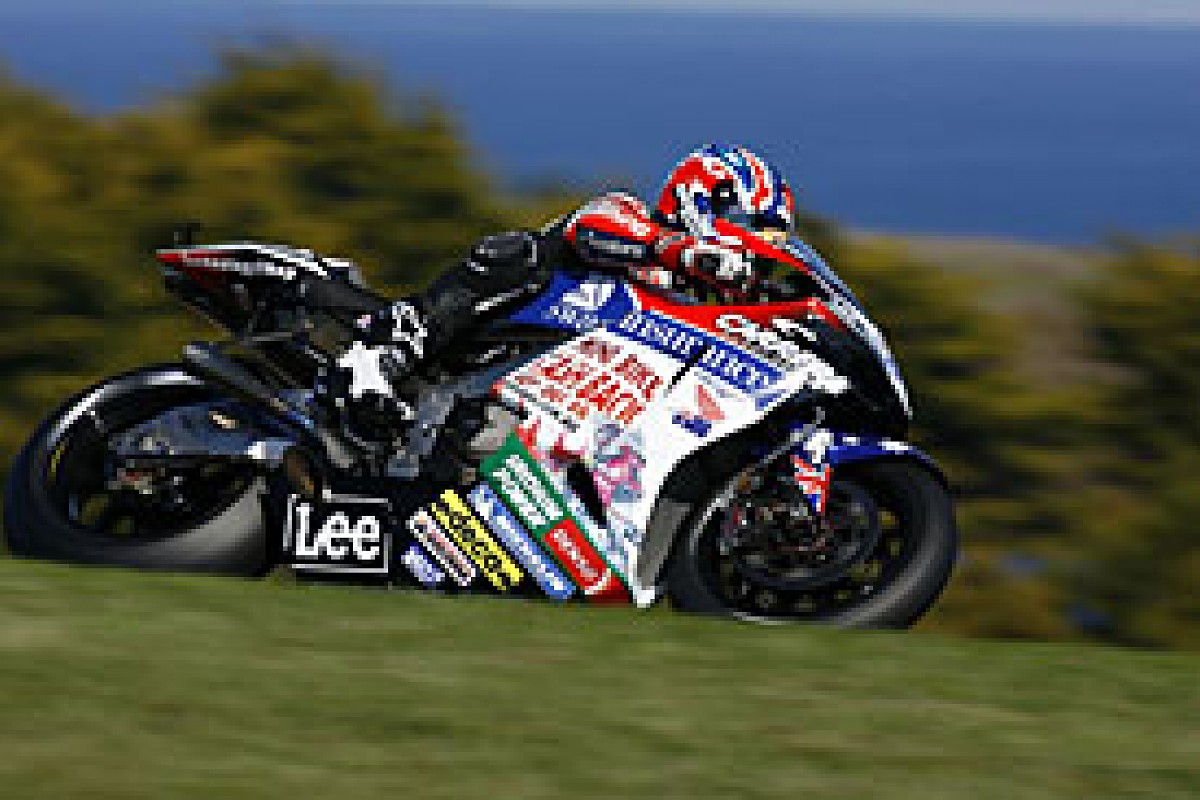 Alex Barros joined Honda's HRC team in 2004 © LAT
Barros had posted good results at the end of 2002, with the West V5 - which was not the same as Valentino's HRC one, because that was the first prototype they used. That was in the garage, and Honda said 'Okay, maybe we can get some money from this bike'. They rented the bike for four races [to West Pons Honda]. In 2003, Barros switched to Tech 3 Yamaha. Then at the end of the year, when Rossi moved to Yamaha, Honda remembered Barros's rides on the V5 at the end of 2002...
They took Alex, but he had an operation on his shoulder, similar to Valentino's last year. We missed all the winter tests. So we went straight to the first race, with a rider coming from Yamaha, and a rookie [Nicky Hayden] on the other side. That was really tight. Another problem was that Honda couldn't wait for two years to beat Valentino.
Q. Was that to with HRC director of the time Koji Nakajima?
RF: Yeah. In 2005 they signed Biagi, in 2006 they took Dani Pedrosa with Nicky and then Nicky won the championship. But they made two completely different bikes for Dani and Nicky, so there was confusion inside HRC. For me, the problem was that they missed Valentino; it was the rider who made the line to follow. That meant it was a little bit lost on the bike [direction].
They tried, but maybe they didn't believe exactly the real potential of this bike, and then they started changing too many things. Because the bike we had in 2006 at LCR, it was a completely satellite bike, but it was really good We had a tyre problem, but the bike was really good. Now, Casey's quite confident about it, because he says 'okay, they bring the 2006 chassis with the 4 cylinder engine...'
Q. You say that Honda made a mistake... Honda lost Valentino, and then it got lost. Yamaha have lost Valentino, but you were leading the championship this year.
RF: The difference is Yamaha believes this bike is good enough. We didn't change the bike's character from last year to this year. We just tried to improve it. I arrived here in 2008, and every year, we make exactly the same change. With Valentino or without Valentino. We try to keep the bike's character, which is quite neutral. And then we try to improve it to the rider's demands. Yamaha is very careful not to destroy the bike. Honda made a completely new bike in 2006 with a completely different philosophy. This was the problem. Also they changed the project leader many times, so it was a bit... Yamaha has a clear position with the bike.
Now, for sure Honda has improved. After five years, that's normal. We are struggling now, this is true, but we always try to improve the bike, not to change the bike. This, for me, is a good philosophy. Of course if the bike doesn't work, you have to change. If the bike's still working, let it improve.
Q. You're the championship winning team. Do you feel a little bit nervous that the Hondas are going to catch you?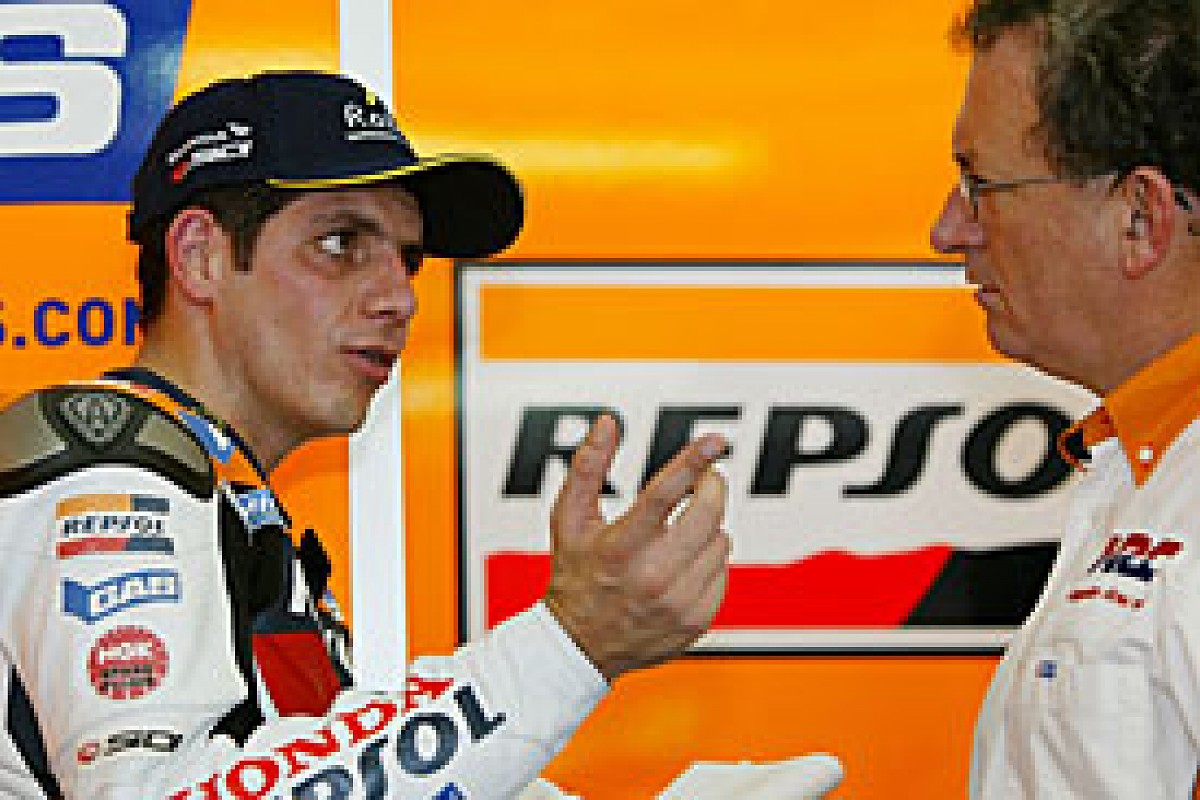 Jorge Lorenzo doesn't crash anywhere near as much as he used to © LAT
RF: Yes. Always. Not because it's Honda, you always have to be afraid from the team in second. If you are second, you have to just focus on the first one, to catch the first one. But if you are leading, you are... It doesn't matter who is second.
Now, sure, Honda has a very good team. It has four factory bikes. This is very big, and they are almost forced to win the championship. If we can get the championship again this year, something will happen inside the Honda. I don't know what, but it looks like the situation for us. But the championship is very long. One of the best things that Jorge has learned from the past is that he has to finish the race.
Q. He's finished every race since Valencia '09, and been on the podium - apart from three.
RF: Yeah, he's unbelievable. In 2008, he had many crashes. In 2009 also, but then in 2009 he crashed many times leading the race, so that's a different story. Then in 2010 he learned, that while it's perfect to win all the races, if that's not possible, to finish on the podium. And even that was not possible, to be fourth. But finish the race. To a risk a crash for 20 points, that's crazy. The moment you have five to win and twenty to lose, it balances.