MotoGP 2011 and the last year of the 800cc formula is already upon us. The gladiatorial opener under the floodlights of Qatar this weekend could not be a better place to dish out the first 25 points in a season that has all the hallmarks of being a runaway for the resurgent Honda team, but actually might be anything but that.
Some of the biggest names have moved teams over the winter with Valentino Rossi going to Ducati and Casey Stoner going to Honda, which makes a three-bike assault on the title. Reigning champion Jorge Lorenzo remains on his own patch at Yamaha with the cool Ben Spies joining him after a single season at Tech 3, Yamaha's offshoot squad.
Rossi's right shoulder is still hurting from a MotoX crash last April. Although he could fix a broken leg well enough to return to his winning ways four races from the end of the season, the shoulder problem proved tougher.
He faced a dilemma: bunk off the last two races of 2010 to get it operated on and resolved, but then not complete his contract with Yamaha and miss the only testing opportunity on his new Ducati immediately after Valencia, which gave the Bologna engineers time to think about his comments about the GP10/GP11. There was no right answer.
Physio treatment can only do so much to accelerate the tendons and ligaments that need to re-establish themselves in Rossi's shoulder so he's starting the season on the back foot (if you see what I mean) having not really being able to ride the bike at full strength and therefore speed in testing - and if you can't do that, then you obviously can't fully feel the limits of the bike.
Valentino Rossi has a lot of work ahead of him
But he is who he is and we all should never, ever, ever write him or the Jerry Burgess-led crew off. You have to believe that rumours of Bologna being in a spin since news of Rossi's arrival started to seep out in June last year are true so that's where Valentino and Burgess will be steady hands on the tiller.
'The Doctor' has the image of being all carefree with his silly laughs, but underneath all that Rossi doesn't miss anything. Anything at all. He will win races because he has a fire and a skill that is better than the rest of them but most of all because he has a level of championship-winning experience that none of them can buy at any price.
Will he win the title? Difficult one that, but he just needs to work really hard in these first few races to keep in touch with the quick ones. The speed will then come to the Ducati as it gets some miles underneath it.
The man who is stepping into Rossi's garage of the past seven years is Lorenzo. He now has the entire technological and financial backing of Yamaha MotoGP behind him. Or does he? Yamaha has been very clever over the past three seasons - putting in Lorenzo as a youngster for not much cash to be there in case the top dog bolted. That he did, and Yamaha should avoid what happened to HRC post-Rossi because it already had a new fast guy in place before Valentino had finished. Now team boss Lin Jarvis brings Spies in alongside Lorenzo just as he had placed Lorenzo in with Rossi. Clever stuff.
The other thing that isn't apparent is Yamaha's MotoGP expenditure. Many said that it was a disaster for Yamaha to be bereft of a title sponsor when the covers came off the 2011 bike, but actually if you do the sums, the outgoings of Yamaha are significantly less in 2011 than during 2010 because there is no cheque needing to be signed for €13m to Valentino Rossi. Lorenzo and Spies are on more than 2010, but nowhere near the kind of money that went to Italy. Also, Yamaha now has only two contracted riders as last year Spies was also on the factory payroll while at Tech 3. So Jarvis has actually needed less income going into 2011 because his single most expensive cost has been passed onto Ducati. Do the maths.
Off track though Lorenzo had a pasting from Rossi last week after he said all agreed to dislike him. Ouch! One sure way to get some more fireworks going when they're side by side into the last corner somewhere... Jerez anyone?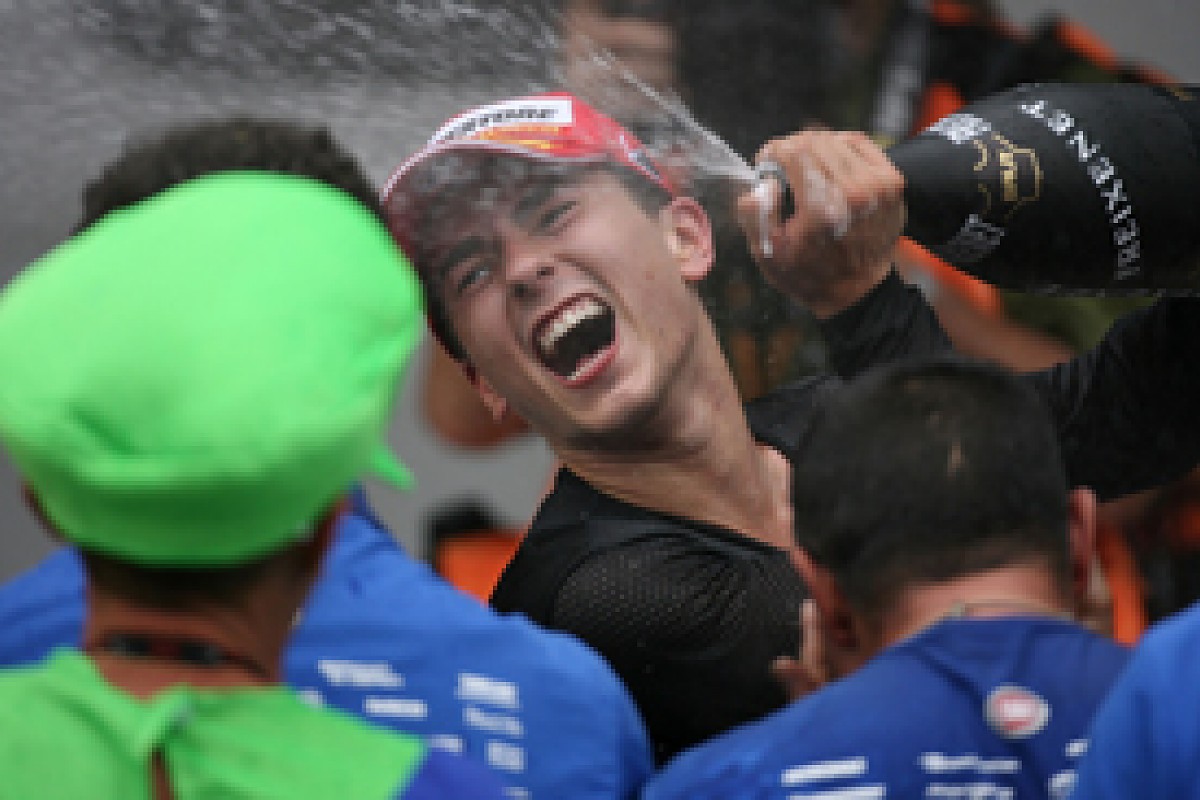 Lorenzo had a spectacular 2010 season © LAT
Lorenzo won more dominantly than people remember in 2010. Nine race wins, more than double the tally of the next guy, Dani Pedrosa, who won four. Lorenzo had an advantage after the last race of 138 points more than little Dani too. Stoner won the 2007 title with a margin of five race wins' worth of points, but Jorge did it by more. He could have gone home after Misano in the first week of September...
That's mind-boggling stuff that some don't want to accept so long as their darling with the #46 is still racing. Oh what people are missing by under-rating Lorenzo.
For those who studied his entrance to the big class and then his win at his third race, his clever step back when he was a serial crasher and then the way he built back up to being a contender again, it has been nothing but impressive. I've commentated on something like 700 grands prix and it stands out as one of the best measured and inspired performances under pressure I've ever seen. No, not as good as Rossi's debut win for Yamaha at Welkom in 2004, but very, very good indeed.
For that reason Lorenzo will be there if Yamaha can get out of the invisible hole that it's in - a hole that has been dug around Yamaha and everyone else by Honda over the winter with a large bucket of speed from HRC.
Just as Ducati came up with a trick of getting its 2007 bike to be a rocketship, so HRC has pulled out all the stops to try and make this RC212V a bike that will win an 800cc title. Unbelievably after four years of trying, HRC is yet to win anything at all in this formula - a formula that it was pivotal in creating after the perception that it was a fire breathing, evil, out of control 990cc bike that killed Daijiro Katoh.
The 800cc was built too small for the reigning champion in 2007 (Hayden) but about right for Pedrosa, who was lined up to win in 2007 or '08, but for whatever reason it just never happened. Pages and pages can be written about why it never happened, mainly by me out of a love for HRC as the group of wacky racers with millions of Yen who were told to go and make what they wanted. They made the V5 990 because it was difficult. 'Straight 4? Done that. V4? Done that too. Ahh, what the hell...' they thought. However their lack of management direction post-Rossi has been pretty frightening considering Honda's pedigree, and it only now looks like it is returning on track with the three works bikes' pace this winter.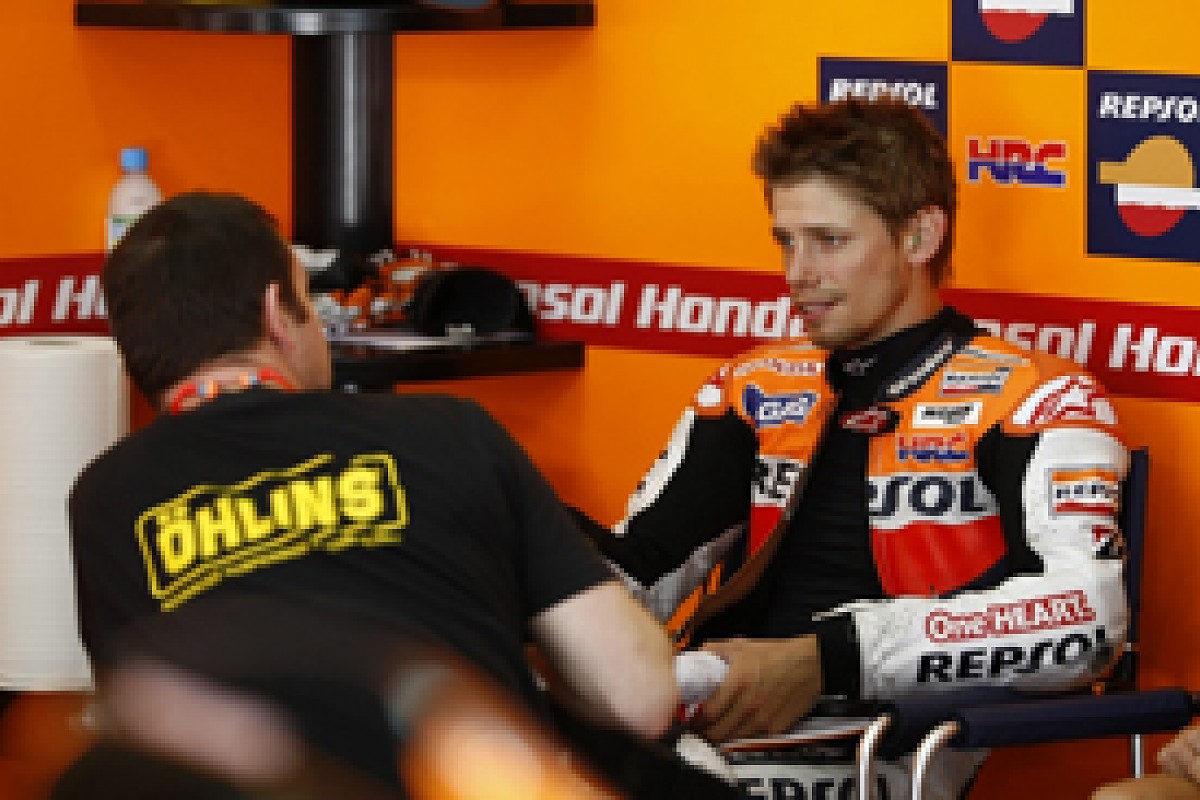 Stoner quickly got settled in at Honda
Will there be battles between Pedrosa and Stoner out there on the racetrack? God yeah! But the sparring that will happen between Livio Suppo, the forward thinking and forthright speaking sporting manager of HRC, and Alberto Puig who is solely working for Dani will also be simmering all season. Oh how the press office will be kept amused by this throughout the summer...
Day to day boss Shuhei Nakamoto was at HRC in 1983, the first year that HRC proper won the 500cc title with the fresh faced 21-year-old Freddie Spencer, and although Nakamoto has been elsewhere in Honda since (including Formula 1 for a while) he understands HRC best from a Japanese point of view and he will be in full warrior mode already.
Rumours about dual clutch technology were of course unfounded as it's illegal and HRC doesn't cheat. It just doesn't. What it is though, is better at new gearshifting technology in motorcycle race engines than anyone else and that's what it has found over the autumn of 2010 and the winter break. A gearshift smoothing trick is leaving everyone else behind in pre-season testing.
HRC has three riders, but it's Gresini's Marco Simoncelli who is really the one people are looking at. He made time last year to go to Japan when others didn't and that will have been noted in amongst the corridors of bright strip lights and silently working white shirts in Saitama Prefecture. Marco, like Jorge a few years ago, has realised where the limit is and has stemmed the carbon fibre bill for Gresini/HRC (he has an HRC contract). Many (mainly me) are looking forward to him swigging the booze on the podium.
So who will win the HRC battle?
Management must be thinking that they really don't care who wins, as long as it's a be-winged motorcycle with the spirit of not only Mr Shochiro Honda but Mr Shoichiro Irimajiri who was the first president of HRC.
Over to you Casey and Dani then. Could they win every race as Repsol Honda did in 1997? They could. Just don't knock each other off as I don't think HRC can take that again...