Oh, for what could have been in 2010. Valentino Rossi gets wheel-to-wheel against his own team-mate - Lorenzo - for the very first time, and to boot, a guy who hadn't even ridden a GP bike when Rossi was already winning on the Honda V5 in MotoGP.
Pedrosa had a bike that flew at most of the tracks, winning six races, while Stoner's Ducati had a front end that stuck like glue, leaving the Aussie to sort out the back end as he always likes it.
It would have been a hell of a season that, but alas not everyone turned up at the same time with their best bike or in their best fitness.
Lorenzo secured his first MotoGP title © LAT
At present, MotoGP has Lorenzo on all cylinders, Stoner is making them look silly once he bolts into the middle distance, Rossi is finding form at places he knows and likes, while the works Hondas are rocketships but are missing their fastest rider.
It's not quite going to be a finale like Formula 1 is having over their last three races, with five title runners, but it's still going to be a cracker at Estoril in a fortnight's time, with Stoner's current form against Lorenzo, who headed every single lap there last year and won the year before in his first ever visit to the place during his third ever MotoGP race. Pole, won the race and fastest lap: thank you very much, now where's the night club?
Will Pedrosa return for Estoril in 10 days time? Of course he will on current form. HRC had to stop him flying to Malaysia because even the engineers knew that he wouldn't have been better, while when he did ride at Phillip Island, he said it was too difficult to hold on the bike at 200mph with a collarbone that is broken into four pieces.
Travelling for 36 hours to Australia when he could barely do a press-up, let alone be off the bottom end of the field in qualifying, was hardly a surprise considering the 50kg-Spaniard had to ride a 235bhp, 148kg bike that is a beast at the best of times. Just who is making some of these decisions at Honda? There is now no question that the pocket-sized Pedrosa doesn't really crash very well, the term 'China Doll' being banded around the paddock more and more.
I just hope that for the sake of the lad his collarbone gets sorted and it doesn't end up like Sete Gibernau's, that was never right again after the big turn one pile-up at Barcelona in 2006.
Here and now the power struggle within Honda is quite innocently being won by a guy in another team, isn't it? Casey Stoner is not up for battles anywhere except out on the track, but even he must realise that as he changes from Ducati to Honda in three weeks time he'll be the one on form.
* * *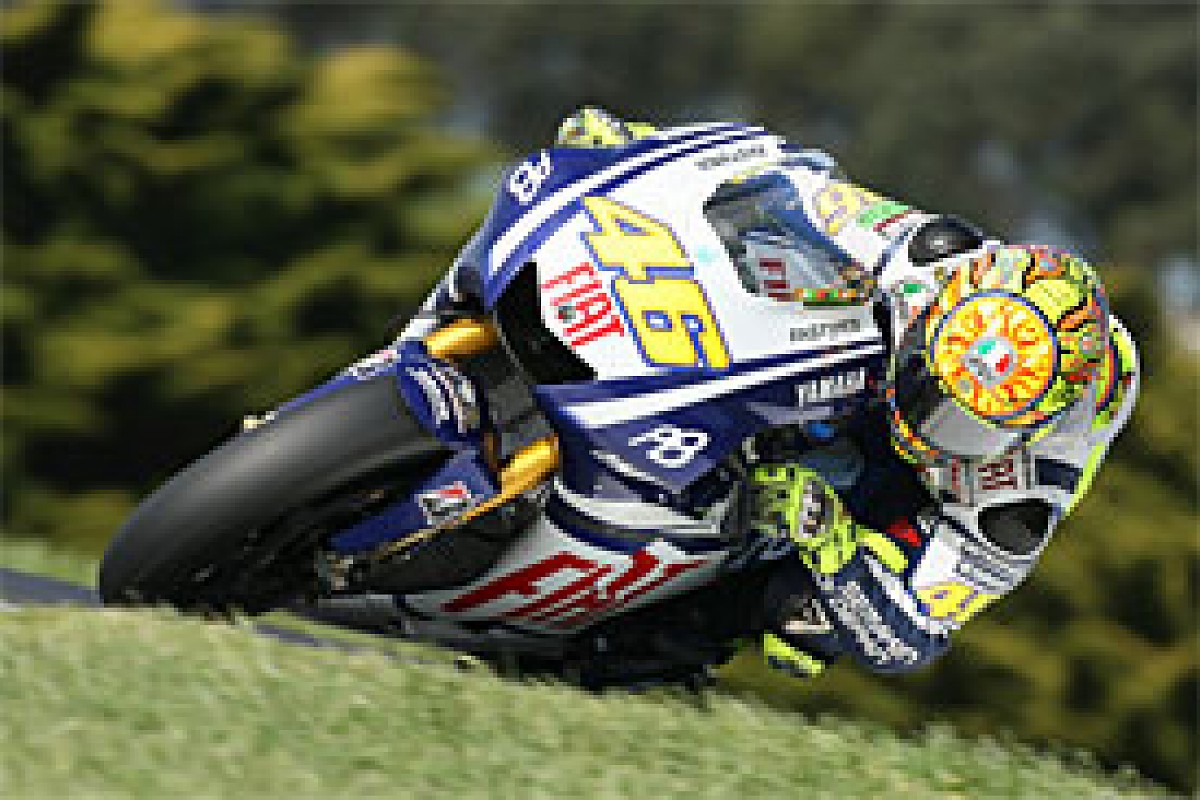 Will Yamaha miss Rossi next year? © LAT
Ben Spies wrapped up the Rookie of the Year title in Oz, something that wasn't going to be something too hard for him as the season shook out. But with him going onto the works Yamaha next year, with better bits and Japanese bosses who are fresh off the Rossi-Burgess work ethic, everyone is holding their breath waiting to see if the magic touch that Yamaha have had for the past seven years of Rossi riding there will continue after the confusion they were in before then.
Remember that Yamaha won 18 races in the previous nine seasons before Rossi turned up, the Italian promptly winning them the same number in just two seasons.
Blimey...
So if the Yamaha guys are fired up about Rossi upping sticks and going off in a huff, they're going to dig their heels in further with some immense talents that could still be gun slingers over the last few laps just as Rossi and Lorenzo did at Motegi.
* * *
So Rossi's slightly edgy words about Yamaha not letting him go until the end of his contract abated at Motegi and Malaysia, resulting in Masao Furasawa and Lin Jarvis letting his go on the Monday after the Valencia GP so he can test the Ducati.
Jarvis was seen in the Ducati offices at Aragon, maybe brokering a deal so that if there is a Ducati rider needed to be released to Yamaha in the future, then it might be remembered.
It's a difficult one all this 'leaving teams' but maybe contracts can finish the day after the last race unless the rider has won the title and needs to do the obligatory world tour standing alongside his newly livered number one-plated bike?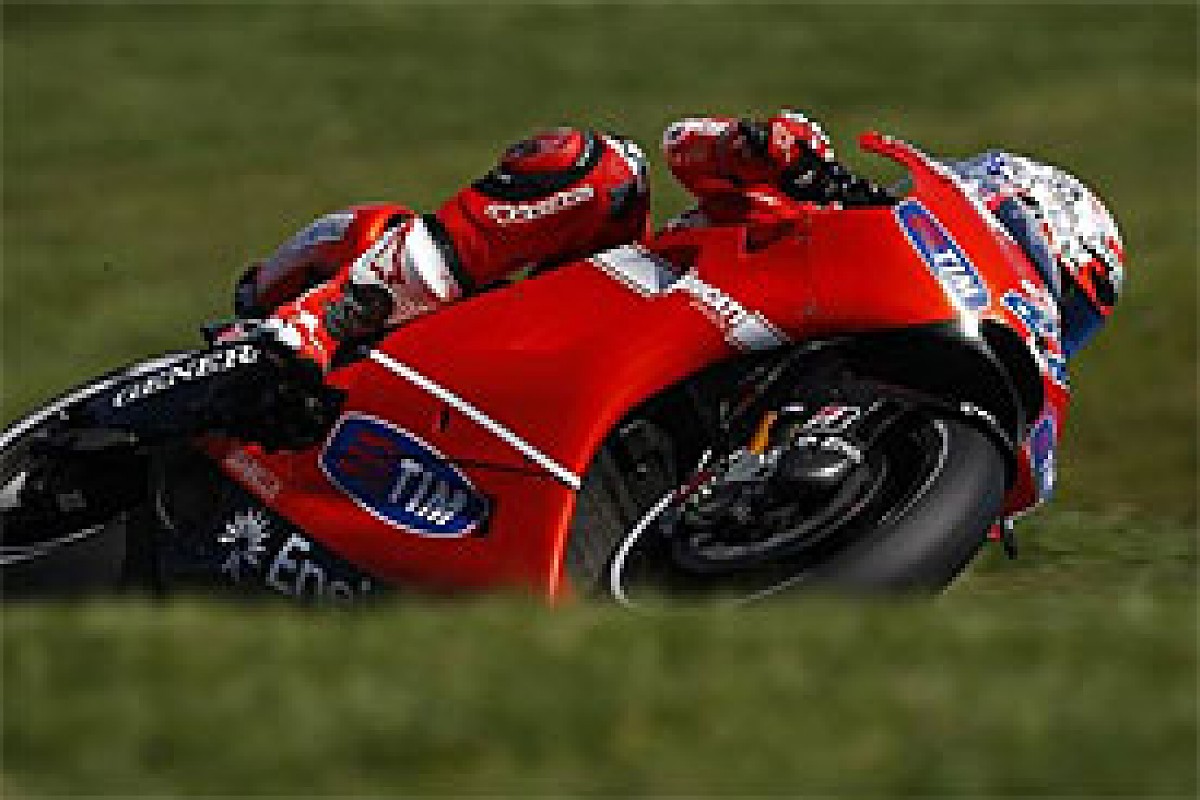 Rossi will be allowed to test the Ducati © Sutton
Speaking of Jarvis, there are some who have given the guy a bit of a hard time for not retaining Rossi in 2011 and beyond. They also talk of the works Yamaha team having lost sponsors over the years.
Well, there is one thing that Jarvis did do that will ensure his place within the sport's history, and that's signing Valentino Rossi for seven long and fruitful years.
Yamaha then won the championship four times with Rossi and once with Jorge Lorenzo, who Jarvis had as good as signed before the 2007 season even started, a full racing year before he actually rode the 800cc Yamaha M1. Five championship from seven years is about as good as it gets, Furasawa and Jarvis being the management of the era.
If HRC is considered the creator of all things fantastic on two wheels that have the prefix 'RC' to the slightly older generation, then the younger generation who don't know what an RC30, RC45 or an RC 211V is, will prefer a FIAT Yamaha M1 instead. Or even an Air Asia Yamaha M1 from the 2011 season.
Now it's down to Yamaha's outgoing rider Rossi to see if he can win at his bogey track, Valencia, before trying to win on a Ducati in Qatar next year.