What is it with this continuing misfortune that has struck so many of MotoGP's top riders in 2010?
Valentino Rossi fell off his motocrosser between the first and second races, and then struggled through Jerez hoping it would go away. A fortnight later he fell the wrong way into the Mugello gravel and snapped his lower leg like a pencil.
Alvaro Bautista also fell off his motocross bike before Le Mans and it took him yonks to get back up to full strength. Randy de Puniet got run over by the unsighted Mika Kallio at the Sachsenring, breaking his leg, while only last weekend, Dani Pedrosa had his throttle stick open in the first six minutes of Motegi, breaking his collarbone into four pieces.
Dani Pedrosa's empty garage at Motegi © LAT
One should not forget that even the champion elect Jorge Lorenzo fell off a super motard bike pre-season in Spain, mangling his right hand to such a degree that he couldn't do the middle of the three vital pre-season tests. For him to then finish second in Qatar was quite miraculous.
Even Suzuki manager Paul Denning fell off his motocrosser, making a mess of his leg in the summer just to prove that riders must do as they are told, rather than as their managers do.
The year of the broken bone
The common denominator of these injuries has of course been playing with motorcycles in muddy fields where, when you fall off there is nowhere for you to slide, as there is at a race track. You fall off and naturally put your arms out in front of you. Your hands dig into the soft, squidgy ground, leaving the momentum of the rest of your torso to carry on. Snap.
But for Pedrosa to have those kind of injuries just at the point of the season when he was flying back, ever closer to contention in the championship table is truly cruel. He'd lopped off 27% of Lorenzo's championship lead in the previous four races, scoring 90 points from a possible 100. He would have beaten them all on Sunday had he run, therefore scoring another 14 points more than Lorenzo, who would've finished 5th. Lorenzo's 56-point lead may have dropped to 42 with 100 points still on the table at Sepang, Philip Island, Estoril and Valencia.
A long shot, yes, but it would have meant the championship could not have been decided at Sepang this coming weekend. But I ought to stop sitting on fantasy island. We all know the truth of what will actually happen this weekend.
Pedrosa's stuck throttle is very, very odd. I said that when we were commentating upon seeing the first replay. Alas there were no external shots of the accident, something that was very frustrating in this day and age with the technology out there.
The television cameras also missed why Ben Spies and Nicky Hayden went off track, falling to the back of the field during the race.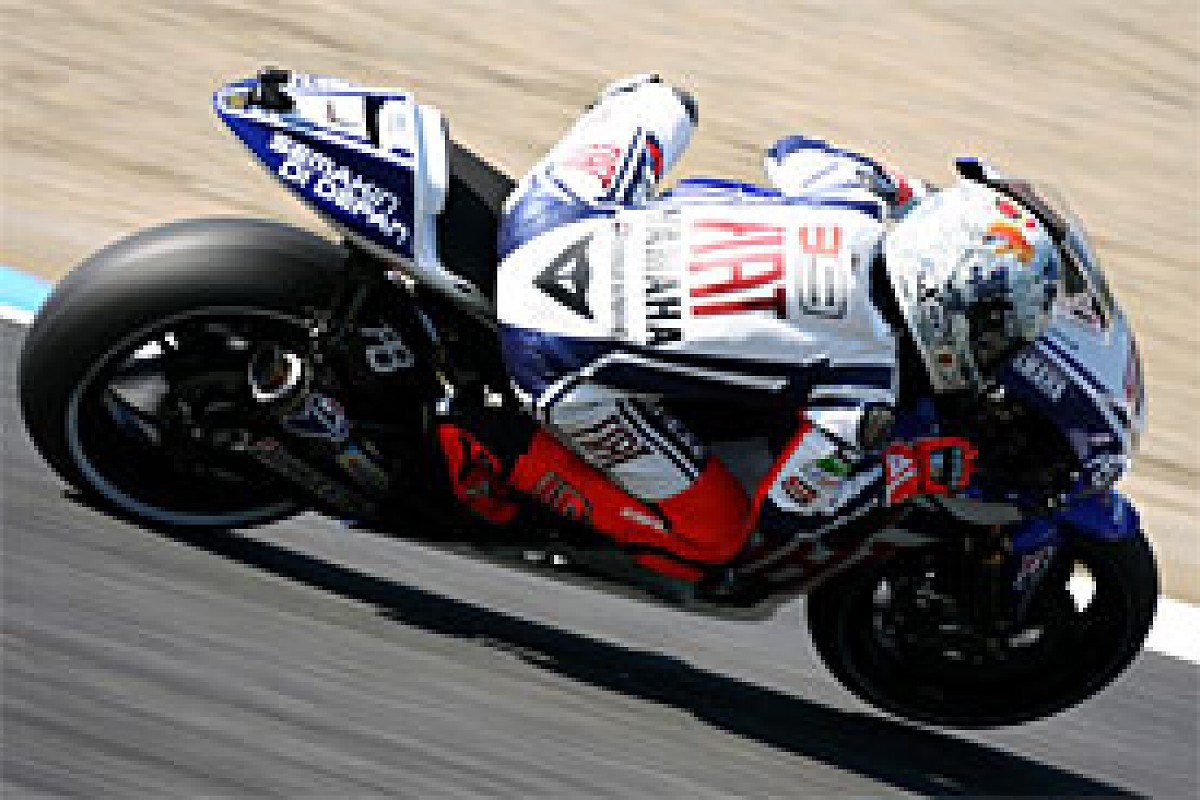 Lorenzo has avoided injury during the season © LAT
For a fly-by-wire throttle to go haywire is a racer's worst thought. I once saw a throttle stick open at the end of the back straight at Jerez, when Norick Abe's D'Antin Yamaha 500 decided it wasn't going to stop, 10 years ago. He side stepped of it before it cannoned into the air fence. He was battered and stiff, but okay; more than can be said for Pedrosa.
Most, including me, have questioned Dani's 'joie de vivre', outwardly at least, since he came to MotoGP in 2006. But once you get to know him better and he's not in 'race mode' he's a good lad. The trials and tribulations that some have with his manager Alberto Puig are another matter. Just ask Honda's Livio Suppo about that one. The problem with Pedrosa is he just seems to be a fragile piece of china, physically. Others fall much more often and pro-rata, get away with more. Just remember what Carlos Checa used to do with that Yamaha!
The cause of Pedrosa's crash was a freak of circumstances in this day and age of fly-by-wire throttles. We are so much further advanced into the technology nine years after we saw the fire-snorting Aprilia Cube make its debut it in MotoGP.
Let's hope it doesn't happen again, least of all at a fast corner like Turn 1 at Phillip Island.
One all
It's difficult to be neutral at times, but it's great to see that Ducati has re-found its mojo, just as it was to see Valentino Rossi battle tooth and nail with his new arch-rival Jorge Lorenzo - good old fashioned racing.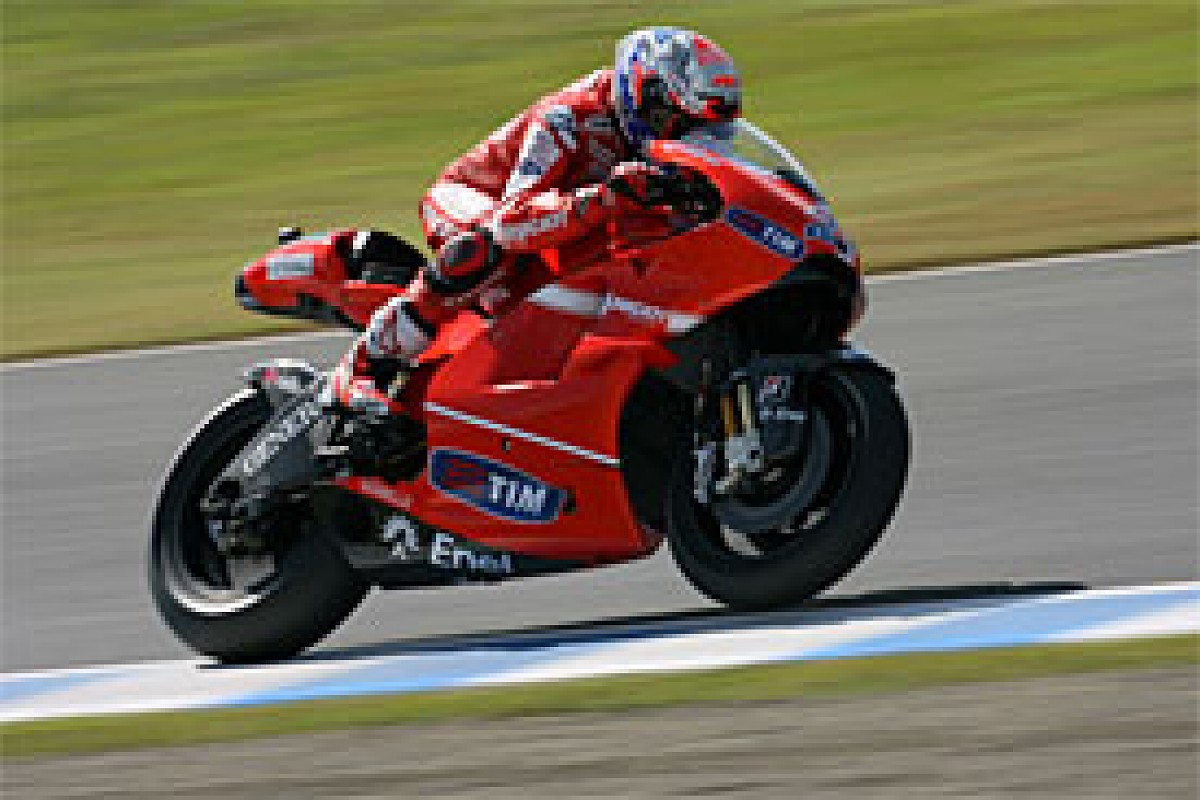 Stoner and Ducati are back on form © LAT
Stoner's Ducati was in all sorts of knots during qualifying, but still found the pace to romp ahead and clock up the manufacturer's fourth MotoGP victory at Motegi - which compares to Honda's three, Yamaha's two. Ducati has now parked its tank right outside the house of the Japanese bike-builders, chewing up the grass and the flowerbeds, turret pointing square into its front room. Hey, Pedrosa and Honda won at Mugello, so Stoner and Ducati were only repaying the compliment!
I wrote last time that Ducati's Vito Guareschi was confident that the team could take the Aragon 'new' setting to Motegi and smoke 'em. That it did. Vito should've known: he tested the settings at Mugello before they got put onto Casey's bike on the Saturday at Aragon.
Even the uprated, brand spanking new engine from Honda that Andrea Dovizioso was given him on Saturday lunchtime wasn't enough to beat the Ducati. Even the might of Honda in its own backyard couldn't keep up with the Ducati. Say that again slowly...
So now the teams go to Sepang in Malaysia with a 4pm local start time. A little later than normal because of the F1 race that's going on up at Suzuka a little earlier.
Wet race? Oh yes, please.