He didn't get it at Mugello, nor the modern autodrome that is Catalunya, so he waited until the most historic circuit of them all that has chronicled so much during it's 77 Grand Prix.
Assen is almost the Circuit du Sarthe for MotoGP with ghosts around the dips and rises from every single era of motorcycle racing. That's why, for me, Valentino Rossi winning at Assen last Saturday was so special, as he took his 100th Grand Prix victory from 218 starts.
After 14 years of commentating on him through from his debut in Shah Alam in 1996, his first victory in August that year and then the great wins and celebrations that will mean even if he won 200, I'd truly never tire of the anticipation of what is going to happen when he rolls to a stop on the cooling down lap. Policeman nicking him? Skittles? Chickens as pillions? Snow White and the Seven Dwarfs?

For me, the chicken as pillion was the funniest. It was the one time when I was properly doubled-up during a race-day commentary, leaving me hoarse and unable to contain laughter for the remaining 500cc race that day at Barcelona in 1998. Looking back, it doesn't seem remotely funny but at the time I had tears rolling down my cheeks.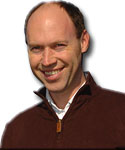 Valentino Rossi takes his 100th grand prix win at Assen © Back Page Images
Last Saturday I got out of bed with a spring in my step because I knew it was Assen and I just knew he was going to do it there. He knows the sport's history upside down and knew to do it there would be the ultimate way of furthermore being engrained into it.
It took him just a lap and two corners to get into the lead and from then on he was never headed. Not even as Jorge Lorenzo closed did he let up one jot, until a few from the end of the 26 laps.
Less for his slip off at Le Mans when all his bad luck for the year seemed to pile up on the same day, #46 has been on the podium at every other race this year. Off the top of my head, in international motorsport this year only Jenson Button can beat that.
Of course all the talk now is whether or not he can go for the 122 wins of Giacomo Agostini. Valentino shrugs it off with talk of how he feels at this point next year which will be contract time for 2011 when his current deal is up for grabs. But c'mon, he's only 30 years old and is as fit as the others. Hell, he's not going to fill out in years to come; just look at his father Graziano - hardly a big bloke now!
Of course he'll go for Ago's record. Not because he wants the record, but because he's as fresh now as he was 10 years ago due to him having fun in life and not putting the weight of the world upon his shoulders.
What a privilege it is to witness such a sportsmen who is, for those of you who keep asking me, an all round top bloke in real life too. It isn't a cover for another person underneath!
Honda in real trouble?
So both works Hondas crashed out of the race, both at the same corner with identikit front end losses. The looks on the faces of the HRC engineers when Dovizioso replicated Pedrosa's crash a couple of laps later must have been similar to when the little fella knocked off Nicky Hayden back in Portugal 2006, when he thought he could still win the title.


Dani Pedrosa © Back Page Images
Rumours are that Pedrosa doesn't want to change much on the bike in order to progress forward with the others up and down the pitlane, but this can't be all true as Honda had a new chassis for both Dovi and Pedrosa in Holland - but it can't be great now that Pedrosa has gone nearly 13 months without a win.
With Valentino Rossi on 131 points at the top of the table, Dovizioso is on 69 with Pedrosa on 67, level with Colin Edwards. Just looking back to Honda's last 'nuclear winter', which was post-Rossi, after seven races in 2004 Alex Barros had just 59 points while in 2005 Max Biaggi had a far healthier 89 - and still he couldn't win a race on an orange and blue Honda. In his championship year of 2006, Nicky Hayden had 119 points after the same number of races.
Ahem. Oh dear, oh dear. But fret not HRC lovers, Dovizioso will save them. Or will Jorge Lorenzo save Honda if Pedrosa gets the flick?
For Lorenzo, it might just be an option if VR keeps winning. Why not do a Rossi (2004 in reverse version) and leave for the opposition? Aha, that is easier said than done because Dovizioso will flower and be there sooner rather than later.

Maybe Honda has to go through this terrible patch in order to get better in the long run.