Lewis Hamilton may not have won a race so far in 2012, but there's no doubt that the Briton has been a far-more-accomplished performer, whose consistency leaves him still in with a very real shout of the Formula 1 title.
In an interview in this week's AUTOSPORT magazine, Edd Straw finds Hamilton in good form and with the weight of his 2011 worries behind him. But with McLaren still struggling to operate in the manner of a top team, he is not making any snap decisions about his future beyond this year.
In news, Straw analyses the problems that have befallen McLaren in 2012, and assesses whether the team is on the verge of throwing away the opportunity to win the title it always felt it could take if it had the best car.
Meanwhile, news also focuses on Pastor Maldonado's chances with Williams in this weekend's Monaco Grand Prix, on a track where the Venezuelan has always excelled.
grand prix editor Mark Hughes also delves into the phenomenon of Maldonado in his column this week, and concludes that another 'shock' win for the Williams man needn't be such a surprise...
In a four-page feature, Hughes goes in-depth on the issues that have faced the F1 teams this season, getting insight from many of the leading brains from the teams. Are they all as baffled by form as we are?
All this, plus a full preview to the Monaco GP and David Coulthard on prospects for the race in his home city.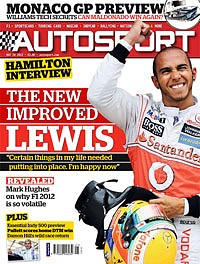 Indianapolis 500 - On the other side of the Atlantic, there's another big race this weekend: the Indianapolis 500. Mark Glendenning runs through all the big topics from practice and qualifying, and we bring you the full grid for the US motorsport's biggest event.
Nurburgring 24 Hours - If you have a mullet and like heavy metal, chances are you were in the campsites at the Nurburgring 24 Hours last weekend. Gary Watkins, who has a sensible haircut and likes Dr Feelgood, was staying in a hotel almost an hour away, but brings you all the action that culminated in an Audi win on the Nordschleife. He also reports on the British GT action on the modern track.
DTM Brands Hatch - Meanwhile, a load more Germans ventured over the Channel to Kent, where Jamie O'Leary reports on the DTM action from Brands Hatch and a win for Gary Paffett and Mercedes. The European Formula 3 boys were in action too, and O'Leary brings the story of Raffaele Marciello's continuing rise to prominence.
Damon Hill's racing return - Our editor Charles Bradley was at Brands too. While he wasn't reporting on the DTM, we reckon he must have sniffed out a Warsteiner or two... Oh yes, and he brings the full story of Damon Hill's comeback to racing in the VW Scirocco series - against his old mates including Mark Blundell, Julian Bailey, Martin Donnelly and Perry McCarthy.
WTCC Salzburgring - More tin-top action took place in Austria. Our inveterate occasional Central European correspondent Jurgen Stiftschraube reports from the Salzburgring on Rob Huff's win to bring himself back into title contention in the World Touring Car rankings.
BTCC's newest star - And if that's not enough touring car fever for you, Kevin Turner cosies up with new BTCC cult hero Dave Newsham to bring you the story of his rise to prominence with his ES Racing Vauxhall Vectra.
World of Sport - And there's even more tin-top stuff in World of Sport, with Superstars from Donington, NASCAR, V8 Supercars and the rest all covered. Meanwhile, over in World of Sport we cover all the UK race action, including the supports from Brands and Donington and a historic extravaganza at Silverstone.
From the Archive - And completing the Indy coverage from this week, our From the Archive finds Eliseo Salazar reminiscing about his third-place finish in the 2000 running of the 500.
Race of my life - Race of my life is - yes, you've guessed it - with a touring car driver this week. Two-time BTCC champ James Thompson casts his eye over his career to find his fondest memory.
Read this week's AUTOSPORT digital magazine.