Inaugural Le Mans Esports Series champions Veloce has admitted it was "surprised" by its pace on its way to winning the Super Final.
12 three-driver teams competed in nine races over a 24-hour period prior to the real-life race.
10 of those 12 teams qualified via a six-round qualification period, while Veloce earned one of two wildcard spots in the finale - entering David Kelly, Noah Schmitz and James Baldwin
eROC champion Baldwin labelled his team as the "underdog" prior to the event, with Baldwin having never played Forza 7 [the game used in the competition] until two weeks prior to the start of the Super Final.
Veloce started the title-deciding 90-minute finale in fourth place, but with a 15-second deficit - equal to its points deficit to polesitters and home favourites Baguette Racing.
It quickly overcame this, making its way up to second and then with six laps to go, it passed Baguette for the Super Final win, taking the biggest share of the $100,000 prize pool.
"We didn't have a great starting point for the final," Baldwin told Autosport.
"It surprised us and everyone else, but we were just so much quicker.
"It started in my stint, and then Noah just destroyed Laige [Baguette's star driver Aurelien Mallet], and that doesn't happen, Laige is the bees-knees on Forza, and he just got owned by Noah.
"Full credit to Dave made the set-up all on his own, if we didn't have them then we wouldn't be where we are."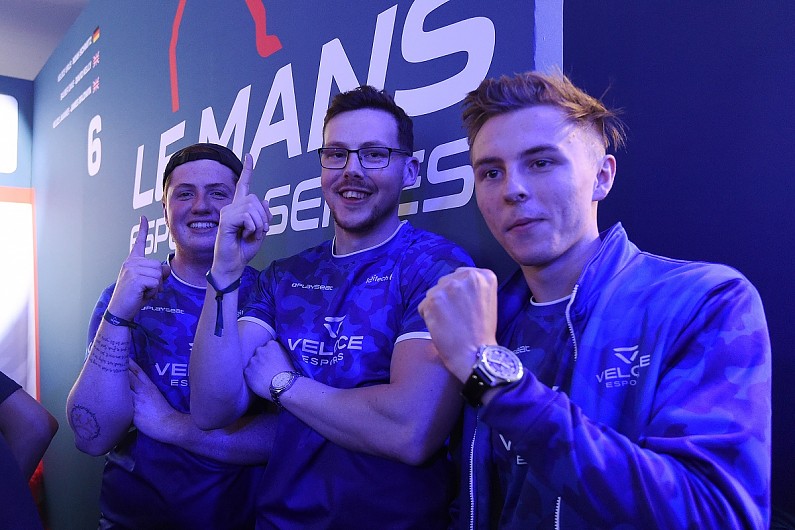 Schmitz explained how his confidence alongside his Veloce team-mates was crucial in catching and beating Red Bull Esports driver Mallet.
"Laige is the one to beat in all the Forza competitions," Schmitz explained to Autosport.
"When I came out of the pits [to start his turn at the wheel], I wasn't too confident and struggling a little bit.
"Then I started to catch him, and I asked James if it was Laige in the car because I thought it had to be someone else.
"I had a lot of confidence in the car, was feeling good so that's the main reason we were able to win convincingly."
Sauber Esports driver Kelly credited his team-mates' ability to deal with the pressure of the final.
"They can deal with the pressure really well," Kelly added. "Laige is usually ice-cold, but Noah rattled him."
The Le Mans Esports Series will return for a second season, and more information will be released shortly.
Interested gamers can sign up for more information here.