While two teammates battled to the finish line, the guy behind them claimed the larger prize, as Sam Hornish Jr. won the IRL IndyCar Series championship Sunday by finishing third behind a duel of Target Chip Ganassi Racing teammates to score a million-dollar prize and his third championship in six years.
"It's been an unbelievable year for us," Hornish said. "We've had some ups and downs, but this was the greatest. Things worked out so well. I just tried to go out there and be as smart as possible.
"The two Ganassi cars were hitting each other. I didn't want to stick my nose in there."
By winning over teammate Scott Dixon, Dan Wheldon tied Hornish in the final points standing. However, Hornish claimed the championship on the strength of the tiebreaker -- number of race wins. Hornish won four races this season, Wheldon two.
"It was aggressive," Wheldon said of his run to victory in Sunday's season finale. "It was about making a point for next year."
Hornish's Marlboro Team Penske teammate, Helio Castroneves, finished fourth in the race and third in the standings after coming into the race with a one-point lead over Hornish. He fell behind early in the race after being penalized for speeding on pit road on the 15th lap.
"I still don't understand the speed-limit violation," Castroneves said. "I still think it wasn't me, but I'm sure there were a lot of computers, a lot of things that can point to me. If I was penalized, then I think someone else should as well, because I was following exactly with a lot of people."
Castroneves battled back to briefly challenge Hornish for the position and the championship with 22 laps remaining, but soon became involved in battles with Ed Carpenter and Tony Kanaan.
He finished nearly 2.5 seconds behind Hornish, who used patience to his advantage and stayed carefully behind Wheldon and Dixon, who raced hard among each other - and with others - throughout the race.
"I was trying to figure out how to not lose my momentum because I didn't want to fall further back," Hornish said. "I did have to go around Scott when they touched (with four laps remaining).
"They started it on about the 18th lap, when Wheldon got into it with A.J. Foyt IV. I thought, 'This is going to be a real long race if they keep this up.'"
The championship was Hornish's first since moving from Panther Racing - with which he won IRL championships in 2001 and 2002 - to Penske.
One of Hornish's four wins this year was the Indianapolis 500 in May.
"That was the highlight of my career, but it also helped us get back into the hunt for the championship, " Hornish said. "We just continued on from there. We had some problems along the way, but we kept our composure. Things worked out well."
On the final pit stop with 48 laps left, Hornish exited his pit box first, nearly moved into Wheldon's intended path, and took the lead. However, one lap after the ensuing restart with 45 laps remaining, he let the two Ganassi cars go by, watching as they traded the lead six more times before the finish.
"I didn't want him to get too racy at the end," team owner Roger Penske said, noting that Hornish passed Dixon for second briefly on the 196th lap of the race. "The win wasn't what we came to do. We came here for the championship."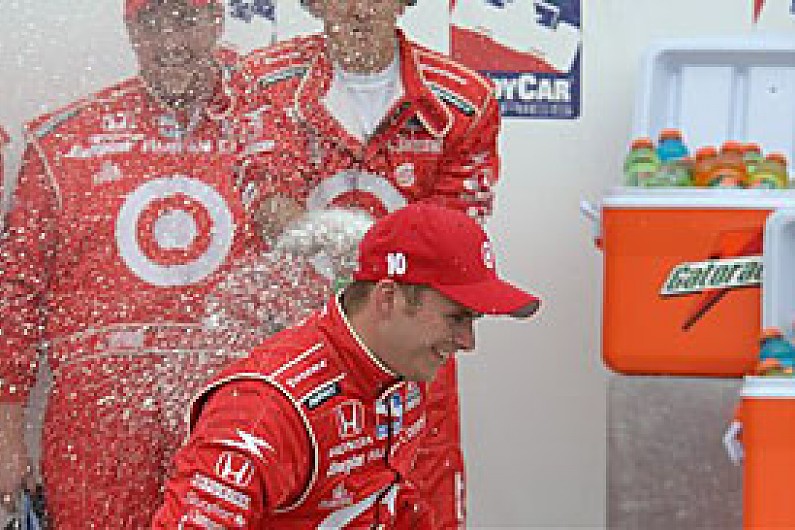 At one point, with four laps remaining, Dixon's left front wing buzzed Wheldon's right rear tire, giving Hornish and the Penske crew as much of a scare as was felt in the Ganassi pits.
"We were at the 10-yard line and needed to make sure we got it in the end zone," said Tim Cindric, president of Penske Racing. "We didn't know what was going to happen at the end. Sam did a great job of being patient all day."
Castroneves wasn't happy with Carpenter or Tony Kanaan, his former teammate in indy Lights. Castroneves claimed both drivers impeded his progress and kept him from reaching the lead pack.
"Tony was trying to race me," Caqstroneves said. "He stayed on the bottom. I tried to pass him, and I tried to signal to him. 'Listen, give me a break. You're not going to do anything. You just make me slow.' Every time we were side-by-side, we 2 or 3 mph slower."
Following the top four - the only cars on the lead lap - was Carpenter, who scored his career-best with a fifth-place finish.
"Before the race, I said I wouldn't be happy unless we came out of here with a fifth-place finish," Carpenter said. "This is a really good way to end the season."
Vitor Meira finished sixth, followed by Tony Kanaan, Jeff Simmons, Scott Sharp and Tomas Scheckter.
While he scored Penske's first IRL championship and 12th overall in Indy-style racing, Hornish - who plans to test and possibly run ARCA and NASCAR Busch Series cars for Penske - said he still has goals to accomplish in open-wheel racing.
"I'm still three Indy 500s behind Rick Mears, A.J. Foyt and Big Al," Hornish said.
"I look forward to next season. I feel like once you've accomplished that next thing, you can distance yourself. You just keep trying to move forward and stockpile as many records as you can.
"There's always something around the corner. The next thing on the list is to try to win a road-course race."
As far as his boss is concerned, Hornish doesn't need to prove any more than he has so far.
"There's no question that Sam had proven in '03 when he came to us that he was a great driver," Penske said. "To me, patience is the virtue that Sam has been developing. He's a smart race-car driver."
Pos  Driver             Team               Laps
 1.  Dan Wheldon        Ganassi             200
 2.  Scott Dixon        Ganassi             200
 3.  Sam Hornish Jr     Penske              200
 4.  Helio Castroneves  Penske              200
 5.  Ed Carpenter       Vision              199
 6.  Vitor Meira        Panther             199
 7.  Tony Kanaan        Andretti-Green      199
 8.  Jeff Simmons       Rahal-Letterman     199
 9.  Scott Sharp        Fernandez           199
10.  Tomas Scheckter    Vision              199
11.  Kosuke Matsuura    Aguri Fernandez     199
12.  Danica Patrick     Rahal-Letterman     199
13.  Buddy Rice         Rahal-Letterman     199
14.  A.J. Foyt IV       Andretti-Green      198
15.  Bryan Herta        Andretti-Green      198
16.  Sarah Fisher       Dreyer & Reinbold   198
17.  Jeff Bucknum       Foyt                198
18.  Marco Andretti     Andretti-Green      198
19.  Marty Roth         Roth                160