Takuma Sato held off Ed Carpenter to take victory in IndyCar's Gateway race, just a week after shouldering the blame for causing a lap-one crash at Pocono.
Sato qualified fifth but was forced to climb from the back of the field after running wide on marbles early on, cycling into the lead near the finish before resisting driver and team owner Carpenter to claim his second victory of the season.
That Sato was in position to move back to the front was thanks to an early switch to an alternate pitstop strategy while running last, which put him in the best place to take advantage of a late caution period.
Sebastien Bourdais spun then came to a stop on track just after long-time race leader Santino Ferrucci and Penske's Josef Newgarden came in for their final stop.
Running alternate pit strategies, Sato, Tony Kanaan, and Carpenter were able to take advantage of the resulting caution period to move to the head of the order.
Kanaan, who started on the penultimate row of the grid, was unable to stay with Sato, allowing the Rahal Letterman Lanigan Racing driver to build a small gap. Carpenter swept past Kanaan with four laps to go and immediately closed the gap to Sato.
The pair spent the final lap running side by side, but Sato was just able to edge out Carpenter, taking the chequered flag 0.0399 seconds ahead.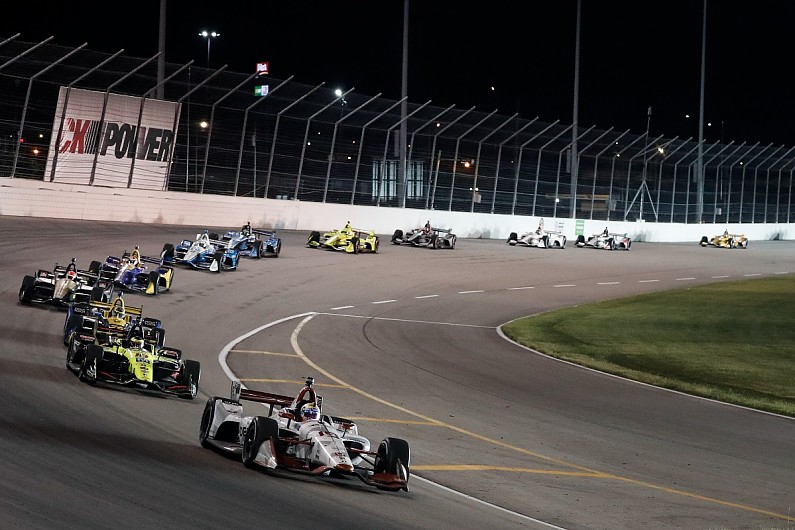 Ferrucci took the lead of an IndyCar race for the first time in his career early on after storming from sixth on the grid.
After passing James Hinchcliffe, the full-season rookie built a lead of more than six seconds before Marcus Ericsson slapped the wall for a second time in the middle part of the 248-lap race, prompting another caution period.
Ferrucci managed two restarts and retained a comfortable lead until the final visit to the pits, but a slow stop dropped him behind Newgarden and Alexander Rossi, as well as Sato, Kanaan, and Carpenter.
When the track turned green for the final time, Ferrucci made light work of Rossi - who was forced to conserve fuel and tyres in the final stint - before sweeping past Newgarden a few laps later.
He soon closed onto the back of Carpenter, but ran slightly wide as he tried to make a move, falling back behind Newgarden.
Ferucci did manage to get back ahead of Newgarden but ran out of time to make a move on Kanaan to claim his first IndyCar podium, and instead had a wobble at the final corner that delayed Newgarden and forced the championship leader to spin.
Title rivals Newgarden and Rossi had both struggled with the late strategy change, which forced both into a longer than expected final stint.
Rossi opted to come into the pits with 20 laps to go rather than struggle to conserve fuel and tyres, meaning Newgarden was at least able to extend his points lead despite his spin - finishing seventh behind team-mate Simon Pagenaud and Carlin's Conor Daly.
Rossi was only able to make up one position in the closing laps, taking the chequered flag P13.
Ganassi driver Scott Dixon's race came to an end early on after a radiator puncture, while Will Power was one of a number of drivers who made contact with the wall after straying onto the marbles.
Ryan Hunter-Reay finished eighth, ahead of Colton Herta and Marco Andretti.
Result - 248 laps
| Pos | Driver | Team | Car | Gap |
| --- | --- | --- | --- | --- |
| 1 | Takuma Sato | Rahal Letterman Lanigan | Dallara/Honda | 2h15m53.4687s |
| 2 | Ed Carpenter | Ed Carpenter Racing | Dallara/Chevrolet | 0.0399s |
| 3 | Tony Kanaan | AJ Foyt Enterprises | Dallara/Chevrolet | 2.2459s |
| 4 | Santino Ferrucci | Dale Coyne Racing | Dallara/Honda | 4.1935s |
| 5 | Simon Pagenaud | Team Penske | Dallara/Chevrolet | 6.2741s |
| 6 | Conor Daly | Carlin | Dallara/Chevrolet | 8.0200s |
| 7 | Josef Newgarden | Team Penske | Dallara/Chevrolet | 13.8050s |
| 8 | Ryan Hunter-Reay | Andretti Autosport | Dallara/Honda | 14.9394s |
| 9 | Colton Herta | Harding Racing | Dallara/Honda | 17.1010s |
| 10 | Marco Andretti | Andretti Herta | Dallara/Honda | 18.4657s |
| 11 | Felix Rosenqvist | Chip Ganassi Racing | Dallara/Honda | 19.8590s |
| 12 | James Hinchcliffe | Schmidt Peterson Motorsports | Dallara/Honda | 1 Lap |
| 13 | Alexander Rossi | Andretti Autosport | Dallara/Honda | 1 Lap |
| 14 | Zach Veach | Andretti Autosport | Dallara/Honda | 1 Lap |
| 15 | Charlie Kimball | Carlin | Dallara/Chevrolet | 1 Lap |
| 16 | Marcus Ericsson | Schmidt Peterson Motorsports | Dallara/Honda | 1 Lap |
| 17 | Matheus Leist | AJ Foyt Enterprises | Dallara/Chevrolet | 2 Laps |
| 18 | Graham Rahal | Rahal Letterman Lanigan | Dallara/Honda | Mechanical |
| 19 | Sebastien Bourdais | Dale Coyne Racing | Dallara/Honda | Contact |
| 20 | Scott Dixon | Chip Ganassi Racing | Dallara/Honda | Mechanical |
| 21 | Spencer Pigot | Ed Carpenter Racing | Dallara/Chevrolet | Contact |
| 22 | Will Power | Team Penske | Dallara/Chevrolet | Contact |