Jack Harvey hopes his breakthrough IndyCar podium on the Indianapolis road course boosts his chance of securing a first full season in the series in 2020.
The 2014 and '15 Indy Lights runner-up - and 2012 British Formula 3 champion - has a 10-round IndyCar programme with the Meyer Shank Racing and Schmidt Peterson Motorsports partnership this year.
That is an increase on the three and six round schedules he had in 2017 and '18 respectively.
At Indianapolis last weekend he qualified and finished third, and was a factor in the lead battle for most of the race.
"Hopefully this is just that springboard for us, first off for May [and the Indianapolis 500]," said Harvey.
"Hopefully it gives us some good momentum throughout the rest of this month, but also looking forward to the future, to the end of 2019 and looking forward to 2020.
"It's a balance for us because we're excited to be here. You're trying to take as much risk as you can without jeopardising anything because you're [only] doing 10 races, but at the same time in the same breath, we don't just want to be one of the cars.
"Yes, we're happy to finish third, but we're going to push, and if second is available, we're going to go for it.
"This was a really exciting result for us because if we could do a full-season drive in 2020, it would be great.
"If you could do it more weekends than you don't, then good things will happen at the end of the year.
"Our first podium in IndyCar, and hopefully it's the first of a few, and we're just going to keep using it to keep learning, get more experience, and hopefully it won't be as much of a shock when we get in here again."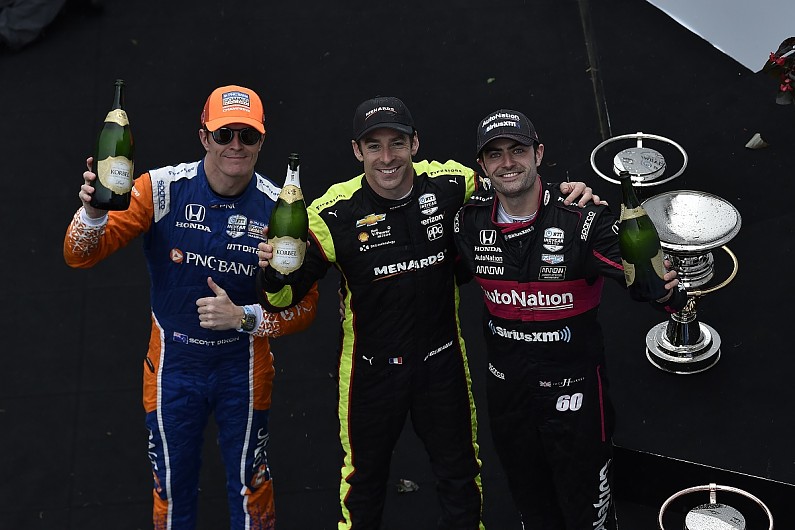 Harvey sat out the 2016 season following his second Lights title tilt, and admitted the emotion of getting his breakthrough IndyCar result was "a big one, bigger one than I would have admitted before I got a podium" given his struggle to get an opportunity in the series.
"It's not easy coming to the track and watching everybody else race when you're sitting on the sidelines," added the 26-year-old Briton.
"This personally gives me a lot of confidence because it's been a little while since we were competing week in, week out.
"I haven't gone short of opportunities, which I'm grateful for, but being thrown in the deep end all the time is tricky and you don't always get the results and you lose a little bit of confidence and whatnot.
"Whereas this weekend I knew we were going to be good coming into it. We delivered on that, and I think just for me alone, I feel like this is a big confidence boost, not arrogantly but just in a humble way.
"I talk about showing it to ourselves, but I just showed myself that I can come and compete at this level, and I'm very lucky with the people I surround myself with at the track and at home.
"They haven't let me ever lose sight of that and my talent."