Fernando Alonso said running only 29 laps of the Indianapolis Motor Speedway in Wednesday's test meant he cannot yet judge whether the McLaren Dallara-Chevrolet IndyCar package will be competitive.
Seven hours of Indy 500 testing had been scheduled for Wednesday, split between sessions for full-season IndyCar drivers, a 'rookies and refreshers' session for newcomers and returning veterans and then 'allcomers' running.
But rain hit barely 15 minutes into the opening session and caused a four-hour delay, and weather intervened again later on.
That meant the first two sessions ended up comprising around 90 minutes of running each and the combined test was cancelled outright.
Alonso also missed the first 45 minutes of the rookie session due to an electrical problem, and the abbreviated session meant that he and others still need to complete their refresher course - in which drivers must undertake a run of consistent laps above set speeds.
Alonso still has to do 10 more laps above a 215mph average, which he will be permitted to do on the opening day of full Indy 500 practice on May 14.
"Even though we were unlucky with the weather and also had some issues with the car, we still got in some laps and the adrenaline driving around here is unique, so I feel happy," said Alonso.
"As a team the plan was to build speed step by step and complete all the right checks.
"With every run we were discovering new things, but at the end of the day, it was a very short time on the track, so it is difficult to say if I feel we have a competitive car.
"More track time is all we need and I'm sure we will recover those laps in May.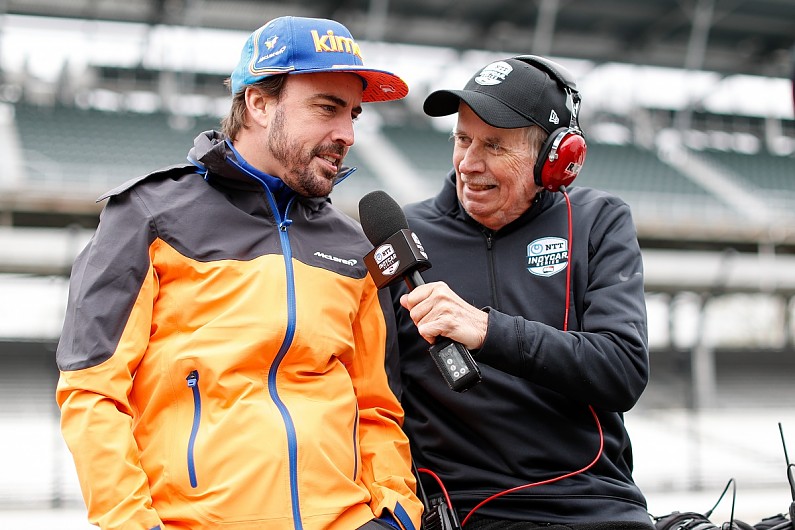 "This time the Indy 500 feels different for me, I know the race, I know the length and we should be a bit more ready especially on the emotional side.
"Now it's just about making sure the car is fast. We have two weeks and a lot of work to do, but I'm confident we'll keep moving in the right direction."
Alonso's first experience of the Indy 500 came with a McLaren-backed Andretti Autosport entry in 2017.
This year McLaren is entering under its own banner, albeit with a technical alliance with Carlin.
"It's a bit of a challenge, no doubt," Alonso said.
"We have to do everything by ourselves, not only in terms of set-up-wise, on the technical side, it's also on the operational side, on the strategy, tyre management, the comfort side in terms of precision, steering wheel grip - basic things that they were ready with at Andretti. You save a lot of time.
"Basically it's a bigger challenge. But it could be a bigger reward, as well.
"I think some of the philosophy or directions that McLaren may go in the next month, maybe now is a little bit different.
"With Andretti we just followed what we knew was working. In a way it was easier.
"But maybe now we can discover new things. That's our hope."