Robert Wickens says racing in IndyCar again remains his primary "dream" following the severe spinal injury he suffered in his Pocono crash last year.
Wickens has been rehabilitating and documenting his fight to walk again since sustaining multiple injuries in the horrific crash in August 2018.
This weekend in St Petersburg he is making his first appearance at a racetrack since the accident, attending the IndyCar season-opener to work with his Schmidt Peterson Motorsports team's 2019 drivers James Hinchcliffe and Marcus Ericsson.
Wickens said he was open to racing again using hand controls in any category, but ideally wanted to return to his old drive - which SPM has made clear is waiting for him when he is ready.
"The goal is to get back into an IndyCar," he said. "We won't know till I try if it's a reality.
"There's been so many remarkable drivers that have succeeded with hand controls in motorsports that it makes me believe that regardless of how my progression goes, I will be in a racecar again.
"It's just a matter of which car. The dream is an IndyCar.
"I know the team has been very outspoken that they'll always have a car for me when I can race.
"There's also rules and regulations that we have to abide by. I don't know how many modifications we can make, etc.
"We'll have to cross that bridge when we get there."
Wickens praised Alex Zanardi and Billy Monger for what they had achieved using hand controls, and said it was vital to him to be competitive if he could return to racing.
"Anything is possible. I know I'm a hard worker, analytical. I think I could get on top of hand controls," said Wickens.
"My only fear is that I always wanted to get back into racing on the same level that I left off.
"I don't want to be just a driver in the field. I want to be one competing to win or score podiums like I was when I went out. That's kind of the main thing for me."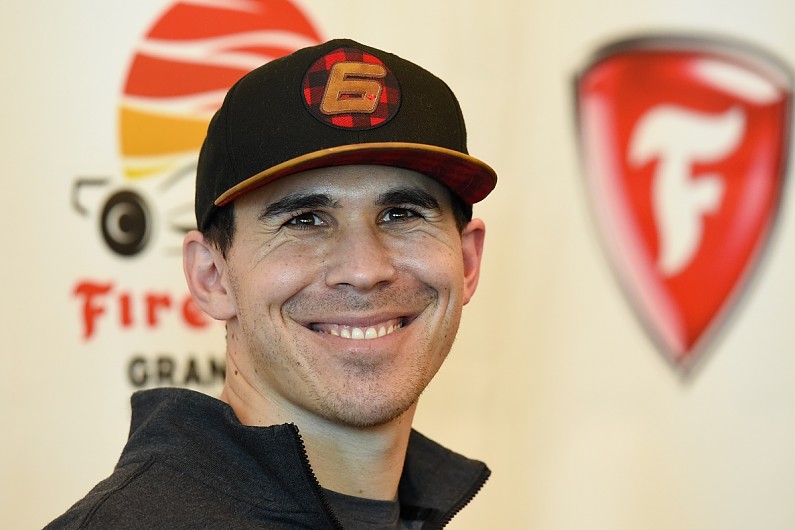 Describing his own personal progress, Wickens emphasised that he has no idea what the final outcome will be.
"I'm getting some stuff back, getting better each day," he said.
"You feel like you're on that road trip, it's the 100-mile road that's a straight line the entire time without any scenery, and you're just working as hard as you can to get to the end.
"We're getting there, one step at a time. It's basically all I can say - we're making progress.
"The thing with a spinal injury is you never know when that day comes where you won't progress any more.
"Right now we're trying to utilise every day we can to get as healthy as I can.
"I'm working my butt off, doing everything I can, because my whole philosophy in life is the harder you work, the better results you'll get.
"That's my approach today. I don't know if it's right or wrong. There could be a person beside me with the same spinal cord injury eating fast food and sitting in their hospital bed all day, and they might walk sooner than me.
"The doctors know I'm working too hard, they're telling me to rest. By the same token, they're kind of telling me to keep doing what I'm doing because it's working. I am doing four to six hours a day, six days a week and it's tough. I enjoy my day off on Sunday!
"The big thing for me is right now they always told me kind of the six to nine months or the six to 12 month frame is where you'll see the most progression.
"I'm kind of right at the beginning of that. Hopefully I didn't peak too soon!
"We're just a little bit over six months post-injury. I am getting a lot of improvement from week to week.
"I don't think it's really been escalating. I think it's been pretty linear. Every week we're making small improvements.
"[Fiancee] Karli [Woods] and I are documenting everything I can do at the start of each month. It's been remarkable to read back to see what I was doing February 1 to March 1, January 1. Every month it's a pretty consistent chunk of new things."
Wickens also paid extensive tribute to the "amazing" support he had received from fans and the motorsport community.
He singled out his team boss Sam Schmidt, who was rendered quadriplegic in a crash at Orlando in 2000, saying "I think he did a lot that I still don't realise, because I was in a state that I wasn't able to realise what he was doing."
Wickens emphasised how much difference messages from elsewhere in motorsport had made to him.
"When those drivers kind of reach out to you, you want to do it even more," he said.
"That's kind of the bigger thing: I want to finish this journey not just for myself but for the whole motorsports community.
"I don't want to fall short in any way."