IndyCar will increase turbo boost levels at the Iowa and Gateway short ovals to improve racing and bring the allocation in line with road and street course events.
The series has regularly fine-tuned its universal aerokit package since its introduction last year, usually in regards to downforce levels.
This approach has led to a revised aero package for this year's Indianapolis 500 after criticism for a largely processional 2018 race.
But IndyCar will also end the varying boost levels it employs on the three types of circuits it races on, having previously run a 1.3-bar boost on superspeedways such as the Indy 500, 1.4-bar on short ovals and the 1.5-bar on road and street courses.
IndyCar held discussions with engine manufacturers Chevrolet and Honda Performance Developments and agreed to increase boost levels at Iowa and Gateway to 1.5-bar.
"It's great from the competition point of view," Allen Miller, Honda Performance Development's race team leader told Autosport.
"IndyCar are trying to make the short ovals even more racy, with the drivers having to lift off the throttle a bit sooner, and then accelerate harder down the straights.
"That's the whole point, to make the cars that bit more demanding.
"And then it made sense from the engine manufacturers' point of view, too. With Phoenix gone [for 2019], we were left with just two races on 140kPa [1.4-bar], Iowa and Gateway.
"So for the amount of work we have to do with regards to fuel mapping and so on, it made sense to go up to 150 [1.5-bar], same as the 12 road and street course races.
"So now the only time we'll be running 140kPa [1.4-bar] is on Fast Friday and qualifying for the Indy 500."
Honda was held back in the engine development race during the manufacturer aerokit era by a poor aerodynamic package designed by Wirth Research.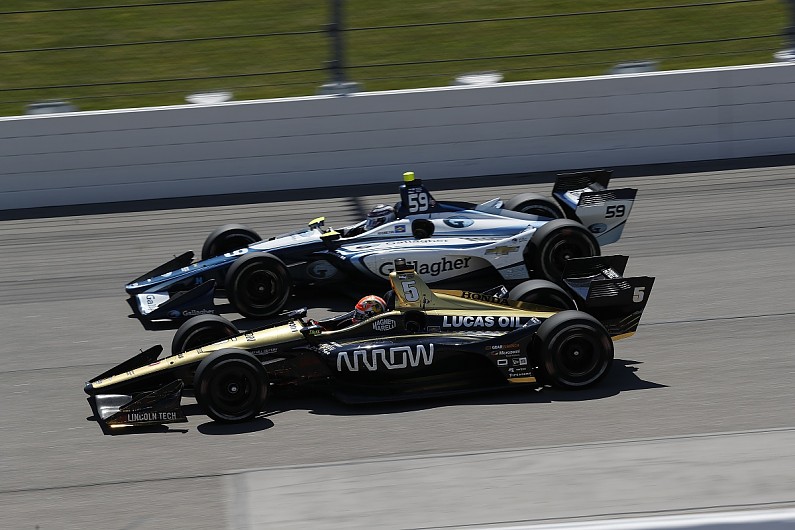 But the universal chassis introduced for 2018 helped Honda beat Chevrolet in the manufacturers' championship, and the Japanese manufacturer will again offer more engine mapping options than its rival in '19.
"I've heard that we offer more options than our rival," said Miller, "We will continue to do that.
"Every driver isn't the same, not every team works the same way, so there are subtle variations.
"We have an operating window obviously, but we can let the drivers move around inside of that and tailor it more to their specific tastes."
Miller also reiterated that the stable engine formula in IndyCar has meant Honda has largely maximised its existing product.
Both Honda and Chevrolet are pushing to start testing IndyCar's 2.4-litre turbocharged engines by "Spring next year" ahead of the 2021 introduction.
"We're engineers so we want to start sooner so we have time to react should we need to make changes," he said.
"The 2.4-litre is going to be somewhat an evolution of what we currently have because the mounting points are the same, it's the same length.
"There are a lot of things that carry over."