The Schmidt Peterson Motorsports team has revealed the look of ex-Formula 1 driver Marcus Ericsson's Indycar for the 2019 season, along with the machines of James Hinchcliffe and Robert Wickens.
The SPM cars will run under the traditional black and gold livery Hinchcliffe has used since 2015 for this season.
The reveal came during a presentation in Denver that announced that Hinchcliffe's primary sponsor Arrow Electronics has become the team's title sponsor under the banner of Arrow Schmidt Peterson Motorsports.
Ericsson will make his IndyCar debut in 2019, driving the #7 SPM-Honda car, and he has already tested twice for the team.
"When I got the news I was not continuing in F1 I looked at other options and IndyCar was something I had followed for many years and the series has got a lot of momentum, great drivers and teams," said Ericsson.
"It was a series I was interested in. I got in touch with SPM and we went from there, it's been super exciting joining the team and being made to feel welcome.
"Everything is new, not only the team, but the tracks and the country. I have great team-mates and people I can lean on.
"James is an awesome guy, very experienced too. I've asked him a lot of things about driving the car, also Robbie about IndyCar and they're helping me get up to speed."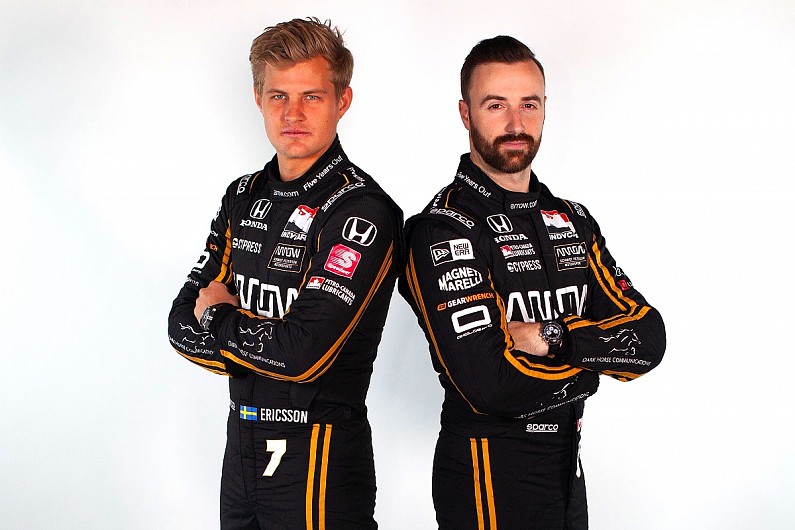 SPM has made it clear that the #6 car remains free for Wickens to return to race in when the Canadian is ready to do so, and the team also unveiled his machine as a show of support for the recovering driver.
Wickens, who was present at the season launch, said: "I'm doing well, happy to be here and to have a great team to bring me here and to have a car to show that they're committed to me and my recovery.
"First off, it was fun to be in my rookie season. It was the first time in motorsports that I was really happy again.
"I had a great career with Mercedes [in the DTM] but it was very corporate.
"So to come into IndyCar was such a breath of fresh air and to get the results, work with the team alongside my best friend. It was such a great time until it wasn't.
"This is the first time I've seen a race car since I was on the grid in Pocono and it makes me want to jump in and see if I can press the pedal.
"Even though I've only been in the team for a calendar year, the support is phenomenal.
"I'm grateful for the opportunity last year and even more grateful to race for them in the future."
The fourth SPM machine of Jack Harvey, run in partnership with Michael Shank Racing, was not present for the launch.
A team release said "SPM will continue to provide full-time engineering and technician staff to see the car through from the initial build to on-track performance".