Penske's Josef Newgarden won a tense delayed Barber IndyCar race after returning rain opened the door for Scott Dixon and Sebastien Bourdais to gamble on slicks on a wet track.
Newgarden picked up where he left off on Sunday, initially cantering into a lead that grew to over 25 seconds before he made his first stop on Monday.
That meant he was able to almost take a free pitstop, coming out just behind Bourdais who had initially fallen to a distant second by defending from Andretti's Ryan Hunter-Reay.
But Dale Coyne Racing made one of its trademark strategy gambles and opted for an unconventional one-stop race for Bourdais compared to Newgarden's two stops.
While Newgarden looked set to win at mid-distance, the rain's return put his dominance under real threat.
Newgarden was the first to blink and stop for the wet compound tyres late on, with around half the field following across the next set of laps.
But Chip Ganassi Racing's Dixon had also followed the one-stop strategy of Bourdais, running more laps in a stint than anyone else.
Newgarden's threats both opted to remain on dry tyres in the hope a late caution would save them as the race was running to a time limit of two hours rather than the planned 90 laps due to Sunday's weather.
That then meant a tense run of laps between Bourdais and his chief engineer Craig Hampson as they assessed whether Bourdais could hold a sizeable gap over Newgarden on slicks.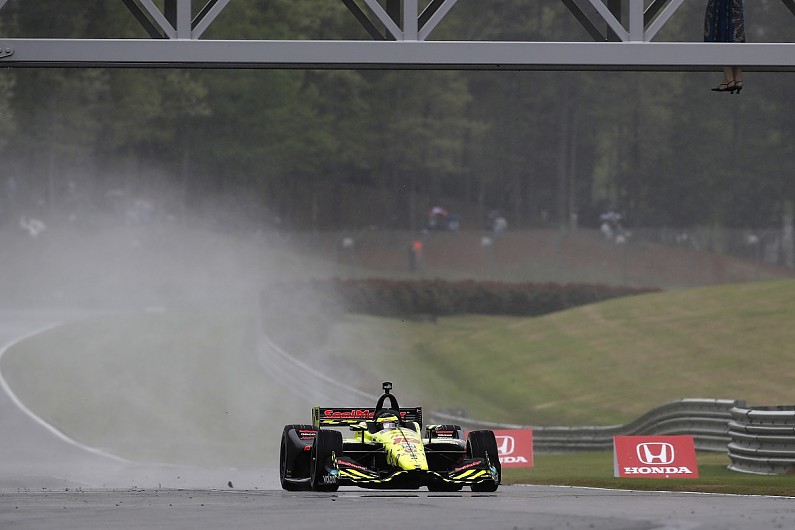 But with nine laps remaining, Bourdais admitted he could go no further and stopped for wet tyres, with Dixon stopping a lap later to do the same.
That elevated Hunter-Reay and the Schmidt Peterson Motorsports pairing of James Hinchcliffe and Robert Wickens into second, third and fourth, while Dixon and Bourdais became embroiled in a battle.
A stunning side-by-side dice that became a drag race to the line went the way of Bourdais for fifth ahead of Dixon.
Rahal Letterman Lanigan Racing's Graham Rahal produced a strong recovery drive to seventh after restarting the race in 14th and surviving some backmarker clashes.
Team-mate Takuma Sato was eighth ahead of Simon Pagenaud, who the rain prevented from making the most of two sets of red compound tyres.
Marco Andretti finished 10th, despite his annoyance at an off-strategy on Sunday being ruined by the field refuelling before the race restarted on Monday.
Will Power returned to the race after his Sunday crash 16 laps down, using the mileage to trigger a new engine fitting ahead of the Indianapolis road course race.
Carlin endured a miserable Barber weekend after Max Chilton stopped on track as the race was set to restart. Team-mate Charlie Kimball had retired on Sunday after what he believed was contact from Ganassi's Ed Jones.
Race result
| Pos | Driver | Team | Car | Laps | Gap |
| --- | --- | --- | --- | --- | --- |
| 1 | Josef Newgarden | Team Penske | Dallara/Chevrolet | 82 | 2h01m14.4486s |
| 2 | Ryan Hunter-Reay | Andretti Autosport | Dallara/Honda | 82 | 9.9607s |
| 3 | James Hinchcliffe | Schmidt Peterson Motorsports | Dallara/Honda | 82 | 15.5389s |
| 4 | Robert Wickens | Schmidt Peterson Motorsports | Dallara/Honda | 82 | 17.6794s |
| 5 | Sebastien Bourdais | Dale Coyne Racing | Dallara/Honda | 82 | 26.8897s |
| 6 | Scott Dixon | Chip Ganassi Racing | Dallara/Honda | 82 | 26.9768s |
| 7 | Graham Rahal | Rahal Letterman Lanigan | Dallara/Honda | 82 | 30.1194s |
| 8 | Takuma Sato | Rahal Letterman Lanigan | Dallara/Honda | 82 | 30.5526s |
| 9 | Simon Pagenaud | Team Penske | Dallara/Chevrolet | 82 | 42.4618s |
| 10 | Marco Andretti | Andretti Herta | Dallara/Honda | 82 | 44.6892s |
| 11 | Alexander Rossi | Andretti Autosport | Dallara/Honda | 82 | 45.2334s |
| 12 | Matheus Leist | AJ Foyt Enterprises | Dallara/Chevrolet | 82 | 57.9291s |
| 13 | Zach Veach | Andretti Autosport | Dallara/Honda | 82 | 1m05.9298s |
| 14 | Jordan King | Ed Carpenter Racing | Dallara/Chevrolet | 82 | 1m20.0118s |
| 15 | Spencer Pigot | Ed Carpenter Racing | Dallara/Chevrolet | 81 | 1 Lap |
| 16 | Rene Binder | Juncos Racing | Dallara/Chevrolet | 80 | 2 Laps |
| 17 | Gabby Chaves | Harding Racing | Dallara/Chevrolet | 80 | 2 Laps |
| 18 | Tony Kanaan | AJ Foyt Enterprises | Dallara/Chevrolet | 80 | 2 Laps |
| 19 | Zachary Claman | Dale Coyne Racing | Dallara/Honda | 80 | 2 Laps |
| 20 | Ed Jones | Chip Ganassi Racing | Dallara/Honda | 64 | Mechanical |
| 21 | Will Power | Team Penske | Dallara/Chevrolet | 53 | Spun off |
| 22 | Max Chilton | Carlin | Dallara/Chevrolet | 34 | Mechanical |
| 23 | Charlie Kimball | Carlin | Dallara/Chevrolet | 10 | Contact |
Drivers' standings

| Pos | Driver | Points |
| --- | --- | --- |
| 1 | Josef Newgarden | 158 |
| 2 | Alexander Rossi | 145 |
| 3 | Sebastien Bourdais | 119 |
| 4 | Graham Rahal | 119 |
| 5 | James Hinchcliffe | 118 |
| 6 | Ryan Hunter-Reay | 113 |
| 7 | Scott Dixon | 107 |
| 8 | Robert Wickens | 97 |
| 9 | Marco Andretti | 88 |
| 10 | Will Power | 81 |
| 11 | Ed Jones | 79 |
| 12 | Tony Kanaan | 79 |
| 13 | Zach Veach | 77 |
| 14 | Takuma Sato | 70 |
| 15 | Simon Pagenaud | 66 |
| 16 | Spencer Pigot | 61 |
| 17 | Gabby Chaves | 55 |
| 18 | Matheus Leist | 51 |
| 19 | Charlie Kimball | 50 |
| 20 | Max Chilton | 44 |
| 21 | Jordan King | 38 |
| 22 | Zachary Claman | 31 |
| 23 | Ed Carpenter | 26 |
| 24 | Jack Harvey | 25 |
| 25 | Kyle Kaiser | 23 |
| 26 | Rene Binder | 22 |
| 27 | Pietro Fittipaldi | 7 |