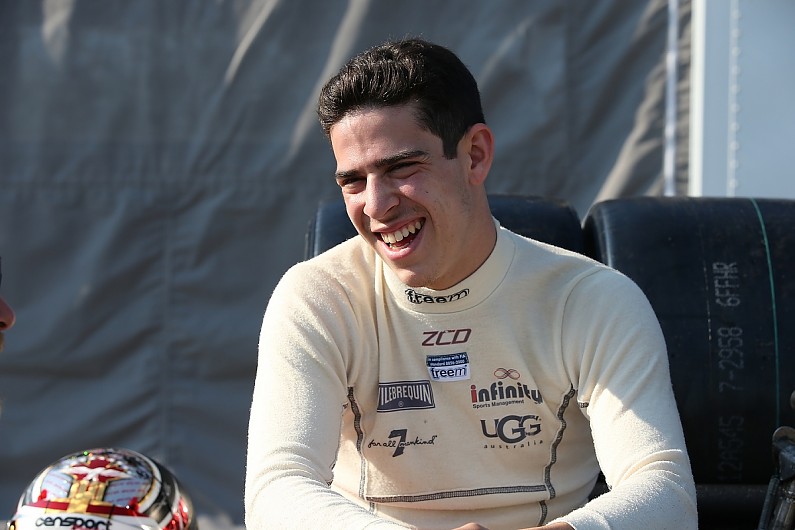 Indy Lights race winner Zachary Claman De Melo is likely to race a second car for Rahal Letterman Lanigan Racing in IndyCar's season finale at Sonoma.
The Carlin driver, who lies fifth in the Lights championship coming into this weekend - the series' last race of the year - won at Road America in June, has three other podiums to his name, and has scored three further top-five finishes.
Team owner Bobby Rahal told Autosport: "We're not there yet. It's close, but nothing's done yet.
"We've been talking to him and he seems a nice young man who's been very competitive in Indy Lights this year.
"From what I know, he has very little experience - I think he went straight from karting to one year of Formula Renault to Indy Lights last year.
"Talk about a steep learning curve! So obviously he's not afraid of much."
The 19-year-old Canadian tested for Schmidt Peterson Motorsports at Mid-Ohio last year. Rahal said that with the current manufacturer aerokits being outlawed after Sonoma, now was the ideal time to try out a new driver alongside his son Graham.
"We'd be running the car with our IMSA BMW team personnel, so it's not going to disrupt anything on Graham's side," said Rahal.
"And if he crashes the bodywork, you don't have to replace it - although obviously my hope is that we don't crash anything! But yeah, I think it's the right time."
If he does land the ride for Sonoma, Claman De Melo would get an extra day's running at the track, given that there will be an open test on the Thursday before the race weekend.
With Takuma Sato expected to be confirmed in a second full-time seat at the team in 2018, Rahal played down the likelihood of running Claman De Melo in a third car next season.
"If he showed well, you'd have to sit and consider it, wouldn't you?" said Rahal.
"Nothing's off the table. But for now, if we're able to put something together, it's strictly a one-race deal at this stage. Let's do that and see where we are.
"But I'd say from what we know, the potential for us to have a third car at the Indy 500 is pretty good."
Graham Rahal currently lies sixth in the IndyCar standings, and has finished in the top five for the past two seasons.