Scott Dixon overturned a weekend of Penske dominance to win his and Ganassi's first IndyCar race of 2017 at Road America.
He narrowly fended off Josef Newgarden, who led a quartet of Penske Dallara-Chevrolets in second to fifth.

A great restart after the first of two caution periods got Dixon ahead of Newgarden and he had the speed to ensure he stayed in front until the chequered flag.
In the first half of the 55-lap race, the Team Penske cars carried on the form they had showed in practice and qualifying as polesitter Helio Castroneves and Newgarden battled for the lead.
Both were running a three-stop pit strategy, but Newgarden pitted one lap after Castroneves and used his fresher tyres to good effect as he went round the outside of Castroneves at the first corner on lap 20.
Newgarden ran at the front until the first caution, caused by Takuma Sato spinning and stalling on the kink on the back straight.
By that time Dixon, who had shadowed the Penske drivers early on, had moved up to thanks with slick stops and rapid in/out-laps.
At the restart Newgarden's harder Firestone tyres were not at the right temperature and Dixon used his soft tyres to replicate Newgarden's move on Castroneves by going round the outside at the first corner.
Dixon proceeded to pull away in his Honda-powered machine and made a second strong restart.
That caution had been caused when Tony Kanaan violently hit the wall at the same place Sato went off, having clipped Alexander Rossi.
As the race went green with seven laps to go, Dixon used his push-to-pass boost to stay ahead, take victory and extend his lead in the championship standings to 34 points.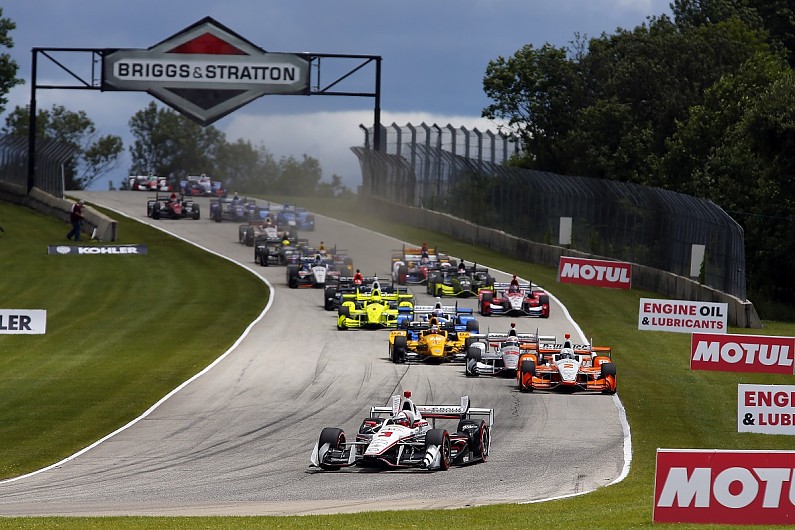 Third place went to Castroneves. Leader for most of the first stint, he didn't have the pace after his initial pitstop and couldn't keep up with the front pair.
He mistakenly pitted one lap early for his final stop and had to switch to a fuel-saving strategy in the closing laps.
Fourth place went to another Penske car as Simon Pagenaud got the upper hand on his team-mate Will Power, who had to give up positions on several occasions after stewards judged him to have blocked rivals.
Charlie Kimball secured sixth place using the good pace of the Chip Ganassi car to get the better of Ed Jones, who himself had a strong race to move up from his starting position of 11th for Dale Coyne Racing.
RESULTS - 55 LAPS:
| Pos | Driver | Team | Car | Gap |
| --- | --- | --- | --- | --- |
| 1 | Scott Dixon | Chip Ganassi Racing | Dallara/Honda | 1h47m18.9870s |
| 2 | Josef Newgarden | Team Penske | Dallara/Chevrolet | 0.5779s |
| 3 | Helio Castroneves | Team Penske | Dallara/Chevrolet | 4.1918s |
| 4 | Simon Pagenaud | Team Penske | Dallara/Chevrolet | 4.9721s |
| 5 | Will Power | Team Penske | Dallara/Chevrolet | 5.7227s |
| 6 | Charlie Kimball | Chip Ganassi Racing | Dallara/Honda | 14.7178s |
| 7 | Ed Jones | Dale Coyne Racing | Dallara/Honda | 21.6338s |
| 8 | Graham Rahal | Rahal Letterman Lanigan | Dallara/Honda | 22.2273s |
| 9 | Max Chilton | Chip Ganassi Racing | Dallara/Honda | 23.3076s |
| 10 | Mikhail Aleshin | Schmidt Peterson Motorsports | Dallara/Honda | 24.3586s |
| 11 | Carlos Munoz | AJ Foyt Enterprises | Dallara/Chevrolet | 26.1402s |
| 12 | Spencer Pigot | Ed Carpenter Racing | Dallara/Chevrolet | 33.4983s |
| 13 | Alexander Rossi | Andretti Herta | Dallara/Honda | 38.1370s |
| 14 | Ryan Hunter-Reay | Andretti Autosport | Dallara/Honda | 39.8433s |
| 15 | Conor Daly | AJ Foyt Enterprises | Dallara/Chevrolet | 43.1988s |
| 16 | J.R. Hildebrand | Ed Carpenter Racing | Dallara/Chevrolet | 1m16.5039s |
| 17 | Esteban Gutierrez | Dale Coyne Racing | Dallara/Honda | 1m28.4634s |
| 18 | Marco Andretti | Andretti Autosport | Dallara/Honda | 1 Lap |
| 19 | Takuma Sato | Andretti Autosport | Dallara/Honda | 1 Lap |
| 20 | James Hinchcliffe | Schmidt Peterson Motorsports | Dallara/Honda | 2 Laps |
| 21 | Tony Kanaan | Chip Ganassi Racing | Dallara/Honda | Contact |
CHAMPIONSHIP STANDINGS:

| Pos | Driver | Points |
| --- | --- | --- |
| 1 | Scott Dixon | 379 |
| 2 | Simon Pagenaud | 345 |
| 3 | Helio Castroneves | 342 |
| 4 | Takuma Sato | 323 |
| 5 | Josef Newgarden | 318 |
| 6 | Will Power | 316 |
| 7 | Graham Rahal | 307 |
| 8 | Tony Kanaan | 273 |
| 9 | Alexander Rossi | 271 |
| 10 | Ed Jones | 254 |
| 11 | Max Chilton | 251 |
| 12 | James Hinchcliffe | 242 |
| 13 | Marco Andretti | 222 |
| 14 | Mikhail Aleshin | 212 |
| 15 | Ryan Hunter-Reay | 210 |
| 16 | J.R. Hildebrand | 205 |
| 17 | Carlos Munoz | 199 |
| 18 | Charlie Kimball | 172 |
| 19 | Conor Daly | 155 |
| 20 | Spencer Pigot | 142 |
| 21 | Sebastien Bourdais | 136 |
| 22 | Ed Carpenter | 124 |
| 23 | Juan Pablo Montoya | 93 |
| 24 | Gabby Chaves | 83 |
| 25 | Oriol Servia | 61 |
| 26 | Fernando Alonso | 47 |
| 27 | Esteban Gutierrez | 40 |
| 28 | Sebastian Saavedra | 33 |
| 29 | Pippa Mann | 32 |
| 30 | Jay Howard | 24 |
| 31 | Zach Veach | 23 |
| 32 | Sage Karam | 23 |
| 33 | James Davison | 21 |
| 34 | Jack Harvey | 17 |
| 35 | Tristan Vautier | 15 |
| 36 | Buddy Lazier | 14 |