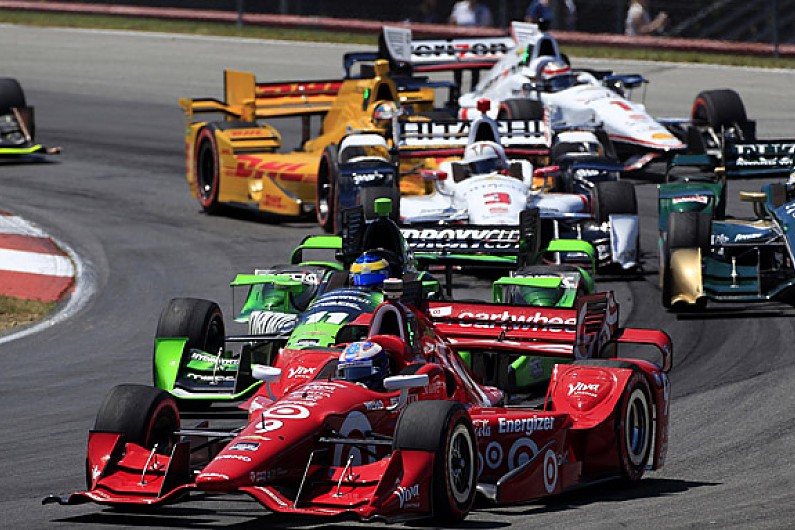 Four-time IndyCar champion Scott Dixon believes the introduction of aero kits to the series in 2015 was unnecessary and actually made the racing worse.
New body parts known as aero kits were used to differentiate the Honda and Chevrolet-powered cars last year, and in 2016 improved kits will be available to the teams.
"My opinion is the aero kits were very unneeded," Dixon said.
"In some areas I think it made the racing slightly worse.
"Behind cars the dirty air was much worse. It was hard to get close on road courses.
"We have a fantastic sport right now and before the aero kit we had fantastic racing.
"We still have fantastic racing but it was a little bit better a couple of years back.
"However long this evolution goes on with the aero kits I think the money could be spent in better areas.
"You have to look at the teams for diversity, the great talent throughout with the different drivers, the different nationalities. That is where IndyCar really rates.
"The biggest thing is having close racing and fantastic racing so we have that covered.
"Aero kits are not going to provide the difference that you really need."
HONDA'S 'BARGAINING TOOL'
Honda was given dispensation over the winter to carry out extra development work on its aero kit to close the gap to Chevrolet, which powered Ganassi driver Dixon to the 2015 title.

Chevrolet disappointed by Honda ruling
And Dixon believes the Japanese firm's negotiations over a contract extension to remain in the series gave it a stronger bargaining position when trying to get concessions.
"I don't know the ins and outs of their dealings but you would definitely lean in that direction with how long it was delayed on the contractual side," Dixon said.
"It's hard to know but I think IndyCar did as much as it could to fully understand the aero kits so that it wasn't too one-sided.
"But they have to be very careful. If it's a whitewash by Honda [this year] there will be some big problems down the road.
"All they can do is cover their bases but from my point of view it looked like a bargaining tool for sure.
"If you look at how competitive Honda and Chevy were by midseason onward it was very close.
"If you look at the last six races four of those were won by Honda.
"For them to get the added [development] boxes to speed their cars up; it will be very interesting to see how that plays out."