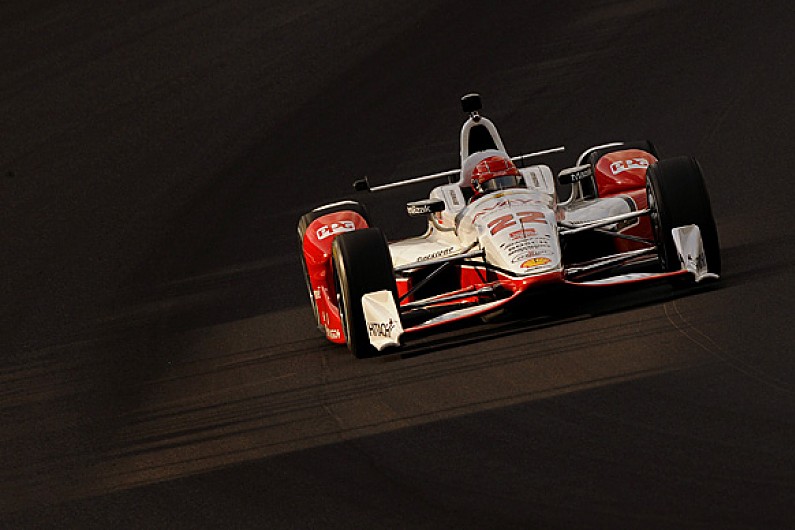 Penske driver Simon Pagenaud set the pace on a hot and windy Fast Friday as preparations continued for this weekend's Indianapolis 500 qualifying.
Boost levels were increased from 130 kPa to 140 kPa, adding an additional 40bhp, and Pagenaud responded with a 230.698mph lap average; the fastest so far this month.
"Today was a good day," he said.
"The conditions were difficult. The conditions were finally hot and there are a lot of differences in how the body kits react depending on the weather.
"For Team Penske the biggest thing is we worked really well as a team to get different versions of aero levels for tomorrow and understanding that, so we can look at that information tonight and decide very precisely what we need."
The speed charts looked similar to Thursday's, with Ganassi and Andretti cars leading the chase, although this time around it was Marco Andretti rather than Carlos Munoz who was quickest of the Honda-powered drivers.
Pagenaud's Penske team-mate Will Power rounded out the top five.
Scott Dixon had occupied the top spot before Pagenaud beat his speed, and said that the conditions made it difficult to draw many conclusions from the day.
"It was hard to tell with the conditions changing so much out there today," he said.
"It was hot and slippery in the late afternoon but better in the early afternoon.
"I was happy with the speed but I think there is more in it.
"We have go look over everything tonight and look at where we can make improvements."
FRIDAY RESULTS:
| Pos | Driver | Team | Car | Speed | Time | Laps |
| --- | --- | --- | --- | --- | --- | --- |
| 1 | Simon Pagenaud | Team Penske | Dallara/Chevrolet | 230.698 | 39.0121s | 48 |
| 2 | Scott Dixon | Chip Ganassi Racing | Dallara/Chevrolet | 230.655 | 39.0193s | 12 |
| 3 | Tony Kanaan | Chip Ganassi Racing | Dallara/Chevrolet | 230.457 | 39.0529s | 44 |
| 4 | Marco Andretti | Andretti Autosport | Dallara/Honda | 230.312 | 39.0774s | 34 |
| 5 | Will Power | Team Penske | Dallara/Chevrolet | 230.206 | 39.0954s | 36 |
| 6 | Sage Karam | Chip Ganassi Racing | Dallara/Chevrolet | 230.166 | 39.1022s | 28 |
| 7 | Gabby Chaves | Bryan Herta Autosport | Dallara/Honda | 229.891 | 39.1490s | 32 |
| 8 | Helio Castroneves | Team Penske | Dallara/Chevrolet | 229.852 | 39.1556s | 35 |
| 9 | Takuma Sato | AJ Foyt Enterprises | Dallara/Honda | 229.808 | 39.1632s | 38 |
| 10 | Juan Pablo Montoya | Team Penske | Dallara/Chevrolet | 229.714 | 39.1791s | 32 |
| 11 | Jack Hawksworth | AJ Foyt Enterprises | Dallara/Honda | 229.495 | 39.2165s | 52 |
| 12 | Townsend Bell | Dreyer and Reinbold | Dallara/Chevrolet | 229.381 | 39.2360s | 38 |
| 13 | J.R. Hildebrand | CFH Racing | Dallara/Chevrolet | 229.353 | 39.2408s | 41 |
| 14 | Carlos Munoz | Andretti Autosport | Dallara/Honda | 229.106 | 39.2831s | 26 |
| 15 | Charlie Kimball | Chip Ganassi Racing | Dallara/Chevrolet | 229.024 | 39.2972s | 29 |
| 16 | Ryan Hunter-Reay | Andretti Autosport | Dallara/Honda | 229.023 | 39.2974s | 33 |
| 17 | James Hinchcliffe | Schmidt Peterson Motorsports | Dallara/Honda | 229.021 | 39.2977s | 38 |
| 18 | Stefano Coletti | KV Racing Technology | Dallara/Chevrolet | 229.018 | 39.2982s | 33 |
| 19 | Graham Rahal | Rahal Letterman Lanigan | Dallara/Honda | 228.977 | 39.3053s | 16 |
| 20 | Ed Carpenter | CFH Racing | Dallara/Chevrolet | 228.885 | 39.3211s | 26 |
| 21 | Oriol Servia | Rahal Letterman Lanigan | Dallara/Honda | 228.878 | 39.3223s | 15 |
| 22 | Justin Wilson | Andretti Autosport | Dallara/Honda | 228.722 | 39.3490s | 44 |
| 23 | Sebastian Saavedra | Chip Ganassi Racing | Dallara/Chevrolet | 228.691 | 39.3544s | 22 |
| 24 | Simona de Silvestro | Andretti Autosport | Dallara/Honda | 228.640 | 39.3632s | 39 |
| 25 | Alex Tagliani | AJ Foyt Enterprises | Dallara/Honda | 228.621 | 39.3665s | 19 |
| 26 | Carlos Huertas | Dale Coyne Racing | Dallara/Honda | 228.555 | 39.3778s | 11 |
| 27 | Conor Daly | Schmidt Peterson Motorsports | Dallara/Honda | 228.306 | 39.4208s | 34 |
| 28 | Josef Newgarden | CFH Racing | Dallara/Chevrolet | 227.855 | 39.4988s | 52 |
| 29 | James Jakes | Schmidt Peterson Motorsports | Dallara/Honda | 227.588 | 39.5452s | 13 |
| 30 | Sebastien Bourdais | KVSH Racing | Dallara/Chevrolet | 227.424 | 39.5736s | 30 |
| 31 | Bryan Clauson | KVSH Racing | Dallara/Chevrolet | 226.909 | 39.6635s | 81 |
| 32 | Tristan Vautier | Dale Coyne Racing | Dallara/Honda | 226.860 | 39.6721s | 10 |
| 33 | Pippa Mann | Dale Coyne Racing | Dallara/Honda | 225.457 | 39.9189s | 6 |
| 34 | Buddy Lazier | Lazier Racing | Dallara/Chevrolet | 216.103 | 41.6468s | 8 |