The news of Austin's Formula 1 circuit joining the IndyCar calendar for 2019 was rightly met with excitement this week as another step in the series reaffirming itself as a destination championship for more than just the Americas.
That announcement came just after the successful return of the Portland race, which attracted a huge turnout at the historic and challenging track, in a good case of IndyCar benefiting from revisiting its roots. Next year's return to Laguna Seca, synonymous with that Alex Zanardi overtake, falls into the same good-news category.
Mark Miles, CEO of IndyCar's parent company Hulman & Co, was probably quite proud of himself as he joined a press conference to discuss the calendar. But of course it took no time at all to switch to another subject. Bobby Epstein, the man running the show at the Circuit of the Americas, turned to Miles and joked: "Is Fernando [Alonso] going to be in the series?"
Just 24 hours later, the double F1 world champion clambered out of what was once Carlos Munoz's Indycar from this year's Indianapolis 500, converted to road-spec.
Not deterred by Hurricane Gordon's effects on the weather, Alonso saw the mix of conditions as an unexpected chance to experience the car in all types of running. It was no surprise that as daylight was fading, Autosport was told it would have to wait for more details of the test because Alonso was still in the car. No info such as times or a number of laps will be released by the team.
Just as Alonso did throughout the Indianapolis 500 month last year, he extracted every minute of the day to get the best possible understanding of the potential task ahead of him.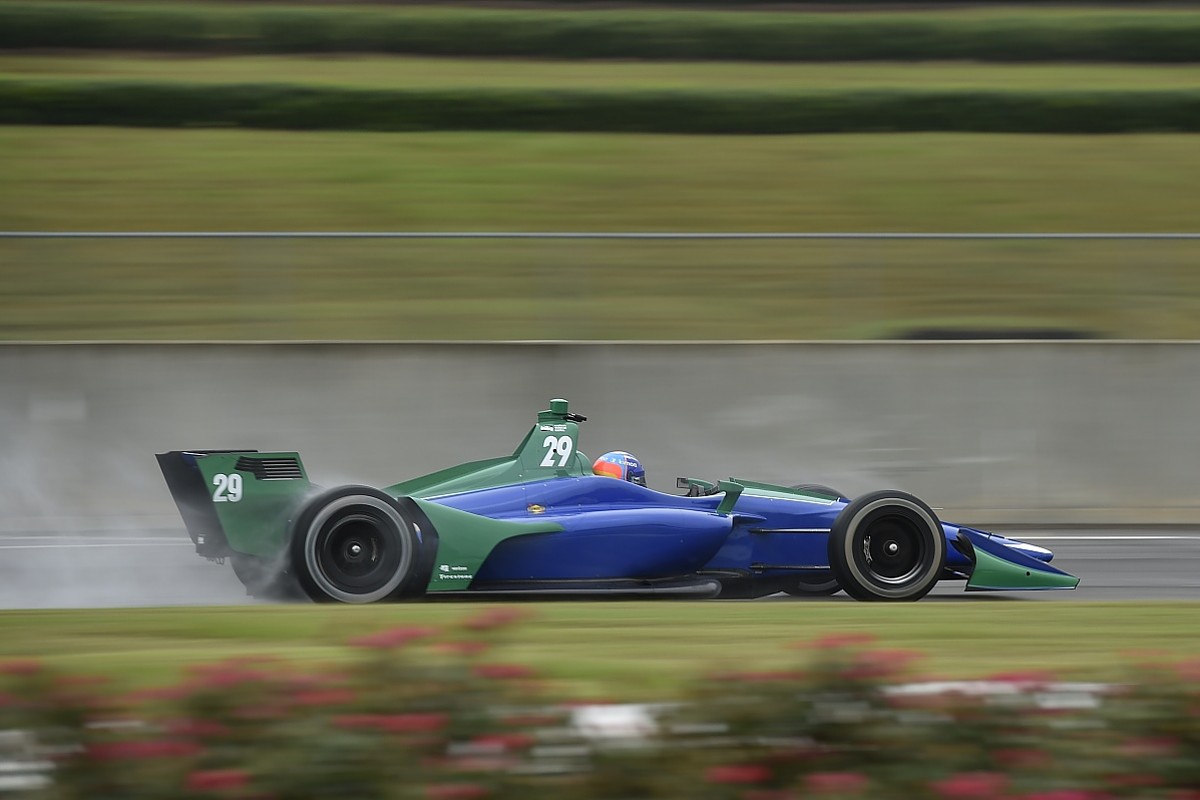 "To test the IndyCar on a road course is something special," Alonso said afterwards. "I've been lucky enough to test it in wet conditions, in intermediate conditions and in dry conditions, so overall I had a good feeling on every type of track.
"It was something that I was looking for last year already. I had some options to test the car on a road course after the Indy 500. We didn't find the time, but this year it's definitely happened and I'm happy for this.
"I love being behind a steering wheel, and definitely a new car, a new experience, learning a lot of things from the team, the engineers, everyone, so a happy day."
But with that test box ticked, this month will be the decider of McLaren's IndyCar ambitions. The approach the team will take - either a full-season commitment via a likely affiliation with another squad, or just a return to the Indy 500 - will be crucial in Alonso's hunt to complete his triple crown of motorsport now that a Le Mans 24 Hours victory has been pocketed.
"The IndyCar road courses are very, very tricky, very different from Europe" Alexander Rossi
His prior Indy 500 was a worthy toe-in-the-water exercise, but that's no longer relevant. IndyCar could hardly be more different this time around. Dale Coyne Racing's Sebastien Bourdais may have earned a slightly unfair reputation as a whiner, but it was telling that he downplayed the difficulties Alonso faced in 2017.
Several within IndyCar have promoted the idea that a full season will better prepare Alonso for another Indy 500 bid. Without that, a return the Brickyard will be a culture shock - so goes the theory. That's something Bourdais agrees with.
"Yeah, definitely. It's taken everybody time to get used to the [2018] car," he says. "It's still mostly flat [at Indianapolis], but definitely the way you interact with each other in the dirty air was much more difficult.
"The series is trying to improve the show on the superspeedway, so it won't be that way next year. But still, for someone with no superspeedway background it would have been a lot harder to pick up on the changes straight away."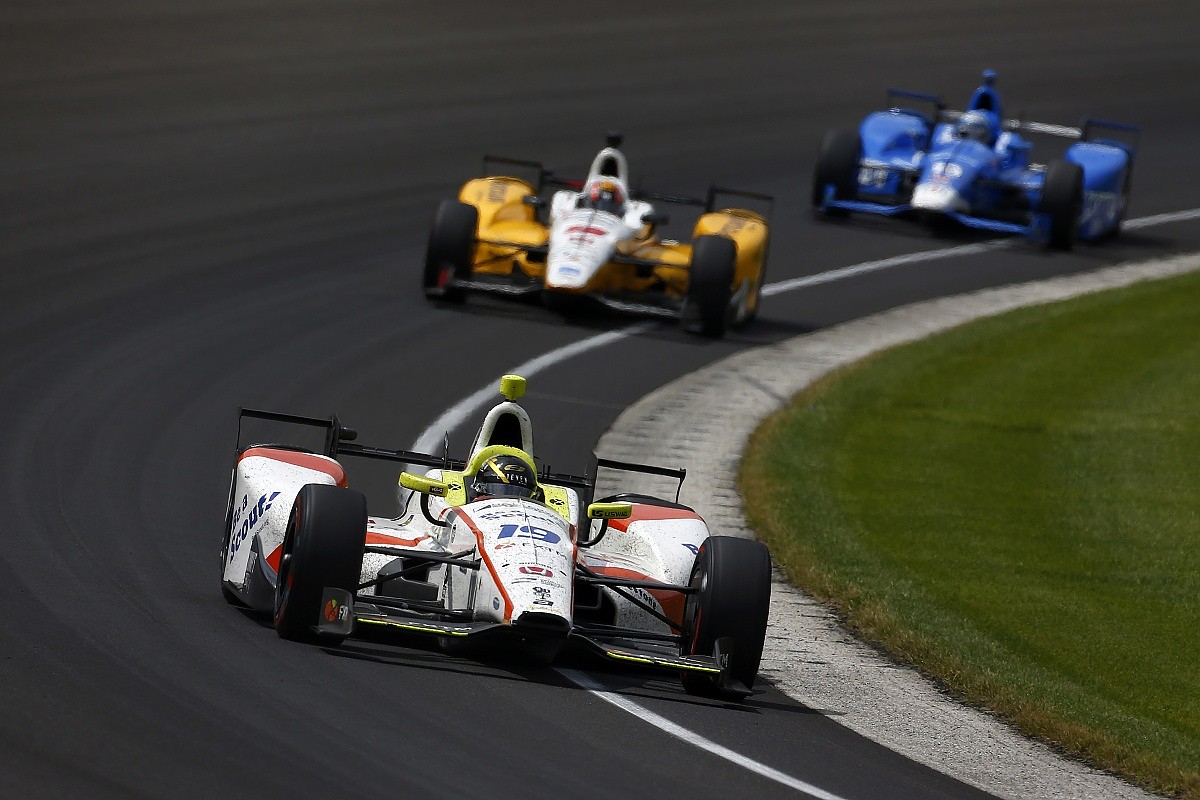 But it's essential that IndyCar as a whole is considered, not just the 500, given the way Alonso has recently discussed his non-F1 exploits. Le Mans was always his sportscar goal, but he quickly began to talk about becoming a world champion in the World Endurance Championship as well. There's little reason to think he wouldn't approach IndyCar in the same way.
It's one thing to win in LMP1 frequently and be considered 'one of the lads' when your opposition is just one other Toyota TS050 HYBRID, but quite another trying to triumph in the face of three Penske-run cars, four from Andretti Autosport and Ganassi's legend Scott Dixon.
If one of the top dogs slips up, there's already Bourdais, Schmidt Peterson Motorsports' drivers and even Rahal Letterman Lanigan Racing ready to pounce. There is a lot of talent, resources and IndyCar-specific experience already in the field.
Look no further than Andretti's Alexander Rossi, arguably the form man in IndyCar as he heads to Sonoma trying to stop Dixon winning a fifth crown. Having finally put to bed the ridiculous tag of being a 'lucky' Indy 500 winner, he has now become one of the series' leading drivers in his third season Stateside.
But it's taken time.
"I think that was my biggest surprise - I expected to be the best on the road and street course right from the beginning, just because I grew up on them and that's my database," says Rossi.
"That was probably a bigger learning curve than the ovals, in some respects, just because they are very, very tricky, very different from Europe.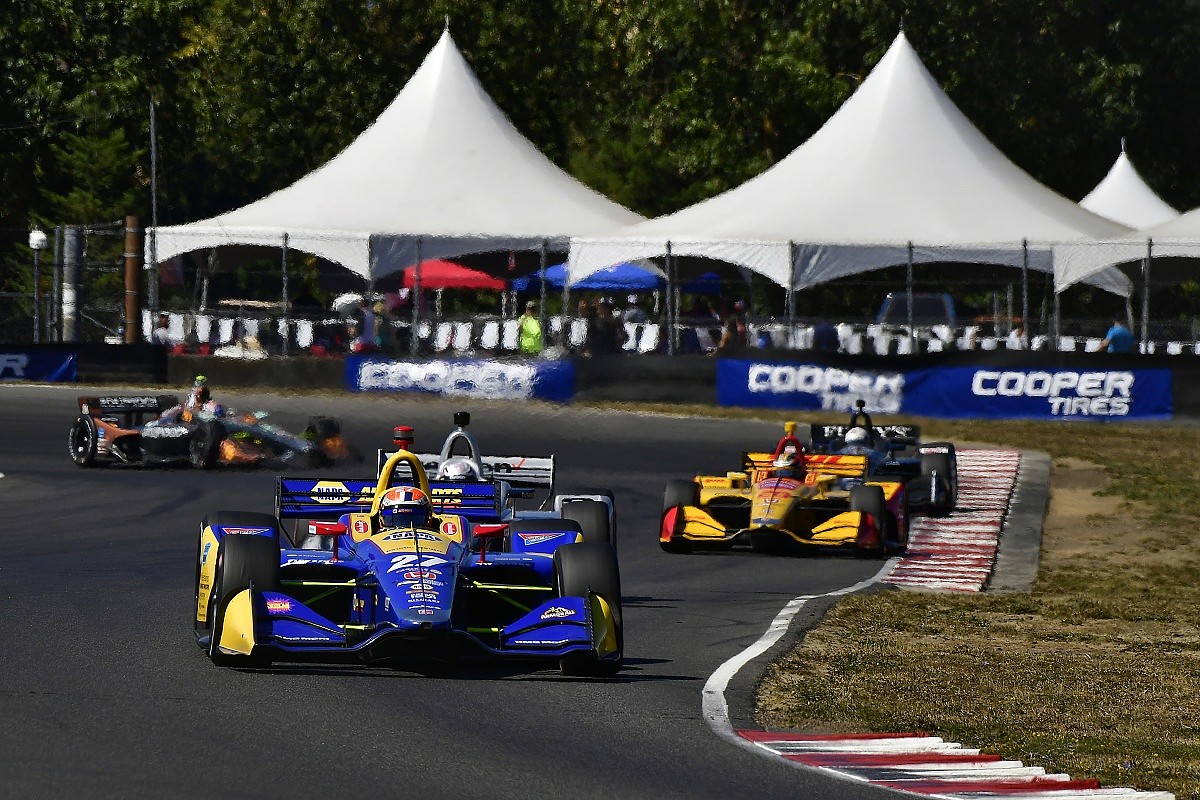 "There is no run-off on the road [courses], which is good, the layouts are sometimes a little bit strange, the laps are short, so for that you need different skills and the car set-up definitely feels different as well.
"So by no means is it easy to adapt."
Rossi still says of Alonso: "I just think that someone of his calibre, if he was put into the situation in a good team, then I think he'd be pretty fine, I don't see him struggling."
Virtually every IndyCar driver who has spoken about Alonso's potential has caveated their response with a variation of 'he's one of the best, so he will be fine'. But there's more to conquering IndyCar than just raw ability.
Potentially the biggest obstacle for Alonso to overcome has already been seen during the public spat between the McLaren driver and Red Bull boss Christian Horner. Beginning with the comments that Alonso would not be "healthy" for Red Bull - despite his status as one of F1's best - it then escalated into tit-for-tat over how many times Red Bull approached Alonso in recent years.
Alonso may dispute his reputation as one of F1's most difficult-to-handle drivers, but even his cries of "GP2 engine" and sarcastic radio messages would be a tricky thing for the smaller and more insular IndyCar paddock to stomach. It didn't take long for rumours to emerge of concerns over Honda's willingness to supply an Alonso-led McLaren team, even if they were unfounded.
No matter how McLaren or Alonso approaches IndyCar, it will be on a significantly smaller scale to an F1 project. Ex-F1 drivers Bourdais and Rossi can testify to their own experiences of a downscaled technical team, which puts the onus on Alonso's mentality.
"There's the human-relationship aspect, which is much bigger in IndyCar than it is in Formula 1," says Rossi. "Formula 1 is very much a type of business relationship with your mechanics, the engineers, the people that are on the team, because there's so many of them.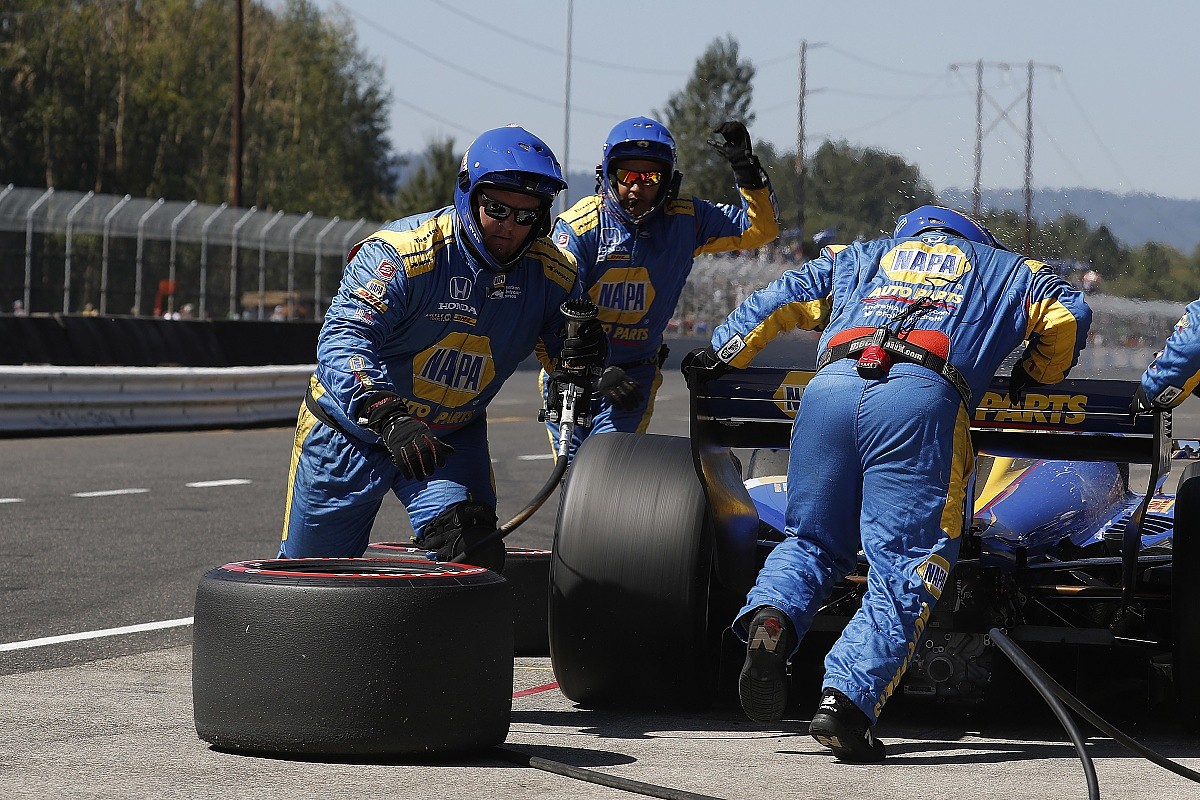 "Whereas IndyCar is smaller, a more personal environment, and all the teams kind of feed off who you are as a person, your personality and how much effort you're putting in and how much effort you're going to get out of it - it's that sort of thing."
Dale Coyne Racing driver Bourdais adds: "A lot depends on me and my relationship in consideration to the others.
"If you're a really switched-on smart guy, then you will mostly do it [in an] old-fashioned [way]. For us to take the fight to the top three more often, we don't have the resources of Ganassi; we are a team with a small staff and technical skill."
A conventional IndyCar team usually places a crew of 10 people per car, and Alonso will be required to extract the best from his small group. Even Bourdais, who during his Champ Car dominance could be seen as demanding, commanded total respect and admiration from his Newman/Haas group.
But Alonso will also have to rely on his pitwall, substantially in the early days of his IndyCar career. F1's degrading rubber means extracting performance from IndyCar's red- and black-walled tyres should almost be second nature.
Instead, the tricky nature of fuel saving while maintaining pace will be something Alonso hasn't experienced in the same manner since F1 banned refuelling for the 2010 season, given the very different technology involved in the current F1 era.
Even once he has mastered fuel trickery, there's one aspect of IndyCar that will be impossible to prepare for. Consider Portland this weekend: eventual race-winner Takuma Sato began in 20th and quickly switched to fuel saving when he realised he had little chance of carving through the field.
Add that Andretti driver Zach Veach's ridiculous defence on James Hinchcliffe led to a several-place net gain for the likes of Sato as multiple drivers retired on the spot in a crazy shunt. Damage to Veach left him largely out of the equation and Dixon's narrow miss sent him to the rear.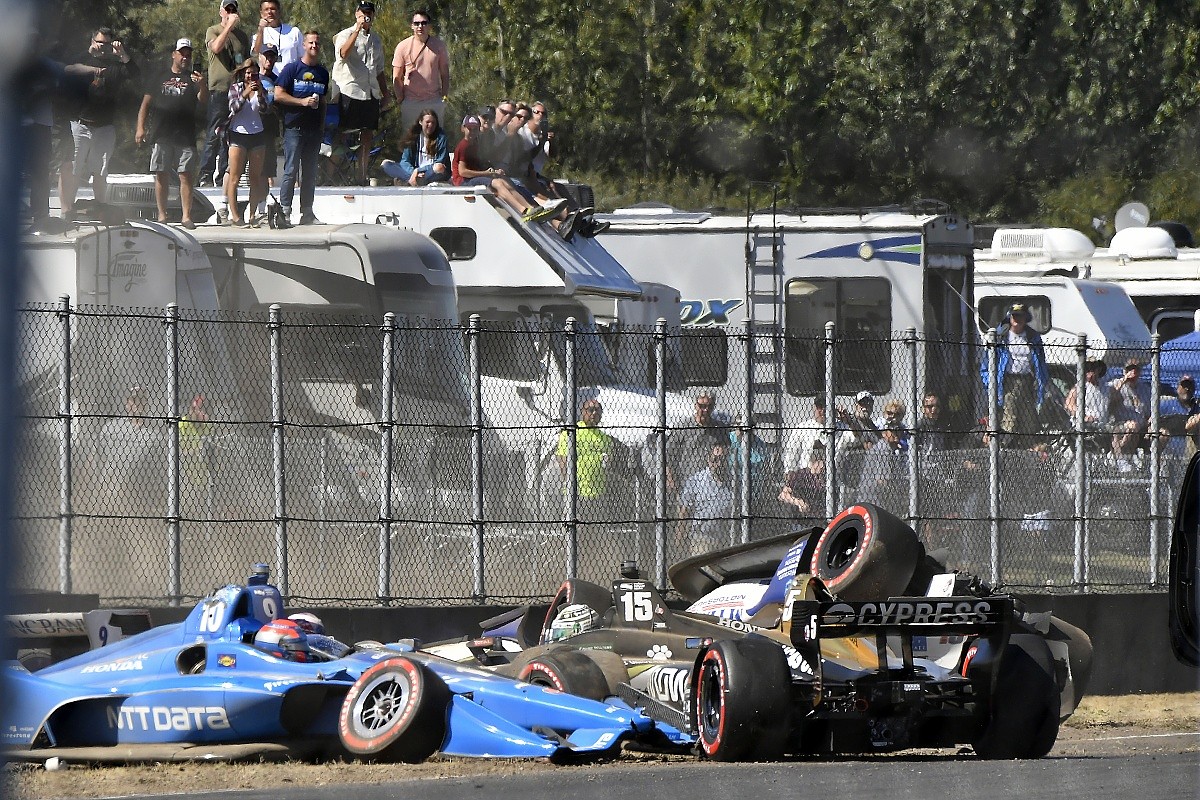 A perfectly timed yellow for Sato later on ruled out Josef Newgarden and Rossi - the most likely winners - and sent them into the midfield by hurting their strategy. Then a final full-course caution caused by Santino Ferrucci brought the field to the pitlane, with Sato able to jump Ryan Hunter-Reay for victory.
Sounds complicated? That's because it is. IndyCar's title-chasing quartet of Dixon, Rossi, Newgarden and Will Power have each won three races of the 16 held so far. It's hard to dominate or go on a winning run in a series with races this unpredictable. And each of those four drivers mastering those scenarios best in 2018 has a long-lasting relationship with their crew chief.
"Finding the edge I think is something only experience can bring you" Penske's Tim Cindric
Tim Cindric, who is the president of Penske and calls strategy for Newgarden, explains what will be required of Alonso.
"The way the safety car works here is quite unpredictable in terms of how that affects the outcome of the race," says Cindric. "I think from a driver standpoint it really comes down to the details of the pitstop execution more so than the strategy of it all.
"In other words, the more you get comfortable with the type of configurations of some of the tracks, how you actually enter your pit and how you leave your pit, how you do your in and out laps, which is sometimes about experience because sometimes it's track position, that understanding of how you execute in those basically two laps in green flag conditions.
"It's your in lap, it's your approach to the pitlane speed zone and it's your entrance and exit to your pit box and it's how fast you get up to speed on cold tyres without tyre warmers.
"Executing that cold-tyre exit without mistake is something some guys are better at than others, and some learn quicker and inevitably there are mistakes somewhere along the way in learning that process. Finding the edge I think is something only experience can bring you."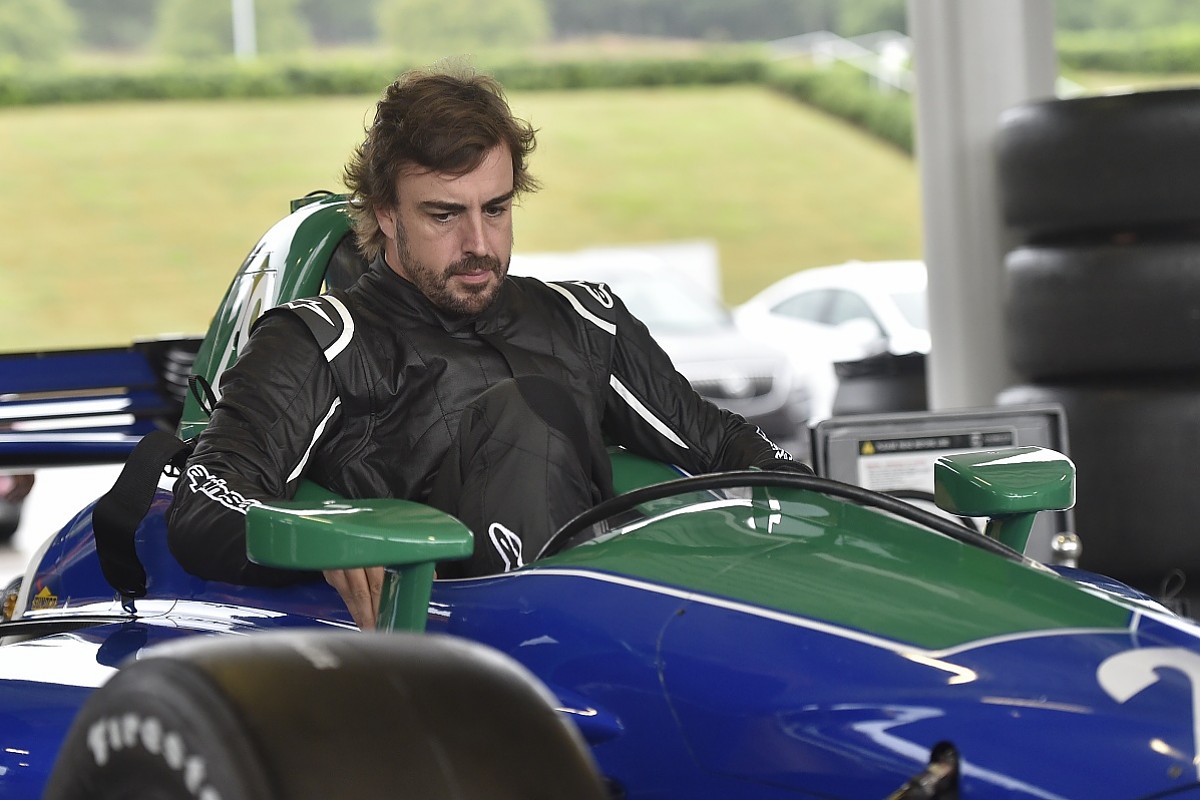 That sort of experience is likely behind the thinking of Andretti booking several test venues in the hope that Alonso became free to trial a current car. Plus his attitude to driving and his insatiable desire to know every aspect probably means he's aware of all the factors above, especially as he has remained close to the IndyCar paddock.
Surely it's played on the minds at McLaren too. Autosport sources have often said McLaren would aim for a two-car team, and the targeting of IndyCar leading lights Dixon and Power for the other drive would tally with the aim of getting Alonso up to speed rapidly should he join the series.
"In any formula, just having a little better understanding of the potential [is helpful], and the practice or on track activity [is short], so testing is quite limited. Being able to take two approaches [with two cars] in the same amount of time makes sense," adds Cindric.
McLaren's approach to sorting its IndyCar plan has been described as "fluid" by teams it's in discussions with. But right now an affiliation with Andretti seems a favoured approach. That would allow McLaren to use the proven team's data and equipment and shortcut a lot of the learning process.
Affiliation between teams is a growing trend in IndyCar, with opinion predictably split over its usefulness and whether such a process is fair. Muddying the waters is the varying quality and input from the affiliated teams, with the likes of Vasser-Sullivan's partnership with Coyne for Bourdais and Michael Shank Racing's with Schmidt Peterson true partnership operations, with their own staff and resource involved rather than just branding exercises.
You would expect McLaren to offer the same full-on involvement. With a traditional IndyCar outfit staffed by around 75 people, supplying some personnel to a partnership project reduces the need for an early-doors recruitment push for a yet-to-exist team, although a McLaren takeover of the struggling Harding Racing has also been reported but appears unlikely.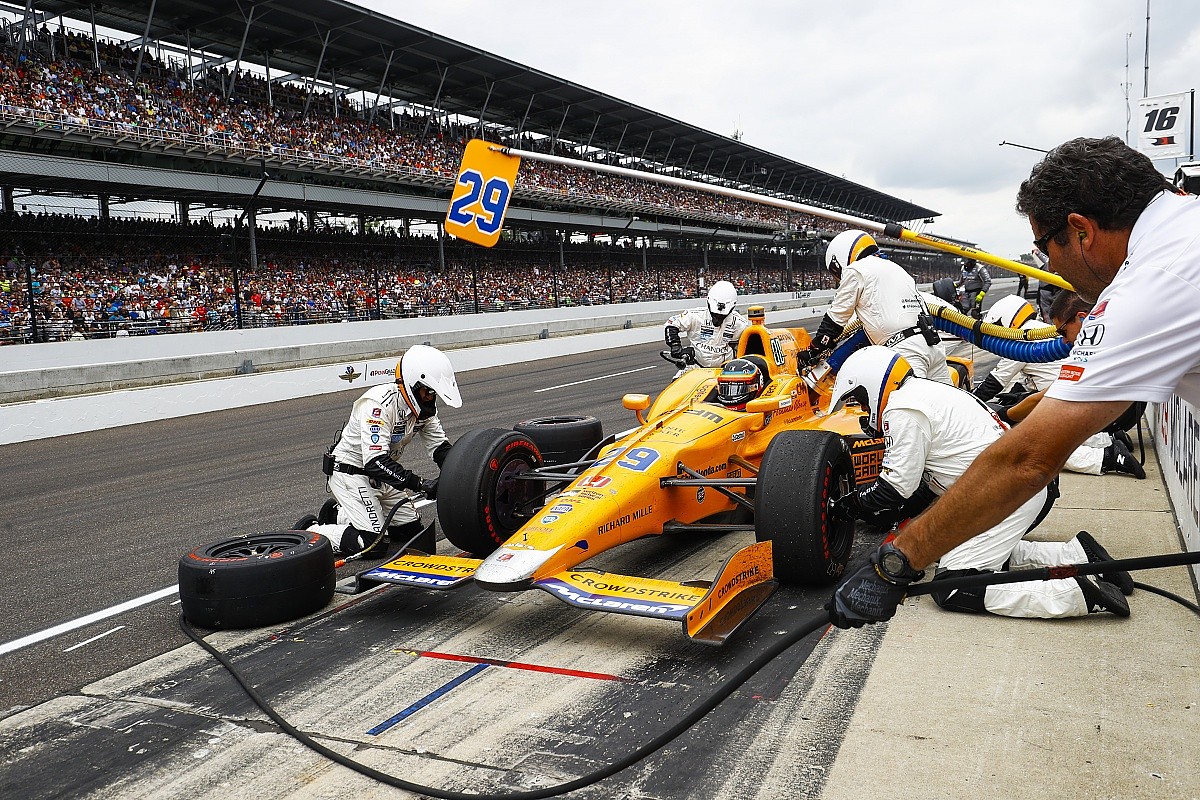 Cindric imagined McLaren would want to go for the straightforward marketing opportunity of its own self-run team, but can understand why it might want to begin with a tie-up.
"Indycars are so similar and the areas of opportunity are so small that I'm surprised that McLaren sees that it's important to really have any affiliation or partnership, just from the outside," says Cindric.
"Maybe there's more to it. But the McLaren brand and their name and the fact that they have a free car that's also branded in the same way seems as though it muddies the water when you try to tie that to another organisation.
"I would be surprised if they take that approach, but if they do I can only assume it's to try to have access to experienced people in Indycar itself.
"Because, I think, just like with anything else, people make the difference and in Indycar more so than maybe Formula 1 in the sense that the numbers are quite a bit different because the areas of open development are so constrained relative to Formula 1."
With mere weeks before McLaren's decision to either head to America or stay focused on F1 is finalised, IndyCar is keeping a watching brief.
While we're not likely to see Alonso-mania in quite the same vein as Nigel Mansell's switch to CART Indycar as defending F1 champion in 1992, his arrival could not be better timed.
IndyCar's signing of a stronger TV deal with NBC puts it front and centre in the US and the delay in sorting international TV rights will not only lead to a more lucrative deal if Alonso arrives, but help IndyCar's aim of a more global expansion - even if it's only focused on Mexico for now.
IndyCar is well on the path to a resurgence and the arrival of Alonso and McLaren could vault the series back to the levels of global interest that Mansell left behind to return to F1.
But it's also a very different and more competitive arena than the one Mansell walked into a quarter of a century ago, so don't expect the huge new audience Alonso would bring to IndyCar to be watching him dominate.