After three years of regular Penske dominance in IndyCar's manufacturer aerokit era, the series has booted the rulebook out of the nearest window for a season that also brings a reshuffle at the series' big three teams. IndyCar may have pondered pit rules changes to end the "randomness" in its races, but 2018 could still provide plenty of shocks.
For a start, IndyCar is levelling the playing field. After Chevrolet owned the manufacturer aerokits period, the new universal fitting means that Honda can no longer bemoan its Wirth Research-designed aerokit. Any differences will now be down purely to engine performance.
While some in the paddock are concerned that Honda holds a decent advantage on the engine front, leading drivers believe that the new aerokit - which features reduced downforce - will be harder to drive and will put a premium on talent.
But all that will count for little if Penske, Chip Ganassi Racing and Andretti continue to dominate IndyCar. The last time one of those three teams did not provide a drivers' champion was 2002 when Sam Hornish Jr won the title with Panther Racing.
Since then, Penske and Andretti have had four titles, while Ganassi has led the way with seven. After Ganassi's Scott Dixon took advantage of a Penske implosion for the 2015 title, Penske has since won back-to-back crowns.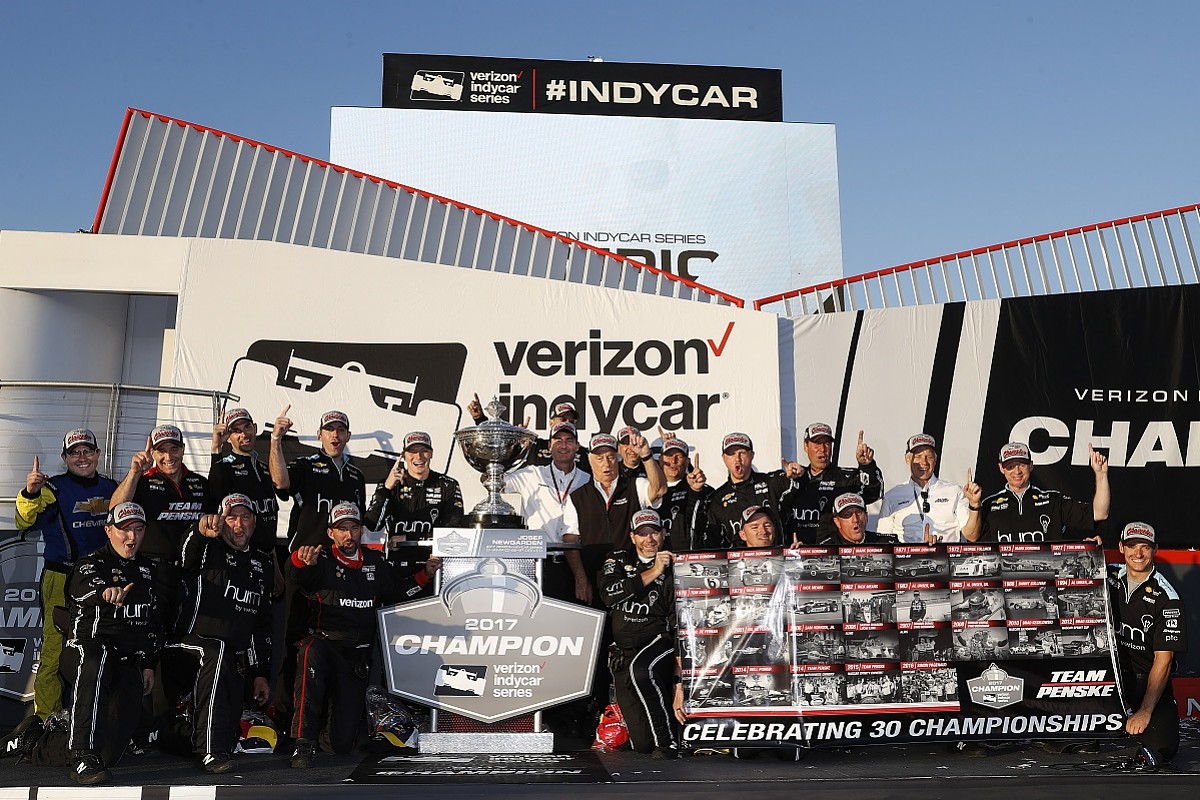 Now though, there's an opening. Several drivers bemoaned that the fast six - IndyCar's final qualifying segment - last year was a Penske sweep with four cars regularly leaving just two spaces for Ganassi, Andretti and the best of the rest to scrap for.
But Helio Castroneves moving to Penske's IMSA SportsCar Championship programme means Penske will run just three cars this year. And Ganassi has slimmed down from four cars to two to try to bring out the best in its team.
That's three heavy-hitters out of the way. Andretti has kept its four full-time cars, but look closer at the top three line-ups and there's signs of opportunity for IndyCar's competitive midfield.
"Gone are the days of these little teams. You're going to see a lot more teams hitting it right to start with. It's going to be a big reality check for people" Scott Dixon
Andretti has given rookie Zach Veach a seat, and Ganassi offered the underfunded Ed Jones a lifeline and a huge opportunity - both will be granted a modicum of patience to match their illustrious team-mates.
So going into St Petersburg, there are clear gaps for the midfield to exploit and several teams have prepared for such an eventuality, knowing this would be a year of uncertainty - at least initially, as Dixon says.
"I think you'll see the usual suspects but in a change like this a couple of teams hit it quicker than others, that's always the case," he explains.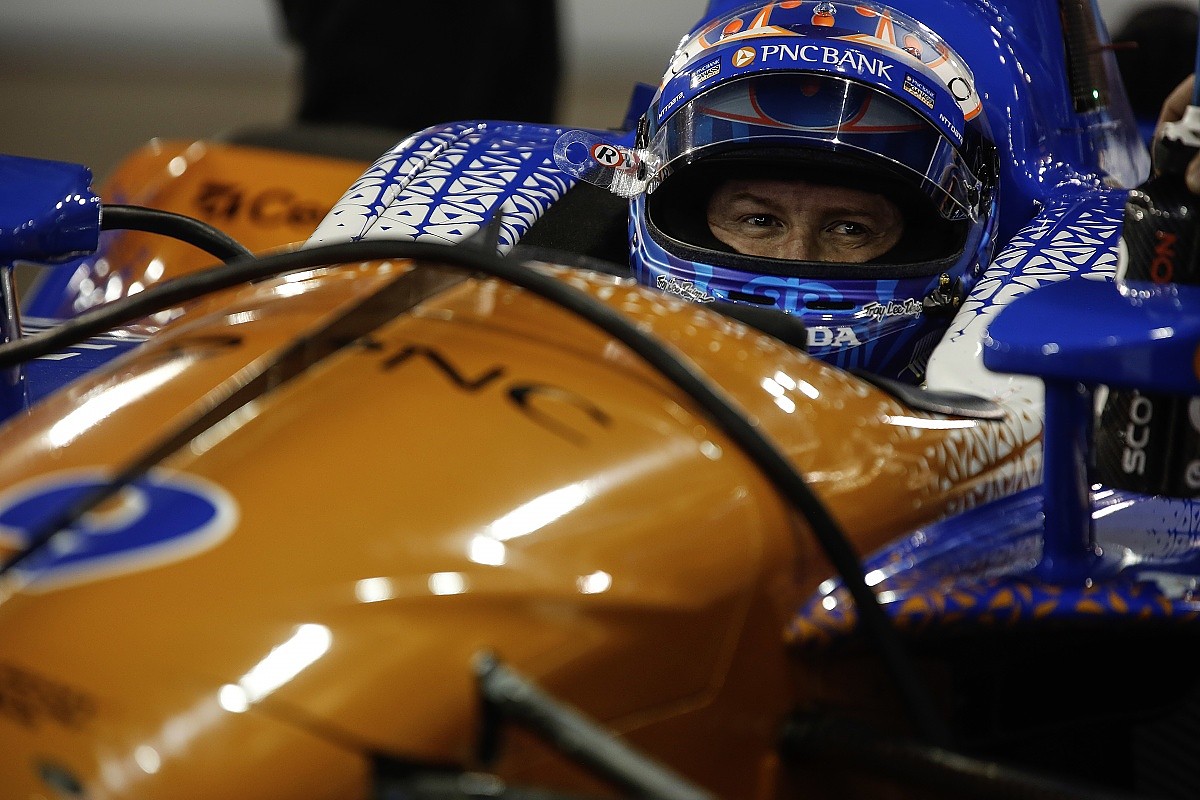 "Gone are the days of these little teams, the only one that's a little bit like that is Dale Coyne - but even they have really good resources and very good engineers. So the spread is smaller than it used to be.
"But at the start of the season, you're going to see a lot more teams hitting it right to start with. When we get to St Pete it's going to be a big reality check for people. The driver combinations people have, they're [the midfield] going to be strong."
Dixon's argument is a key aspect of why IndyCar's best of the rest are so close, meaning fine margins will decide who will be the closest threat to the big three. One team, Schmidt Peterson Motorsports, has been preparing longer than the others and the target has been set by Sam Schmidt, the co-owner of the team.
"I want to push to be regular top five contenders rather than occasionally having one race win a year," he says. "With this group and this group of drivers we can do that.
"I'd like to break into that top three designation on a regular basis. This group can get it done."
The group Schmidt mentions began with a key hire in Piers Phillips during 2015, plucked from David Brabham's crowdfunded race team oddity. Phillips was installed as general manager, tasked with overseeing the race team. And what Phillips found was far from ideal. SPM had endured a rotating door of drivers as it began a new era.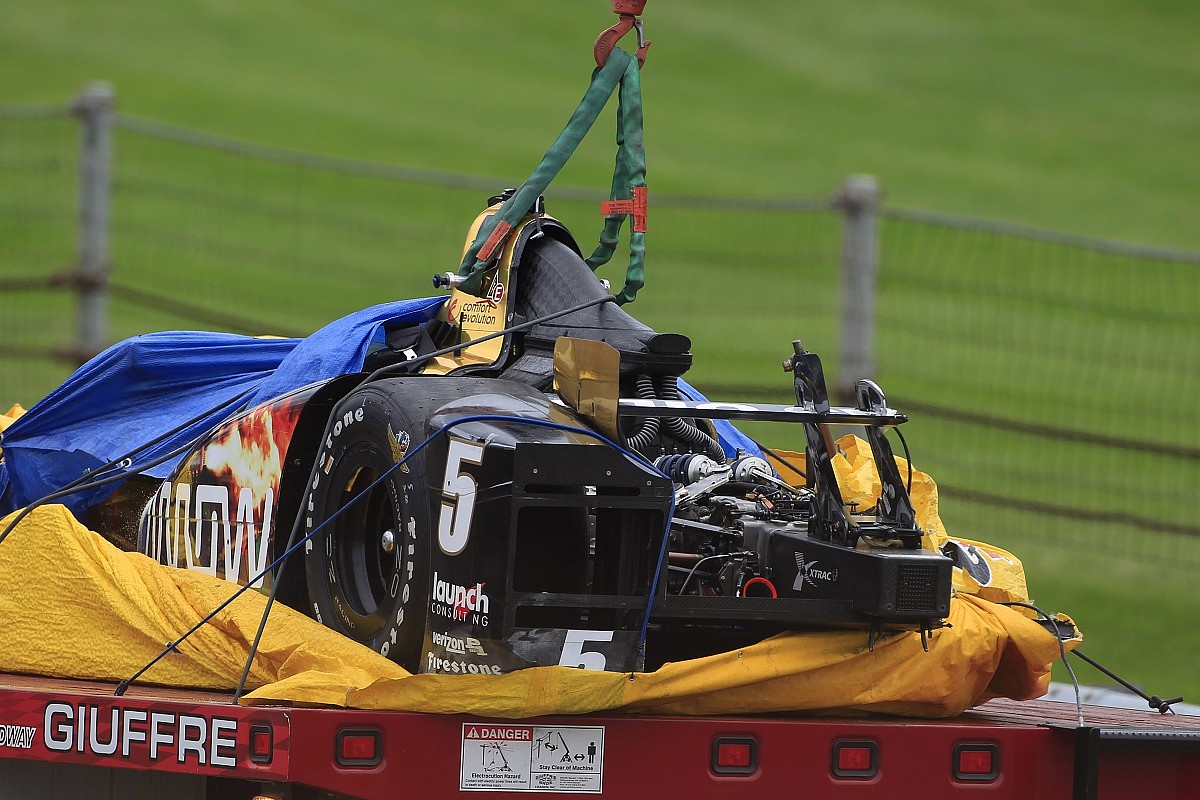 Phillips' predecessor had quit midway through the season, a year in which Mikhail Aleshin was absent because of visa issues and James Hinchcliffe suffered a life-threatening crash when qualifying for the Indianapolis 500.
The following year was marginally better. Hinchcliffe narrowly lost out to Graham Rahal for victory at Texas and took pole for the Indy 500, a year after his crash, and team-mate Aleshin had his first IndyCar pole at Pocono.
But 2017 was more difficult again. Hinchcliffe won in Long Beach early in the season, but Aleshin finally lost his seat and the team's form suffered as the driver merry-go-round spun.
That poor effort then led to the next phase of rebuilding, and it traces back to Aleshin's brief practice stand-in Robert Wickens. The former Mercedes DTM driver is a childhood friend of Hinchcliffe, and early last year the pair swapped cars for fun in a one-off test - with neither expecting it to become the first step in Wickens joining SPM.
So it's no wonder the team's lead driver says SPM is unrecognisable in all the changes.
"It's been huge," Hinchcliffe says. "If you look back to the start of 2015, we had our team manager bail in January and we had to make do and huge credit to everybody on the team because everyone had to step up.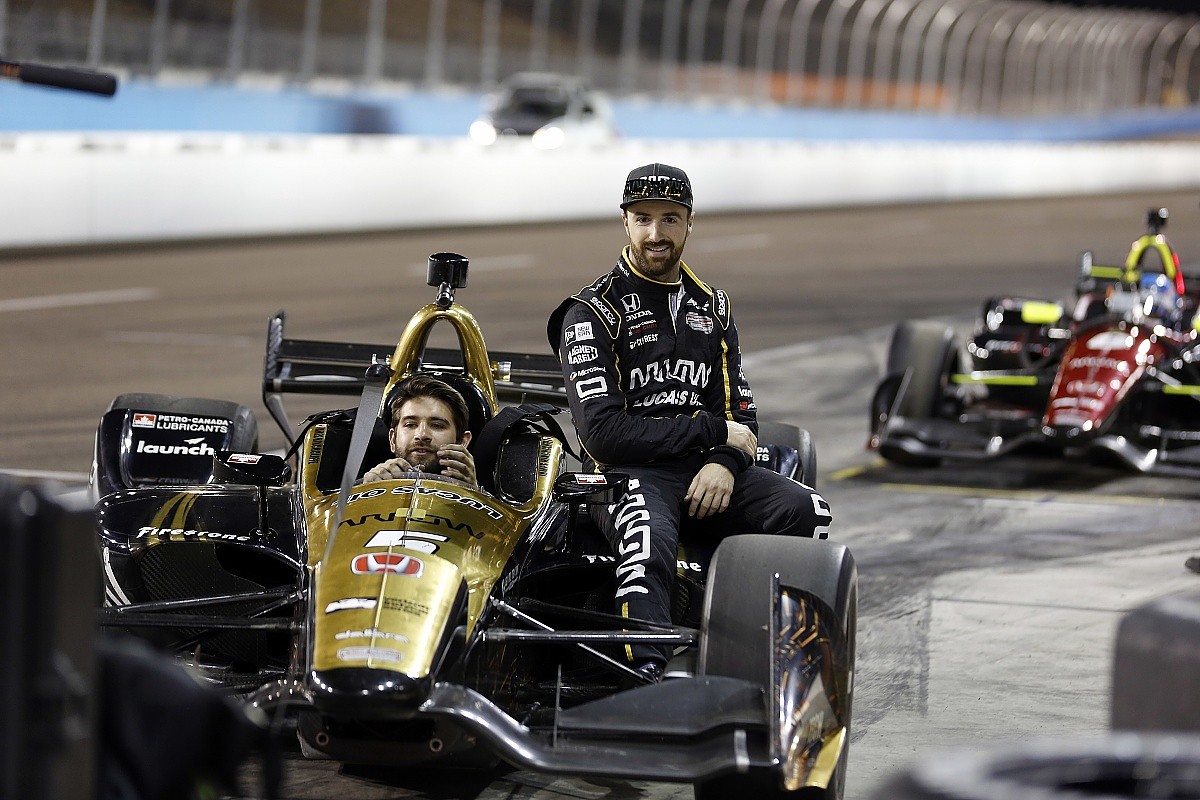 "We made a conscious decision to never rush, to just fill someone in that position for the sake of filling the position. We really wanted to make sure we put the right guy in place and I think we did that with Piers and once he came onboard we just had a lot more direction.
"It was nice to get some outside perspective, IndyCar can be a bit of a ball sometimes and getting some impressions from people from other forms of the motorsport world can be very beneficial and as a team we've seen the benefits of that."
"We need to be aware of how people do things elsewhere in motorsports, we can't have blinkers on. We get so focused on what we're doing that we're forgetting the big picture" SPM's Todd Malloy
Those benefits extend to the choice of Wickens, with SPM deliberately looking to European motorsport in its revamp. When Mercedes made clear its intentions to end its DTM programme in favour of Formula E, Wickens went from unsure about IndyCar to signing on the dotted line.
That highly-sophisticated DTM pedigree meant that SPM was counting on Wickens to speed up development in a series where data is paramount. The team has seen the pitfalls of one full-time driver and a cameo ensemble filling a gap, and Wickens will be expected to be more than a regular presence.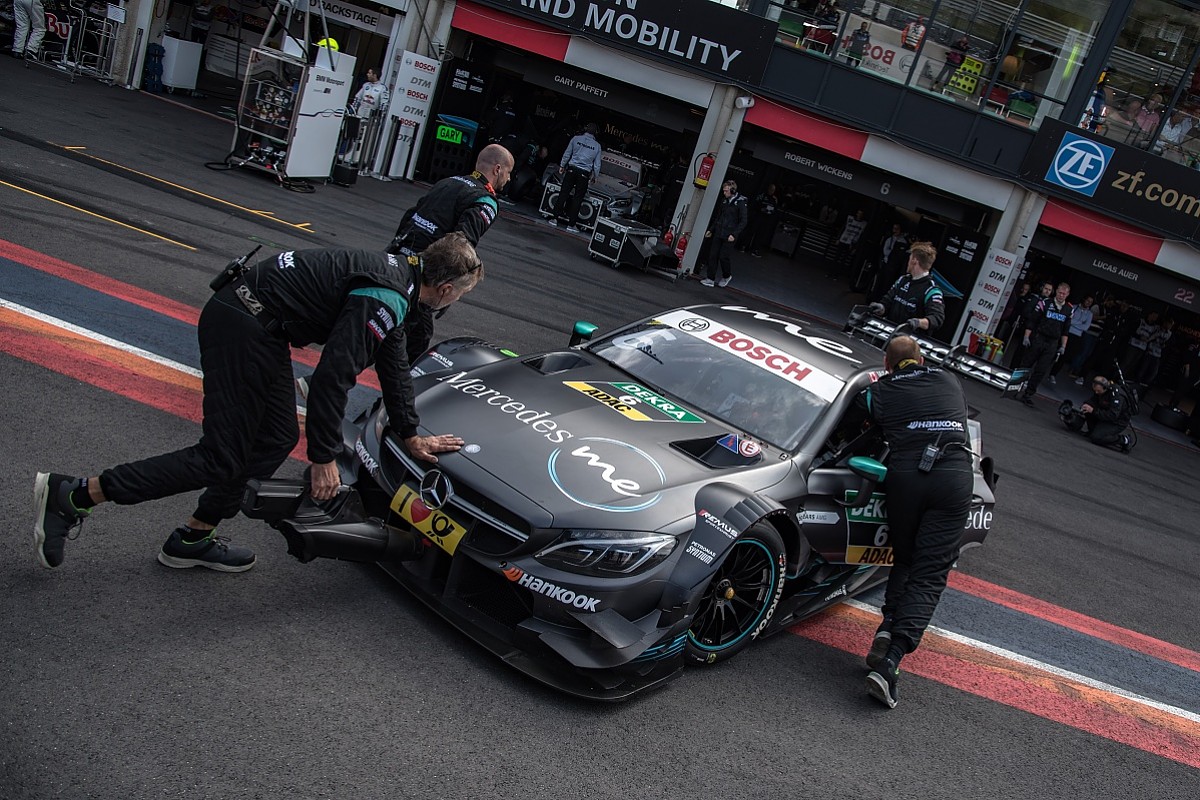 "There's a lot of carryover from DTM to IndyCar," Wickens says. "DTM is such a technically complicated car, it is the pinnacle of touring car racing in my opinion, with the development and the budgets that go into it and everything.
"I've done years in DTM where there were no car homologations and it was just open development like Formula 1. You're constantly evolving the car. There's a lot of experience that I've had over the years that some people in IndyCar have never experienced."
That could prove an essential secret weapon for SPM as IndyCar progressively cuts down practice time and combines it with a radically new car for 2018. Simply put, there isn't time to fall into the trap of one driver providing useful data, as Graham Rahal could testify to last year.
"His [Wickens'] feedback's very good, and that is a huge, huge element in being able to push the team forward especially this year," says Hinchcliffe. "We do have a new bodykit and getting more data and getting more good feedback is going be vital, especially in the first half of the year."
But that requires the right staff around the team, and there's been just as big a revolution off track. It's spearheaded by a further key hire in Todd Malloy, who left Ganassi as part of its downsizing after previously engineering Pagenaud to his 2016 title at Penske and Dan Wheldon to his '11 Indy 500 win with Bryan Herta.
That coincided with SPM reaching a racing staff size of around 65, with other high profile hires such as three-time Audi Le Mans-winning engineer Lena Gade, who will lead Hinchcliffe's race team.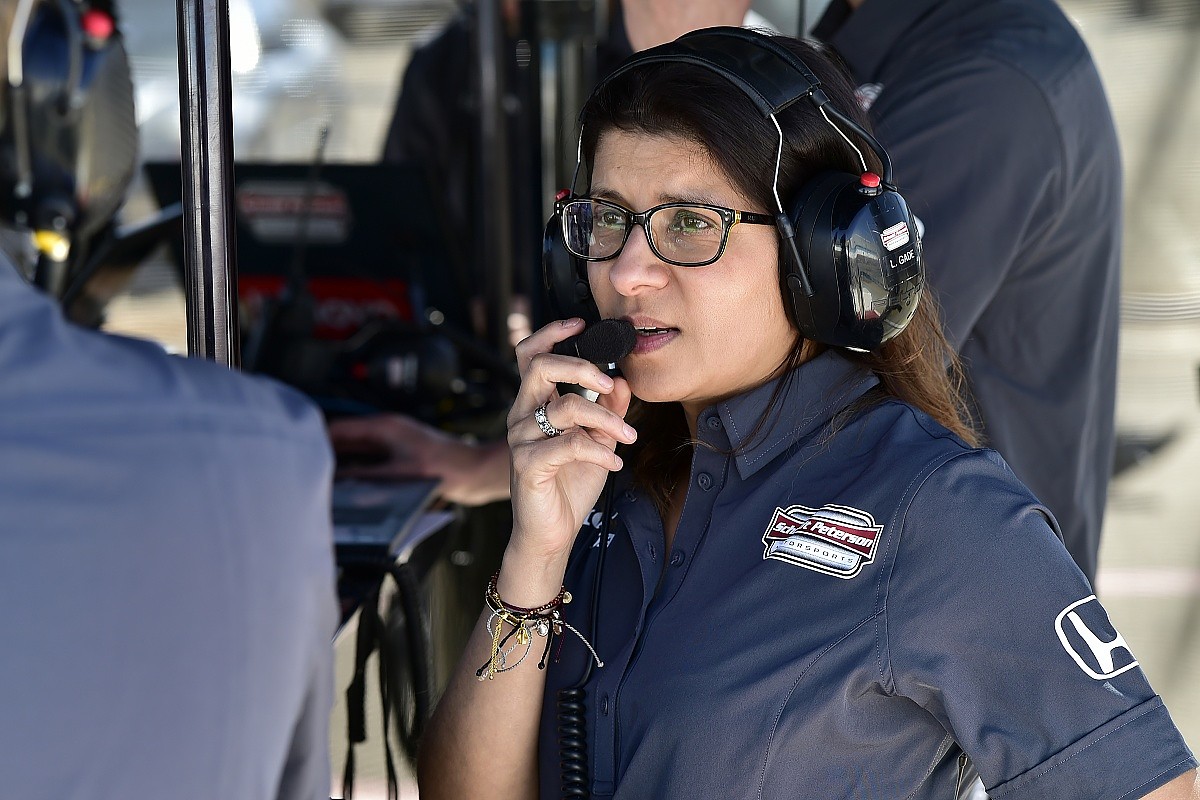 With Phillips and Gade in particular, SPM has a more cosmopolitan feel to it than its IndyCar rivals.
"It's part of why we hired Leena, it's part of why we hired Robert," says Malloy. "We need to be aware of how people do things elsewhere in motorsports, we can't have blinkers on.
"We get so focused on what we're doing that we're forgetting the big picture so it's always a good thing to have some new perspective in terms of how we go racing."
The final piece in the SPM jigsaw came midway through the last season when Honda selected the team for an "elevated partnership" until 2020. Not only is it a sign that SPM's off-track work is impressing IndyCar's elite, but also means it is relied upon in the same way Penske and Ganassi are - and Andretti isn't.
That riled Andretti, with the likes of Alexander Rossi and Ryan Hunter-Reay critical of the extra running manufacturer-aligned teams get.
"There's no substitute for track time, so obviously we got a little more run time as part of that," adds Malloy. "But it seems that we were testing all winter, instead of doing all the normal winter projects so the plus side is that we got more track time, we got more experience with the aerokit and to sort out the electronics.
"So we got a head-start on all that stuff which has been really helpful. The flipside is that it needed a lot of people and shop space to work on the winter project-type stuff that, basically, you'd do it anyway to try and raise your level for the following year so there are pros and cons obviously."
With IndyCar's field unsure on whether the new aerokit and the changes to IndyCar will close the field or widen it further, SPM's extra running will prove crucial in getting that head-start on its rivals.
The competition in 2018 looks strong. Rahal's dominant exploits in Detroit last year showed his ability when the set-up is perfect, and he now has the reigning Indy 500 winner alongside him in Takuma Sato. On paper, Rahal Letterman Lanigan looks like the ideal threat to the top three, particularly as Sato's previous spell with the team should mean he slots back seamlessly.
As Dixon alluded to, the likes of Ed Carpenter Racing can't be discounted thanks to an influx of new talent to IndyCar over the off-season, leading to new-look teams at AJ Foyt Racing and Dale Coyne Racing too.
So it's no wonder that the 2018 expectations at SPM are set realistically, but titles down the line are being whispered about.
"I'd like to think that we can compete for a title in 2019," says Malloy. "We need to start off strong, in the top 10. If we can get that we should be title contenders in a year or so."
And while IndyCar's top three are used to having a selection of drivers to pounce on any rare errors, they may have to keep an eye on the midfield more than they're used to, despite IndyCar's best efforts to end the "randomness".