IndyCar's surprise at how smoothly it has introduced its 2018 car package is a far cry from the ever-increasing dissent that characterised the outgoing manufacturer aerokit era, itself springing from widespread aversion to the IR12 car platform. In short, it's a quick turnaround for the series.
It's already had quantifiable success in terms of attracting interest. Mark Miles, CEO of IndyCar's parent organisation Hulman & Co, pointed out its early victory with the additions of Carlin, Juncos Racing, Harding Racing and Michael Shank Racing - bolstering the grid number by five cars across the season, with the potential for more.
"A sign of growth, and I think the vitality of the series is that we are welcoming four new team owners into the series this year, and these are not folks that are unfamiliar with us," says Miles.
"Part of that is that they've ordered between them about 12 new engines and Dallara are feeling the effects of this new investment. And then there's the car itself.
"I feel guilty standing between you and it [the 2018 car] because we think it's gorgeous. We think it has really excited our fanbase. This may be the public premiere, but there's been a lot of talk, and we're having trouble finding a critic."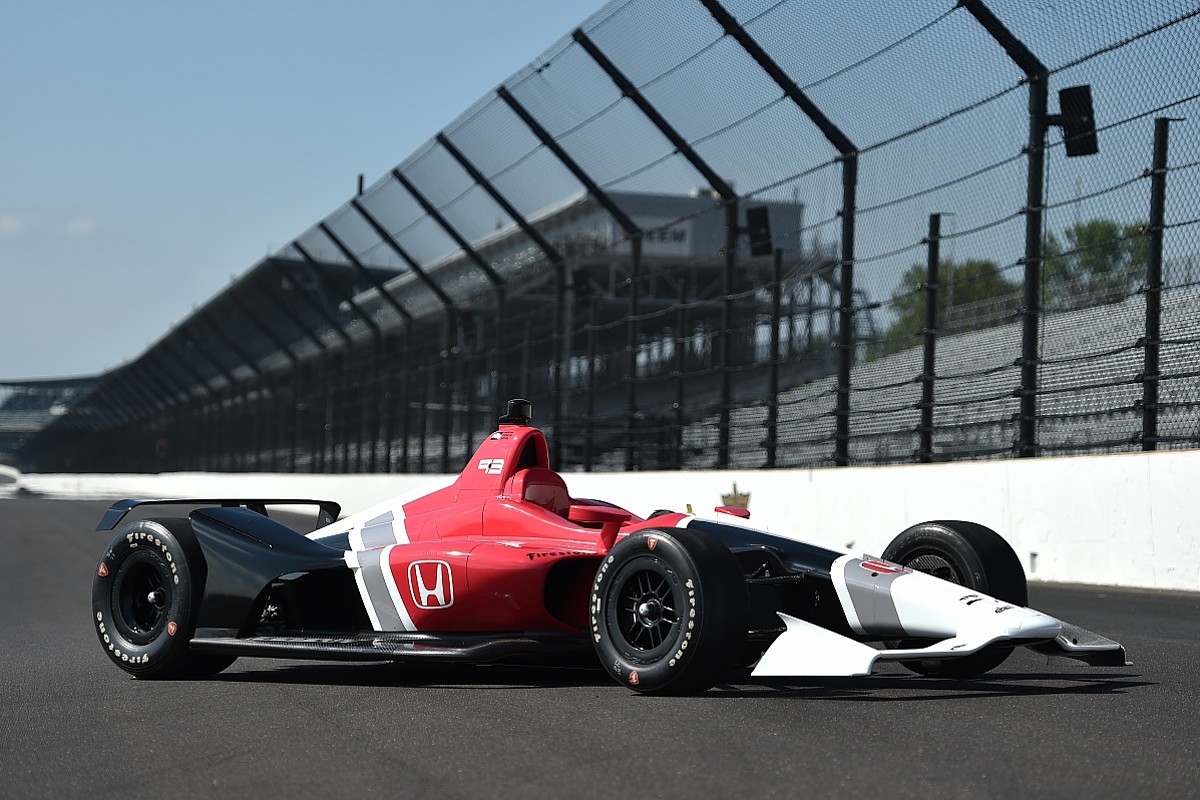 After six years of criticism, IndyCar teams and drivers have bought into the idea of a five-year plan - with the car as the centrepiece - carried forward by series president of competitions Jay Frye after he took the reins from his predecessor Derrick Walker.
And the new universal aerokit is the clearest indication of IndyCar's willingness to learn from past errors, particularly on costs and racing quality. It goes as far as IndyCar handing every full-season entry two new aerokits for free, a saving of $180,000 per team.
Simplified aerodynamics - compared with the increasingly technical manufacturer designs - add to its appeal. Overall downforce has been reduced, and to encourage overtaking on-track, 66% of it is generated by the underbody.
The genesis of the 2018 aerokit is just as interesting as the single-seater itself. Plans were forming as early as 2015, and by the following year, IndyCar was already experimenting with what its next generation of car would be.
"In 2016, we took a couple of cars to Mid-Ohio and a couple of cars to Phoenix and tested what we thought would work on last year's car," says Frye.
"[We were] removing things, there's probably nine different things we did, we basically spent the day getting the downforce on the bottom [of the car] and removing the parts and pieces on top.
"We went through this whole process and Dallara was part of that the whole way. Dallara's done a spectacular job, they did everything they said they would do. We've worked hand-in-hand with them through this entire process and, maybe that's the difference from before. This is very much a collaboration between many different groups to get the product to where it is today."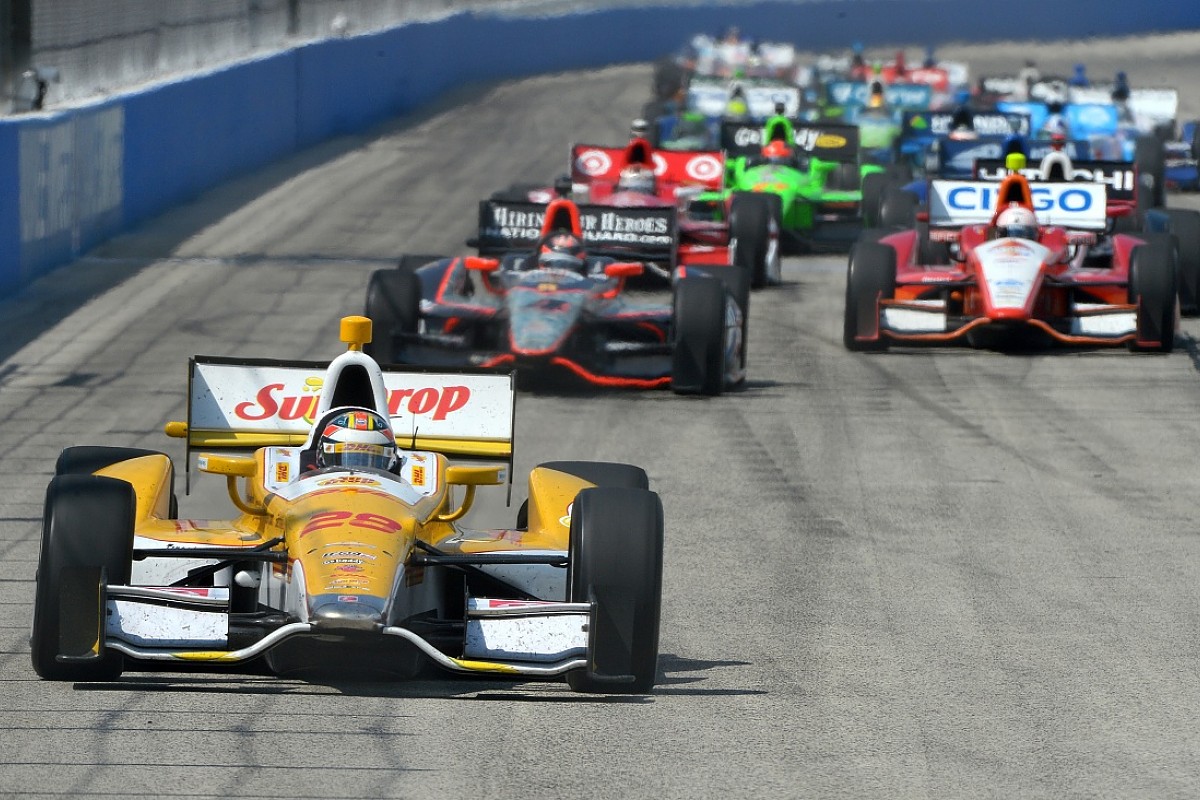 Frye is right to pinpoint collaboration as the difference, considering IndyCar's recent history. The car and associated costs have been the single biggest issue facing the series since the IR12 was introduced as the single-make chassis in 2012 (pictured).
But mention the 2012 political strife to people within Dallara and IndyCar today and several make the point that it needed the early pain to reach today's conclusion.
When the aerokits finally arrived in 2015 after years of delay, the problems deepened. It was a costly mistake, with an estimated $30million spent on the project
As Dallara's Andrea Toso, head of the company's US racing business, says: "When you introduce a new car it's like planting a seed, it's a while until you can harvest. Imagine if we had not introduced it in 2012? We would have a car that was designed in 2003. So, it takes time [for success]."
The planting, then, was where the issues began. Having held off the futuristic-looking DeltaWing, Lola and other chassis constructors, Dallara won the contract to build the IR12. Right from the start, the idea was to reduce costs and modernise IndyCar. The initial verdict was that Dallara had done a good job in doing so, since IndyCar could fix the price at a theoretically affordable $349,000.
But as any car buyer will tell you, the price on the tag only tells you so much and two conditions conspired against the teams. Even with the addition of further cost-saving measures such as restricted pre-season testing, there were concerns. The new car was designed for aerokits, intended to ensure IndyCar kept a variety of car designs, but the teams voted unanimously - 15-0 - to delay it, fearing a spike in costs.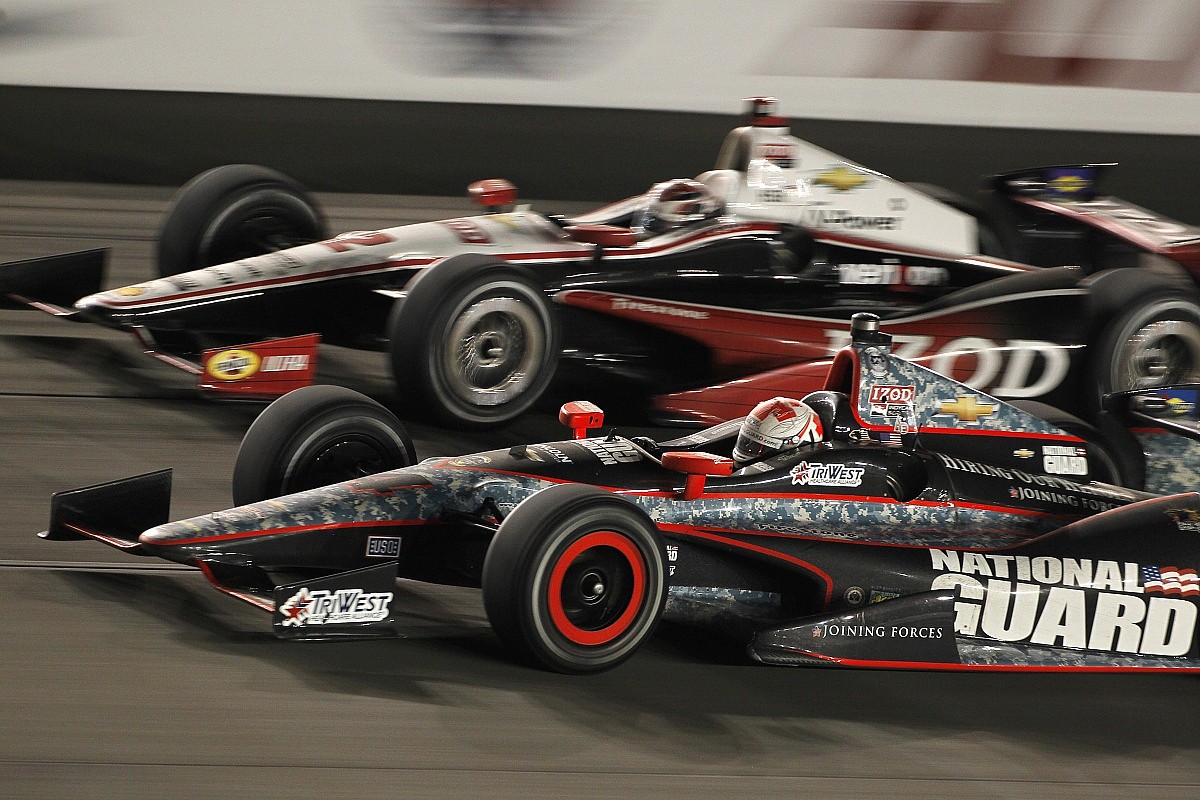 That was the IR12's first setback, and the second followed quickly. Having increasingly committed to the direction of standardisation, IndyCar declared that components were no longer allowed to be independently resourced and had to come from Dallara. Teams felt they were held to ransom and that spares were too expensive.
The disquiet built to outright rebellion as teams united to demand a 40% reduction in spare part costs. There were murmurs that some might start using independently sourced parts and daring IndyCar to disqualify them.
Dallara argued that teams were willing to spend significant cash on developing minor parts to get a competitive edge, while the teams countered that Dallara and IndyCar went above the agreed boundaries on in-house parts.
A compromise was finally reached in early 2013 with a 14% reduction, estimated to save teams $50,000 per entry - but the road to the deal was troubled, and series CEO Randy Bernard was ousted along the way.
Bernard's legacy continued, though, when the aerokits finally arrived in 2015 after years of delay. He had believed that opening up the car to a level of innovation would attract leading technology companies, but it didn't.
That mistake was a costly one: an estimated $30million went on the project. Schmidt Peterson Motorsports team co-owner Sam Schmidt and Andretti boss Michael Andretti argued it should have been spent on television and promotional packages.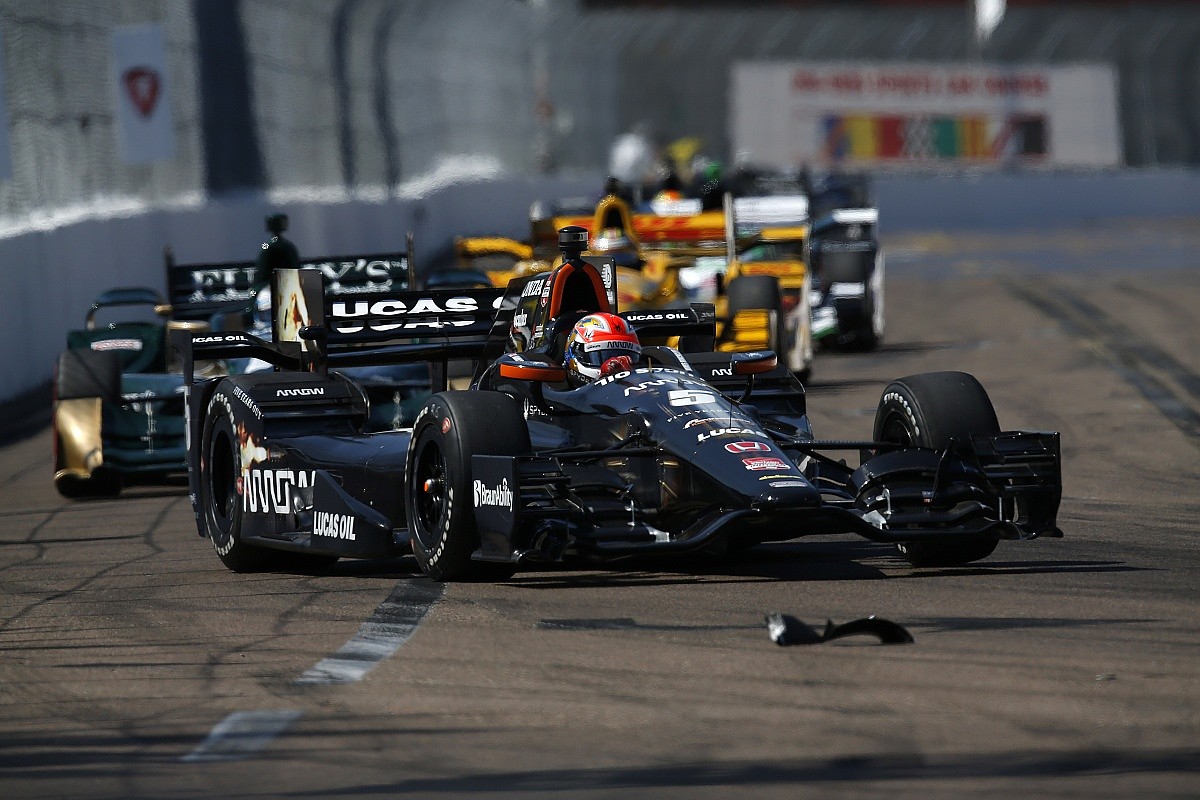 It then hurt the teams, as a pre-season test programme exposed structural flaws that had to be rectified in a rush at the last minute. It took one race for further problems with the aerokits to arise.
The opening race of 2015 at St Petersburg descended into farce when debris from the aerokits caused on-track cautions, and one piece hit and injured a spectator. Racing quality declined, and drivers as eminent as Scott Dixon decried the new aerokits as "unnecessary".
When Honda's Wirth Research-designed aerokit proved less competitive than Chevrolet's, it was granted concessions to develop its product to catch up, escalating into a price war. A Schmidt points out, the aerokit concept had become unviable within a year of its start.
"The worst time in the world [to join IndyCar] was 2015-17," he says. "Financially it was just horrible, from an engineering development standpoint and a cost-of-entry standpoint, but now it's certainly better as you see Shank and Harding and Carlin joining. That's good because you need it badly."
That turnaround came from pre-planning, collaboration and doubling down on Dallara as a series partner. Having recognised the shortcomings of the IR12, Dallara had a new design running in its windtunnel at the end of 2016.
"I would say July 2016 [was the start] for the original concept, the layout, the accessibility," says Toso.
"At that time IndyCar was not, but we were evaluating different roads. And then the winter of 2016 they came here, Tino Belli [director of aerodynamics], Bill Pappas [vice president of competition], Jay Frye, and they say 'let's do it', and then we went in to see a British stylist, aerodynamicist and designer.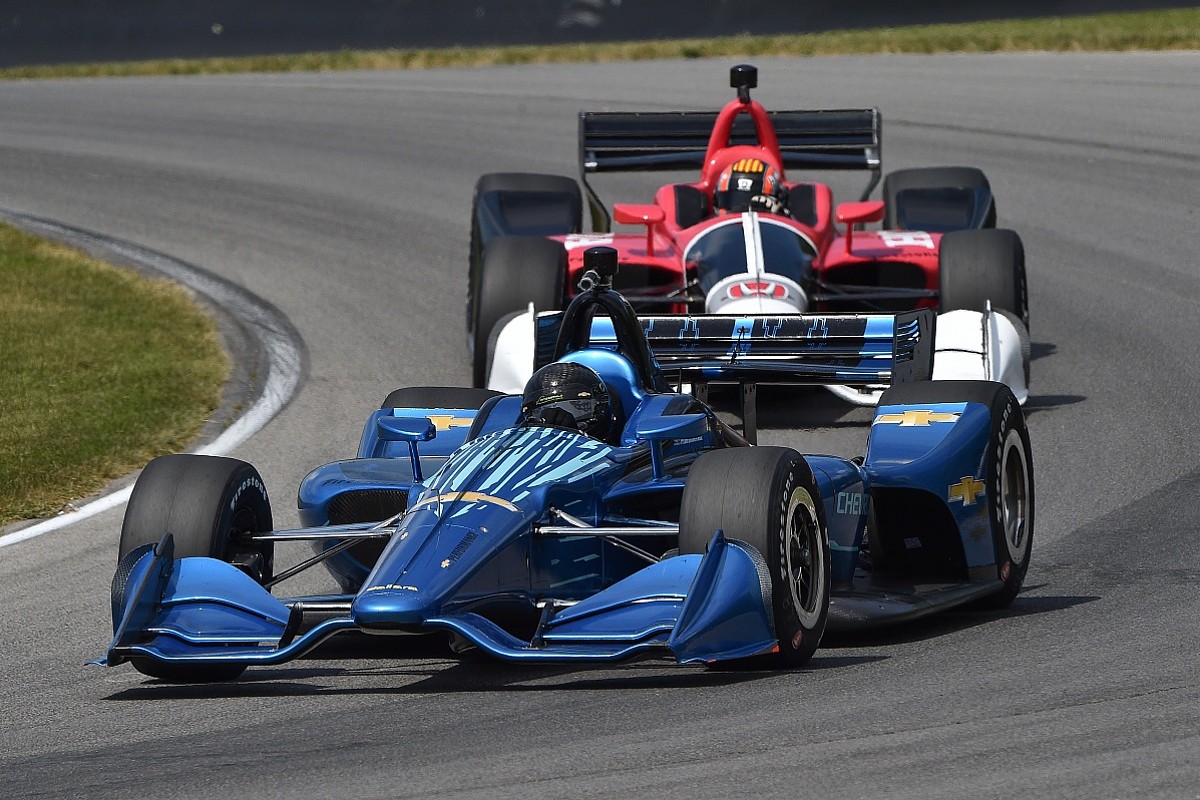 "We started the windtunnel programme in November 2016 and then we started doing the aero in January. Between January and March/April, we did a lot of aero and then by May we announced our early study.
"By July we provided four kits for the sign-off programme, and then they tested with [Juan Pablo] Montoya and [Oriol] Servia."
The early feedback from those tests was positive; both Montoya and Servia felt that IndyCar had listened to the drivers' requests for a car that they felt more responsible for controlling. And while Dallara had begun planning its car without IndyCar's input, the series had been meeting key players to decide its next step.
"We had this big 'ideal' list that we started off on and we actually got their input a lot," says Frye. "We did a track test to get the drivers' feedback based on the direction we thought we wanted to go. One was a road course, one was an oval.
"The feedback from the drivers was extremely positive at that time, so that made us think 'we're in the right direction'. After that, we got to the point of where we thought aesthetics were very important, so we came up with another list of what the car should look like. And how we got to that point was looking at cars through our history - and we all have opinions, right?
"We tried to take parts and pieces off all those cars with the current platform that we have to use and to come up with aesthetically how the car should look. So again, great collaboration with Dallara."
But the Dallara relationship is just one aspect of how IndyCar got itself back on track; a willingness to learn from its mistakes and work with its biggest critics have been central to the turnaround. Frye has continued to stress the importance of his five-year plan to move IndyCar to the highest level. Not only has the series got four seasons to hit that target, it now has a car that can be the springboard to do so.