It's very tough to choose the race of my life, because there are two. There's winning the Formula 1 world championship at Jerez in 1997 and the Indy 500 in '95. Even though winning the F1 championship against Michael Schumacher was extreme, and it was an incredible race with so much tension and pressure, the Indy 500 was even better.
At Team Green we called it the 505 instead of the 500 because of the two-lap penalty we had. So much happened in that race, and that made it so special.
Normally, Indy is a race where you don't drive to the limit. It's a long race, it's dangerous. But there we were, two laps down, and I had to do qually laps the whole way through. And you don't normally do that, not in those days anyway because the race wasn't flat-out.
Today, with the way the cars are, sometimes they can run flat-out so it's a little bit different.
They changed the pitstop rules just for that race that year and everyone was a bit confused. We were running at the front, in the lead group early in the race, until there was a caution around the time of a pitstop. Everyone was running out of fuel, but at the same time as the yellow flag came some cars had dived into the pits.
My team was busy figuring out how much fuel we had, everybody was panicking, and nobody realised I was actually in the lead at that point. Neither did I. Everything happened at the same time.
So we were all stressing to make sure we had enough fuel to follow the pace car to get back to the pits. And every time I got to the pace car I just overtook it, because the pace car is supposed to pick up the leader and I didn't think I was leading.
The pace car created confusion for Villeneuve and his team © LAT
We didn't know what was going on, and I think the first time around the pace car didn't realise I was the leader either, so they didn't stop me. And that happened twice.
The team still didn't realise I was in the lead because they were still calculating the fuel mileage. A couple of guys had to come down the pits when they were closed and they got penalties as well.
The third time I came to the pace car they put their hand out to stop me, so I stopped. And that's when everyone realised and said I was in the lead, so I said, 'Oh great, thanks guys!'
All through my career my tyre wear and fuel mileage have always been better than my team-mates. And that day at Indy it really helped. We managed to do our pitstop behind the pace car, and when we got back out on track they took two laps from us.
From that point on, I talked to the team on the radio and said the race is not over, let's keep at it, keep going and not give up.
That's what I did through my whole career; you never give up no matter where you are, you don't give up. You never know what's going to happen.
Also, Goodyear brought new tyres just for the race. Firestone had got pole position, and the Honda engine had more power so the Honda cars were about 3mph per lap faster than us in qualifying and there was nothing we could do.
So Goodyear decided to bring tyres just for the race that were never tested. We waited a couple of pitstops before putting them on, waiting for other teams to put them on to see how they would react.
And just by putting them on we picked up 2mph average. That was great. So from that point on I just started racing hard, overtaking guys on the track.
One time we were lucky: I came into the pits just behind the leader, but two laps down, and overtook him in the pitstop. So I was in front of him on track and then there was a yellow flag so I could catch back up to the back of the queue. That was one of the laps recuperated, and the other one I just overtook the leader on the track.
We were just racing hard the whole time through. Because of our fuel mileage, I could do a lot more laps than anybody else and I ended up on the cords of the tyres after a very long stint.
At Turn 2 I got sideways to the point where I could see the grass on the inside. I was just thinking, 'How do I spin without hitting anything here?' and somehow it just went straight coming off the corner, so I kept my foot on the gas. The crew didn't even realise I got sideways - sadly they missed it on TV so I was really angry about that!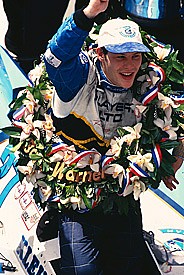 A young Villeneuve celebrates his win © LAT
The whole race was just an amazing team effort. We even stalled in the pits a couple of times. Barry Green was the team owner and was calling the race on my radio, and Tony Cicale was my engineer. How it all worked between us and the crew during the race - as I said, a lot of it is psychological.
If you feel the team is behind you pushing, you can do amazing things. But you need to know you're not alone out there. And that's why Indy was a huge team effort.
Then near the end of the race, there was another yellow flag with about 15 laps to go, and we were running P2 at that point. We thought that was not too bad, it's not a win but after what happened earlier in the race we'd take it. In front of me was Scott Goodyear, and he was unbeatable. There was no way I could keep up with him on the track.
So, knowing that, on the lap before the green flag I just kept putting pressure on him, accelerating, braking, going next to him, dropping back from him, trying to get into his head.
And it worked, because he got going before the green flag and overtook the pace car. So they black-flagged him. When he got going I accelerated, and when I saw he was going to overtake the pace car I hit the brakes, and everyone behind me did the same.
At that point, Christian Fittipaldi was behind me and he had a run on me because of all that, so I had to squeeze him on the wall. He was going to overtake me, but I squeezed him and it was just a matter of who was the bigger dog at that point.
In a race like that, it's win or nothing. That was his first Indy, so I guess he was happy with second. They gave Scott the black flag a couple of laps later and he didn't stop in the pits, so they just stopped counting his laps.
For me, that was the race. That's why I can still remember it so well.
At the time I didn't really understand anything about history. I grew up in racing, with my dad who was just passionate about racing. He didn't care about history, he never talked about the history of racing or F1 or anything. So I didn't grow up with ideas of history or why something was important.
All I knew was that Indy was the most important [race] in the world, how big it was in the States at that time, and what it meant for my career.
Now, with time to look back at everything, to have been part of that history is amazing.
Jacques Villeneuve was talking to Glenn Freeman