Alex Zanardi's gold medal win in the Paralympics was just the latest chapter in an extraordinary life. One that, even by NASA's medical calculations, he should not still be living after his sickening crash at Lausitz in 2001.
Not only is he still here, he is now a gold medal Olympian.
Is that enough for Alex? The answer is short and direct: "No".
"Brands Hatch is bittersweet. Sweet as I have a gold. But I am Alex Zanardi and you know me well enough to know that I can't sit around for four years before the next Olympics. So what do I do?"
Before the games, he hinted that he had an idea for his future. In fact he didn't hint, he said it out loud.
"Because of the split with CART and IndyCar I've never raced at Indy for the 500, and I would love to," he says. "When I had my accident at Lausitz, as soon as I knew I was alive, I was plotting things to do. The most important thing was holding my son. I did that. Then I learned to walk again, and fell many times. But I did that, too.
"My next goal was to go into a racing car again. I went to [former Champ Car boss] Chris Pook, and all I said was, 'I have unfinished business'. That was 2003.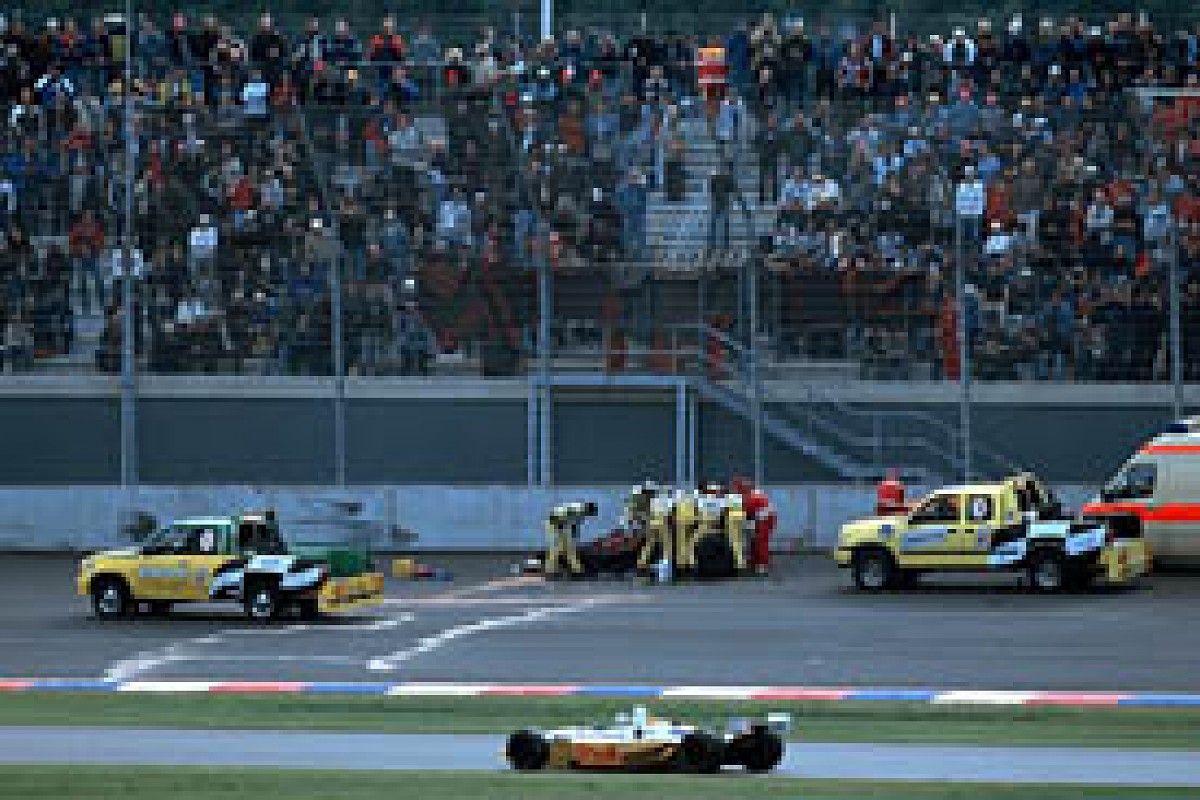 Zanardi had both legs amputated after this horrific Champ Car crash in 2001... © LAT
"Chris and Mo Nunn got together and Mo adapted a Champ Car for hand controls. And I will admit I was scared climbing aboard that day to test it. It was all so secret, no one knew," he recalls.
"I went out, and on the first run, within moments I felt at home. I knew then straight away I could do the demonstration at Lausitz. It was so natural. Almost like I'd never been away - I was just a little bit lighter!!"
His fastest lap during that 'demonstration' would have put him fifth on the grid for that afternoon's Champ Car race....
Following his crash, he remained in a coma for three days. His wife Daniela and his family maintained a constant bedside vigil. Among the regulars supporting Daniela were many of the drivers. Dario Franchitti's wife Ashley Judd flew with Daniela in a second helicopter to the hospital in Berlin. His heart stopped seven times during the 40-minute flight, and he was given the last rites.
The family's biggest concern was how to tell Alex he'd lost his legs when he came out of the coma.
They should have known better. His response was, "Oh well, I'm alive."
His story is amazing, but also far from over. So, be honest, what's next after London?
"Maybe add another wheel and an engine," he laughs.
"Indy has long been a dream, and after the Lausitz run I know I can do it. Jimmy [Vasser] offered me a car for 2013 if I won gold in London. If we do it, I think we will reunite the dream team from the 90s. Me, Chip [Ganassi], Jimmy, Mo. I guess it's time to call Jimmy!"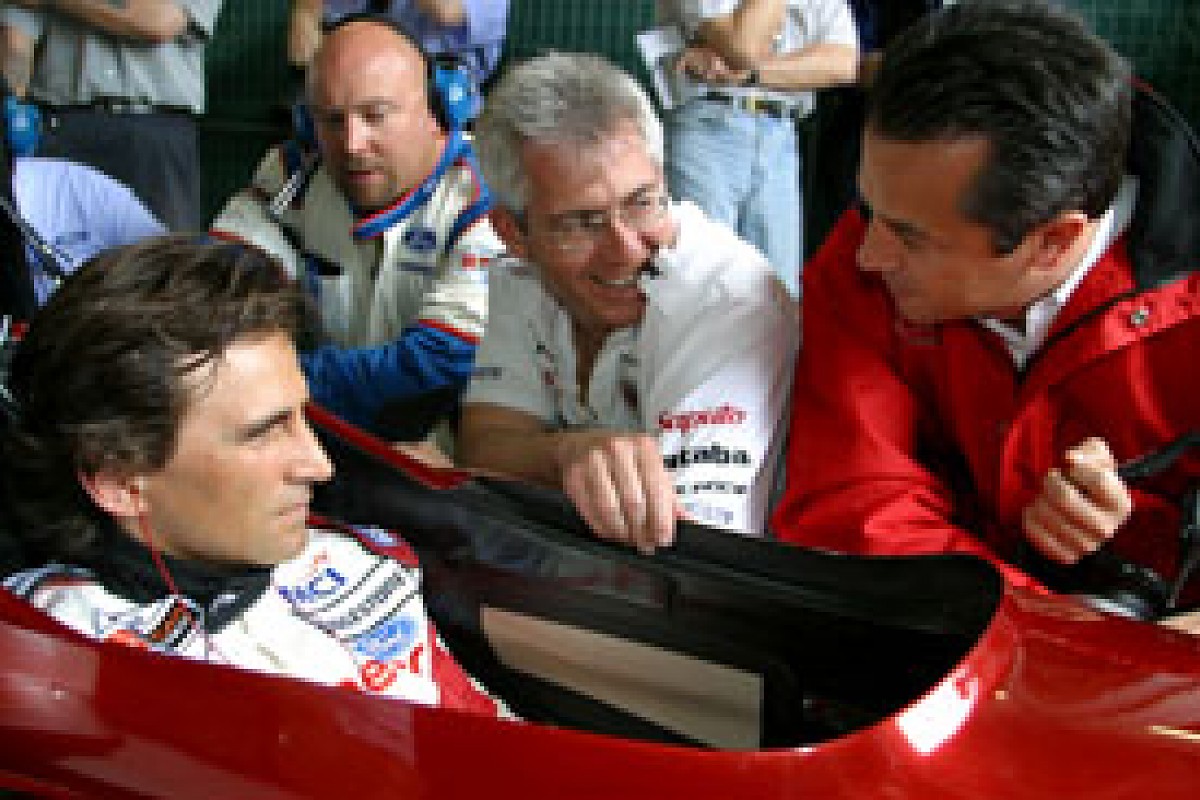 ...but showed extreme bravery to complete the final 13 laps a few years later © LAT
Vasser and Zanardi won three consecutive CART titles for Ganassi between them from 1996 to 1998. It really was a dream team.
"I'm a curious person," says Zanardi. "So is Mo. He will always be thinking, 'what can we do?' With the adapted Champ Car that test day, I would come in, out of breath and excited, and Mo would say, 'what can I do to make you go faster?' He would adapt this and that, and send me out again.
"Lausitz was amazing. I did those 'final' 13 laps, and just got faster and faster. Lausitz is not an easy track, but I did it.
"I respect Indy an awful lot," he says, "but there is very little braking compared with Lausitz, so I know I can go well there with the right car. And, as I said, I'm curious.
"Mo is - what's the English word? - a 'tinkerer'. Like me he has a mind that races ahead. He can make changes I would never think of, and he always thinks ahead. I had that approach to the handcycle. I would walk into my garage, look at the bike and think, 'How can I make this better and faster?' I'm sure it annoyed everyone around me, but that's competition, and that is exactly how Mo thinks, too. It's a non-stop 'what can we do next?' approach to life. If I do race again in America, I want Mo to be a big part of it."
Franchitti, who has twice won the Indy 500 for Ganassi, confirms the never-say-die Zanardi spirit.
"Alex doesn't understand the word 'no'. It's not in his mindset. Give him a challenge, multiply it, and then see him on the other side. When he was in hospital I said that if he gets through this, he will show us some amazing stuff. And he has."
"His determination brought him to where he is right now," says Max Papis, godfather to Zanardi's son Niccolo. "Even if he doesn't have his legs, he is still the same person, with the same will. Alex has a way of showing people that you can still reach your goals and dreams in life, even when things don't go exactly your way."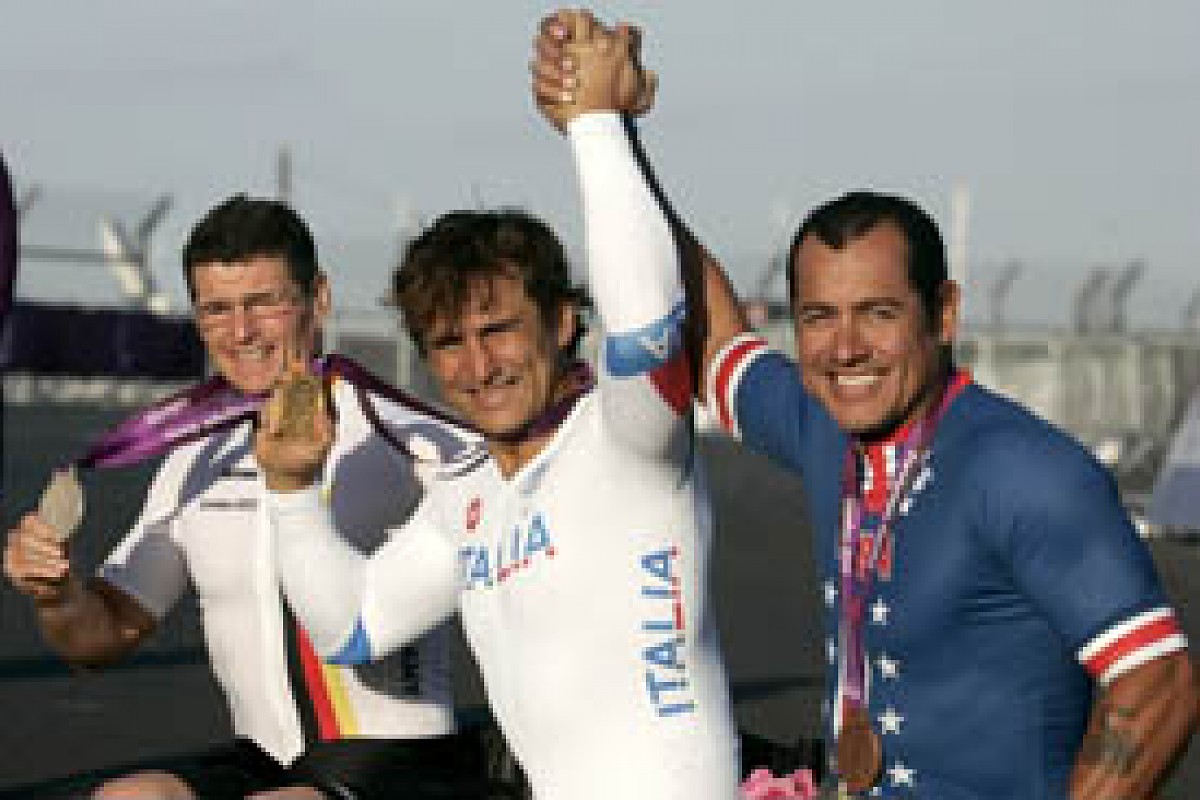 Zanardi celebrates gold in H4 cycling with his fellow Paralympic medalists © LAT
Chip Ganassi is not admitting or denying anything, yet deep down you know that the wheels are already in motion.
"Nothing Alex does surprises me anymore," he says. "He is a tremendous person and a true 'racer' at heart. Whether it's Indycars or hand bikes, Alex has always been a terrific competitor."
Read into that what you will.
Zanardi does not see himself as disabled.
"If what I do pleases people and makes them smile I will say 'thank you' and lift my cap. But I do what I do for Alex Zanardi. You can find good things every day. Every day can be a new opportunity to add something to your life.
"Winning the gold may be my best achievement - or most satisfying - and I laugh when I think of having grandchildren sitting on my legs, what's left of them anyway, and saying, 'Grandad went to London and won an Olympic gold medal'."
Then, with a smile he finishes, without truly giving the game away. "I will make sure we make the most of what we have - if we go to Indy of course!"
What price on his face being added to the Borg Warner Trophy at Indy next May?
*Andy Hallbery is a former editor of AUTOSPORT and AUTOSPORT.com and a regular contributor to MotorsportRetro.com. Follow him on Twitter @hallbean.