Ex-Williams and McLaren Formula 1 driver Juan Pablo Montoya earned his first IMSA SportsCar Championship win at Mid-Ohio, partnered by Dane Cameron to Acura's first victory of 2019.
Cameron started the Acura ARX-05, and passed the polesitting Mazda of Oliver Jarvis in the early running when the Joest car had been slowed by traffic.
Montoya took over the car on lap 28 of 123, but the roles were soon reversed as Jarvis capitalised on traffic for Montoya to retake the lead.
The race was ultimately decided by a late-race restart, after Colin Braun's Nissan was beached in the gravel at Turn 4 following the last round of pitstops.
An undercut strategy had worked to hand Montoya the lead back over Tristan Nunez - now in the Jarvis Mazda - and Montoya romped away at the final restart to bag victory by just over two seconds.
It means Mazda is still looking for a first IMSA victory despite taking pole for two of 2019's four rounds so far.

Helio Castroneves and Ricky Taylor had won the 2018 Mid Ohio race for Acura Penske, but had a nightmare run this year.
After a strong start, Castroneves ran wide at Turn 4 and then clipped 2012 IndyCar champion Ryan Hunter-Reay - making his debut with the Mazda squad - into a spin, also causing damage to his own car in the process.
A brilliant save by Hunter-Reay kept him in the mix, but he was overtaken by the Action Express Cadillac of Pipo Derani in the first round of stops via an undercut.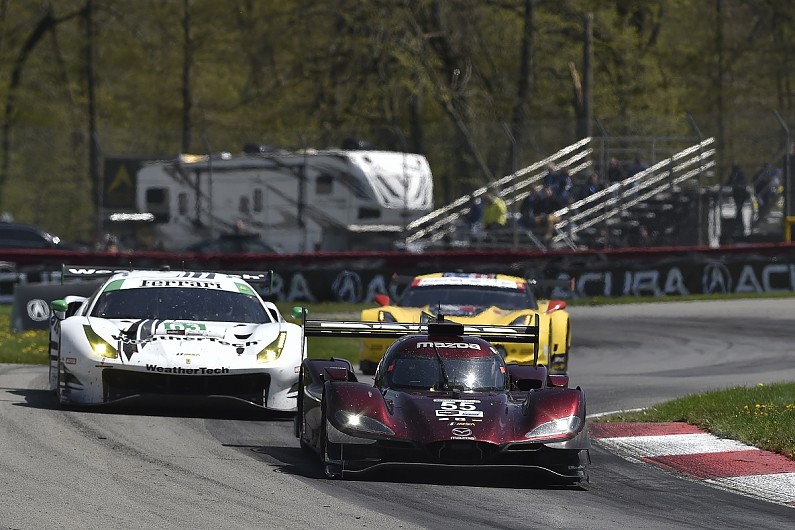 An inspired move a few laps after the stops by Hunter-Reay around the outside of Turn 4 was followed up by a strong final stint by his car-mate Jonathan Bomarito, who had to blend saving fuel with holding Derani's replacement Felipe Nasr at bay.
Nasr did get close enough to challenge, but edged past under a yellow flag and he was given a stop/go penalty.
Bomarito held on to take the final spot on the podium ahead of Nasr and Taylor, finishing the car started by Castroneves.
In a disappointing race for the Cadillac DPi-V.Rs, Renger van der Zande and Jordan Taylor took sixth in the Wayne Taylor Racing entry, as the marque's cars filled the last four spots in the top 10.
Earl Bamber and Laurens Vanthoor steered their Porsche 911 RSR to GT Le Mans honours after Bamber had reeled in the #3 Chevrolet Corvette of Antonio Garcia early on.
Nick Tandy and Patrick Pilet finished behind the car Garcia started and Jan Magnussen finished, after a race-long duel with the Team RLL BMW M8 GTE of Tom Blomqvist and Connor De Phillippi.
Richard Heistand and Jack Hawksworth gave Lexus RC F GT3 the GTD class honours with a 19th place finish overall.
Race result
| Pos | Class | Driver | Team | Car | Laps | Gap |
| --- | --- | --- | --- | --- | --- | --- |
| 1 | DPi | J.P.Montoya, D.Cameron | Acura Team Penske | Acura | 123 | 2h41m05.736s |
| 2 | DPi | O.Jarvis, T.Nunez | Mazda Team Joest | Mazda | 123 | 2.022s |
| 3 | DPi | J.Bomarito, R.H.-Reay | Mazda Team Joest | Mazda | 123 | 30.050s |
| 4 | DPi | F.Nasr, P.Derani | Whelen Engineering Racing | Cadillac | 123 | 39.114s |
| 5 | DPi | R.Taylor, H.Castroneves | Acura Team Penske | Acura | 122 | 1 Lap |
| 6 | DPi | R.van der Zande, J.Taylor | Konica Minolta Cadillac DPi-V.R | Cadillac | 122 | 1 Lap |
| 7 | DPi | S.Trummer, S.Simpson | JDC-Miller Motorsports | Cadillac | 122 | 1 Lap |
| 8 | DPi | J.Barbosa, F.Albuquerque | Mustang Sampling Racing | Cadillac | 122 | 1 Lap |
| 9 | DPi | W.Owen, K.Kaiser | Juncos Racing | Cadillac | 122 | 1 Lap |
| 10 | DPi | M.Goikhberg, T.Vautier | JDC-Miller Motorsports | Cadillac | 122 | 1 Lap |
| 11 | LMP2 | M.McMurry, E.Lux | PR1/Mathiasen Motorsports | ORECA/Gibson | 116 | 7 Laps |
| 12 | GTLM | E.Bamber, L.Vanthoor | Porsche GT Team | Porsche | 116 | 7 Laps |
| 13 | GTLM | J.Magnussen, A.Garcia | Corvette Racing | Chevrolet | 116 | 7 Laps |
| 14 | GTLM | P.Pilet, N.Tandy | Porsche GT Team | Porsche | 116 | 7 Laps |
| 15 | GTLM | T.Blomqvist, C.De Phillippi | BMW Team RLL | BMW | 116 | 7 Laps |
| 16 | GTLM | R.Briscoe, R.Westbrook | Ford Chip Ganassi Racing | Ford | 116 | 7 Laps |
| 17 | GTLM | J.Krohn, J.M.Edwards | BMW Team RLL | BMW | 116 | 7 Laps |
| 18 | GTLM | S.Bourdais, D.Muller | Ford Chip Ganassi Racing | Ford | 115 | 8 Laps |
| 19 | GTD | R.Heistand, J.Hawksworth | AIM Vasser Sullivan | Lexus | 114 | 9 Laps |
| 20 | GTD | M.Farnbacher, T.Hindman | Michael Shank Racing with Curb-Agajanian | Acura | 114 | 9 Laps |
| 21 | GTD | B.Sellers, R.Hardwick | Paul Miller Racing | Lamborghini | 113 | 10 Laps |
| 22 | GTD | P.Long, M.Seefried | Park Place Motorsports | Porsche | 113 | 10 Laps |
| 23 | GTD | F.Montecalvo, T.Bell | AIM Vasser Sullivan | Lexus | 113 | 10 Laps |
| 24 | GTD | W.Hardeman, A.Riberas | Moorespeed | Audi | 113 | 10 Laps |
| 25 | GTD | C.MacNeil, T.Vilander | Scuderia Corsa | Ferrari | 112 | 11 Laps |
| 26 | GTD | J.Potter, A.Lally | Magnus Racing | Lamborghini | 112 | 11 Laps |
| 27 | GTD | P.Chase, R.Dalziel | Starworks Motorsport | Audi | 112 | 11 Laps |
| 28 | GTD | K.Legge, C.Nielsen | Heinricher Racing with Meyer Shank Racing | Acura | 112 | 11 Laps |
| 29 | GTD | G.Robinson, L.Aschenbach | Lone Star Racing | Mercedes | 112 | 11 Laps |
| 30 | GTD | S.Hargrove, Z.Robichon | Pfaff Motorsports | Porsche | 107 | Not running |
| 31 | GTLM | O.Gavin, T.Milner | Corvette Racing | Chevrolet | 105 | 18 Laps |
| 32 | DPi | J.Bennett, C.Braun | CORE Autosport | Nissan | 97 | Not running |
| 33 | GTD | P.Holton, M.Plumb | Compass Racing | McLaren | 82 | Not running |
| 34 | LMP2 | K.Masson, C.Cassels | Performance Tech Motorsports | ORECA/Gibson | 82 | 41 Laps |
| 35 | GTD | B.Keating, J.Bleekemolen | Mercedes-AMG Team Riley Motorsports | Mercedes | 34 | Not running |
| 36 | GTD | B.Auberlen, R.Foley | Turner Motorsport | BMW | 1 | Not running |