Olivier Pla sent the #55 Mazda Team Joest RT24-P to the top of the times in second practice for the IMSA SportsCar Championship's 12 Hours of Sebring.
Pla lapped in 1m46.834s to beat the time of this morning's pacesetter Pipo Derani, who set the early time aboard the #31 Action Express Racing Cadillac DPi-V.R.
The #31 car had topped the morning session through ex-Formula 1 driver Felipe Nasr. Jordan Taylor's Wayne Taylor Racing Cadillac DPi-V.R was a mere 0.002s slower than Derani.
But Taylor held onto third ahead of Helio Castroneves in the lead Acura Team Penske's ARX-05s.
Oliver Jarvis ensured both Mazdas finished in the top five as he eclipsed Joao Barbosa in AXR's second Cadillac and Juan Pablo Montoya in the second Acura.
PR1/Mathiasen Motorsports' Matt McMurry survived a spin that did not halt the session to go quickest of the two LMP2 Orecas.
Nick Tandy ensured Porsche took the top spot in GT Le Mans again with a best of 1min56.991s, around 0.2sec quicker than the Ford GT of Sebastien Bourdais and 0.4sec ahead of the second Ford of Ryan Briscoe.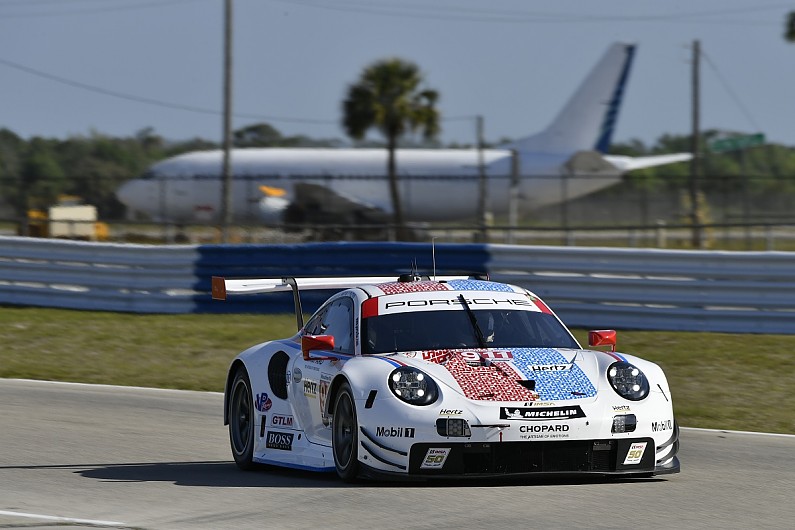 The Porsche's morning benchmark was set by Earl Bamber in the second Porsche 911, but settled for fifth in the afternoon.
The BMW M8 of Philipp Eng was half a second off the leading pace but that was enough to grab fourth ahead of Jan Magnussen and Bamber.
That BMW pace extended into GT Daytona with the Turner Motorsports M6 of Bill Auberlen setting the pace, a full 0.3s ahead of Mirko Bortolotti in the Grasser Racing Lamborghini Huracan.
Six different manufacturers finished in the top six of the GTD class in both sessions with Lexus, Acura Mercedes and Ferrari featuring.
The first red flag arrived just five minutes after the second practice session started and was a result of Doug Yount shunting the Precision Performance Motorsports Lamborghini Huracan.
Free practice two result
| Pos | Class | Driver | Team | Gap | Laps |
| --- | --- | --- | --- | --- | --- |
| 1 | DPi | J.Bomarito, H.Tincknell, O.Pla | Mazda Team Joest | 1m46.834s | 13 |
| 2 | DPi | F.Nasr, E.Curran, P.Derani | Whelen Engineering Racing | 0.815s | 23 |
| 3 | DPi | R.van der Zande, J.Taylor, M.Vaxiviere | Konica Minolta Cadillac DPi-V.R | 0.817s | 21 |
| 4 | DPi | R.Taylor, H.Castroneves, A.Rossi | Acura Team Penske | 1.155s | 20 |
| 5 | DPi | O.Jarvis, T.Nunez, T.Bernhard | Mazda Team Joest | 1.451s | 20 |
| 6 | DPi | J.Barbosa, B.Hartley, F.Albuquerque | Mustang Sampling Racing | 1.818s | 21 |
| 7 | DPi | D.Cameron, J.P.Montoya, S.Pagenaud | Acura Team Penske | 1.854s | 19 |
| 8 | DPi | J.Bennett, C.Braun, R.Dumas | CORE Autosport | 2.129s | 20 |
| 9 | DPi | M.Goikhberg, T.Vautier, J.Piedrahita | JDC-Miller Motorsports | 2.151s | 21 |
| 10 | DPi | W.Owen, R.Binder, A.Canapino | Juncos Racing | 2.632s | 19 |
| 11 | DPi | S.Trummer, S.Simpson, C.Miller | JDC-Miller Motorsports | 3.184s | 22 |
| 12 | LMP2 | M.McMurry, G.Aubry, A.Fjordbach | PR1/Mathiasen Motorsports | 5.315s | 22 |
| 13 | LMP2 | K.Masson, C.Cassels, A.Evans | Performance Tech Motorsports | 8.874s | 21 |
| 14 | GTLM | P.Pilet, N.Tandy, F.Makowiecki | Porsche GT Team | 10.157s | 18 |
| 15 | GTLM | J.Hand, D.Muller, S.Bourdais | Ford Chip Ganassi Racing | 10.367s | 18 |
| 16 | GTLM | R.Briscoe, R.Westbrook, S.Dixon | Ford Chip Ganassi Racing | 10.572s | 19 |
| 17 | GTLM | J.Krohn, J.M.Edwards, P.Eng | BMW Team RLL | 10.673s | 19 |
| 18 | GTLM | J.Magnussen, A.Garcia, M.Rockenfeller | Corvette Racing | 10.813s | 18 |
| 19 | GTLM | E.Bamber, L.Vanthoor, M.Jaminet | Porsche GT Team | 10.822s | 19 |
| 20 | GTLM | T.Blomqvist, C.De Phillippi, C.Herta | BMW Team RLL | 11.293s | 19 |
| 21 | GTLM | O.Gavin, T.Milner, M.Fassler | Corvette Racing | 11.612s | 20 |
| 22 | GTD | B.Auberlen, R.Foley, D.Machavern | Turner Motorsport | 13.749s | 18 |
| 23 | GTD | R.Ineichen, M.Bortolotti, R.Breukers | GRT Grasser Racing Team | 14.079s | 21 |
| 24 | GTD | S.Hargrove, Z.Robichon, L.Kern | Pfaff Motorsports | 14.458s | 21 |
| 25 | GTD | R.Heistand, J.Hawksworth, P.Frommenwiler | AIM Vasser Sullivan | 14.740s | 21 |
| 26 | GTD | M.Farnbacher, T.Hindman, J.Marks | Michael Shank Racing with Curb-Agajanian | 14.747s | 20 |
| 27 | GTD | B.Keating, J.Bleekemolen, F.Fraga | Mercedes-AMG Team Riley Motorsports | 14.749s | 19 |
| 28 | GTD | C.MacNeil, T.Vilander, J.Westphal | Scuderia Corsa | 14.906s | 20 |
| 29 | GTD | K.Legge, A.Beatriz, C.Nielsen | Heinricher Racing with Meyer Shank Racing | 14.951s | 19 |
| 30 | GTD | F.Montecalvo, T.Bell, A.Telitz | AIM Vasser Sullivan | 15.017s | 20 |
| 31 | GTD | P.Lindsey, P.Long, N.Boulle | Park Place Motorsports | 15.153s | 19 |
| 32 | GTD | P.Chase, R.Dalziel, E.P.Companc | Starworks Motorsport | 15.288s | 17 |
| 33 | GTD | J.Potter, A.Lally, S.Pumpelly | Magnus Racing | 15.478s | 15 |
| 34 | GTD | B.Sellers, R.Hardwick, C.Lewis | Paul Miller Racing | 15.492s | 20 |
| 35 | GTD | D.Morad, C.Mies, R.Feller | Montaplast by Land-Motorsport | 15.656s | 17 |
| 36 | GTD | J.Perez, M.Buhk, F.Schiller | P1 Motorsports | 16.093s | 14 |
| 37 | GTD | A.Davis, A.Riberas, W.Hardeman | Moorespeed | 16.505s | 16 |
| 38 | GTD | B.Gdovic, D.Yount, L.Aschenbach | Precision Performance Motorsports | 20.060s | 2 |
Free practice one result
| Pos | Class | Driver | Team | Gap | Laps |
| --- | --- | --- | --- | --- | --- |
| 1 | DPi | F.Nasr, E.Curran, P.Derani | Whelen Engineering Racing | 1m46.996s | 17 |
| 2 | DPi | D.Cameron, J.P.Montoya, S.Pagenaud | Acura Team Penske | 0.355s | 14 |
| 3 | DPi | R.van der Zande, J.Taylor, M.Vaxiviere | Konica Minolta Cadillac DPi-V.R | 0.393s | 12 |
| 4 | DPi | J.Bennett, C.Braun, R.Dumas | CORE Autosport | 0.810s | 17 |
| 5 | DPi | M.Goikhberg, T.Vautier, J.Piedrahita | JDC-Miller Motorsports | 1.031s | 14 |
| 6 | DPi | R.Taylor, H.Castroneves, A.Rossi | Acura Team Penske | 1.190s | 16 |
| 7 | DPi | J.Barbosa, B.Hartley, F.Albuquerque | Mustang Sampling Racing | 1.274s | 21 |
| 8 | DPi | S.Trummer, S.Simpson, C.Miller | JDC-Miller Motorsports | 1.363s | 20 |
| 9 | DPi | J.Bomarito, H.Tincknell, O.Pla | Mazda Team Joest | 1.540s | 18 |
| 10 | DPi | O.Jarvis, T.Nunez, T.Bernhard | Mazda Team Joest | 1.861s | 18 |
| 11 | DPi | W.Owen, R.Binder, A.Canapino | Juncos Racing | 3.006s | 17 |
| 12 | LMP2 | M.McMurry, G.Aubry, A.Fjordbach | PR1/Mathiasen Motorsports | 3.881s | 19 |
| 13 | LMP2 | K.Masson, C.Cassels, A.Evans | Performance Tech Motorsports | 5.472s | 17 |
| 14 | GTLM | E.Bamber, L.Vanthoor, M.Jaminet | Porsche GT Team | 9.987s | 20 |
| 15 | GTLM | R.Briscoe, R.Westbrook, S.Dixon | Ford Chip Ganassi Racing | 10.317s | 19 |
| 16 | GTLM | J.Hand, D.Muller, S.Bourdais | Ford Chip Ganassi Racing | 10.484s | 17 |
| 17 | GTLM | P.Pilet, N.Tandy, F.Makowiecki | Porsche GT Team | 10.598s | 18 |
| 18 | GTLM | O.Gavin, T.Milner, M.Fassler | Corvette Racing | 10.995s | 18 |
| 19 | GTLM | J.Magnussen, A.Garcia, M.Rockenfeller | Corvette Racing | 11.822s | 17 |
| 20 | GTLM | T.Blomqvist, C.De Phillippi, C.Herta | BMW Team RLL | 11.842s | 15 |
| 21 | GTLM | J.Krohn, J.M.Edwards, P.Eng | BMW Team RLL | 12.146s | 18 |
| 22 | GTD | M.Farnbacher, T.Hindman, J.Marks | Michael Shank Racing with Curb-Agajanian | 13.797s | 23 |
| 23 | GTD | P.Lindsey, P.Long, N.Boulle | Park Place Motorsports | 14.244s | 25 |
| 24 | GTD | F.Montecalvo, T.Bell, A.Telitz | AIM Vasser Sullivan | 14.452s | 25 |
| 25 | GTD | R.Ineichen, M.Bortolotti, R.Breukers | GRT Grasser Racing Team | 14.525s | 24 |
| 26 | GTD | C.MacNeil, T.Vilander, J.Westphal | Scuderia Corsa | 14.597s | 23 |
| 27 | GTD | B.Keating, J.Bleekemolen, F.Fraga | Mercedes-AMG Team Riley Motorsports | 14.657s | 21 |
| 28 | GTD | R.Heistand, J.Hawksworth, P.Frommenwiler | AIM Vasser Sullivan | 14.704s | 24 |
| 29 | GTD | K.Legge, A.Beatriz, C.Nielsen | Heinricher Racing with Meyer Shank Racing | 14.779s | 23 |
| 30 | GTD | B.Auberlen, R.Foley, D.Machavern | Turner Motorsport | 14.813s | 26 |
| 31 | GTD | B.Sellers, R.Hardwick, C.Lewis | Paul Miller Racing | 14.945s | 20 |
| 32 | GTD | D.Morad, C.Mies, R.Feller | Montaplast by Land-Motorsport | 15.006s | 21 |
| 33 | GTD | J.Perez, M.Buhk, F.Schiller | P1 Motorsports | 15.198s | 25 |
| 34 | GTD | S.Hargrove, Z.Robichon, L.Kern | Pfaff Motorsports | 15.271s | 24 |
| 35 | GTD | P.Chase, R.Dalziel, E.P.Companc | Starworks Motorsport | 15.671s | 22 |
| 36 | GTD | B.Gdovic, D.Yount, L.Aschenbach | Precision Performance Motorsports | 15.903s | 21 |
| 37 | GTD | A.Davis, A.Riberas, W.Hardeman | Moorespeed | 16.248s | 24 |
| 38 | GTD | J.Potter, A.Lally, S.Pumpelly | Magnus Racing | - | 9 |