Two-time CART champion Alex Zanardi has completed a first test in preparation for his return to US racing in next year's Daytona 24 Hours.
The Italian tried a specially-adapted BMW M8 GTE at the Miramas test track in France ahead of his one-off at the IMSA SportsCar Championship opener in January.
The race will be Zanardi's first competitive outing in the US since the Road America CART round a month before he lost both his legs at the Lausitzring in September 2001.
Zanardi drove the M8 at Miramas over three days and completed almost 700km, which included substantial wet running.
The M8 was fitted with the same system of controls used by Zanardi on his guest appearance in the DTM at Misano in August in a BMW M4 DTM.
The system allows Zanardi to brake with his right hand via a lever, which also incorporates a button with which he can downshfit through the gears.
He accelerates with a ring around the steering wheel, which is fitted with conventional gearchange paddles.
"It was a very productive test," said Zanardi.
"My feel for the car improved all the time and I soon found out what I need to be doing with my hands and how I can control the car's various electronic functions.
"We are now very well prepared for the next test at Daytona."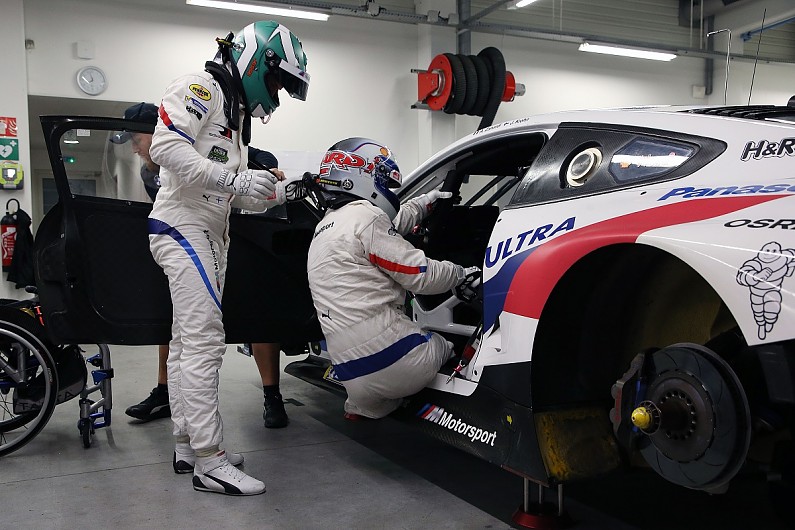 BMW IMSA regular Jesse Krohn was also present to allow Zanardi to practise driver changes.
This process also involves swapping Zanardi's adapted steering wheel for a conventional one.
Daytona will be Zanardi's third endurance race since losing his legs.
He drove a BMW Z4 GT3 entered by the ROAL Motorsport team at the Spa 24 Hours in 2015, having completed the previous round of the Blancpain Endurance Cup at Paul Ricard.
Zanardi has driven for BMW since his comeback from the Lauzitz injuries and completed six full seasons in the European and then World Touring Car Championships from 2004-09.
He also contested the Blancpain Sprint Cup in 2014 as a solo driver.