In association with
Miki Biasion, Jimmy McRae and Alister McRae will join a record 100-strong field of cars for the Live Action rally stage at Race Retro this weekend.
Biasion, who was World Rally champion with factory-entered Lancia Deltas in 1988 and '89 and enjoyed a 14-year career spell in the WRC, will celebrate the 30th anniversary of his first title as the biggest entry of period rally cars to date takes to the short demonstration stage within the grounds of Stoneleigh Park near Coventry.
During rally stage sessions on both Saturday and Sunday Biasion will handle a Lancia Delta Integrale, while Jimmy McRae will be reunited with a Vauxhall Chevette HSR and his son Alister will drive a Subaru Legacy.
Other star performers will include Rob Dennis (Subaru Impreza), Ben Mellors (Proton Iriz R5), Warren Philliskirk (Metro 6R4), Tony Worswick (Ferrari 308GTB) and Mick Strafford in the crowd-pleasing Vauxhall Firenza Can-Am.
Among the star cars will be one of the few surviving Ford Escort RS1700Ts, Ford's cancelled Group B rally project.
The rear-wheel drive concept from the early 1980s was abandoned before the cars ever ran in public in the UK, but BGMsport has spent the last five years restoring one for owner Steve Rimmer.
"There are probably only five left of the 18 that were built," said Ian Gwynne from BGMsport.
"Some went to South Africa when Ford abandoned the project. We don't know of any being actively used and they have rarely, if ever, been seen in public action in the UK.
"We've made a big push to get it ready for Race Retro. It has been a five-year project, on and off, to fully restore it."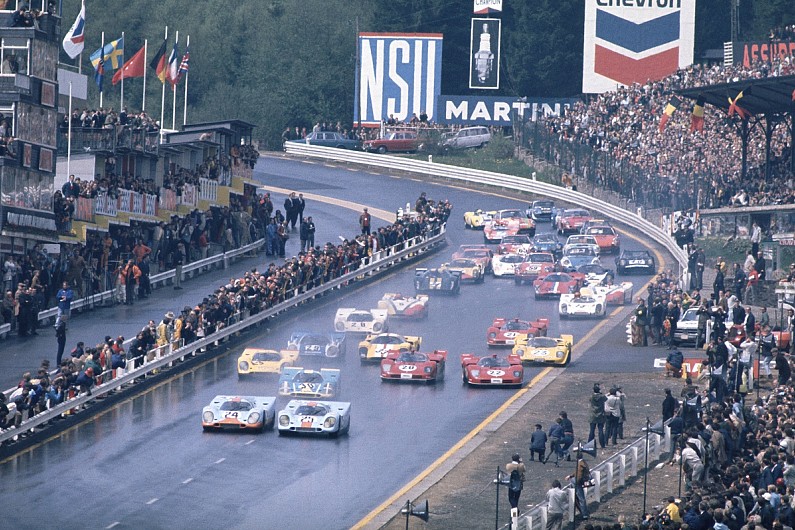 Inside the halls, racing legend Brian Redman will be one of the star guests as Race Retro honours 50 years of the Formula 5000 category.
The Florida-based Lancastrian, now 80, raced in Formula 1 and the World Sportscar Championship, winning the 1970 Targa Florio, the Sebring 12 Hours twice and the Spa 1000kms four times (#24 pictured above in 1970).
He starred in Formula 5000 and won the USA F5000 titles three times in a row in the mid-1970s.